FRA Dilution: Thousands of Tribals Protest Ahead of SC Hearing Next Week
Over 3,000 tribals and forest-dwellers from across India gathered in Delhi to voice their fear of large-scale eviction and pledged to intensify their protest against the attack on their rights.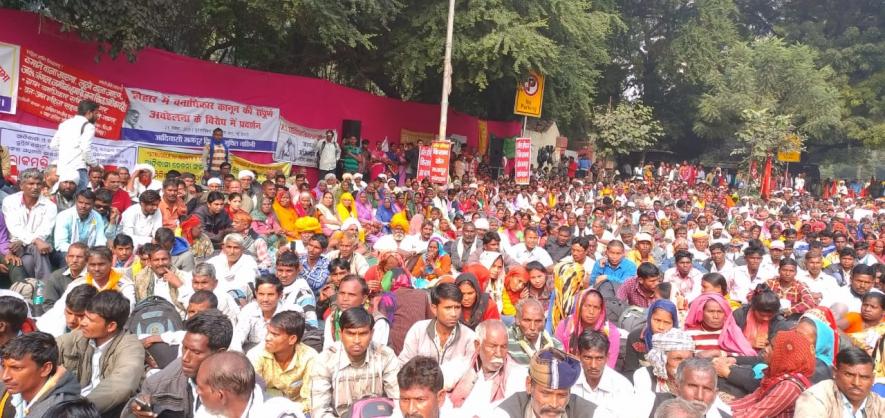 New Delhi:  Tribals from across India gathered at Jantar Mantar on Thursday and pledged to intensify their agitation against the dilution of the Forest Rights Act (2006), while taking cognisance of a petition on which the Supreme Court had rejected land claims of over a million tribals.
In an order issued on February 13, 2019, the apex court had issued directions to chief secretaries of 17 states to ensure that eviction was carried out in all cases where land ownership claims had been rejected. The order came in response to a petition filed by "conservation NGO", Wildlife First, which claimed that everyone whose FRA claim had been rejected was an "encroacher" and should be evicted.  However, the court, on February 28, stayed its February 13 order and directed the states to review such rejections within four months. 
Currently, as the legal battle to prevent the eviction of tribals rages on with its next hearing due on November 26, tribals and forest dwellers are living in fear of eviction, as their claims to the lands that they have been living on for generations were rejected.  
Sukalo Gond, a tribal activist from  Sonbhadra, Uttar Pradesh, said: "We are here for our rights, our fate, the fate of our lands, our rights now lie in the hands of the Supreme Court. "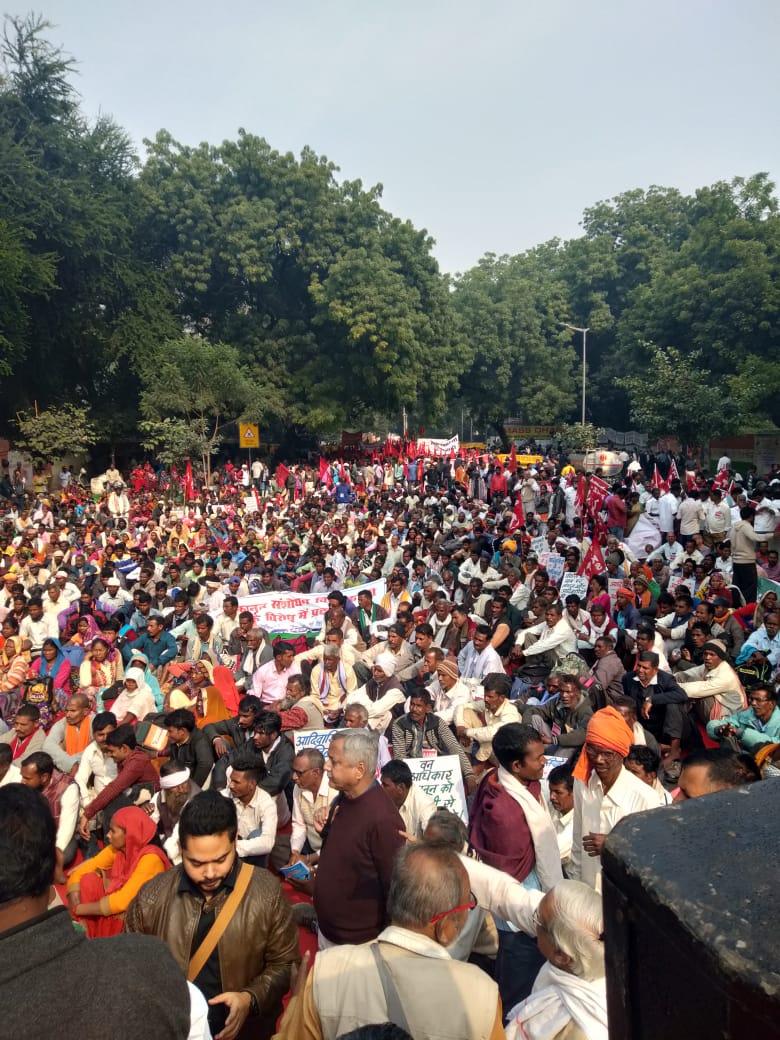 He said he hoped the apex court would hear them out. "we want to give a warning to the Supreme Court and the government-- Whatever wrongdoing you have done, correct that injustice," he added. 
At the protest, many like Gond shared their anxieties about the land claim process, the threats and the violence that they had experienced by the forest department in a bid to protect their land rights. 
"We have been travelling for over 12 hours to come here and voice our issues. The  forest department shot at my family members in Sonbhadra," said Asha, tightly holding on to her land claims. 
Also Read: Dilution of FRA Repeat of Historical Injustices, Say Women Forest Dwellers
Thousands of tribals joined the rally from across Odisha, Maharashtra, Tamil Nadu, Chhattisgarh, Madhya Pradesh among others. 
Leading the movement in Madhya Pradesh, Madhuri Krishnaswamy of the Jagrit Adivasi Dalit Sangathan (JADS), said: "over 2 lakh acres is being to industry and corporates, out of which a very small percentage is for projects while the rest is for industrial use. The petition by Wildlife First is a display of shameful hypocrisy. The petitioners, alongside the (Narendra) Modi government,t are making adivasis scapegoats for forest destruction, even as the forest department is continuing its colonial policies of shooting, beating up and threatening tribals."
Asha Bai from Burhanpur in MP said: "Across India, the condition is the same. The  department does not want to uphold our rights and FRA. The Act was achieved through years of struggle in 2006. Now, in 2019, we are being beaten up, forced out of our homes and threatened. My fields were burnt down by the (forest) department and people were shot at in my district. Where do we live, what do we eat?" 
On July 9, 2019, adivasis of Gram Panchayat Siwal situated in Burhanpur were fired at with pellets by the forest department people as they attempted to protect their sown crops from being destroyed by the department officials, revenue officials and the police.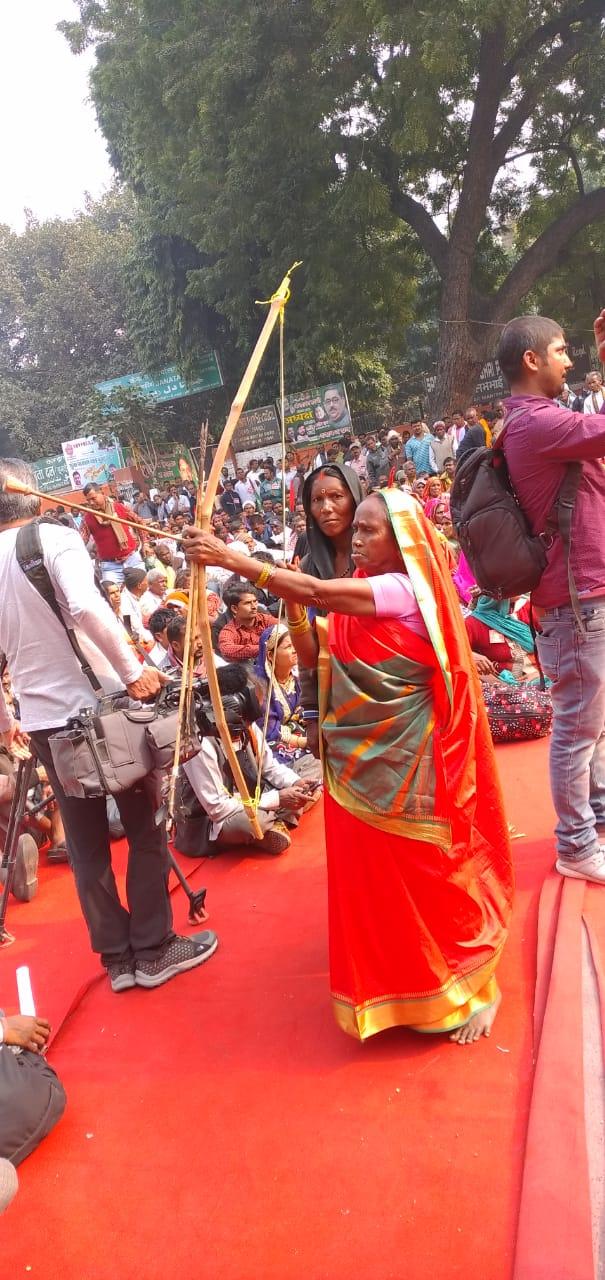 Thursday's protest also saw participation from Jammu & Kashmir, where reorganisation of land is underway after the abrogation of Article 370 on August 5. Many activists from the state highlighted how during the lockdown, clearances were given to industrial projects without any due process being followed or any assessment of legal repercussions. 
Speaking to NewsClick, Ghulam Rasool, said: "The government abrogated Article 370 for corporates, 125 projects have been cleared during the turmoil affecting our ecology and our water. The hearing on the 26th and thereon is crucial for us in equal measure perhaps more." 
Also Read: FRA Case: Ray of Hope for Forest Dwellers, as SC Admits Intervention Applications
The activists held that the Narendra Modi government and its lawyers were "complicit" in the process of the eviction process as they were not fairly representing the interests of tribals in court. 
Speaking to NewsClick, Brinda Karat, polit bureau member of the Communist Party of India (Marxist) said: "The lawyers of the government were not there. I had spoken to the tribal affairs minister as well, but it did not make a difference. This exposes the step by step dilution of the rights of tribals and the collusion, connivance and not just compromise, but also betrayal of people by the Modi government." 
Get the latest reports & analysis with people's perspective on Protests, movements & deep analytical videos, discussions of the current affairs in your Telegram app. Subscribe to NewsClick's Telegram channel & get Real-Time updates on stories, as they get published on our website.
Subscribe Newsclick On Telegram