From Shuffling CMs to Finding a Scapegoat- the BJP's Attempt at Damage Control
The party has been changing horses mid-stream quite often, especially after facing humiliating defeats in Delhi and West Bengal.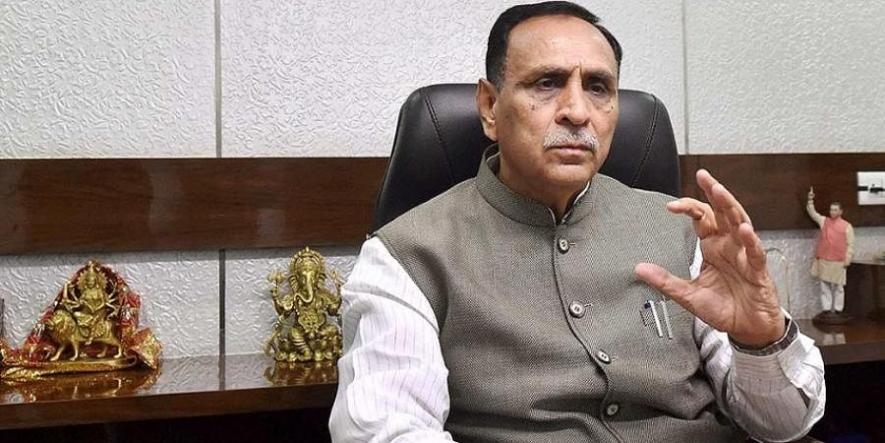 Vijay Rupani. Image Courtesy:PTI
On September 11, around 3 p.m, news of the possible resignation of the sitting Gujarat Chief Minister Vijay Rupani, broke. He had nearly 15 months left in office. Within the next few minutes, this was confirmed and pictures of him resigning went viral. The news was greeted with varied reactions, and many were in shock because it was a "smooth operation" in Bhartiya Janta Party's (BJP) language. On Sunday, around 4 p.m, Bhupendra Patel was elected as the new Gujarat CM. For political observers, this wasn't shocking enough, as Rupani's exit was being anticipated for a while, proving that these power transitions are not new in the Modi-Shah era of BJP.
SHUFFLING CMs
"After Independence, one particular party remained in power for long at the Centre as well in the states. As a result, several distortions appeared. The situation deteriorated to such an extent that even the CMs were nominated by the Centre," former Prime Minister Atal Bihari Vajpayee, had said during in Lok Sabha, on March 27, 1998. 
Nearly two decades after Vajpayee's statement, his party under (Narendra) Modi- (Amit) Shah seems to be defying his words and has mastered the art of Congress by changing five CMs in six months and conveying their name through a "central observer".
The shuffling trail began from Uttarakhand where, in March this year, there was news that all is not well in the state. Within days CM Trivendra Singh Rawat handed over the office to Lok Sabha MP, Tirath Singh Rawat. He had to tender his resignation in July to ward off a constitutional crisis since there was difficulty getting elected through a bypoll. From there, MLA Pushkar Singh Dhama took over and is still serving the office.
In the Assam Assembly elections this year, the ruling BJP contested the elections without announcing a CM candidate, fearing consequences. After its victory, State health minister Himanta Biswa Sarma replaced Sarbananda Sonowal as CM.
Last month, it was the turn of BJP's oldest and only CM in South, Karnataka BS Yediyurappa, to hand over the baton to his protege Basavaraj Bommai as part of BJP's exercise for "change in leadership". 
There are speculations over the reasons behind Rupani's exit, with COVID mismanagement being the prominent one among others. With his removal, it seems clear that BJP didn't want to risk its most powerful state. As in the past, BJP had faced a debacle in Jharkhand owing to the unpopularity of the CM who lost the elections himself, and in Haryana, Manohar Lal Khattar's unpopularity had cost it falling short of the majority, but he was retained as CM after a post-poll power sharing arrangement.
Elections are due in Gujarat and Uttarakhand next year and with this CM shuffling exercise, it seems that BJP has learnt from its past mistakes and is in no mood to take any risks by betting on old horses.
NOMINATING CMs
The current BJP is contradicting Vajpayee's statement of 1998 on two terms - "Shuffling CMs" and "Nominating CMs". Post-2014 General Elections, it's a common trick in the party's playbook that the CM will be the "Centre's man" in the state and "not of the people" or a "surprise pick", as they are referred to in media lingo. This rule, however, has turned into a losing bet for BJP as it has led to factionalism within the party's state units among other things. 
After BJP's big win in the 2014 General Elections, Haryana was the first BJP ruled state to be gifted with a "Surprise Pick", with a first-time MLA Manohar Lal Khattar chosen as the first BJP Chief Minister. Khattar had won the elections from Karnal constituency where local party workers and BJP supporters had run a signature campaign against him, asking the party for a "local candidate" instead. Khattar was chosen as the CM ignoring the other strong claimants and seniors such as Union Minister Rao Inderjit Singh and Haryana Home Minister Anil Vij. After this, the Khattar-Vij tussle has been out in the open for a few years now and after Rupani's exit in Gujarat, Khattar's name is doing the rounds for being the next in the BJP's CM reshuffling exercise.
In Uttarakhand, Rashtriya Swayamsevak Sangh (RSS) pracharak- turned-MLA Trivendra Singh Rawat was chosen as the Chief Minister, who was considered a lightweight against the strong claimant Satpal Maharaj, who enjoys the support of state's religious leaders. Then, Rawat was replaced after displeasing RSS and Vishwa Hindu Parishad over the Char Dham Devasthanam Management Bill, by a man from Delhi, Tirath Singh Rawat and later, Pushkar Singh Dhama. All these appointments have sharpened the inner dissent with Minister Satpal Maharaj's faction, which enjoys the support of a dozen party MLAs, cut-up with the development.
In the recent Gujarat development also, another first-time MLA Bhupendra Patel was chosen as CM ignoring the strong Patidar leader and Deputy CM Nitin Patel.
Among others, Rajasthan has been the only state where under Vasundhara Raje, the state unit rejected Modi-Shah's pick, Union Minister Gajendra Singh Shekhawat, as the state BJP chief before the 2018 Assembly elections. But this dissent resulted in deep factionalism which is troubling the party in the state to this day.
The factionalism caused by the high command's assertion is now hitting many BJP state units hard. In Madhya Pradesh, CM Shivraj Singh Chouhan is struggling to toe the line with the high command-backed group led by Narottam Mishra and Narendra Singh Tomar, while in Karnataka, keeping aside the media circulated term of "generational change", dissent by fellow party MLAs was among the prime reasons behind Yediyurappa's exit and in Goa, CM Pramod Sawant and Health Minister Vishwajeet Rane have been at loggerheads for a long time now.
FINDING A SCAPEGOAT
Vijay Rupani's exit is said to have been attributed to his mishandling of COVID, apart from other reasons that exposed BJP's "Gujarat model of development". The criticism by the high court several times has reflected poorly on Rupani's administrative skills. As its is, his image in political circles has always been of a "Yes Man".
In 2014, the then Gujarat CM Narendra Modi became Prime Minister and the then Gujarat Home Minister Amit Shah was also elevated to the post of BJP president as also Union Home Minister in 2019. Since then, it's been an open secret in political corridors that Gujarat is being run by the duo in Delhi and Rupani is a mere "rubber stamp". After Modi's promotion, his aide Anandiben Patel was made CM but was shown the door the same way, and was succeeded by Rupani in 2016.
The latest development in Gujarat, therefore, is being seen as a COVID 'mismanagement' bomb being dropped on Rupani, while his Delhi bosses have taken a safe cut.
The Modi-led BJP government which is known for its centralised functioning  was heavily criticised for its handling of the second wave of COVID. However, nobody came out to take responsibility for the massive failure. But, within weeks the Union Health Minister, Harsh Vardhan was replaced with Mansukhlal Mandaviya. Many other ministers were also dropped.
The Union Government and the Modi Shah-led BJP chose to turn a blind eye to widespread and prolonged protests against the citizenship law and the farm laws.  All the issues made their mark in the two important elections -- Delhi and West Bengal -- where BJP suffered a humiliating defeat.
Fearing defeat once again, BJP is already in "damage control mode" and has resorted to "all possible options" to retain power defections being its major strength, apart from the constant shuffling of its state leadership. Will it pay dividends? That remains to be seen.
Get the latest reports & analysis with people's perspective on Protests, movements & deep analytical videos, discussions of the current affairs in your Telegram app. Subscribe to NewsClick's Telegram channel & get Real-Time updates on stories, as they get published on our website.
Subscribe Newsclick On Telegram