FTII Admin Strangling Students' Voices
Over the course of last four years, the FTII administration has resorted to every tactic, from increasing fees to forming WhatsApp groups with students' parents to denying opportunities, in order to prevent the students from raising their voices.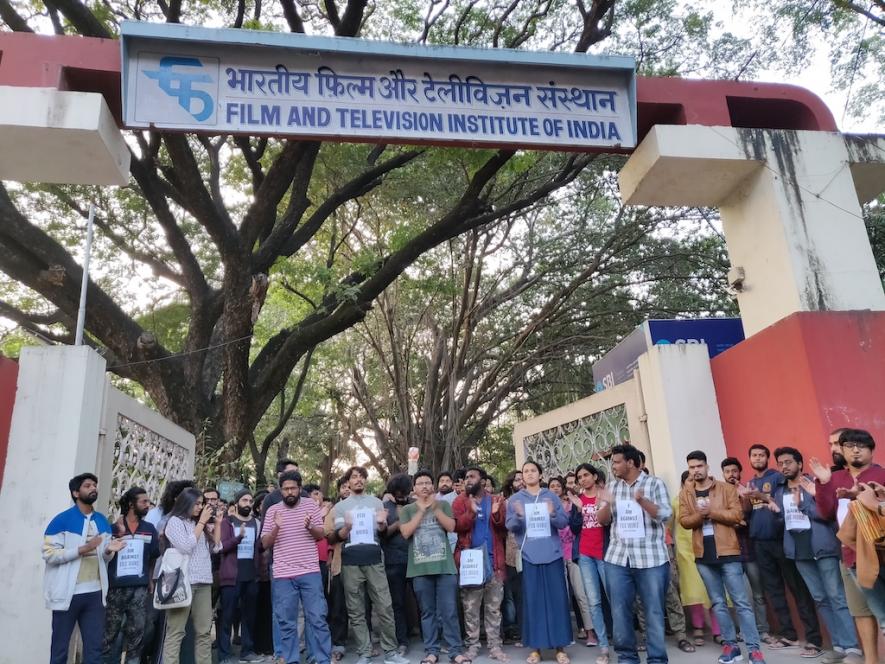 Pune: While students across the country take to the streets against the Citizenship Amendment Act 2019 and in solidarity with the students of Jamia Milia Islamia and Aligarh Muslim University, who suffered a brutal police crackdown, the students of Film and Television Institute of India, Pune, are engaged in another battle against the administration.
Six students of FTII are currently on an indefinite hunger strike demanding revocation of hike in entrance fee and course fee. Two students joined the hunger strike on Thursday, December 19, which was started by student leaders – Aadhith V Sathwin, Vivek Allaka, Rajarshi Mujumdar and P R Manikandan – as the administration continued to ignore the protest even after four days.   
The absence of FTII students from the ongoing protests against CAA is striking as this is the same institute which, in 2015, had gone on strike for 139 days demanding cancellation of appointment of Gajendra Chauhan, questioning his qualification. The then newly elected Bharatiya Janata Party government led by Narendra Modi had begun appointing right wing followers at key positions in premier institutes like FTII. Support for the FTII students' struggle poured in from across the country, including universities which hailed the striking students for fighting against the saffron party's efforts to dilute the standards of an ace institution.
Also read:  FTII Controversy: No HoDs and Students in Academic Council
However, this time, when other universities began protests against CAA, FTII held a meeting to show solidarity with JMI which, too, went unnoticed. The question that arises now is what changed in the last four years that has led to such a situation?
Students of FTII admit that the suppression techniques by the administration have compelled them to not raise their voice.
Aadith V Sathvin, president of the Students' Association of FTII (FTIISA), said, "Whenever students raise their voice against poor quality infrastructure or equipment, the proctor sends notices to them. We had protested against fee hike, demanding better infrastructure at the campus and all students who participated in the protests have received notices. Those students who have been served notices are deprived of opportunities to send their films/documentaries to film festivals. They are not selected for students exchange programmes with international universities. Almost 60% students from several batches, excluding the 2019 batch that started in August this year, have received notices."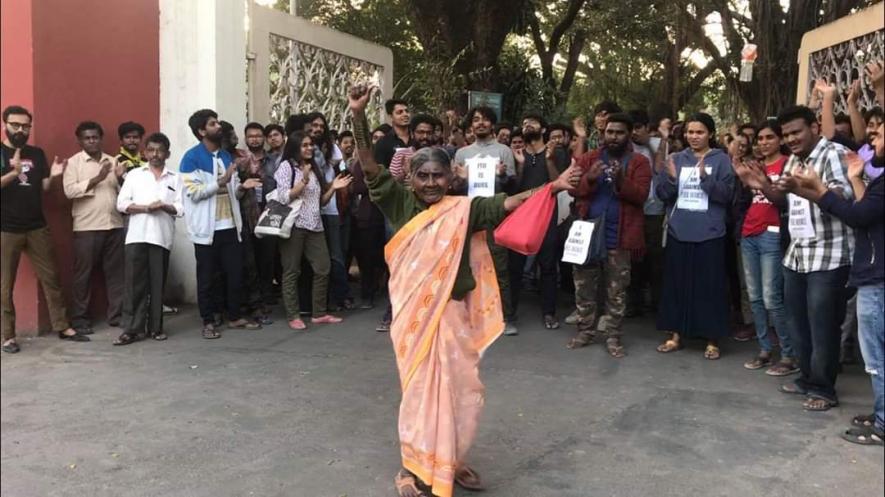 Robin Joy, a student of Direction batch of 2016 and former president of Students' Association, is one among the many to have  borne the brunt of this rule. He said, "I wanted to send my documentary to International Film Festival of India (IFFI) that is hosted by Information and Broadcasting Ministry in Goa. IB ministry runs FTII as well. But administration did not provide me the bonafide certificate that is required for the entry. We miss many opportunities to present our work at good platforms."
Students also accused that the administration doesn't work as per law. One of the students said, "Director Bhupendra Kaithola does not give time for meeting with students when we have concerns like fee hike. Notices are sent without giving opportunity to students to explain themselves. They don't follow rules of the institute."
As this reporter reached FTII to attend a press conference on December 19 called by the students demanding revocation of fee hike, it was surprising to find that the venue was near the gate of the institute. One student was dragging an old styled wooden chair to the gate, where five chairs were already placed. The administration had refused permission to hold the press conference near the famous Wisdom Tree, that stands opposite to the office of the director inside the campus.
Also read: "FTII is not Doordarshan"
Unlike 2015, the reporters were not allowed to go inside to talk to students who were sitting on strike. During the 2015 strike, reporters were allowed to walk inside the campus. However, now the reporters are required to write down their personal details as well as the name of person they have come to meet. The security even called the person to meet before allowing entry. Even then, this reporter was asked to wait until another reporter who was inside returned.
New Suppression Tactics at Work
The administration has made a WhatsApp group of the parents of students who have taken admission in the 2019 batch. This platform is used by the director or professors to post complaints about students including informing parents if their children have participated in any protest. Meanwhile, the students of FTII, that offers post graduate courses, find it amusing as well as unfortunate that they are treated like school kids. 
Unmesh, a student of Editing, batch of 2019, told NewsClick that his mother who is added in the group is cool. He said, "My mother who is a teacher in Pune says I should do both studies and participation in protests and other activities. But parents of other students get panicked as they are from small town and are not aware of students' activities."
Harishankar Nachimuthu, president of Students' Association during the 2015 strike, told NewsClick, "I was expecting that FTII students will protest against CAA as that is an issue of national importance. Besides, FTII needs to lend support to other universities as they had supported us during our strike."
Also read: FTII: Dissent Grows Against Saffronisation of the Institution
Nachimuthu, who is currently assisting in direction of a Tamil feature film, said, "The administration, however, had been suppressing students in various ways to make sure that students do not raise their voice. They have hiked fees of entrance test to Rs 10,000, so that only students from certain economic class and background can take admission. Such students will never be interested in protests and will be keen on their careers." He added that he hopes the senior students mentor the new students about the importance of raising their voice against injustice.
Bhupendra Kaithola, director of FTII, did not reply to text messages sent by this reporter. There are also allegations that he only talks to those media that report as per the administration's direction.
Get the latest reports & analysis with people's perspective on Protests, movements & deep analytical videos, discussions of the current affairs in your Telegram app. Subscribe to NewsClick's Telegram channel & get Real-Time updates on stories, as they get published on our website.
Subscribe Newsclick On Telegram