Future Sense: A Window of Opportunity That Could Change eSports Forever
With traditional sport in lockdown as the world reels under the Covid-19 Pandemic, eSports — touted as the future — seems destined to get fast tracked into the present. With professional circuits, teams, and highly competitive players, for India virtual is the new real.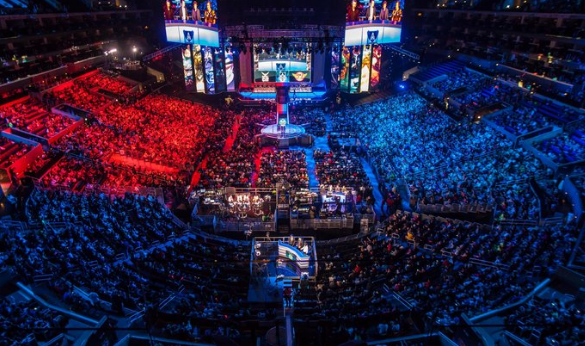 Besides avenues for spectators and fans to follow action virtually, eSports now has events which replicate the fan experience and atmosphere traditional sport creates in a stadium — the LAN events (Pic: Redbull eSports).
There is a scene in the Marvel superhero movie Captain America where the protagonist awakens after spending half a century encased in ice. On a counter near his bed, a radio replays a baseball game from the 1940s to aid his orientation into modernity. Everything around him has changed. Times Square looks different. Brooklyn looks cleaner. India is independent (not that the film provides any such reference). Telegram is a mobile app. Tinder stokes carnal fires. That baseball game is the link between the old world and the new. Damningly, the world of sport remains unchanged. 
For the last half a century of human endeavour in sport — be it cricket, baseball, football or golf — has largely revolved around putting a ball into a hole, a goal or out of the park. It is fair to say that there hasn't been a new sport invented for over a century. Except perhaps now there is. 
"My parents thought I used to gamble there behind black tinted glasses," Ankit Panth says. Panth, a gamer from Mumbai has been playing CS GO for over six years now. He has been a professional gamer for 10. He ventured into eSports, though, at the age of 15, playing Counter Strike 1.6 in back alley gaming cafes, before finally convincing his parents to buy a computer that would allow him to take gaming seriously. 
Also Read | Fifa Members Took Bribes for Qatar World Cup Votes: US Prosecutors
"My parents would tell me, you will become fat and lethargic if you keep playing on the computer, you will get spectacles, you will have back pain, you will get into bad habits, you will become aggressive...." Panth says, "I knew these were just misconceptions. But I also didn't know anyone who would prove my point, so I decided to be that person myself." 
If you are feeling lightheaded now, it is natural. We have travelled to the future, please prepare for landing. Welcome to the world of eSports, where you need nimble fingers and a fast brain to succeed. Digital gaming is where the future is — in a looming social distancing future, the sport that can succeed — a truth even the International Olympic Council (IOC) recognises as fact. Intel, the tech giant with a substantial stake in the future of eSports is part of the IOC's top tier sponsorship program, a role that has offered it the opportunity to propose a World Open for eSports right before the 2020 Tokyo Olympics kick on.
The eSports boom has also neatly coincided with global sports' attention shifting towards the untapped investment potential that is India. Where the NBA, the NFL et al have floundered though, eSports has prospered. India's fan base for eSports may not be much to crow about but with estimated revenues of Rs. 43.8 million (4.38 crore), set to grow to Rs. 118.8 billion (11,880 Crores) in 2023, the Indian market is ripe for the plucking. 
The growth hasn't gone unnoticed. eSports startups like JetSynthesys, FanMojo, Nodwin Gaming and Cobx Gaming have mushroomed across the country. Many of them, among them Fnatic, recruit players for competitive leagues.
Despite all that, the ceiling truly cracked with Tirth Mehta's medal at the Asian Games in 2018. Mehta won bronze in Hearthstone, an online collectible card game that pits players against each other, with an aim to reduce the other's 'health' to zero. eSports were a demonstration sport at the Games, its popularity increasing hope of an official addition in the near future. 
A medal, and the hope that the event could officially be part of internationally sanctioned multi-sport competitions has triggered a sudden eSports craze in the country. From being reduced to a leisure sport, eSports is now a viable profession for many gamers across India.
"To be honest I never expected to earn so much money from being a professional esports player," Panth says. "Even my family is surprised. I come from a humble background so for me this is like a dream." Panth has multiple seven figure sponsorship deals with multinational brands and contracts that renew with increments every year. In addition he also has a YouTube channel, with superchats (a payment model that involves fans paying to highlight their chats on livestreams and the money credited to the user on a monthly basis), paid subscriptions and donations from fans.
Panth recognises that gaming is growing across India, but cites the lack of consistency as a major hurdle to the sport. Despite his success he readily acknowledges that he is among the few receiving the benefits he does. "It's a good time to get into gaming but you also need to keep your backups ready." eSports has come a long way, but there is a long way to go yet.
New Sport vs Old Sport
Modern sport is defined by its fans. A huge portion of the sports carnival is dedicated to the fan experience — from merchandising to broadcasting, in-stadia experience, or even athlete interactions. In his book 'What I think about When I Think About Football' the philosopher Simon Critchley likens a game of football to the theatre, where the play's narrative is altered or moved not just by the members of the cast on the field but also those in stands. To put it simply, fans, Critchley observes, make sport the mass moving socio-cultural entity that it is.
Also Read | Tokyo 2020: IOC Misses Golden Chance to Discard Circus
eSports basic life form is based around the fact that players need not be in the same time zone as each other. Consequently, fans don't either. Live Streams, scims are the lifeblood of the sport. But the obvious investment opportunity produced by filling an audience into a stadium is missed out. eSports has crossed that hurdle with LAN events.
This simple added dimension changes the way gamers approach the sport. Where earlier gamers were cocooned in safe areas, venues have opened up. Pratik Baliyan, a kabaddi player who transitioned to eSports after a career threatening injury sees audience interaction as something that adds a layer to his gameplay. 
"When we play our online matches, the audience engagement doesn't affect us as much, since we are present virtually," he says, "In LAN events every knock, a good shot gets scrutinised and applauded. That builds a different kind of pressure."
eSports adoption of the traditional sporting audience format has created the same performance pressure athletes in mainstream sports face. From being focussed on skill development and gameplay practice, more and more gamers are being forced to scrutinise their performances under pressure — and train appropriately. Yoga, and its inherent ability to nurture concentration and reduce anxiety is common among gamers, Baliyan says. 
There are obvious advantages to having crowds in venues too. Baliyan remembers a LAN event he attended as a spectator a little over a year ago. "I clearly remember the energy in the arena changing when the team representing India entered. Almost immediately a huge cheer erupted. I'm sure it would have unnerved the opposition." Baliyan likened it to the times he represented teams in kabaddi. "It gave me goosebumps," he says.
Physical distancing, lockdowns and shutdowns mean mainstream sport may never be the same again. Regardless of when the crisis passes over, and how countries recover, one thing is certain. It will take a long time before stadiums are filled up again.  
Footballers in Spain, England and Italy — in collaboration with their domestic clubs and leagues — have started hosting FIFA games for fans to watch online. Live streams of these games are available on platforms as innocuous and mainstream as Instagram now. Virtual NASCAR races are attracting as much attention — and competition — as those on the track. As global sport struggles to come to terms with the pandemic wreaking havoc across the world, eSports, perhaps belatedly, has finally received the shot in the arm it has long desired. The sport shutdown has brought the spotlight firmly back to the online world. 
Every Olympics is organised with the ambition to "inspire a generation" to play sport. More often than not the traditional understanding is that sport is played outdoors with people and involved physicality. Too much time indoors makes Jack a dull boy. That thought must change. 
Panth has already proved his parents wrong, and in the process set a standard for many to follow. "All those misconceptions they had, have been shattered," he says. "Even today I don't drink or smoke. I go to the gym regularly. I don't abuse, I am not aggressive, I don't have spectacles or back pain". In a future few can predict — or even see without feeling dystopian — eSports, is definitely the present.
Get the latest reports & analysis with people's perspective on Protests, movements & deep analytical videos, discussions of the current affairs in your Telegram app. Subscribe to NewsClick's Telegram channel & get Real-Time updates on stories, as they get published on our website.
Subscribe Newsclick On Telegram