G20 Declaration Calls for Ukraine Peace, Deplores Religious Hatred
The G20 New Delhi Leaders' Summit Declaration calls for comprehensive peace in Ukraine, inclusive growth, efforts to mitigate climate change and ensure food security.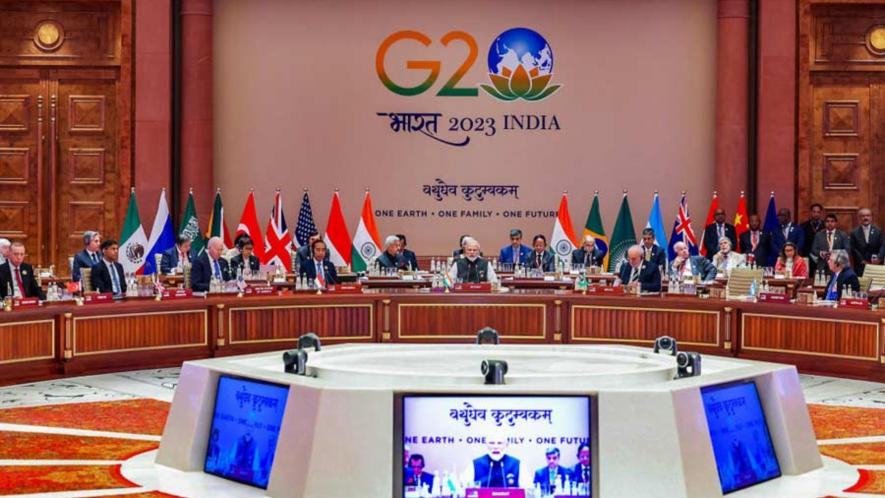 The ongoing G20 Summit in New Delhi called for "comprehensive, just and durable peace in Ukraine" on Saturday and termed the use or threat of use of nukes "inadmissible".
Adopting the G20 New Delhi Leaders' Summit Declaration, under the theme 'Vasudhaiva Kutumbakam'—One Earth, One Family and One Future—the member nations also agreed on strong, sustainable, balanced and inclusive growth; accelerating progress on sustainable development goals (SDGs) and green development pact for a sustainable future.
The declaration also called for multilateral institutions for the 21st century; technological transformation and digital infrastructure; international taxation; gender equality and empowering all women and girls; addressing financial sector issues; terrorism and money laundering; and creating a more inclusive world.
"Friends, we have just got good news. With the hard work of our teams and with the cooperation of you all, there is consensus on the New Delhi G20 Summit Leaders' Declaration," Prime Minister Narendra Modi told the leaders. "I announce that this declaration is adopted." However, joint declarations usually are released at the end of summits, say observers.
The announcement came hours after India circulated a new text to the G20 countries to describe the Ukraine conflict, PTI reported.
UKRAINE WAR
Regarding the ongoing Russia-Ukraine conflict, the declaration urged "states to uphold the principles of international law, including territorial integrity and sovereignty and international humanitarian law, and the multilateral system that safeguards peace and stability".
Terming the peaceful resolution of conflicts and efforts to address crises as well as diplomacy and dialogue critical, the member countries agreed to "unite in our endeavour to address the adverse impact of the war on the global economy".
"We welcome all relevant and constructive initiatives that support a comprehensive, just and durable peace in Ukraine that will uphold all the Purposes and Principles of the UN Charter for the promotion of peaceful, friendly and good neighbourly relations among nations in the spirit of 'One Earth, One Family, One Future'," the declaration read.
Admitting the "different views and assessments of the situation [in Ukraine]", the declaration also highlighted the "human suffering and negative added impacts of the war in Ukraine with regard to global food and energy security, supply chains, macro-financial stability, inflation and growth, which has complicated the policy environment for countries, especially developing and least developed countries, which are still recovering from the COVID-19 pandemic and the economic disruption, which has derailed progress towards the SDGs.
CLIMATE CHANGE
The G20 committed itself to urgently address climate change and its impacts. "We recognise that the impacts of climate change are being experienced worldwide, particularly by the poorest and the most vulnerable, including in LDCs and SIDS".
The member nations reaffirmed their "steadfast commitments, in pursuit of the objective of UNFCCC, to tackle climate change by strengthening the full and effective implementation of the Paris Agreement and its temperature goal, reflecting equity and the principle of common but differentiated responsibilities and respective capabilities in light of different national circumstances".
The group recognised that global efforts to address climate change are "insufficient to achieve the temperature goal of the Paris Agreement to hold the increase in the global average temperature to well below 2°C above preindustrial levels, and pursue efforts to limit the temperature increase to 1.5°C above pre-industrial levels".
The countries reiterated their resolve to "pursue further efforts to limit the increase to 1.5°C", which will "require meaningful and effective actions and commitment by all countries taking into account different approaches through the development of clear national pathways that align long term ambition with short and medium-term goals, and with international cooperation and support, including finance and technology and sustainable and responsible consumption and production as critical enablers in the context of sustainable development".
"We recognise that limiting global warming to 1.5°C requires rapid, deep and sustained reductions in global GHG emissions of 43% by 2030 relative to the 2019 levels," the declaration read. 'Global GHG emissions are projected to peak between 2020 and at the latest before 2025 in global modelled pathways that limit warming to 1.5°C with no or limited overshoot and in those that limit warming to 2°C and assume immediate action."
ENERGY/FOOD SECURITY
The G20 is committed to "accelerating clean, sustainable, just, affordable and inclusive energy transitions".
Recognising the needs, vulnerabilities, priorities and different national circumstances of developing countries, the declaration supported "strong international and national enabling environments to foster innovation, voluntary and mutually agreed technology transfer, and access to low-cost financing".
The nations emphasised the "importance of maintaining uninterrupted flows of energy from various sources, suppliers and routes, exploring paths of enhanced energy security and market stability, including through inclusive investment to meet the growing energy demand, in line with our sustainable development and climate goals while promoting open, competitive, non-discriminatory and free international energy markets". 
The group will work towards facilitating low-cost financing for developing countries to support them in transiting to low carbon/emissions.
The G20 will also work towards facilitating access to low-cost financing for developing countries for existing as well as new and emerging clean and sustainable energy technologies and for supporting the energy transitions.
"We note the report on 'Low-cost Financing for the Energy Transitions', prepared under the Indian presidency, and its estimation that the world needs an annual investment of over $4 trillion with a high share of renewable energy in the primary energy mix."
On enhancing global food security and nutrition for all in line with the G20 Deccan High-Level Principles on Food Security and Nutrition 2023, the group will "encourage efforts to strengthen research cooperation on climate-resilient and nutritious grains such as millets, quinoa, sorghum, and other traditional crops, including rice, wheat and maize".
The bloc also emphasised the importance of increasing access to, availability, and efficient use of fertiliser and agricultural inputs, including through strengthening local fertiliser production, and to improve soil health.
It also committed to accelerating innovation and investment focused on increasing agricultural productivity, reducing food loss and waste across the value chain, and improving marketing and storage, to build more sustainable and climate-resilient agriculture and food systems.
Developing countries' efforts and capacities to address their food security challenges would also be supported. The nations will "work together to enable access to affordable, safe, nutritious and healthy diets" and "foster the progressive realization of the right to adequate food".
MORE INCLUSIVE WORLD
Welcoming the African Union as a permanent member, the G20 said it will "significantly contribute to addressing the global challenges of our time".
The most significant part of the push for an inclusive world was freedom of religion or belief, freedom of opinion or expression, the right to peaceful assembly, and the right to freedom of association.
"[They] are interdependent, interrelated and mutually reinforcing," the declaration read adding that these rights can play a major role "in the fight against all forms of intolerance and discrimination based on religion or belief".
"In this regard, we strongly deplore all acts of religious hatred against persons as well as those of a symbolic nature without prejudice to domestic legal frameworks, including against religious symbols and holy books."
Get the latest reports & analysis with people's perspective on Protests, movements & deep analytical videos, discussions of the current affairs in your Telegram app. Subscribe to NewsClick's Telegram channel & get Real-Time updates on stories, as they get published on our website.
Subscribe Newsclick On Telegram