Gadkari's 'Rath' Set to Face People's Wrath in Nagpur
That the BJP leader's larger than life 'popular' image is largely a Delhi media creation is evident as his disconnect with common people is palpable on the ground.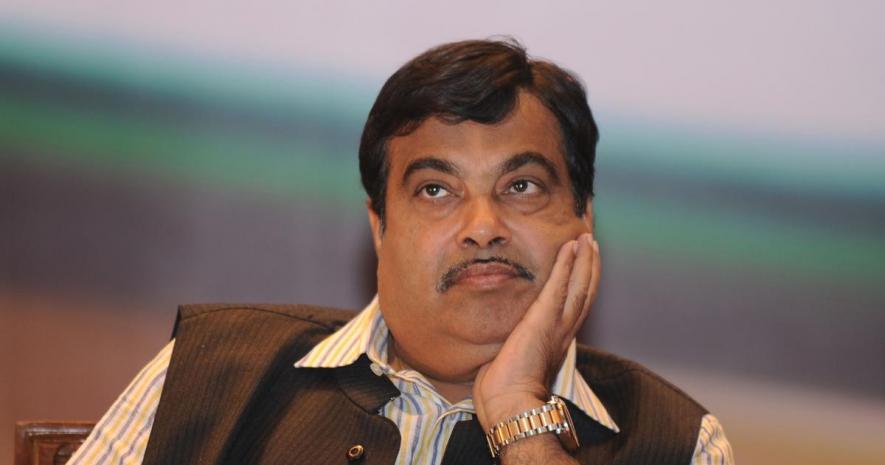 The sun indeed seems to be setting on Gadkari's Prime Ministerial bid, which is evident not only from him asking all the interviewers to not ask him these questions and put him in trouble, but also by the way in which his speeches, which were earlier about his work, have now become all about how great a leader Narendra Modi is.
The bigger shock however, is that the sun is setting on Gadkari in his hometown, Nagpur, as well, where he is set to be defeated by Nana Patole, a rebel farmers' leader, who is a Congress candidate. 
Having been in Nagpur for the last 10 days, and also briefly last month, Gadkari's fall has become abundantly clear to me based on my interaction with thousands of people in the constituency, which included an informal survey of 2000 people. Quoting this survey to talk about people's discontent with the Gadkari government, Hindu Business Line calls Nagpur a David VS Goliath fight.
Those who say that Gadkari cannot be defeated are often relying on his speeches and interviews, but tend to be oblivious to a lot of factors that one can only see by being on the ground and talking to people.
There is no doubt that the developmental dreams sold by Modi in 2014 have failed. The same can be said for Gadkari. In an attempt to put Nagpur as a more developed city on the Indian map, he introduced his dream project of the Nagpur Metro. A big step towards development, one would think, but the people feel otherwise.
When you talk to the common man, the middle class or the working class of Nagpur there is no doubt that the Metro is a failed project. There are no jobs, there is no industrialisation, there are no big businesses, no major service industry, and therefore no one to use it. Was it built to convenience people, or has is being more of an inconvenience just to further the façade of development?
Jammu Anand, a trade union leader said, "The metro is the worst thing happened to Nagpur. Only two weeks back a small portion of it became functional, which people use for joyrides but the people of Nagpur have been paying a metro tax since 2016. I haven't met a single person who says they will ever use it. The city might need a metro 20-30 years down the line, but we are paying tax now and Nagpur city has a loan of Rs. 10,000 crore  because of the Metro."
Nagpur is known as a city of two-wheelers, and with the lack of employment, no one is really going to use the Metro, other than for a joyride, which will push the city into further loss and increase the troubles of the people of Nagpur.
When asked if the Metro is needed, Vaibhav Joshi, a cab driver, said, "I was happy when Gadkari brought the Metro to Nagpur, because it made Nagpur famous in India, people were talking about it, but the happiness didn't last more than a few days. The two minutes of fame is not worth the increased taxation and destruction of the whole city. Nagpur had wide roads with many trees on the main roads, several of which have been axed. Metro construction has also destroyed more than 300 temples, several dargahs and other places of worship."
The other major point of anger for people in Nagpur is cement roads, another one of Gadkari's pet projects. Because of these roads, the city was severely waterlogged last rainy season and people haven't forgotten that. 
Gadkari has been speaking about this in all his rallies. Even Amit Shah, at the April 9 Jansabha said, 'Gadkari has done so much that he is now being called Roadkari'. They are singing songs of their own success but are not listening to the questions and concerns of common people of Nagpur, the very people who needed this 'development'. Who are they really helping then?
Clearly not the common people, but only a handful of contractors and businessmen, people who are Gadkari's friends, who get these contracts, and whose factories' cement is being used for all this, say many people on the ground. 
Nagpur's corporation is with the BJP since the last 13 years. Though Gadkari claims this is going to benefit him, it is in fact is going to be damaging. Water supply, garbage collection, electricity are all privatised, and people are seeing this. People don't get regular, clean water, the garbage isn't collected on time. This has created strong discontent against the BJP. People also claim that all the companies which have got these private contracts are run by Gadkari's friends.
Nationally, Gadkari has been projected as a mild, more acceptable face than Modi. This is a well-planned PR strategy to project him as someone who doesn't discriminate among people, something the PM has repeatedly been called out for, but is that really the case?
When you look in depth at the people who have benefited from his work, people who have got employment due to the Metro project, the people close to Gadkari, the answer is pretty clear. Gadkari's real face is that of a leader of the Sangh Parivar, which is undoubtedly dominated by the Brahmins of Maharashtra, so the beneficiaries of the "development" too, are the same people. As a result, the rest of the people, who are in a majority have developed a feeling of 'Us Vs them', and this will reflect in their votes. By sticking to his caste based RSS ideology, Gadkari has put his candidacy at severe risk. 
One of the main claims by Gadkari was of generating 50,000 jobs in the Milan project. In reality not more than 600 have been created. No major industries have come, but farmers have still lost their land. Patanjali, the industrial empire owned by Baba Ramdev, was allocated 600 acres at Rs 58 crores, which was valued at Rs 268 crore. This has angered the people of Nagpur who want employment and not this false development, which is not for them. 
Gadkari boasts about starting IIIT in Nagpur, but the reality is the youth who study there eventually go to Pune, Hyderabad, Bengaluru etc. for jobs. Similarly, the flagship projects of city buses on ethanol, Smart City, the cleaning of Nag River and the subsequent development of tourism via boating and several other schemes are under wraps. This is Gadkari's failure. People can see how none of the promises are being fulfilled and are starting to question his credibility. 
Raman Naik, an educated unemployed youth said, 'Gadkari's image of "Vikas Purush" is a media-created image. He doesn't meet common people, he doesn't work for them." Gadkari's interactions and relationships are very much limited to the media, bureaucracy and his own party's karyakartas in Nagpur, and this is working against him. People look at the positive developmental stories, editorials on Gadkari and laugh about it. They say that all the editors in Nagpur are in his pocket, and that's why Nagpur press club, which is built on illegal land has five- star facilities.
Ricky Katrani, who is working with his father on his electrical supplies business said, "I did my MBA from Pune and wanted to expand my father's business. We used to be Gadkari supporters, but the way he was silent on demonetisation and GST, we were shocked. On the one hand our businesses are dying, while on the other, Gadkari's sons' business, Manas Agro Industries, just crossed a Rs 2,000 crore  turnover. I am going to write to Gadkari Saheb to teach all the youth of Nagpur how to earn so much money so fast."
Other than Gadkari's failures, there is additional damage because of BJP's non-performance which will impact him. Modi's popularity has faded, there is no longer a 'Modi wave'. 'Chowkidar Chor hai' is resonating with people, and the way BJP has failed to complete any of its promises, has angered them, which is definitely going to impact Gadkari's votes.   
Though Nagpur is the headquarters of the RSS, it has always been a Congress stronghold. Only twice has the Congress lost here (despite the infighting), in 1977 and 2014. The BJP here is made up of disenchanted and disappointed ex-Congress people. Now, with Nana Patole being the contender, the infighting is under control and the factions seem to be working together. Patole, incidentally, won as MP last time on a BJP ticket.
Patole has an image of being a rebel, fighter leader who kicked his sitting MP seat to fight for the issues of farmers and OBCs. He says he fights for power for the OBCs and not just position and appears to have a great appeal among people. While Gadkari remains the super-rich, larger than life powerful leader who is only focusing on speeches, Patole has focused on padyatras and walked 12 hours a day meeting people in all the six Assembly constituencies.  
With the message of 'Sanghbhumi VS Dikshabhumi' and 'People who want to destroy the constitution VS people who have protected the constitution', Patole has been appealing to all sections of the society. When asked about how will he compete with Gadkari's money and power, he said, "In a democracy, I don't consider money or leaders as powerful. I think the only thing which is powerful are the people and I believe in people. My fight is Janshakti VS Dhanshakti, and people will make me victorious and not Gadkari with his money". 
A senior RSS advisor when asked about whether the Sangh is betting on Gadkari becoming PM said, "This is what people who don't know the background say. People don't know Mohan Bhagwat's father is Narendra Modi's Guru and Bhagwat and Modi are way closer than Bhagwat and Gadkari, so there is no question. Even Gadkari knows it and that's why he is going everywhere and saying I am not interested and Modi is our supreme leader."
The rumours of Modi and Shah sabotaging Gadkari's victories, however, remain unsubstantiated.
A simple look at both the key candidates' campaign says it all. Gadkari is waving from a rath, with scores of SUVs behind him while Patole is seen among the people. Gadkari seems to have surely missed the bus by focusing on development for few, and his larger than life image created by a media that sits far away in Delhi. He will soon bear the brunt of not engaging with the ground realities of Nagpur, the city that he claims to govern.
Anand Mangnale - is a Freelance Socio-Political Campaigner. Can be reached at @fightanand on twitter and +919970046164. The views are personal.
Get the latest reports & analysis with people's perspective on Protests, movements & deep analytical videos, discussions of the current affairs in your Telegram app. Subscribe to NewsClick's Telegram channel & get Real-Time updates on stories, as they get published on our website.
Subscribe Newsclick On Telegram