Gauri Lankesh Assassination: 6 Years Down, No Closure for Family and Friends, Justice Elusive
With the case against journalist's killers moving at a snail's pace and 83 witnesses examined, there is growing demand for a special court to hear the case exclusively.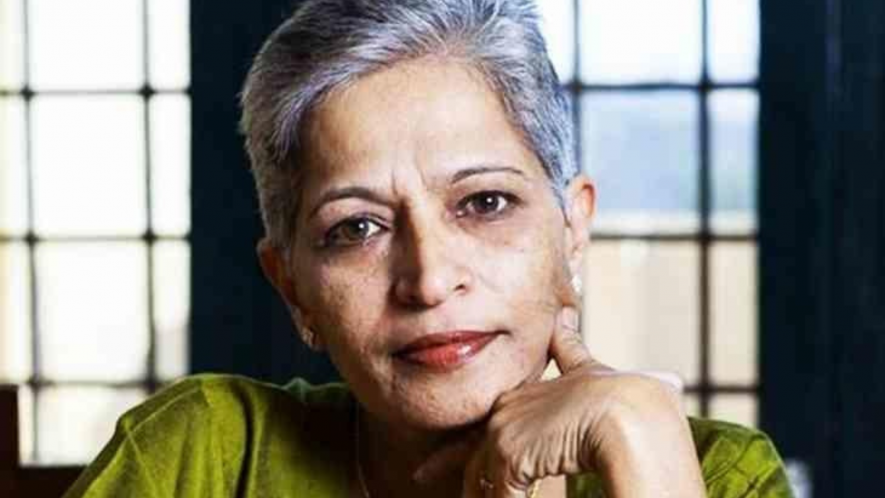 Six years ago, around 8.15 p.m. on September 5, Gauri Lankesh, a well-known journalist and rationalist, who took right-wing Hindutva extremism head-on and stood up for India's marginalised communities, was killed in cold blood, by two motorcycle-borne assassins. On September 5, 2017, Gauri was shot in the head and chest by alleged right-wing gunmen on the doorsteps of her home in Rajarajeshwari Nagar.
Gauri was found by friends and then family lying in a pool of blood. This brutal killing had shaken the  conscience of the people and led to support for condolence meets and protests across the length and breadth of India. . It is now almost certain that right-wing extremists targeted Gauri – an icon  whose every word, every sentence she wrote, was targeted at the growing communalism, injustice, and equality in the country.
Gauri's was the last in the long line of four such similar assassinations of rationalists, Narendra Dabholkar (August 20, 2013), Govind O Pansare (February 2015) and MM Kalburgi (August 28, 2015).
Each of these were and are in their own way known for bold and humanely rational stands against growing authoritarianism.
Gauri Memorial dialogue
Each year, even as the gruesome assassination of Gauri Lankesh appears to be fading away from public memory, the morning's graveyard tributes at her samadhi (Lingayat Rudrabhumi at Chamarpet) is a sombre reminder of all that has been lost and all that lives on. Apart from family and friends, over 100  activists and representatives of movements gathered this morning from 7.30 a.m. onwards in joy-filled sorrowful tribute.
Each year, January 29 (2018 onwards) or September 5, the day Gauri was slain, the Gauri Memorial Trust (formed after her killing) organises dialogues, marches, protests and events that symbolise what Gauri Kankesh fought, lived and died for.
This year, the Gauri Memorial Trust has organised a dialogue on "Remembering India In Authoritarian Times" on her death anniversary to mark the 6th year of Gauri's assassination at Town Hall in Bengaluru.
Karnataka chief minister Siddaramaiah, a friend of Gauri Lankesh, farmers' leader Rakesh Tikait, Angela G Rangad – political activist, Meghalaya, noted actor and political activist Prakash Raj, political leader KK Shylaja, former journalist Supriya Shinate and Muslim leader Vasin Malpe are expected to participate in the discussions. Farmer's leader Tikait, accompanied by colleagues from Rajasthan and Punjab also paid tributes this morning at the Rudrabhumi.
Apex court's observation
Six years after the crime, the trial  into Gauri's assassination case seems to be progressing at a snail's pace. The court is once a week, dedicated to this case. The recent Supreme Court's order on August 19, asking the Central Bureau of Investigation (CBI) to look into a larger conspiracy in the killings of Dabholkar, Pansare, MM Kalburgi and Gauri Lankesh, has brought the chilling assassination of Gauri and Kalburgi to the fore again.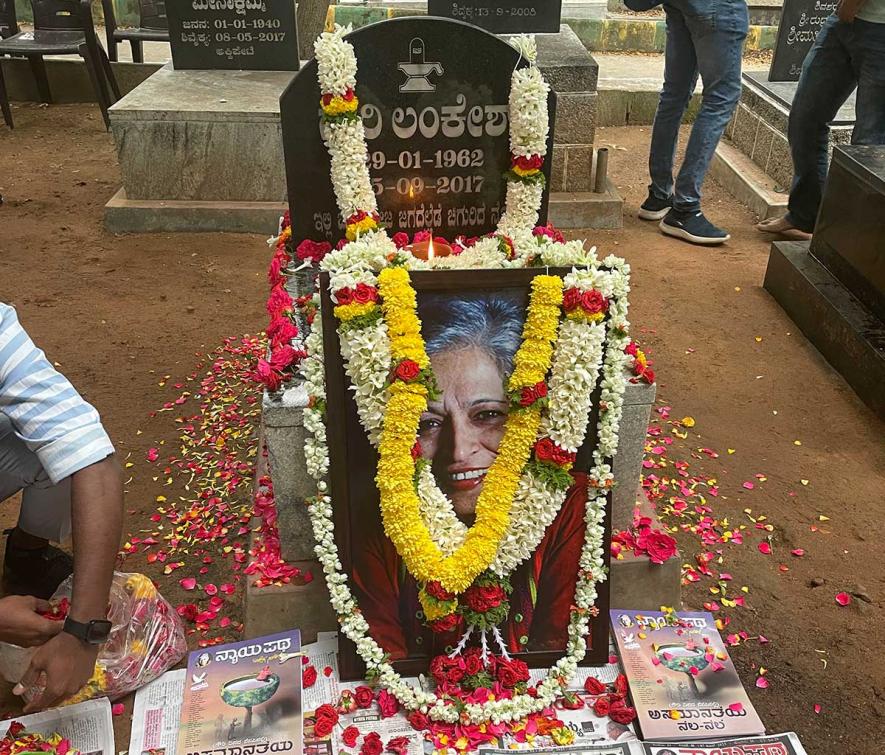 Demand for special court
Kavitha Lankesh, sister of Gauri Lanlkesh and other members of the Gauri Memorial Trust, are also concerned at the pace of the trial. Presently, of the 19 accused, 18 are already behind bars, after the filing of the chargesheet. Of the 400 plus eyewitnesses in the court, examination of over 80has been completed, he added.
Today there are discussions among Gauri's friends and family members who are considering urging the government to constitute a Special Court to hear Gauri's case. The demand has not been met so far. With the Congress government returning to power in Karnataka, it is to be seen whether chief minister Siddaramaiah, in whose earlier term Gauri was assassinated, will take the initiative in constituting a special court."
Documentaries on Gauri
Pradeep KP, a Bengaluru-based media activist, also known as Pradeep Deepu of Pedestrian Pictures, made a 67-minute documentary, 'Our Gauri', in September 2017. Deepu extensively used various footage he collected over 16 years and completed his film 'Our Gauri' in just 20 days. This documentary has been shown in more than 600 screens across the country.
Kavitha Lankesh, a woman filmmaker, who has made a name for herself in Indian cinema, has made another documentary on her sister Gauri, which is different from Deepu's documentary in terms of treatment. Initially, Kavitha wanted to make a full-length feature film on Gauri, (In fact, she still wants to do that). However, after a call by Free Press Unlimited, Kavitha made a documentary simply titled 'Gauri'.
Awards galore for 'Gauri'
This documentary won the Best Human Rights Film award at the Toronto Women's Film Festival (TWIFF) in 2022. 'Gauri' won the Best Long Documentary Award at the South Asian Film Festival of Montreal. Juries observed that the film is , "a brave and uncompromising pulse-taking of current crisis in Indian politics, focusing on the 2017 political assassination of trailblazing Bengaluru journalist Gauri Lankesh". 'Gauri' has screened at the International Documentary Film Festival of Amsterdam, Sundance Film Festival and other film festivals across the globe.
Sister's  documentary
Poster of the documentary 'Gauri'
Kavitha scripted and shot the film for Free Press Unlimited, while fighting to get justice for her sister Gauri, tapping the doors of state machinery and judiciary.
'Gauri' has a larger canvas than the earlier documentary which had been made in the heat of the moment, and is more intense. It speaks about the radical, ideological and political positions of Gauri. Kavitha shot the documentary in various parts of the country where Gauri worked in her career as a journalist and left her footprints.
Besides delineating the radical, ideological and political positions of Gauri, the film narrates Gauri's struggle for freedom of expression by upholding the rights of the oppressed classes, besides fighting strong divisive forces in the country. It also speaks intensely about certain issues, which may trigger a backlash from Hindutva fundamentalist forces.
Three important highlights of Gauri's activism, such as her fight against the communalisation of Bababudangiri Sufi shrine; and her protests to oppose the displacement of tribals in the Diddalli area of Kodagu region and Kudremukh National Park are vividly visualised in this documentary. The film also traces the network of Hindu fundamentalists responsible for the elimination of Gauri, from Belagavi to Goa and Maharashtra.
It is Esha Lankesh's (daughter of Kavitha) words before the documentary ends that make the audience emotional. When the documentary was screened for a selected audience last year, tears filled the eyes of those who watched the film, when they exited from the theatre. The documentary connects emotionally to everyone who knows even a bit about Gauri.
Formation of SIT (2017-2018)
Meanwhile, the Congress government, headed by Siddaramaiah, had asked the Karnataka DGP and IGP to constitute a Special Investigation Team (SIT) to probe the killing of Gauri. The SIT probe was headed by an Inspector General officer. Siddaramaiah had also declared then that the government had an "open mind" for a CBI investigation, a demand made by Gauri's family.
The presence of CCTV camera footage for a mere four seconds was the only clue the SIT had for the first three months after its investigation into the case. Instead of waiting for some substantial clue, SIT launched a massive surveillance exercise to find something as concrete evidence.
Trailing the accused
On September 13, 2017,  the Karnataka Forensic Science Laboratory's ballistic report concluded that Gauri Lankesh was killed with the same gun used to kill scholar M M Kalburgi in Dharwad in 2015. Based on that finding, the SIT started studying the activities of radical right-wing activists by the end of September. This was because the CBI probe in the Dabholkar case and the Maharashtra SIT probe in the Pansare case had suggested the involvement of activists linked to the radical outfit, Sanatan Sanstha and its affiliate Hindu Jagarana Samithi (HJS) in the two murders in Maharashtra.
In January 2018, the SIT intercepted telephone conversations of Hindu Yuva Sena and HJS-linked activist K T Naveen Kumar with reference to involvement in Gauri's murder and planned to carry out another murder. Naveen Kumar was arrested for the possession of illegal arms in February 2018 and in connection with Gauri's murder case. In May 2018, the SIT tracked down Sujith Kumar, a former HJS activist on whose instruction Naveen Kumar was trying to get a gun. According to reports, Sujith Kumar and others were planning to carry out the murder of another rationalist K S Bhagavan.
Arrest after arrest
Based on information obtained from Sujith Kumar, SIT arrested three men – Amol Kale, Amit Degwekar and Manohar Yadave from Vijayapura in May 2018. All three were arrested after finding rough maps of Gauri's home and details of weapons and a recce in their dairies.
Subsequently, on June 12, 2018 Parashuram Waghmare, a Sri Rama Sena activist, was arrested and identified as Gauri's shooter on the basis of Kale's diary. Likewise, in July 2018, Ganesh Miskin, the alleged bike rider who had transported the shooter to Gauri's home was arrested along with Rajesh Bangera, an alleged arms trainer.
In August, Suresh HL, a former HJS man who allegedly sheltered the killers and stored the guns after the murder, was arrested. Similarly, Bharat Kane, Sharad Kalaksar and Sudhanva Gondhalekar, Shrikanth Pangarkar, Vasudeva Suryavamshi were arrested in connection with the case in the next three months.
The SIT filed its first chargesheet naming alleged gun runner and Hindutva activist T Naveen Kumar as an accused. The 650-page chargesheet was filed before the First Additional Chief Metropolitan Magistrate on May 30, 2018. SIT filed a 10,000-page additional chargesheet in the Gauri murder case against 18 persons on November 23, 2018.
Get the latest reports & analysis with people's perspective on Protests, movements & deep analytical videos, discussions of the current affairs in your Telegram app. Subscribe to NewsClick's Telegram channel & get Real-Time updates on stories, as they get published on our website.
Subscribe Newsclick On Telegram