Gaushala & Ram Mandir Slogans: Is MP's Makhanlal Chaturvedi University Turning Saffron?
Bhopal-based Makhanlal Chaturvedi National University of Journalism and Communication (MCNUJC) is apparently being turned into an "RSS (Rashtriya Swayamsevak Sangh) propaganda laboratory".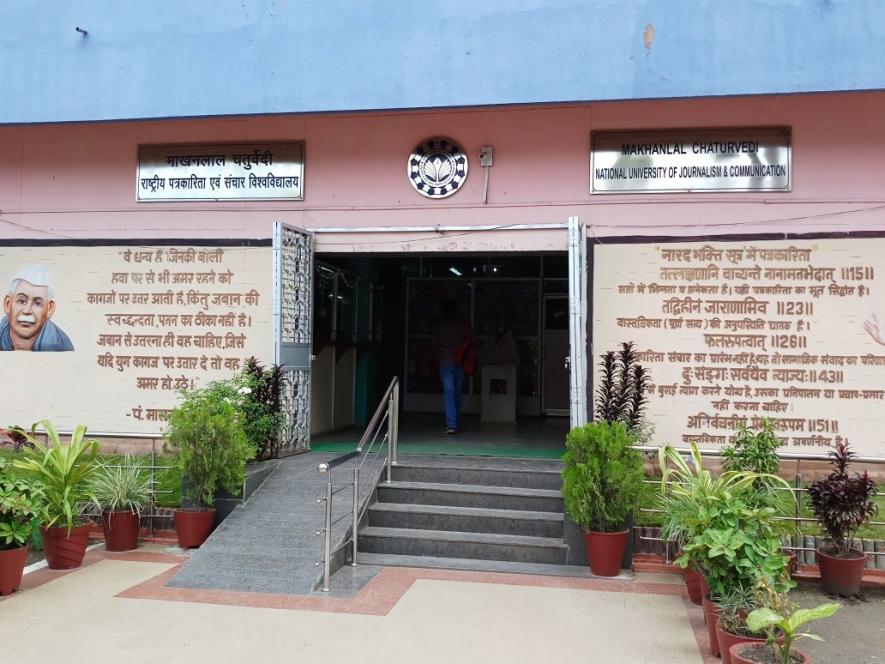 Bhopal-based Makhanlal Chaturvedi National University of Journalism and Communication (MCNUJC) is apparently being turned into an "RSS (Rashtriya Swayamsevak Sangh) propaganda laboratory".
Several people connected with the RSS have allegedly been preferred in appointments to the varsity over deserving candidates.
Under career advancement scheme, the university recently promoted five associate professors to the post of professor. But the appointments, allege students and teachers, were made violating the guidelines of the University Grants Commission (UGC).
The new appointees allegedly do not fulfil the UGC's minimum qualification criteria.
"Sanjay Dwivedi, who was associate professor in the Mass Communication Department, was promoted as professor without having a PhD. Dr P Shashikala, who teaches at New Media Technology Department, does not have an experience of three years as associate professor. But she too has been promoted as professor. The appointment of Dr Avinash Vajpayee, posted at Media Management Department of the university, was already surrounded in controversy. His API (academic performance index) score is not according to UGC's 2016 guideline. His PhD is also not in relevant subject," Avinish Mishra, a student of Electronic Media Department, told NewsClick.
He said all of them in addition to two others are associated with RSS and therefore, they were given preference over other deserving teachers who were in the queue.
The Government of India's gazette notification says a person being to promoted or appointed as professor must have doctorate and served as associate professor for at least three years.
But MCU Rector Lajpat Ahuja argues that it is not necessary to have a PhD to be promoted to the post of professor.
However, experts rubbished the rector's arguments adding that gone are the days when research works used to be considered equivalent to PhD.         
Meanwhile, when NewsClick visited the university campus on September 5, students were busy celebrating the occasion of Ganesh Chaturthi and were carrying out a procession outside the campus ahead of the customary immersion of Ganesha idol.
They future journalists were raising controversial slogans like 'Har Ghar Bhagwa Chayega, Ram Rajya Phir Aayega'; 'Ek Hi Nara, Ek Hi Naam, Jai Shri Ram, Jai Shri Ram'; 'Ram Lala Hum Aayenge, Mandir Wahin Banayenge'; and 'Qasam Ram Ki Khate Hain, Mandir Wahin Banayenge'.
The university is already marred in controversy after its decision to build a 'gaushala' (cowshed) at its new campus, which is being built in Bishankhedi on the outskirts of Bhopal. The proposed 50-acre campus will have a cowshed on two acres, which is "low-lying where no construction is possible".
Though Vice Chancellor BK Kuthiala refused to talk to us despite our repeated requests, he had earlier told Indian Express pointing out merits of having a cowshed in the campus, "Milk and curd will go to students living in hostels and the staff living on the campus. Also, fuel from a biogas plant will come in handy."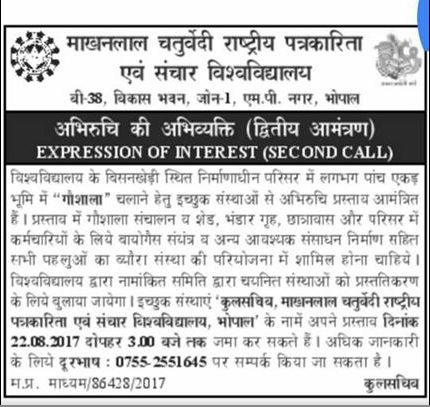 He said ancient centres of learning such as Nalanda and Takshashila were self-sufficient and had cowsheds on their campuses. He was not sure if any modern university has one, though.
The VC was widely criticised for implementing the 'RSS agenda' in the university after media reported the proposed move.
 
Ramsharan Joshi, former director at the university's Noida campus, expressed his anguish on Facebook. "When people can come up with ideas like putting tanks in JNU campus to invoke nationalism, why are we astonished over opening of a cowshed in the campus?" he wrote on the social media platform.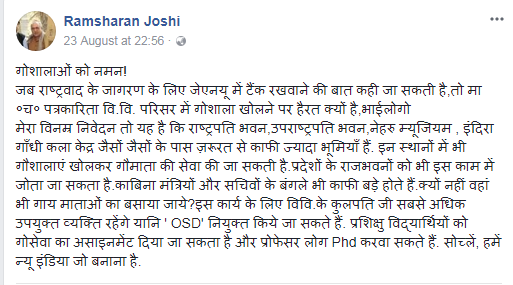 "Places like Rashtrapati Bhawan, Vice-president house, Nehru Museum and Indira Gandhi Kala Kendra have ample space. I humbly request to open cowsheds in these places as well...after all we have to make a 'New India'," he added.
He took a dig at the VC saying, "Cabinet ministers and bureaucrats own big bungalows. Why shouldn't we rear some cow mothers out there? Even the VC could be appointed as their OSD (Officer on Special Duty) to perform this job."
A student of Mass Communication, who did not wish to be named, considers the decision as a case of "misplaced priorities". "The university has failed to build its campus. It has failed to provide even basic infrastructure required for media students. Clearly, it is a case of misplaced priorities," he said adding that "no one is against the idea of gaushala but we are questioning this Sangh-parivar backed administration".
This is not the first time when the university is being accused of "toeing the RSS agenda".
A few years ago, the university had reportedly conducted a written examination that had questions like "who was the founder of the Jan Sangh", "who conceptualised integral humanism'' and "which political leader was born on December 25".
The Makhanlal Chaturvedi National University of Journalism and Communication was set up by an Act passed in the Madhya Pradesh Assembly in 1990 and inaugurated a year later.
The university runs 21 courses in journalism, communications, management, printing, graphics and multimedia, film production and computer applications, among other subjects.
Disclaimer: The views expressed here are the author's personal views, and do not necessarily represent the views of Newsclick.
Get the latest reports & analysis with people's perspective on Protests, movements & deep analytical videos, discussions of the current affairs in your Telegram app. Subscribe to NewsClick's Telegram channel & get Real-Time updates on stories, as they get published on our website.
Subscribe Newsclick On Telegram