GI tag is no Quick fix for Bikaner Usta Kala's Return to Glory
The dwindling number of artists, the status of caste-based occupation and scarce government support through schemes and training camps affect its progress.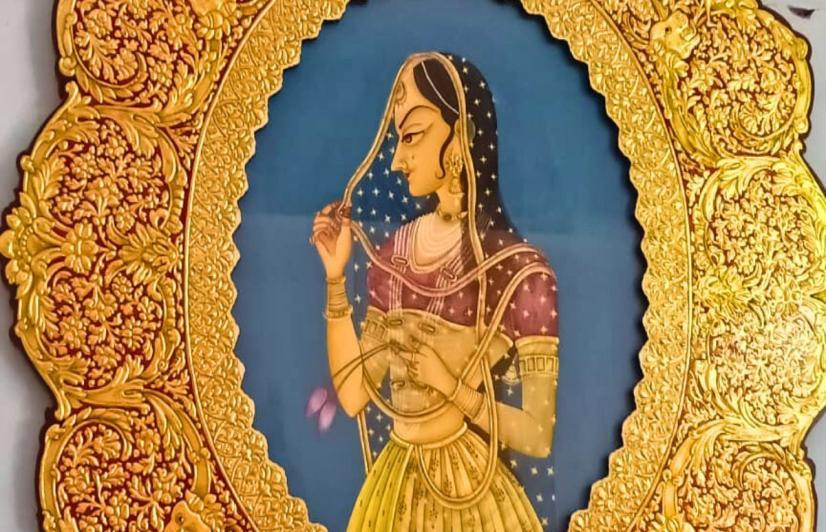 Bikaner, Rajasthan: Sitting cross-legged at his workshop in Rajasthan's Bikaner, Shaukat Ali Usta (52) is engrossed in laying warq (fine slivers of gold) on a wooden frame. His work involves not only acquired skills but also loads of patience. The intricate designs that he has laid out on camel leather-embossed exhibits have not only won him a national award instituted by the Ministry of Textiles but also many valuable customers over the last 30 years.
Shaukat Ali Usta learnt the art from Mohammed Hanif Usta, a disciple of Hisamuddin Usta, a doyen in this field. Despite Bikaner Usta Kala receiving the Geographical Indications (GI) tag last month, getting more artists into this profession has become arduous.
Usta kala flourished in the Mughal courts before Raja Rai Singh, the sixth ruler of Bikaner, patronised it and welcomed artists from Iran, belonging to the Muslim community, to the city famed for its camels. No wonder their work involving gold meenakari and munawwat was done on camel skin. Nowadays, wood, mirrors and marble also form the raw materials. Glass jars, wooden boxes, wall paintings and gift items with usta work are quite popular. There are big works like bandanwars (work on doors) too.
Usta kala in Bikaner's Bhanda Shah Jain temple is almost 400 years old. Anup Mahal in Junagarh Fort, Jain mansions, mosques, Rampuria Haveli, Ajmer Sharif Dargah, Jama Masjid of Delhi, Neelkanth Mahadev Temple in Nepal, and mosques of Sri Lanka and Saudi Arabia are fine examples of workmanship.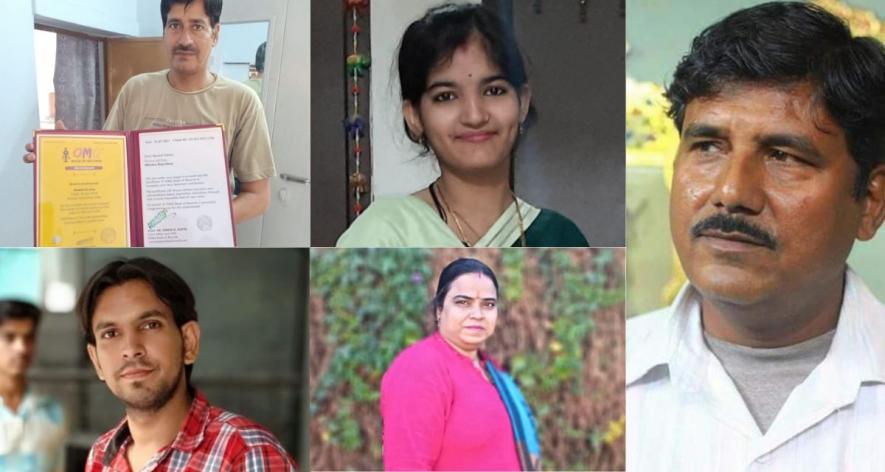 However, by 1967, Hisamuddin Usta was the only usta artist left in the country. When Munna Lal Goyal became Bikaner Collector in 1976, he urged Hisamuddin Usta to impart lessons to others. This led to the launch of the Camel Hide Training Centre. Mohammed Hanif Usta soon became Hisamuddin Usta's disciple and started learning the nuances of the art.
While Hisamuddin Usta received the Padma Shri Award in 1986, Mohammed Hanif Usta was honoured with the President's Award in 1993 for his miniature work on marble. The latter had decorated the walls of Anup Mahal and Nizamuddin Dargah.
During Bill Clinton's official visit to India in 2000, Mohammed Hanif Usta and 14 other artists got a chance to meet the then-US President. Looking at his marble exhibit, Clinton said he wanted that in the White House. However, Mohammed Hanif Usta replied that he would not sell the work that fetched him a national award to anyone.
Hisamuddin Usta's other disciples, Mohammad Asgar Usta and Ajmal Hussain Usta, have received state awards for their commendable works. His grandson, Mohammad Jameel Usta, has been working for the promotion of art through innovative experiments. He has also been a member of the Rajasthan Lalit Kala Akademi.
Thanks to Hisamuddin Usta and his disciples, the number of usta artists has increased. However, it is still unsatisfactory, as only less than 70 artists are in the field.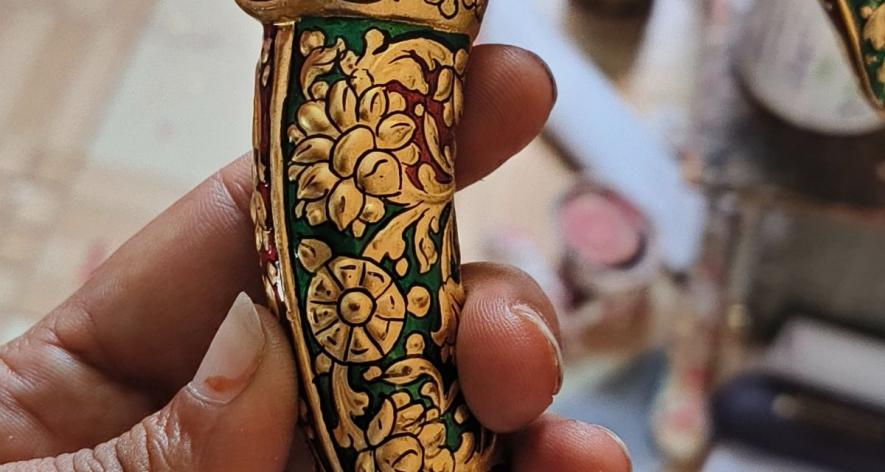 An Ailing Art
Usta artists admitted that the lack of skilled people was a reason for the art not progressing much, despite having all the necessary ingredients to flourish. Usta artists are well-off, and there is no shortage of work. Artists' income depends on how many pieces they can complete in a month, their worthiness and selling prices. Some pieces can fetch Rs 7,000, while some others Rs 50,000.
There are more opportunities now as new works are commissioned and renovations are carried out regularly at various places, including Delhi Airport, Jain temples and buildings outside the country. The artists also benefit from handicraft fairs organised at Pragati Maidan in New Delhi and other big cities.
However, a lack of skilled manpower eventually means a shortage of talented teachers. The art has been confined to a particular caste, and that too to only Bikaner. This has hurt its growth. As for women in this field, Shaukat Ali Usta said, "I believe the use of purdah makes it difficult for women to do this art." He added that some Hindu women have entered the field, but their numbers are negligible.
Another important aspect is the time taken to complete a piece. Showing a bandanwar he did, Shaukat Ali Usta said it took around three months to complete, and it will be priced at above Rs 50,000. Such long work periods put off the youth keen on getting educated and entering other professions. 
It also takes at least three to five years to master the art. The lack of proper publicity and government efforts to train people also hamper the art.
The Much-needed Fillip
The GI tag is the first step to protect usta kala. Bikaner District Industries Centre (DIC) General Manager Manju Nain Godara and NABARD officer Ramesh Tambiya agreed that duplication of usta artworks has been an issue. However, the GI tag will curb the issue as the names and details of the usta artists will be mentioned on their artworks, which can be scanned to check authenticity.
Tambiya, Assistant General Manager, NABARD, Bikaner, told 101Reporters that the GI tag will boost employment opportunities in the area and give the art a place in the international market.
However, Shaukat Ali Usta believed getting a GI tag would not protect and promote usta kala. 
"The art will survive only if it is propagated completely," claimed the artist, who has made efforts in collaboration with Prayas Welfare Institute, Bikaner, to get the GI certification. Godara, NABARD and the Department for Promotion of Industry and Internal Trade, Ministry of Commerce and Industry, New Delhi, also played important roles in making it a reality.
For the art to be propagated completely, there should be schemes to promote it. Godara told 101Reporters that no such scheme was being run to help the craft. "For the last four years, I have been striving to get GI certification for usta kala. Now, we will make further efforts to encourage the artists," she said.
Asked about training camps for artists, Godara said, "The DIC's mandate is to run government schemes only. Earlier, we used to organise such camps under the aegis of Rajasthan Small Industries Corporation Limited. Currently, the National Institute of Fashion Technology, Jodhpur, runs them. USTTAD, a skill upgradation scheme of the Ministry of Minority Affairs, also aids the artists. The NABARD finances it. However, the duration of the camps is short. If a course is designed by the Centre or state government for usta kala, then the DIC can play an important role in it."
Godara informed that the DIC will display usta works at an exhibition of GI products to be held in Jammu and Kashmir in the first week of October. "We always try to provide artists with information about various fairs and exhibitions so they can participate," she claimed.
Ajmal Hussain Usta, aged around 60, has 40 years of experience in the field. He told 101Reporters that the government was not doing things right. "We do not get full information about schemes. The dissemination of information given on the website of the Union Textile Ministry's Handicrafts Department is negligible among our artists."
"Like music, usta kala cannot be learnt completely by attending a training camp of only two or three months. It needs constant practice to attain perfection," Ajmal Hussain Usta said. While echoing his views, Shaukat Ali Usta said, "We need to connect with the youth. Only a few have come to learn the art, as it is limited only to Usta families. There is also a misconception that it is very expensive to learn."
Ajmal Hussain Usta felt the Camel Hide Training Centre should hold its training sessions more regularly. The Central and state governments should try to link usta with the tourism department initiatives.
Artisan Cards
Artisan cards are issued by the Centre to handicraft artists aged above 18 years on application so that they can travel in trains free of cost to attend government fairs. They also get free stalls at fairs to exhibit their works. Using the card, they can also participate in art-related marketing schemes of the Central and state governments.
According to Shaukat Ali Usta, the true expansion of usta kala is possible by providing artisan cards, a rightful place to capable artists, and properly implementing schemes meant for them.
Usta artist Naveen Acharya (30) said the government training camps should be able to attract young and energetic learners who want to learn the art fully. "Only a few women are present in this field. Through my interactions, I have known that they all have learnt the work with great difficulty," he said.
Chanchal Suthar (24) told 101Reporters that her artisan card was issued recently and that she wanted more training. Deepika Shrimali (35), who has studied in a Master of Fine Arts course, said she learnt usta kala from a guest lecturer. 
"It is not possible to gain professional knowledge in a short time. If an usta course is launched, many students of Bikaner will become proficient in the art," she added.
(Dr Mudita Popli is a Rajasthan-based freelance journalist and a member of 101Reporters, a pan-India network of grassroots reporters.) 
Get the latest reports & analysis with people's perspective on Protests, movements & deep analytical videos, discussions of the current affairs in your Telegram app. Subscribe to NewsClick's Telegram channel & get Real-Time updates on stories, as they get published on our website.
Subscribe Newsclick On Telegram