The Gloomy Picture of Telangana's Finances
While the debt and interest payments continue to rise under the TRS regime, the fiscal deficit was understated by Rs. 2,500 crore in 2016-17, in a serious breach of accounting.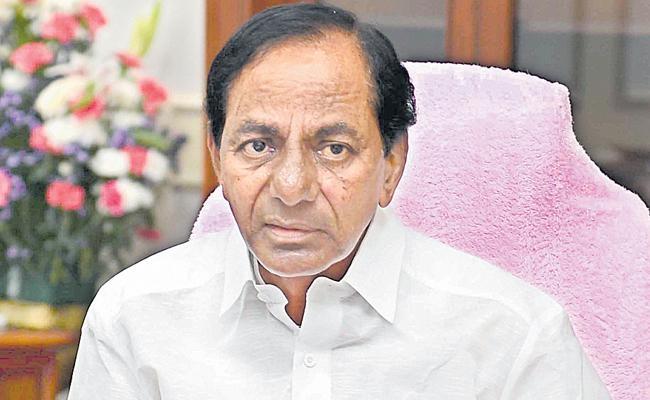 After the official bifurcation of Andhra Pradesh on June 2, 2014, Telangana started its journey with a revenue surplus of Rs. 7,500 crore for the year 2014-15 under K Chandrashekar Rao's Telangana Rashtra Samithi (TRS) government. Fast-forward four years and the state's financial system has become vulnerable under the risk of misappropriation and fraud, several reports point out.
Newsclick has earlier reported on how the state has fared in crucial sectors such as education, health and agriculture in the last four years under the TRS regime. The state government has a record of irregularities when it comes to the management of state finances. Perhaps to project a maze of flourishing revenue, the government has overstated the revenue surplus as Rs. 6,778 crore, in 2016-17, while the actual revenue surplus was only Rs. 1,386 crore, a CAG (Comptroller and Auditor General) report released earlier this year pointed out.
Also Read:How Telangana Fared in Health Under TRS Rule?
Similarly, the auditors found that the fiscal deficit of the state during 2016-17, has been understated by Rs. 2,500 crore, a serious breach of accounting.
The state has continued to maintain disproportionate differences between budget estimates and actual spending. During 2016-17, while the capital expenditure was estimated at Rs. 29,313 crore, in reality it exceeded Rs. 33,371 crore- a huge difference of about Rs. 4,000 crore. Similarly, the state registered excess expenditure over allocations of Rs. 6,184 crore from 2014 to 2016. But, where did this massive expenditure go?
The CAG has pointed out that due to poor project implementation and non-utilisation of funds, several policy initiatives of the government were either unfulfilled or partially executed.  
Consider the funds allocated under Scheduled Caste (SC) and Scheduled Tribes (ST) sub-plans. The TRS government failed to utilise massive portions of funds allocated under these crucial schemes. During 2016-17, about 60% funds of the SC sub-plan and 57% funds of the ST sub-plan were left unutilised. Nonetheless, this has been the case with sub-plans across states.
Budget and Expenditure
As per the data from RBI, Telangana's development expenditure stood at 72.8% of the total expenditure during 2015-16. It slightly increased to 75.4% in 2016-17. This has dipped to 74.9%, as per the 2017-18 budget estimates.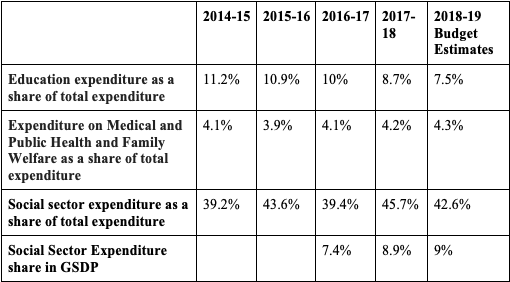 As the above table points out, the state has decreased its expenditure on the crucial education sector, while medical, public health and family welfare has only registered a slight increase in total spending, although its share has been around 4%. While the government had spent 45.7% of total expenditure on the social sector expenditure during 2017-18, it fell down to 42.6% in the 2018-19 budget estimates.
Debt and Interest Payments
Telangana has to repay 49% of the total debt, amounting to Rs. 56,388 crore within the next 7 years, the CAG had revealed. The state government's debt has substantially increased over years. While the debt was Rs. 72,660 crore in 2015, it increased to Rs. 1,53,200 crore in 2018. The state government raised an amount of Rs. 21,860 crore in 2016-17 and Rs. 24,600 crore in 2017-18 through market borrowings.The rise in debt increased the state's expenditure on interest payments. The state government spent Rs. 7,557.5 crore on interest payments in 2015-16 and Rs. 7,706.4 crore in 2016-17. As per 2017-18 budget estimates, the total interest payments stood at Rs. 11,138.6 crore.
Also Read: Deplorable Situation of Agriculture in Telangana: TRS's Role
The TRS regime has even begun a trend of investing public money on non-performing investments. During 2016-17, the state government earned a meagre return of 0.54% on its investments in statutory corporations, government companies, joint stock companies and co-operatives. These investments, which were funded mainly through borrowings at an interest of 7.4%, have increased to Rs. 13,075 crore in 2016-17.
As the key indicators pointed out above, under the TRS regime the youngest state has already been mired in complexities of financial lapses in the first four years of its existence.
Also Read: Telangana: Education Gravely Neglected Under TRS Regime
Get the latest reports & analysis with people's perspective on Protests, movements & deep analytical videos, discussions of the current affairs in your Telegram app. Subscribe to NewsClick's Telegram channel & get Real-Time updates on stories, as they get published on our website.
Subscribe Newsclick On Telegram