Glorifying Godse, Demonising Gandhi
Dr Pandey said that if she would have born ahead of Nathuram Godse, she would have herself killed Mahatma Gandhi with 'her own hands'.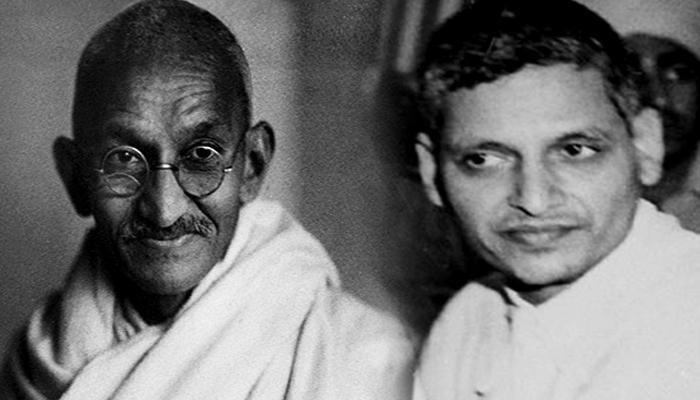 Is it permissible to glorify a convicted terrorist and the conspiracy hatched by him/her, and also claim that if opportunity had come her/his own way, s/he would have loved to execute the same act with similar valour? 
Well, you can be easily prosecuted legally for spreading hate or disaffection between communities (Section 153A etc.), and can possibly languish in jail for at least two years. Those in doubt can imagine a fanatic Sikh or a radicalised Muslim saying some obnoxious thing and then how the upholders of law and order would unleash on him and his entire family.
It is a different matter that when it comes to someone from the Hindutva family – especially when it wants to express its fascination for Nathuram Godse, aptly called as the first terrorist of independent India – things suddenly start unfolding a bit differently, despite the fact that de jurewe are still a secular country. 
The latest to join this 'Glorify Godse' club happens to be a mathematics professor from Agra, Dr Pooja Shakun Pandey, from UP's Meerut. National Secretary of Akhil Bharatiya Hindu Mahasabha (ABHM), and lady judge of the self-proclaimed first 'Hindu Court' in UP's Meerut, which has supposedly been established as a 'reaction' to the news of Sharia court. Dr Pandey said that if she would have born ahead of Nathuram Godse, she would have herself killed Mahatma Gandhi with 'her own hands'. Blaming Gandhi for the 'partition of the country' and 'killings of lakhs of Hindus', she even threatened that she 'would shoot anyone' if s/he tries to be another Mahatma. For her, Godse was a 'devout patriot', and it is time that the 'wrong history taught to the students, which glorified Gandhi and demonised Godse, should be dumped and Gandhian philosophy should be banned.  
Everybody knows that Dr Pandey is not the first person from the Hindutva fraternity to call Nathuram a 'patriot'. Anyone conversant with Hindutva politics can share how formations, people close to the right wing Hindutva politics have been engaged in praising Godse surreptitiously or not so surreptitiously since decades. Fringe Hindutva groups have been formally organising programmes on November 15 – the day Godse was hanged for his crime – in Maharashtra and parts of Western India. Reports of public programmes held in Mumbai and Pune to commemorate Godse's 'legacy' have time and again appeared in the newspapers also. 
Investigations in the infamous Nanded bomb blast (April 2006), when two Hindutva activists, Himanshu Panse and Rajeev Rajkondwar, lost their lives while making bombs, had revealed to the Anti-Terrorist Squad that senior leaders of Hindutva fraternity were in touch with these bomb-makers and this fanatic duo, along with other likeminded people, used to organise events on 'Godse Martyrdom Day' regularly. 
It is also a fact that this campaign to glorify Godse and demonise Gandhi has caught speed with the ascent of a right-wing government at the centre (since 2014).Remember how BJP MP Sakshi Maharaj stirred a huge controversy when he called Godse a nationalist and a patriot on the floor of the house. In October 2014, a Malayalam mouthpiece of the Rashtriya Swayamsevak Sangh had said that Nathuram Godse should have killed former Prime Minister Jawaharlal Nehru and not Gandhi. The writer was none other than a BJP leader who had contested Lok Sabha elections. Forget taking any action against this glorification of Godse, RSS tried, rather unsuccessfully, to distance itself from this article saying that it was his 'private opinion'. We also know that moves are even afoot to build this "great patriot's" temples all over the country. The Akhil Bharatiya Hindu Mahasabha, whose most prominent leader Savarkar was the main conspirator in Gandhi's assassination (thanks to the painstaking investigation done by Jeevanlal Kapoor Commission), had made elaborate plans to establish Godse's busts at different places in the country.
"We plan to lay the foundation stone of a temple for Akhand Bharat Mata and Godseji on January 30. We also plan a big congregation of people where the ashes of Godse ji, currently kept in Pune, will be brought to this temple in Sitapur. We are working towards creating a Hindu Rashtra and an undivided Bharat is our dream. We will immerse his ashes only after his dream has been realised," Hindu Mahasabha's working president Kamlesh Tiwari told Headlines Today.
How did the killers of Gandhi tried [try] to rationalise their criminal act?
According to them, Gandhi supported the idea of a separate state for Muslims; thus in a sense, he was responsible for the creation of Pakistan. Secondly, the belligerence of Muslims was a result of Gandhi's policy of appeasement. Thirdly, in spite of the Pakistani aggression in Kashmir, Gandhi fasted to compel the Government of India to release an amount of Rs 55 crores due to Pakistan.
Anyone familiar with that period of history can decipher that all these allegations are malicious and factually incorrect also. In fact, the idea of communal amity which Gandhi upheld all his life was a complete anathema to the exclusivist, Hindu supremacist worldview of the members of the RSS and Hindu Mahasabha. And, while the nation was a racial/religious construct in the imagination of the Hindutva forces, for Gandhi and the rest of the nationalists, it was a territorial construct or a bounded territory comprising different communities, collectivities living there.
On closer scrutiny, one discovers that during the last 14 years of his life – which stretched from 1934 to 1948 – there were more than five unsuccessful attempts on Gandhi's life, which makes it clear that the conspiracy to eliminate him was conceived much earlier than the 'successful accomplishment' thereof. The grounds advanced for such a heinous crime could be seen as clever rationalisation to hoodwink the gullible.
In fact, it was only last year that when Bhilare Guruji (November 26, 1919 – July 19, 2017) died, who had saved Gandhi in one of such attempts, the whole debate was once again revived. 
It was a very crucial juncture in the nation's history when independence was approaching, and Gandhi was to play an important role in the unfolding developments. The year was 1944 when Gandhi was visiting Panchagani, a hill station near Pune (May 1944), where a young crowd of 15-20 young people came in a chartered bus. They had organised a day-long protest demonstration against him, but refused to talk when Gandhi invited them – when the said attack occurred.
Gandhi's great grandson Tushar Gandhi, in his book, Let's Kill Gandhi, has mentioned the incident. He tells us how during that prayer meeting, Nathuram Godse, dressed in Nehru shirt, pajama and jacket, brandishing a dagger had rushed towards Gandhi.
"Godse was overpowered by Bhilare Guruji and Manishankar Purohit. Two youths accompanying Godse ran away."..
.."(In) July 1944, after his release from Aga Khan Prison Camp in May 1944, Gandhi contracted malaria and was advised to rest by Physician."
.. "He retired to Panchgani, a mountain resort near Poona (now Pune), where he stayed at Dilkhush Bunglow. A group of 18 and 20 men reached Panchgani and held a day-long protest against Gandhi."
.."When Gandhi was informed about the demonstration, he contacted the leader of the group, Nathuram Vinayak Godse, for discussion. Nathuram rejected the invitation and continued the protest,"
"… our reports do confirm that, as a result of the activities of these two bodies, particularly the former (the RSS), an atmosphere was created in the country in which such a ghastly tragedy (Gandhi's assassination) became possible. There is no doubt in my mind that the extreme section of the Hindu Mahasabha was involved in this conspiracy. The activities of the RSS constituted a clear threat to the existence of the government and the state. Our reports show that those activities, despite the ban, have not died down. Indeed, as time has marched on, the RSS circles are becoming more defiant and are indulging in their subversive activities in an increasing measure."
(Sardar Patel's letter to Shyama Prasad Mookerjee, July 18, 1948)
A few people know the animosity of the Hindutva fanatics towards Gandhi, which was evident in the attempts on his life before Nathuram Godse's final attempt. (Chunibhai Vaidya, a leading Gandhian from Gujarat, talked about a total of six attempts. Apart from the details of various attempts mentioned below, he talks about an attempt on his life in September 1946 too.)
In fact, the attack in Panchgani was not the first time that they had tried to kill him.
The first one had happened in Pune (June 25, 1934) when Mahatma Gandhi was going to the Corporation Auditorium to deliver a speech. Kasturba Gandhi, his wife, was also accompanying him. Incidentally, the car in which the Gandhis were travelling developed some snag and was delayed, whereas the other car which was in their motorcade reached the venue on time, when a bomb was thrown at the car. The explosion caused injuries to some policemen and ordinary people.
On closer scrutiny, one finds that the attack in Panchagani was the second attempt on Gandhi's life.
The third attempt happened when Gandhi's talks with Jinnah started in September 1944. When Gandhi was leaving for Mumbai from Sevagram Ashram, a group of fanatic Hindu youth led by Nathuram Godse tried to stop him. Their contention was that Gandhi should not travel to Mumbai to hold talks with Jinnah. Nathuram was again found in possession of a dagger.
The fourth attempt on Gandhi's life (January 20, 1948) involved roughly the same group, namely, Madanlal Pahwa, Shankar Kistaiya, Digambar Badge, Vishnu Karkare, Gopal Godse, Nathuram Godse and Narayan Apte. The plan was to attack Mahatma Gandhi and Huseyn Shaheed Suhrawardy. In this failed attempt, Madanlal Pahwa placed a cotton ball enclosing a bomb on the wall behind the podium in Birla Bhavan, where Gandhi was staying. The bomb went off without creating any panic, although Madanlal Pahwa was caught. Other members of the group, who were assigned to shoot Gandhi in the ensuing melee, developed cold feet and did not act.
And the last one happened on January 30 at 5:17 pm when Nathuram Godse approached him and shot him three times in his chest at point-blank range. All those involved in the crime were arrested and tried in a court which attracted a lot of media attention. Nathuram Godse and Narayan Apte were sentenced to death by the courts and others were awarded life imprisonment. As far as Savarkar was concerned, he was acquitted and set free due to lack of evidence. 
It was worth noting that Jawaharlal Nehru as well as Gandhi's two sons, who felt that the two men were merely pawns of the top Hindutva leaders, demanded commutation of their death sentence as they sincerely felt that executing the assassins would in fact dishonour their father's legacy who was a staunch opponent of death penalty. Nathuram Godse as well as the other conspirator, Narayan Apte, were hanged at Ambala Jail on November 15, 1949.
Get the latest reports & analysis with people's perspective on Protests, movements & deep analytical videos, discussions of the current affairs in your Telegram app. Subscribe to NewsClick's Telegram channel & get Real-Time updates on stories, as they get published on our website.
Subscribe Newsclick On Telegram