Gorkhaland Demand Rises Again Ahead of GTA Elections
The TMC government is planning to hold elections for the Gorkhaland Territorial Administration, but it may not go smoothly.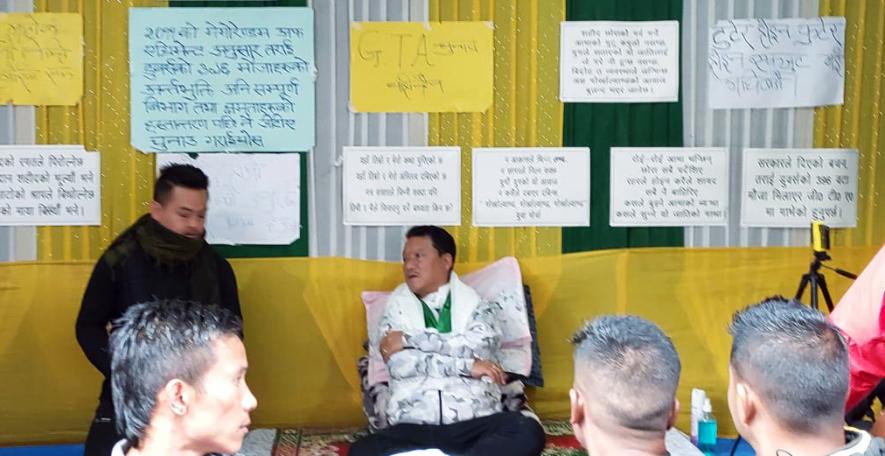 Darjeeling, May 25 (ANI): Gorkha Janmukti Morcha supremo Bimal Gurung began an "indefinite" hunger strike to press for deferment of the Gorkhaland Territorial Administration polls and inclusion of a certain portion of land under its jurisdiction, in Darjeeling on Wednesday.
Kolkata: Darjeeling, the hilly region in the northernmost part of West Bengal, is in the news again with the state government moving to hold much delayed elections to the Gorkhaland Territorial Administration (GTA). The body is supposed to officially offer governance autonomy to the local people -- a claim that is now being openly contested by the very outfit that was a party to the formation of the GTA.
The outfit, Gorkha Janmukti Morcha (GJM), wants the proposed GTA elections deferred until the state government meets its demands for adequate administrative and financial empowerment. Currently, as GJM sees it, the state government very much retains control over the GTA. 
The Bharatiya Janata Party, which was GJM's ally for close to 12 years since the formation of the party, has gone to the extent of claiming that elections to GTA will be "unconstitutional". As the situation is evolving, even if the Trinamool Congress government succeeds in holding the elections scheduled for June 26 and constituting a new 45-member GTA on June 29, the area may again be witness to a reactivated demand for proper Gorkhaland or what is euphemistically being called a 'permanent political solution' (PPS). This could happen despite Chief Minister Mamata Banerjee firmly rejecting any demand for "further partition" of Bengal. 
The demand for Gorkhaland hit the headlines in the initial years of the 1980s, by when Bengal's first Left Front ministry led by the late Communist Party of India (Marxist) leader Jyoti Basu was more than halfway through its first term. The period saw the Gorkha National Liberation Front (GNLF) organise sustained, violent agitations under the leadership of Subhash Ghising and about 1,200 people lost their lives in that period. 
In 1988, under a tripartite deal between the Congress-led Union government, state government, and GNLF, the constitutionally- mandated, autonomous Darjeeling Gorkha Hill Council (DGHC) came into being. With fine-tuning in between and till as late as 2005, DGHC proved a fairly functional political arrangement in the Hills for nearly 20 years – the longest period of relative calm. Cracks in the GNLF surfaced in 2007, with charges of funds siphoning and stonewalling of official bid for auditing of accounts were levelled against Ghising by his right-hand aide Bimal Gurung, who then floated GJM, occupied the centre stage in the hill politics, and headed GTA – the new avatar of GNLF ushered in 2012 by the TMC, which formed its first ministry in 2011 [GTA was set up on the strength of a Bill passed by the West Bengal Assembly]. 
Advancing the argument that GTA was, in effect, under Nabanna's control, Gurung launched violent agitations in the first half of 2017 in support of the demand for a separate state of Gorkhaland. The prolonged widespread disruption, called Janta bandh, crippled the hill economy. The TMC government acted tough, froze his bank accounts and he went into hiding. Politically and financially considerably weakened, he resurfaced in 2020, for all practical purposes, aligned with the TMC. There are, of late, visible signs of cracks in his faction's tie-up with the TMC. Even the other GJM faction led by Binay Tamang, too, had crossed over to the TMC's side.
The CPI(M), and for that matter, the Left Front is opposed to the division of West Bengal, and they are for the maximum autonomy route constitutionally admissible. That explains Basu's strenuous efforts to get Ghising to accept DGHC. A further confirmation of sorts is available from what CP(M) state secretary Mohammed Salim said on April 24 this year in Darjeeling. He said GTA as a body had been conceived and largely finalised when Left Front ruled Bengal. An agreement with the GJM could not be inked largely over territorial issues as the hill party had wanted 398 mouzas from Dooars and Terai in the plains. This information given by the CPI(M) leader at a workers' meeting in the hill headquarters appears to be a first-time revelation and reconfirms the Left's stance against splitting Bengal.
Be that as it may, records show that the demand for Gorkhaland is 107-year-old. For the first time, in 1907, the demand for Gorkhaland was made before the Morley-Minto Reforms panel. In 1952, the All-India Gorkha League had demanded separation from Bengal in a representation to then Prime Minister Jawharlal Nehru. A memorandum seeking the creation of a separate state comprising Darjeeling, Jalpaiguri and Cooch Behar was submitted in 1955 to the States Reorganisation Commission by then district president of Shamik Sangh, Daulat Das Bokhim. After Indira Gandhi had returned to power in 1980, she received a memorandum seeking a separate state from Prantik Parishad. 
The district is mainly home to immigrants from Nepal, Sikkim, Tibet and even Europe. The original inhabitants were Lepchas and Rongpas (the ravine folks) and Khampas (another branch of Lepchas). As per the 2011 Census, it has an area of 3,149 sq km and a population of 18.47 lakh – 9.37 lakh males and 9.1 lakh females, with a sex ratio of 970 females against 1,000 males. The literacy rate is over 80% among males and 74% among females. Major religions include 74% Hindus and 11.5% Buddhists. The main spoken languages are Nepali – 47% (in Kalimpong it is over 51%), Bengali – 29% (a different set of statistics put it lower at below 20%) and Hindi – 18%.
Like religion, language is a great binding force, and the Nepali-speaking population is aggrieved that despite being numerically much stronger, they do not have a homeland of their own and the primacy that derives from a distinctive identity. 
The economic reasons are no less weighty. Agriculture, tea plantations and tourism constitute the main economic activity. Tourism gets severely affected whenever there is agitation, which also impacts the transport business. Darjeeling tea is world famous for its aroma, but low productivity has been regularly causing the closure of tea gardens. Owners reducing regular staff and engaging people on a contract basis have been sore points with workers, according to Prof Sanjoy Roy of North Bengal University, who teaches Sociology. 
Bengalis here fare better in economic activity. In white-collar jobs, they have a visible presence, which has led to the breeding of an anti-Bengali sentiment for a long time. A short distance away, in Sikkim, improvement in the quality of life of their counterparts is visible to them. It cannot be denied that people in the hills are disturbed and a solution has been eluding them, Prof Roy told NewsClick. Their admirable level of enlightenment stemming from a higher literacy rate has kindled in them a desire to acquire and exercise power, the educationist observed while explaining the factors at work behind the Gorkhaland demand.
Prof Amitava Kanjilal, who teaches political science at Siliguri College, confirmed that the demand for Gorkhaland is more than a century old. The region has remained underdeveloped through the years of British, Congress and Left Front rule. Also, the BJP, which has represented Darjeeling in Lok Sabha successively, has been feeding hills people with promises it has failed to deliver, Prof Kanjilal told NewsClick. According to him, the middle class and upper middle class people are the vocal people on the Gorkhaland issue; not the petty workers and the rich. He shares a view that the proximity of Nepal and China weighs on the Union government and, therefore, a separate state will be a difficult proposition for strategic reasons. Perhaps, a Union territory status including some adjoining areas may be feasible. The secretariat, Uttarkanya, set up by the Mamata regime, may come in handy for administrative purposes. But stout opposition to this from the TMC government is a foregone conclusion. 
Knowledgeable quarters concede that the creation of Uttarakhand, Jharkhand, and Chhattisgarh in 2000 and of Telangana in 2013-14 also emboldened large sections of pro-Gorkhaland people to be strident in their demand. 
BJP's Darjeeling Lok Sabha member Raju Bista blames the TMC ministry for its total lack of sensitivity and 'damn care' attitude towards the concerns and aspirations of people in the hills, Terai and Dooars. The people are against the GTA, yet Mamata is pressing ahead with elections to the body, Bista has pointed out while corresponding with NewsClick over e-mail. People see this as an arrangement they are vehemently against being thrust on them. "They are playing with fire; their hands may get burnt," Bista has said. 
The state government has not yet granted 'Parja Patta' rights to the tea and cinchona garden workers. Further, the Minimum Wages Act has not been implemented for them. The Forest Rights Act, passed by the Parliament in 2006, remains to be effectively implemented. Instead, people have to bear with repression and police regime, the Darjeeling MP pointed out.              
It should be recalled that Darjeeling was initially part of Sikkim. After Gorkhas lost the Anglo-Nepal war, under the treaty of Segoule in 1816, they surrendered it to the British, who then handed it over to Sikkim. In 1835, however, the British took it back for political reasons. According to one record, after 1850, it was annexed to Rajshahi, now in Bangladesh. In 1905, when Viceroy Lord Curzon directed the partition of India, Darjeeling was made part of the Bhagalpur division of what was then Bengal-Bihar-Orissa. It was brought back under the Rajshahi division in 1912. Its final annexation to West Bengal was automatic in 1947 when India became independent.   
Get the latest reports & analysis with people's perspective on Protests, movements & deep analytical videos, discussions of the current affairs in your Telegram app. Subscribe to NewsClick's Telegram channel & get Real-Time updates on stories, as they get published on our website.
Subscribe Newsclick On Telegram