This Government Only Talks About Garmi, Charbi and Revenge—Rakesh Tikait
'They Malign Jats, for they Don't Like Anyone Powerful'—Rakesh Tikait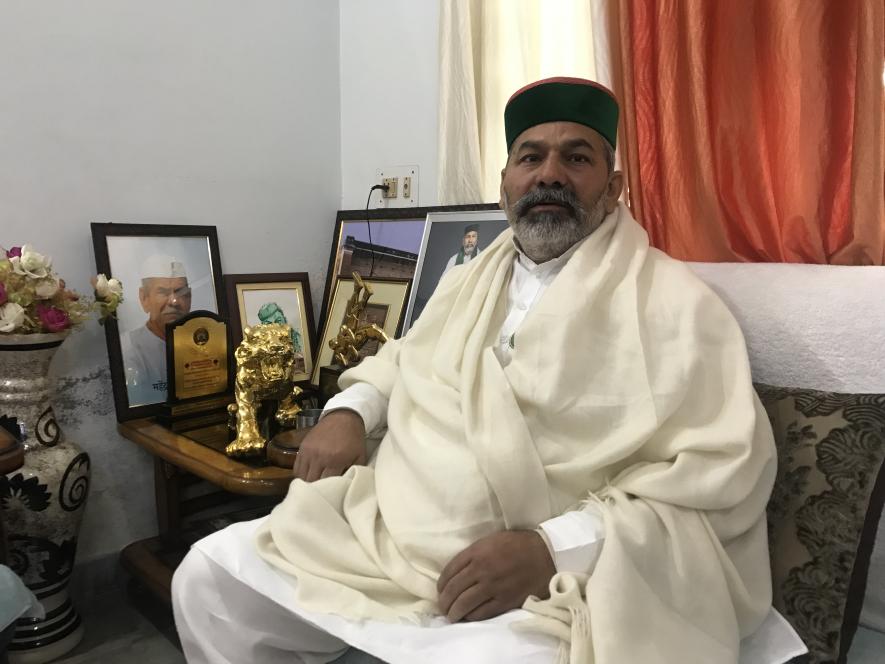 Rakesh Tikait has become a household name ever since he mobilised the Jat community of western Uttar Pradesh to join the farmers of Punjab in their movement against the three farm laws. Today, he has come to represent much more, including Hindu-Muslim unity and a strong anti-government voice. Newsclick catches up with him before he sets off to address one in a series of public meetings in his residence in Muzaffarnagar. 
You have opened up a front against this government. 
Yes, that is correct.
Don't you feel afraid? 
For what reason?
On the count that suppose this government returns to power… they seem to be the kind who will not excuse anybody who opposes or questions them.
Karna bhi nahi chahiye—and they shouldn't forgive! (laughs)
But that does not worry you? 
Why should it? We will, in fact, go all over the country. Let this election get over. After that, we will go to the entire country, to every state. 
What will you say to people?
We will go around opposing the policies of the government that are wrong. 
You have already got the three farm laws revoked after your campaign...
But how did it help the farmers?
What would help farmers?
Farmers would benefit if the law that guarantees MSP would be brought in by the government and the dairy farmers would benefit if there is a policy for milk production and sale in the country. Today, the vegetable farmer is suffering tremendous losses. There needs to be a policy for them, too.  It cannot be that the government doesn't even pay the minimum support prices for even those 23 crops for which it assures prices. It isn't acceptable that the Swaminathan Committee report's recommendations are not accepted either. Is this how the government plans to help farmers? The farmer will benefit if the policy of Kisan Credit Cards (KCC) is changed. Right now, the question is not how many farmers have taken a KCC. The question is, who has not! Every family has a loan, whether from a bank or private loan or from the KCC. Even I have an around Rs.8 lakh loan. 
Right...
So all of these policies will have to change. And before you [the government] introduces any policy, you will have to discuss it with the people. If you are bringing in a policy for farmers, you will have to discuss it with the farmers first and then decide the law. Who has given the government the right to introduce laws for farmers without taking them into confidence? Not just that, to bring in a policy that helps the traders in the name of being farmer-friendly? The issues on which you have sought votes, your manifesto, you stick to that. 
Since you have opened up a front against the government, why don't you fight the election—why do you hesitate?
The country does not need [me to] fight an election. More than an election, it is the voice of the streets that gets heard more loudly in our country. We have a Constitution and democratic system, where the voices from outside Parliament are louder than the voices inside Parliament. That is, we can put our position forward among the people clearly and strongly.
Do you mean that a movement is a better way to make the democratic voices heard...?
Yes, isi se badlav hoga—it is this route that will change the path our country is on. 
Has only the Jat community understood this, or have others, too, figured out the importance of movements? 
Our organisation (BKU) is not of any one community. Nor was this movement [against the three farm laws] that of any one community. It was a movement based on issues. For [the last] 20 days, we have been watching a conspiracy to defame one particular community unfold before us. All members of this community should understand that they are targets of this conspiracy. 
Do you mean it is doing Jat versus 'non-Jat' polarisation, as happened in Haryana? 
Yes, that is what I said—if you go to Gujarat, you will find Patel versus 'non-Patel' politics, if you go to Maharashtra, they talk about Maratha versus 'non-Marathas'. So the community that they [the BJP leaders] find somewhat powerful, they make plans to target them and kill [their strength] first. In Bihar, there was [former chief minister] Lalu Prasad Yadav and his family, which they broke up. Here in Uttar Pradesh there was the family of [former chief minister] Mulayam Singh Yadav; they started breaking that up too. In Haryana, people were living together, and they created a split between one community and everybody else. This biradari-waad [identity politics], this religion-based politics, we hate this kind of politics. 
So, what do you think the BJP is doing here? Are they splitting the Jats versus other communities, or is it a Hindu versus Muslim sentiment that they are trying to breed? 
They are targeting the Jats in order to isolate them from the rest of the system [all other social groups] in this region. When there are such attempts, be it in the name of a community or a religion, we must boycott it. 
You have often highlighted the problems of farmers through your movement and after the laws were repealed. But were the three farm laws their only problem or do the farmers have other issues with the way things are in Uttar Pradesh?
There is a number of worries. There is the problem of unemployment... See, if the electricity prices are high, then they are high for everybody. Electricity does not get supplied depending on the biradari (community) one belongs to. If electricity is expensive, it is due to the policies of the government—biradari nowhere figures in this. If the prices of sugarcane fall or rise, it will affect everybody. If wheat and rice are sold cheaper or expensive, then it impacts everybody, it does not affect just one community. 
However, do you think people have understood this?
Yes. They have.
But there seems to be a worry among some people that if the BJP loses there will be 'Muslim Raj'. What can you do to remove this kind of fears? Or, who will remove these kinds of feelings and how?
Removing this fear is the work we're doing! 
How? 
And such sentiments are fading among people.
What did you do to remove it?
One should not get into these [divisive religious and caste] issues. We should talk about development, about hospitals, about roads... 
You mean issues that directly concern people?
Yes, and this changes has started to take place already. These are initial days of the shift [away from polarising issues] and the move towards issue-based politics. This election will mark the beginning of this politics based on peoples issues. Now, people are not drawn towards those who talk about the old model of [communal] politics. You can try to start people off on a divisive issue and you will see, they simply will not respond. 
And why has this change taken place? 
The reason is people's movements.
And when you meet people, do they cite the main factors that trouble them as high prices and unemployment?
Yes, price rise and lack of employment are the key issues this time. A temple is something people can build in their own village. Every temple you see has been built with the money donated by people. Who ever built a sarkari temple? Only one sarkari temple has been built, aur usi me bhrashtrachar ho gaya—it has got mired in corruption. Temple and mosques are a question of faith.  And when people give to temples and mosques, it is not as if they get it written on the record that they have donated some money. 
But the sarkari temple which you are talking about, in that it is written who gave what...why do you think that is wrong?
The approach is wrong, to think that you can give something to God is incorrect. The one who has given everything, you will do propaganda to give to Him? [How it should be is that] whatever your faith is, you follow. 
So you are not afraid? 
What should I be afraid of, why don't you tell me that first?
They have the approach of taking revenge, they talk about charbi and garmi.
We were hoping that at least someone would come and stand before us to seek revenge! It only makes sense to fight with someone who is strong. Who will want to fight with the weak? 
So you agree that they are strong? 
Yes, they are—governments are always powerful. 
And what is there that can control such power? 
It is the people who control this power. 
You think this power will reflect in the election result?
I don't know what will happen in the election. But this I know about the [farmer's] movement; that the people are standing by it. 
Have you planned the next movement already?
Yes, the next movement will be of the youth. It will be on issues, and we will go across the country with it.
Get the latest reports & analysis with people's perspective on Protests, movements & deep analytical videos, discussions of the current affairs in your Telegram app. Subscribe to NewsClick's Telegram channel & get Real-Time updates on stories, as they get published on our website.
Subscribe Newsclick On Telegram