Government Prioritised Temples Instead of Medical Colleges, Students Paying for it in Ukraine: Medical Experts
Experts maintain that exorbitant fee in private medical institutions remains the prime mover behind the phenomenon of students migrating to Russia, China and eastern European countries to pursue degrees in medical education.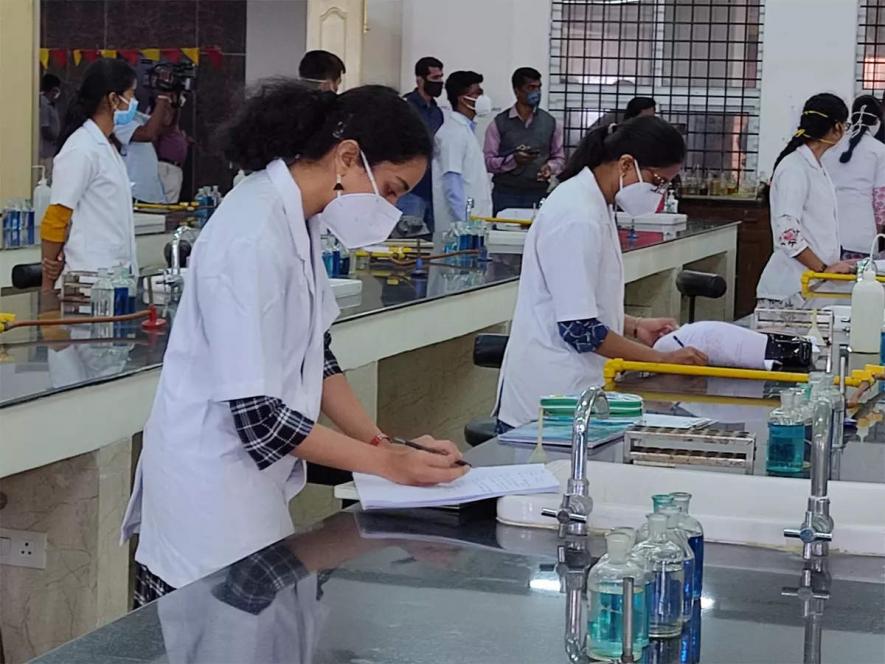 Representational Image. Image Courtesy: Times of India
The tragic death of medical student Navin Shekharappa in war-torn Ukraine brought forth the question of Indian students migrating abroad to pursue medical education. Estimates suggest that 18,000 students joined different colleges and universities in Ukraine to pursue courses, including MBBS. They need to be rescued even as the Russian Army advances towards Kiev and Kharkiv.
Much to students' disappointment, Union minister Prahalad Joshi said that 90% of students who visit universities abroad could not pass the qualifying tests for medical courses in India. On the contrary, the outgoing students' claims suggest that China, Russia and countries which were earlier part of the Soviet Union remain favourite destinations of students for their robust medical education infrastructure and economic fee structure. To pursue an MBBS course in India, any aspirant must pass the National Eligibility cum Entrance Test (NEET). The score in this test determines if a student can get admission to government and private medical institutions.
As per the information furnished by Union minister Ajit Bharati Pawar in response to a question by Rakesh Sinha, the country has 596 medical colleges, out of which 313 are government-run, and 283 are in the private sector through trusts/cooperative societies/registered companies. While the exact number of the latest seats in government and private colleges is unknown, another reply in Rajya Sabha revealed in February 2021 that the country has 43,237 seats in government colleges and 41,190 seats in private colleges.
However, 8.7 lakh aspirants qualified NEET. Any aspirant must score 138 out of 720 marks to be eligible for counselling through NEET. Experts believe that the current structure of NEET is highly tilted in favour of the affluent section of society. The aspirants need to pay fees in lakhs for coaching institutions to prepare for the qualifying test. The fixation of lower qualifying marks also ensures that students with lower marks may get admission in private colleges if they are willing to pay a hefty fee worth Rs 1 crore for the entire four-year course. In comparison, the East European countries charge Rs 25-35 lakhs for tuition fees, accommodation and food.
Experts maintain that exorbitant fee remains the prime mover behind the entire phenomenon. The study "Student Mobility in Higher Education- The case of Indian Students Studying Medicine in China" by Madhurima Nundy and Rama Baru published by the National Institute of Education Planning and Administration suggested, "Those who are unable to gain admission in a government medical college and unable to pay tuition fees in private colleges go to study in universities abroad mostly to Russia, Ukraine and Central Asian countries. A large proportion of them finds their way to China… There is variance in costs across provinces. Based on an approximate calculation, a student in Beijing would spend around Rs 50-60 lakh for a six-year MBBS training inclusive of all costs. This would be the highest in terms of cost compared to other colleges since Beijing is the capital city and the cost of living is high. This would hold true for Shanghai as well."
"Compared to this, costs for getting a seat in a private medical college in India is very high and ranges anywhere from Rs.400,000/year to Rs 40 lakh/year only on fees. There are then costs related to stay and other living expenses and some other hidden costs. Many colleges also take capitation fees where seats can be purchased at a cost by giving donation, which is illegal but is still rampant," the study further said.
The roots of expensive private medical education in the country can also be found in the unregulated fee structure and impunity these colleges enjoy. The 92nd standing committee report of Rajya Sabha on Medical Council of India (MCI) found that the private colleges bribed many members of erstwhile MCI to get recognition and subsequent increase in the number of seats. Similarly, the report criticised the authority for framing rigid rules such as a 20-acre plot to start a medical college.
It noted, "Several of the experts who appeared before the Committee submitted that the mandated infrastructure requirements such as land, examination hall, size of the examination hall, library etc. are very irrational and rigid and there was an urgent need for flexibility in infrastructure requirements. It was argued that the flexibility in infrastructure requirements would bring down the cost of medical education, which is a huge burden. An expert submitted before the Committee that today 20 acres of land is required to build a medical college which costs around Rs 500 crore. This leads to high capitation fee and deprives talented children from poor families of the opportunity of getting medical education."
However, the government went ahead with the same provision in guidelines for a centrally sponsored scheme through which it wishes to establish new medical colleges attached with existing district/referral hospitals. Under the qualifying criteria to be fulfilled for starting a medical college, it stated that the applicant must possess, "A suitable single plot of land measuring not less than 20 acres must be owned and possessed by the applicant or is possessed by the applicant by way of 99 years lease for the construction of the college."
Talking to NewsClick, RS Dahiya from Jan Swasthya Abhiyan Haryana said that the state governments could not regulate the fees even when clear norms were laid by Supreme Court in the matter.
"Post liberalisation, we find a clear push to the private sector where nobody dares to ask private institutions if the students really need to pay fees in crores to get a medical education. If these students' families spend crores in fees, they would be fleecing patients for their services. Second, the government is not interested in keeping health services in operation. I can cite several examples where districts in Haryana alone have half of the capacity of medical officers serving in community and primary health centres. The government may be talking about a medical college in each district, but it is primarily on the public-private partnership model, which will hardly bear any fruits. Many of our doctors went to Delhi because they got good remuneration there. Above all, the government are more concerned about building temples out of taxes, not medical colleges!"
Get the latest reports & analysis with people's perspective on Protests, movements & deep analytical videos, discussions of the current affairs in your Telegram app. Subscribe to NewsClick's Telegram channel & get Real-Time updates on stories, as they get published on our website.
Subscribe Newsclick On Telegram