Govt's Bizarre Plans of Dealing With Looming Food Grain Crisis
Privatisation of grain procurement and cap on procurement subsidies are among the ideas being floated.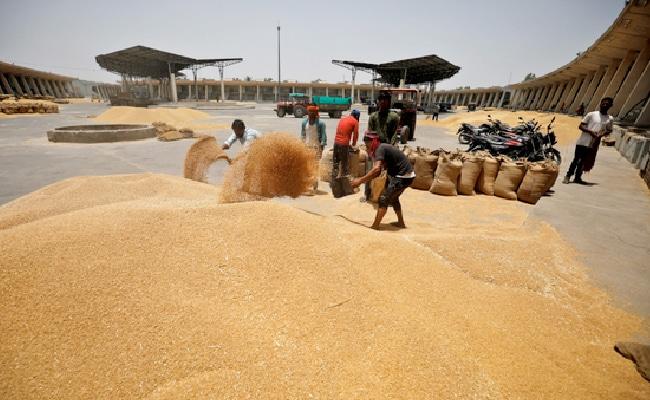 Amid a slew of worrying news on the food grain front, the Narendra Modi-led government not only appears to be strangely cool, but it is also throwing up bizarre proposals to change the whole procurement-distribution system. This could be the famous 'using a crisis as an opportunity' mode of thinking that has led to catastrophic effects in the past –  passing of the notorious farm laws and Labour Codes at the height of the pandemic, attempting to privatise the Covid vaccination drive, cutting corporate tax when the economy is slowing down, etc. In some of these adventures, the government had to go back, as in the farm laws or private vaccinations; in others, the country is paying the cost despite failed objectives, as in tax cuts to the rich. 
Adopting the same approach for tackling the looming food grain crisis would be foolhardy to put it mildly. There are millions who depend on government subsidised food grain for survival and any tinkering around with the system could cause mass hunger, besides being politically disastrous.
 
But first, let us look at what is happening on the food grain front.
Bad News on Food Grain Output
The recently released First Advance Estimates of food grain production in 2022-23, which cover the kharif season only, show that rice production is likely to be 104.99 million tonnes, down by about 6.77 million tonnes or 6%. Among pulses, tur (arhar), moong and urad are all likely to fall short of last year's output. Coarse grains and nutri-cereals are likely to show a minor uptick from 35.9 million tonnes to 36.6 million tonnes. Of the six oilseeds that are produced in kharif, output is estimated to be 235.73 million tonnes compared to 238.88 million tonnes last year – a shortfall of just over 3 million tonnes.  All this is happening because of a wayward monsoon that was delayed initially, and then it was deficient in many grain producing areas and excessive in some others. 
Recall that earlier this year, the 2021-22 rabi wheat crop production too saw a shortfall because of the early heat wave in northern India. Wheat output had fallen from 109.59 million tonnes in 2020-21 to 106.84 million tonnes in 2021-22, that is, by nearly 3 million tonnes.
Normally speaking, this fall in the output of rice and some of the important pulses and oilseeds in the kharif season (along with the earlier wheat output drop) would have been taken in the stride because of the huge food grain stocks that India has become accustomed to, and because pulses and cooking oils are in any case imported in large quantities to meet domestic demand.
However, as we will see below, the government's inability to anticipate events, or perhaps their commitment to adventurous policies, has led to a potential crisis. 
Sharp Decline in Food Grain Stocks
Food grain stocks have shockingly plummeted, as shown in the chart below, for the month of September over past three years. It is derived from the latest  Food Grain Bulletin (for August) issued every month by the Department of Food and Public Distribution, under the ministry of consumer affairs, food and public distribution. These figures are for rice, wheat and coarse grains like bajra, jowar etc. 
Compared to last year, food grain stock this September was down by a massive 37% or about 293 lakh tonnes (29 million tonnes). Specifically, wheat stock has fallen from 518 lakh tonnes last year to just 248 lakh tonnes this year while rice stock is down from 268 lakh tonnes last year to 245 lakh tonne this year. 
The reason for this fall seems to be the government's mismanagement and short-sightedness. Rice harvest last year was a record 130.29 million tonnes. Despite that, the rice stock is less this year because the government diverted over 55 lakh tonnes of rice to compensate for the shortfall in wheat procurement. That explains – to some extent – the rice shortage. But why is wheat short?
That has happened because of the hurry to export wheat just as it was coming to the markets in April. The government, led by the PM, encouraged this trend that led to huge buy up of wheat by traders. Procurement plummeted from 433 lakh tonnes last year to just 187 lakh tonnes this year – a spectacular fall of 57%. As it happened, the government realised its mistake soon and prohibited exports in the nick of time, leaving thousands of tonnes of wheat in warehouses of traders or at ports. It was neither available in the central pool of procured food grains nor was it exported. 
Bizarre New Ideas
The PM Garib Kalyan Anna Yojana (PMGKAY), under which 5 kg of food grain is being given free to all persons since May 2020, is slated to end in a few days. Although there has been universal demand for its extension, there is no word yet from the government at the time of writing. In fact, various 'experts' have been arguing that the cost is too much to bear and it should be discontinued. This will, of course, be convenient for the government because of low procurement and low stocks. What is perhaps weighing on the Modi government's mind is that such a measure would be hugely unpopular. As is the habit, the ball has been punted upwards and its is being reported that the prime minister himself will take the final decision on this.
Meanwhile, Sudhanshu Pandey, food secretary, suggested a raft of measures that are needed to put the food grain system on track. Addressing a meeting of the Roller Flour Millers Association, Pandey was reported to have suggested that it would crack down on wheat hoarders, ask traders to declare their stocks and impose limits on stocks. Ostensibly, the purpose seems to be to unearth the large amount of wheat that has neither been procured nor exported. It is slowly trickling back into the open market, but shortage has led to rising wheat prices over the past few months.
The assumption behind all this sabre-rattling is that distribution through the public distribution system (PDS) – the ration shops as it is popularly known – is no longer possible. So, the free market has to be allowed free play, with tight regulation.
If it had been only this one-off situation that was being addressed, one could see the point of anti-hoarding measures. But the following is what Pandey had to suggest for the future.
Private players will be invited to undertake procurement of food grain from the coming year, according to Pandey. He said that the Centre had already written to state governments on this matter. He candidly revealed that during a recent visit to the International Grains Conference (IGC), 2022, held in London in June, he found that "the private companies were doing procurement operations much more efficiently", according to media reports. IGC is a platform of international grain producers and traders, as also global banks, consultancies and multilateral lending agencies. 
He also announced that the Centre's financial assistance to state governments on incidental expenses for procurement would henceforth be capped at 2% of the cost. He lamented that states are being given as much as 6-8% of cost as assistance, which is too much.
In short, the ground is being prepared for privatisation of the most crucial step in the food grain supply chain, which ensures delivery of food grain at affordable prices to needy people through the PDS. This privatisation of procurement is ironically happening at the precise time when wheat procurement has collapsed by 56% this year and food stocks are running at record low levels.
It is likely that in the coming months, PDS and food security will be irretrievably damaged, ultimately  to be replaced by profit-hungry private players. 
Get the latest reports & analysis with people's perspective on Protests, movements & deep analytical videos, discussions of the current affairs in your Telegram app. Subscribe to NewsClick's Telegram channel & get Real-Time updates on stories, as they get published on our website.
Subscribe Newsclick On Telegram