Govt Crackdowns Fail to Stop Illegal Sand Mining in Bihar
Even after repeated crackdowns, illegally mined sand is sold under broad daylight in Patna in full knowledge of the police and administrative officials.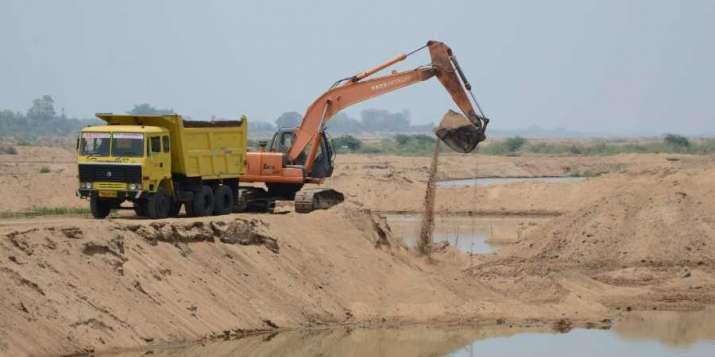 Representational Image. Image Courtesy: Outlook India
Patna: Authorities have failed to stop illegal sand mining in different rivers in Bihar despite tall claims of a crackdown on the powerful sand mafia and action taken against dozens of government officials for their involvement since last month. 
On Monday, the illegal sand mining continued in rivers, mainly in Sone and Falgu, owing to a substantial nexus of the sand mafia with local politicians, administrative officials, and the police.
Sand from illegal mining is sold under broad daylight in an open market in Patna in full knowledge of police and administrative officials. At different places in Patna, sand loaded trucks, tractors and other vehicles are found standing since early morning daily. This is an example of the money-minting business of illegal sand mining. 
Moreover, the much-publicised crackdown against illegal sand mining has resulted in a three-fold increase in the sand rate. This is proving costly for ordinary people to purchase sand for their house construction work.
Not only is illegal sand mining continuing, but trucks and other heavy vehicles have been carrying sand from different banks of Sone River in Bhojpur, Rohtas, Arwal and Aurangabad districts.
In a ritualistic action, the police had seized some sand-loaded trucks, tractors and other vehicles a couple of times. Still, it hardly seems to have made any difference to the sand mafias who are operating smoothly with the help of money and muscle power. The arrested persons in the crackdowns mainly comprise drivers and miners instead of mafia chieftains.  
Illegal sand mining is a significant part of an organised crime syndicate. On Sunday, the sand mafia attacked a police team that was on its way to raid an illegal sand mining spot and sand stock near the riverine area of Bindgawan under Barhara police station in Bhojpur. Henchmen of the sand mafia also pelted stones at the police, damaged half a dozen police vehicles while police officials fled to save their lives. Later, the district police arrested 22 people for the attack. Last week, the sand mafia attacked a police team trying to stop illegal sand mining at Saripur Soneghat under Sandesh police station in Bhojpur. In the previous month, the sand mafia attacked police teams at different places as well.
Irshad Ansari, a construction contractor, told Newsclick that the Nitish Kumar-led government had fixed the rate per 100 cubic foot sand at Rs 4,000. "But it is being sold at 10,000 to 12,000 here," he claimed. Though the government announced that sand would be sold only by the license dealers from the approved stock at the fixed rate, in reality, the sand sold in the market was primarily from illegal sand mining, Ansari added.
According to a river activist, illegal sand mining resumes in river Sone time and again barely a few hours after crackdowns end. "It has become a common practice. Hundreds of boats belonging to the sand mafia with gun-toting private guards have been engaged in illegal sand mining," the activist said and added that hundreds of trucks and other heavy vehicles carrying sand left the banks of Sone river daily for different places across the state. This practice continued even though sand mining had been suspended since June in compliance with the National Green Tribunal's order during the monsoon season of the parliament, which ended on September 30. 
However, last month, the state government suspended 17 officials, including two Indian Police Service (IPS) officers and four Deputy Superintendents of Police (DSP) officers, on charges of aiding and abetting illegal sand mining mafias in four districts of the state. A few days ahead of this action, two IPS officers were removed as superintendent of police in Bhojpur and Aurangabad districts.
As per reports, the economic offence unit (EoU) of the state government found these officials' involvement in running illegal sand mining. The EoU has been probing into disproportionate assets allegedly amassed by 42 government officials, including the 17 suspended in July.
After noting the rampant illegal sand mining business in the state early last month, the state home department directed EoU to conduct a detailed probe against suspicious government officers, including police, for their involvement in helping the sand mafia lobby.
According to a police report submitted to the Patna High Court in 2017, the sand mafia is a huge nexus between the local police, sand miners enjoying political clout and officials of the government's mines department. It further pointed out violations by the sand mining companies that were given sand mining leases, particularly in Patna. "Complete connivance of state government officials, particularly those from the police, mining and transport department... the rules and laws on mining and the environment are merely reduced to paper…," it said.
Illegal sand mining is carried out during the monsoon season by powerful sand mafia operating in several districts, including Patna, Bhojpur, Rohtas, Aurangabad, Saran and Vaishali.
It was revealed last week by none other than the state Mines and Geology Minister Janak Ram, who said that the state government incurred an annual loss of Rs 700 crores due to illegal sand mining.
In March this year, the Bihar government banned sand mining and sand digging near or around river bridges to check illegal sand mining that threatens bridges over the rivers. Over the last few years, illicit sand mining has damaged the foundation of the Koilwar railway bridge in Bhojpur, which the British built in 1900.
Get the latest reports & analysis with people's perspective on Protests, movements & deep analytical videos, discussions of the current affairs in your Telegram app. Subscribe to NewsClick's Telegram channel & get Real-Time updates on stories, as they get published on our website.
Subscribe Newsclick On Telegram