Govt. Report Reveals Shocking Condition of Workers in India
Monthly earnings are below minimum norms, most are working well beyond 8 hours per day and nearly three fourths can be fired anytime because they don't have any written job contract.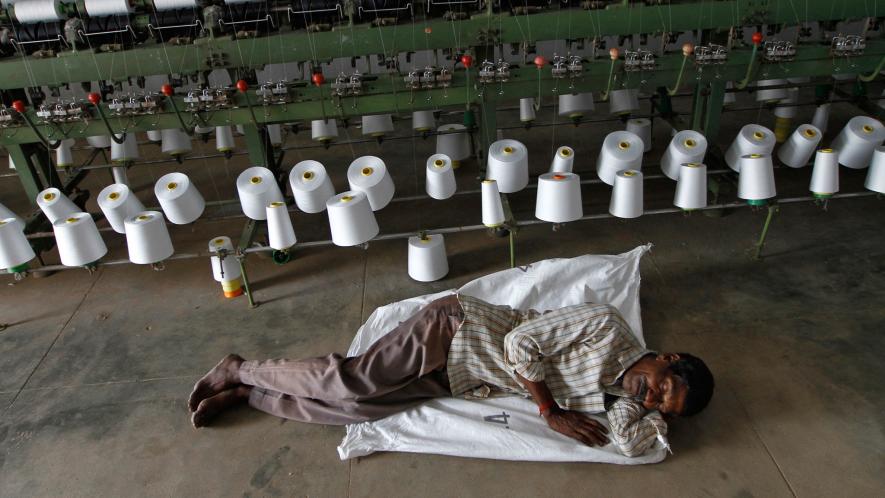 [This is part 1 of a series on working conditions in India, drawing from official sources.]
A recently released government report paints a harrowing picture of the condition of workers in India with most earning less than half of the minimum accepted norms, 71% not having any written job contract, 54% not getting paid leave and over 57% in rural areas and nearly 80% in urban areas working much beyond the eight-hour work day (48-hour-week).
The report also reveals that over 52% of workers are actually 'self-employed', which means they may be doing farming or running petty shops or enterprises largely with their own labour, or service providers of various kinds. About a quarter of working people are casual workers, getting work and earnings on a daily basis, while nearly a quarter (23%) are regular wage or salary-earning employees.
The report, called the Periodic Labour Force Survey (PLFS), is based on a survey of about one lakh households (4.33 lakh persons) carried out by the National Sample Survey Organisation (NSSO), which has since been renamed as the National Statistical Office (NSO), under the Ministry of Statistics. It was done between July 2017 and June 2018.
Earnings
According to the Seventh Pay Commission, set up by the central government to fix salaries of central employees, the minimum wage or salary needed for a four-member household was about Rs. 18,000 in 2016. This was arrived at after taking into account the minimum calorific value of food requirement and all other essentials like clothing, fuel, housing, and also education of children etc. It included the Supreme Court guidelines of 1992 regarding such fixation.
In rural areas, both self-employed and casual workers earn less than half of this minimum standard while the regular employees earn about two thirds of it. This is indicative of the large share of small and marginal farmers in the country and the intense crisis they are facing.
In urban areas, both self-employed and regular employees will include the whole of the elite class with earnings that are several orders of magnitude larger than the average. Despite inclusion of this section, the earning level is still below the minimum standard betraying the fact that there must be a large number of urban employees or self-employed that are earning much less. Casual labourers in urban areas earn about half of the minimum standard.
Working Hours
Earnings discussed above are not necessarily for an eight-hour working day. This is revealed by another part of the PLFS report giving details of the number of hours worked by different types of workers. This is summarised in the chart below:
In rural areas 57% of workers are working for more than the stipulated eight hours per working day (or 48-hour working week). In urban areas, a shocking 79% workers are working beyond the 48-hour working week.
It is through these means that the earning levels mentioned earlier are achieved by the workers – they are working for longer hours just in order to make ends meet. Experience shows that it is common for workers not to get any extra overtime payment, or in some cases get the same rate overtime instead of double rate as stipulated in law.  
No rights, No Job Security
Another dimension of workers' life is revealed by the survey report where it found that 71% of the workers did not have any written contract or appointment letter. This means that they can be removed from service at any time, with no remedy available. They have no proof they ever worked in the enterprise. This was for the so-called regular wage/salary earners.
Over 54% of the workers did not get paid leave. In case they were forced to take leave because of illness or a marriage in the family, their wage was lost. Nearly half of the regular employees did not get any social security benefits, like provident fund (PF), health insurance, pension, maternity benefits etc.
Clearly, these 'regular' wage or salary earning employees were no better than others except that they were earning regularly. Most of these would be contract employees, whose numbers have exploded over the past years, as employers prefer to give the least possible benefits so that their profit margins are healthy.
Get the latest reports & analysis with people's perspective on Protests, movements & deep analytical videos, discussions of the current affairs in your Telegram app. Subscribe to NewsClick's Telegram channel & get Real-Time updates on stories, as they get published on our website.
Subscribe Newsclick On Telegram