Govt Must Set up Separate Entity to Address Issue of Manual Scavenging: Bezwada Wilson
As part of the ongoing Action 2022 campaign across the country, SKA is also demanding skill training for sanitation workers.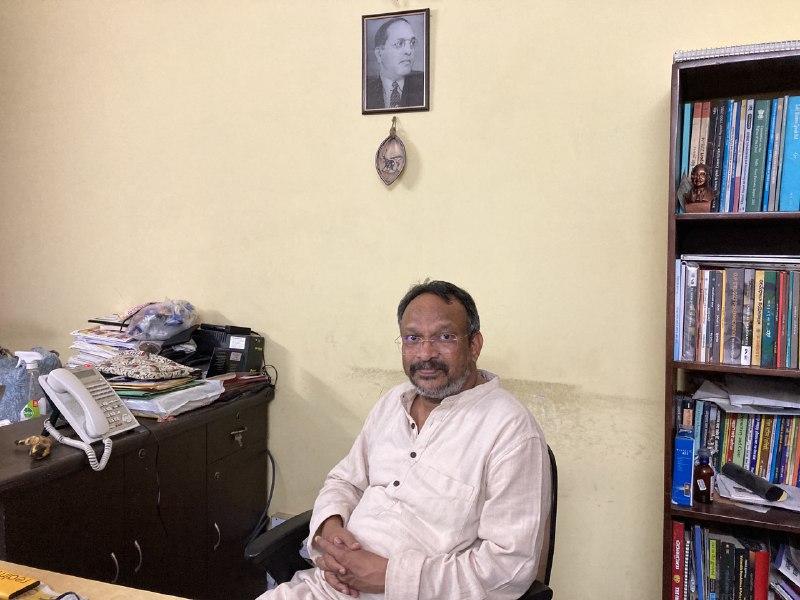 SKA's convenor Wilson touched upon various aspects of the scourge of manual scavenging while speaking on Wednesday. Image clicked by Ronak Chhabra
New Delhi: Friday marks the 31st day of the Action 2022 campaign, a 75-day long national awareness drive launched earlier last month by Safai Karamchari Andolan (SKA) to underscore the need to eliminate the scourge of manual scavenging within the country. A dehumanising practice, manual scavenging is legally banned "in all forms" under the Prohibition of Employment as Manual Scavengers and their Rehabilitation Act, 2013  – although the employment of manual scavengers had begun to be outlawed in 1993 itself.
On Wednesday, NewsClick spoke to SKA's national convenor and Ramon Magsaysay Award winner Bezwada Wilson who said 472 deaths due to manual scavenging were recorded by the organisation between 2016 and 2020. According to him, the deaths in sewers and septic tanks, while cleaning, continue even to this day.  Wilson spoke about various aspects of the heinous practice of manual scavenging and the failure of the Central and state governments in adequately addressing it. Edited excerpts:   
NewsClick: Tell us about SKA's ongoing campaign -- Action 2022.
Bezwada Wilson: See, the problem here is that the deaths [due to manual scavenging] are happening continuously. We have been thinking that governments will do something about it. But instead of actually finding any solution to the problem, the (Central) government started underestimating the problem or denying facts. Technically, they started misleading people.
Somewhere they would say that there is no manual scavenging in India. Then they would claim that nobody died in the past five years due to manual scavenging. Again, they will release another statement, claiming that some 300-odd died cleaning sewers and septic tanks in the country.
This only shows that whatever figures they are providing are not entirely correct. This was one among the concerns that made us declare that we will not keep quiet. We decided to go to each city in the country – at least 75 cities – and tell the truth. It is an action; not a mission. And since, it is happening in 2022, hence the title of the campaign.
NC: Have you faced any problems from the authorities?
BW: In every city, the plan (under the awareness campaign) is nothing but to stand with placards in our hands, saying: 'Don't Kill Us'. However, even here, the (state) police arrives, raises some objections, and eventually doesn't allow us to stand.
We've faced such a situation in Delhi, Hyderabad, and Chandigarh, among others. We have been told that more than 25 people are not allowed to gather; if a law and order situation arises then our sound system will be stopped immediately; or, in some cities, we were only allowed to submit a memorandum to the DM (District Magistrate. So first, they are killing us and then they are not even allowing us to raise our voices. In a democracy, this is another big crime.
Why nobody mourns the deaths in sewer and septic tanks caused by an insensitive system | #StopKillingUs | #Action2022 continues in #Chandigarh | #JaiBhim pic.twitter.com/YYw2pmJpxB

— Bezwada Wilson (@BezwadaWilson) June 1, 2022
NC: The SKA has often accused multiple administrations for failing to identify the actual number of deaths due to manual scavenging.  What is the reason behind this?
BW: The definition of manual scavenging – one that the government uses and that which is used by SKA – is the same. It is the definition that has been used in the 2013 law (Prohibition of Employment as Manual Scavengers and their Rehabilitation Act, 2013). However, what is happening is that the government is actually trying to manipulate the definition to wriggle out of the problem. The government may achieve this, but what we are saying is that it (government) is not protecting the lives of people.
Moreover, these days, there is another thing: the Centre has started claiming that sanitation is a State subject. But then, in 2014, it was the Narendra Modi- led Central government that had launched the Swachh Bharat Mission, right? Several lakhs of crores of rupees have been spent on constructing toilets under the Mission, and yet, not a penny on mechanising [the process of handling human excreta]. More so, not a single rupee has been spent on rehabilitation of manual scavengers. This only shows that, fundamentally, the Centre has gone wrong.
NC: In 2014, the Supreme Court had awarded a compensation of Rs. 10 lakh each for the families of manual scavengers who died doing sewerage work since 1993. How has this fared on ground?
BW: In many states, like Maharashtra, not a single family has received any compensation. In Telangana, a handful of families have got compensation. Similarly, the situation, as far as compensations are concerned, is okay only in states like Tamil Nadu and Punjab.
NC: In your view, what are the issues behind this state of affairs?
BW: First, state governments do not even accept that it is a death due to manual scavenging. The families are asked to produce multiple certificates, which is often a very difficult process. Second, we have been told by authorities in multiple states that they don't yet have any scheme under which such compensation to  families (of victims of manual scavenging) can be paid; neither has the Central government transferred any sum regarding the same.
Then, there are the terms of employment. In some cases, we are asked to prove that the victim was employed on a permanent basis, as opposed to contractual, with the civic authorities. This has been the case despite the 2013 law making no such differentiation between a permanent or contract employee, when it comes to manual scavenging. Hence, what is happening is that instead of providing justice to the victims (of manual scavenging), the government itself has become their enemy.
NC: It has been reported recently that the Social Justice and Empowerment Ministry is set to launch a scheme this month aimed at introducing sustainable solutions to prevent deaths of workers in sewers. In the past, too, there has been talk of mechanised cleaning to eliminate manual scavenging. What are your views?  
BW: The problem is that after all these years, the government still has no scheme for mechanised cleaning. The government is only dependent on some private individuals, or some universities, to develop the technology to address the issue. So what happens is that the civic authorities buy some machinery. Or, in other cases, they simply outsource the job to a private contractor.
Our demand is that the government must have their own establishment to develop the technology and enough political will to achieve capabilities to adapt such technology at a nationwide level. There must be a separate entity altogether to address the issue of manual scavenging.
NC: Through the ongoing campaign, what are your other demands? 
BW: Amid the process of eliminating manual scavenging, we are also demanding that the government should ensure that sanitation workers across the country are provided skill training, which shall ensure their repositioning. We are not in favour of displacement of sanitation workers due to mechanisation. Instead, teach them how to operate the machines by enhancing their skills.
NC: What are your views on the scant media coverage of Action 2022 campaign?
BW: When the State wants to sideline an issue, it is only expected that media houses will follow a similar path. Yes, there has been coverage of our campaign by alternative media groups and also here and there by the mainstream media. But then, the latter will only give you one particular kind of a story. They won't report on our struggles.
NC: What after the Action 2022 campaign?
BW: The SKA will continue to play its role as a pressure group which, along with other civil organisations, will demand answers from the Central and state governments. We are also planning to raise the issue of manual scavenging during the next Parliament session.
Get the latest reports & analysis with people's perspective on Protests, movements & deep analytical videos, discussions of the current affairs in your Telegram app. Subscribe to NewsClick's Telegram channel & get Real-Time updates on stories, as they get published on our website.
Subscribe Newsclick On Telegram