Govt. Squeezes Spending, Even Though Tax Collections Have Increased
Modi government has restrained spending of various ministries including education, social justice, environment and others.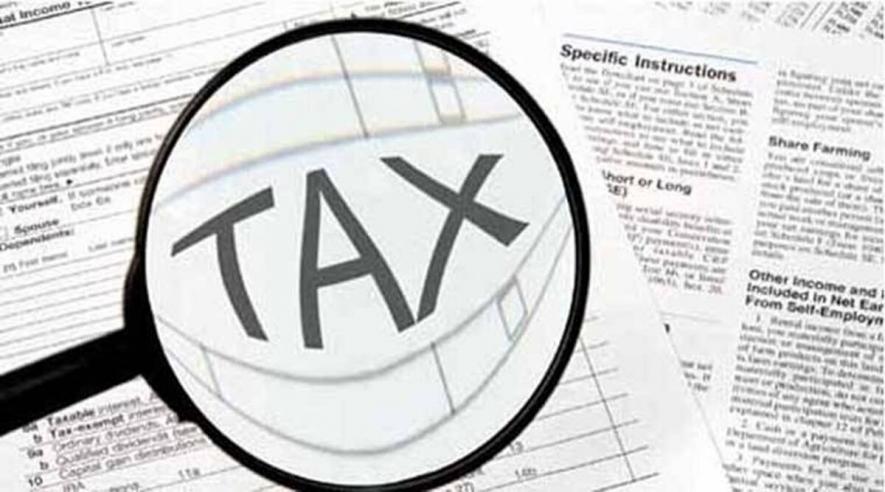 Image Courtesy: The Indian Express
Continuing with its policy of cutting down spending, the central government has spent only 47% of the budgeted amount by the end of September 2021. That's half of the financial year 2021-22 gone. This is a new low (see graph below), and bizarrely, it comes at a time when tax revenues have picked up.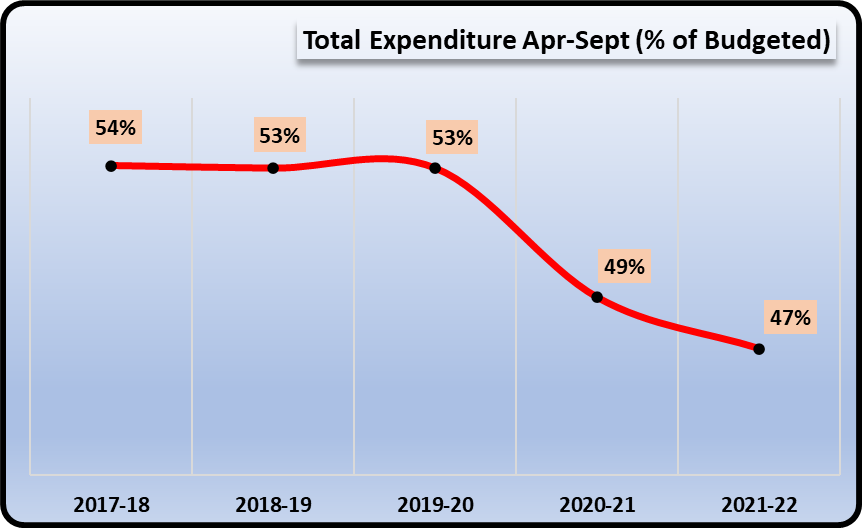 As can be seen in the graph, derived from data made available by the Controller General of Accounts (CGA), pre-pandemic years usually showed up expenditure of about 53% during the first half (April to September) of financial years. In 2020-21, spending had dipped slightly to 49% of the budgeted amount. This was the year when the pandemic hit India, and several months saw complete or partial lockdowns that affected economic activity.
It would be natural and logical for any government to step up spending in dire circumstances when the economy is stuttering, unemployment is rife and private investment is flagging. However, the Modi government had kowtowed to the wisdom propagated by Western banks and rating agencies that government should control its spending, reduce the gap between income and expenditure (fiscal deficit) and thus allow the private sector to step in freely. The government has been under such a pervasive influence of this discredited theory that in the current financial year (2021-22), it has squeezed spending even further.
In case you think there is not much of a difference between 50% and 47%, here is what it means: the total budgeted estimate of spending for the current year is Rs.34.8 lakh crore; so, the 3-percentage point difference works out to just over Rs.1 lakh crore. That amount would make the difference between life and death if invested in, say, distribution of food grain to needy people, or in giving more work under the rural job guarantee scheme, or ensuring rapid double-shot vaccination to all people.
Where is the Cut Happening?
According to half-yearly unaudited accounts released by CGA, some of the key ministries/departments that administer direct people-related programmes have been the worst hit by this squeeze. [See table below] These include the departments of school education (29% of the budgeted amount spent) and drinking water & sanitation (22%); the ministries of social justice and empowerment that administers welfare schemes for Scheduled Castes and differently-abled (just 8%); tribal affairs (28%); minority affairs (17%); development of North-Eastern Region (46%); and women & child development (47%).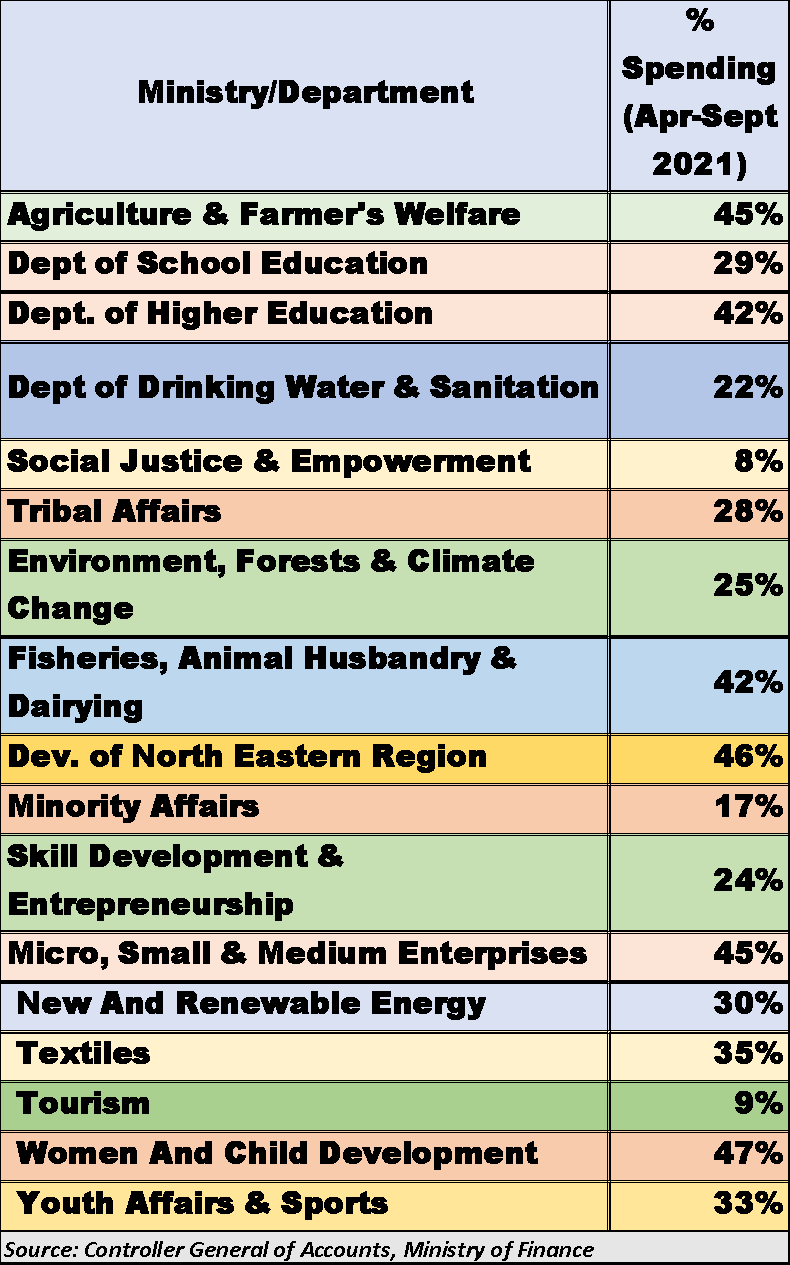 The rural development ministry that administers some key welfare programmes like the rural jobs guarantee scheme (MGNREGS) has spent 61% of its funds. This, however, hides the fact that reportedly, the whole year's allocation for this all-important scheme has already been nearly finished. This has happened because a substantial part of the allocation each year goes into paying off the previous year's pending dues, and the demand for work is constantly rising. The government has been trying to short change the scheme by less allocation, but it is forced to give additional funds due to political compulsions, as had happened last year.
Besides the ministries or departments that administer welfare schemes, those that could potentially be of great help in these times of economic crisis seem to be lagging behind. For instance, the skill development and entrepreneurship ministry has spent just 24% of its funds. The ministry looking after micro, small and medium enterprises that have suffered greatly in the pandemic and earlier economic turmoil has spent 45% of its budgeted amount.
Two ministries related to agriculture – agriculture & farmers' welfare and fisheries, animal husbandry & dairying – have spent less than expected. The former has spent 45% and the latter 42% of their respective budgeted amounts. Farmers in the country have been agitating for the past one year against the attempts of the Modi government to corporatise agriculture through the infamous three laws that it got passed in Parliament last year, and which are currently under suspension. The Modi government has repeatedly been asserting that it stands for the welfare and prosperity of farmers. Yet, it is unable to spend even the requisite amounts as budgeted in its Budget this year.
Spending trends similarly expose the hollowness of the Modi government's claims on environmental protection, climate change and giving a push to renewable energy. Both ministries related to these burning issues have spent far less than expected. The environment ministry has spent just 25% of funds allocated to it, while the renewable energy ministry has managed to spend only 30%.
The Modi government's policy of curtailing expenditure and making huge promises but not allocating enough money has been mercilessly practised for the past several years. In a time when the economic downturn shackled the economy and the pandemic/lockdowns caused a further decline, the insistence on continuing this policy has directly reflected in increased distress for the people. It is possible that in the upcoming crucial Assembly elections, a slew of projects and programmes will be announced, involving crores of rupees, to wipe out the memories of all the distress. In fact, this has already begun in UP and elsewhere. Whether the people will see through this trickery or not, time will tell.
Get the latest reports & analysis with people's perspective on Protests, movements & deep analytical videos, discussions of the current affairs in your Telegram app. Subscribe to NewsClick's Telegram channel & get Real-Time updates on stories, as they get published on our website.
Subscribe Newsclick On Telegram