Govt Waging Undeclared war on MGNREGA by not Paying Workers, say Activists
The activists addressed a press conference at the Press Club of India in Delhi. They additionally mentioned the worrying pattern of the Central government reducing budget allocations towards MGNREGA and other such schemes.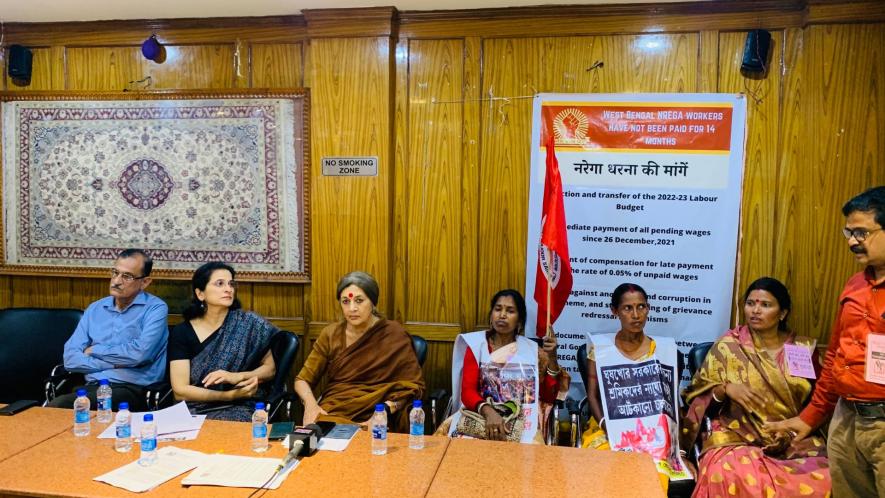 "How would you feel when waiting for your wages for more than a year? There is hardly any other work. There is no pucca ceiling on your head. It feels absurd. I eat once a day because I do not have money for a second meal," Ganga Gop, an MGNREGA worker who travelled from the Purulia district in West Bengal to be a part of a dharna at Jantar Mantar (Delhi) under the banner of NREGA Sangharsh Morcha. 
Gop worked for 68 days in 2021 in her tehsil under Mahatma Gandhi National Rural Employment Guarantee Act (MGNREGA) and did not receive her payments. The act mandates that she should have received payment within 15 days. The protesters affiliated with West Bengal Khet Mazdoor Union maintain that the job seekers under the scheme have not been given any work after December 28, 2021, in the entire state.
Talking to NewsClick, Akali Sarkar, another MGNREGA worker, said that despite being a person with a disability, she is the lone breadwinner of her family. 
"I came to Delhi in the hope that we will start receiving our work and run our household smoothly. The government should pay my dues and compensation for work lost too. The workers accompanied leaders and activists in the national capital to share their plight."
Addressing the press conference at the Press Club of India in the national capital, Brinda Karat, Politburo Member, Communist Party of India (Marxist), said that the Modi government has waged an undeclared war on the legal and constitutional rights of the rural poor and the focus of the war has been on dismantling laws which were enacted after years of struggle by rural poor be it dalits or adivasis. 
"We are witnessing a systematic dismantling of MGNREGA and Forest Rights Act," she said. 
"MGNREGA has been anathema for the Modi government from the day it was sworn in, but it could hardly do anything because of its legal mandate. However, it has been diluting it consistently to deny the rights of MGNREGA workers. What I wish to specify here are three areas of concern. First, the budgetary allocation of MGNREGA has been cut by 33% in the current budget. It was done when official agency data proved that it remained a lifeline for the rural poor in post-pandemic times when employment was still high. The scheme filled some gaps in employment in rural India by guaranteeing jobs. I would say that it is a criminal act by the Modi government to deprive the rural poor to deny them work and dignified work," Karat added.  
The government allocated Rs 60,000 crore in the budget for FY 2023-24, whereas the revised estimates in the current financial year at Rs 89,400 crore. The activists maintain that the government should have allocated Rs 2.72 lakh crore to provide jobseekers 100 days of work in the current financial year.
Karat added that the budget allocation and the government's revenue must be linked to tax policies.
 "1% of people own 40% of resources of the country, and not a single extra paisa of tax has been imposed. The government argues that we do not have enough money and our deficit is increasing, and the worst sufferers in this episode are the rural poor. If this is not criminal, I do not know what it is. I must also tell you that 20 states have a negative balance as they gave work under MGNREGA, and they have yet to receive payments from the Centre. It is a demand-driven law and not quota based. You cannot deny work when it is demanded," Karat said. 
Karat maintained that it is essential to see the social composition of job seekers under MGNREGA to understand the impact of the denial of work. 
"The scheduled castes constitute 16% of the population, whereas 22% are job seekers under the scheme. The ST population constitute 8.6%, but 16% are jobseekers. Women are well over 50% of job seekers. Government officials maintain that they have given demanded work, but data tells another story. In 2019-20, 1.5 crore job seekers were denied work. In 2020-21, 2021-22 and 2022-23, 2.1 crore, 1.7 crore and 1.6 crore workers, respectively, have been denied work. Third, we have been demanding that the wage rates be revised to the state's minimum wages. I am not going into details about it. But the national average wage is Rs 218 now. Agricultural workers get Rs 350/day when they do the same work. You are exploiting the labour of the rural poor."
After that, Karat narrates her observations from her field visits in the last eight months. 
"Women are engaged in all kinds of work, such as cutting shrubs and building bridges and canals. A woman carries 2.5 tonnes of mud daily, yet you deny her rate schedule. I also demand that the Central government should have a scientific time-use survey. We are currently using an outdated time-use survey. Then you have the latest sample of digital India. I was outside Jaipur when I saw workers queuing for one hour because their photo was not getting uploaded. You will not be given work unless you mark your presence on the app. Women are made to work an extra hour to compensate for time lost. This is why I say it is the government's undeclared war on MGNREGA."
Anjali Bharadwaj from Roji Roti Adhikar Abhiyan said that even as the country was struggling with economic depression, the emergence of the pandemic worsened things. 
"Please travel to any basti in Delhi, and you will find that people hardly find work. In these troubling times, you are increasing the prices of cooking gas and ration items. The findings of National Family Health Survey 5 suggest that 30% of children are stunted. Yet, this government is portraying that the golden days are here." 
Bhardwaj cites an example of the affidavit submitted by the Central government in the Supreme Court when activists approached the apex court in case of people walking on roads amid lockdown.
"It stated that after the implementation of the food security act, the per capita income of people increased by 33.4% in the last eight years, and people may not be vulnerable as they were in 2013. Pursuing such a narrative of golden days must be understood that since there is no vulnerability, why do you need schemes like MGNREGA and Food Security Act? Similar to MGNREGA, there was a 30% cut in the allocation of food security."
Supreme Court (SC) asked the government to enrol unorganised sector workers on the E-shram portal. The total number of workers registered on the portal is 28 crore. When it asked for their wages, 95% of workers submitted that they earn between Rs 0-10,000. 
Bhardwaj pointed out that when SC asked what you are doing for them, the government said it would introduce programmes for them. 
"Please focus on your pre-existing programmes. You are already ruining them. The example of MGNREGA is a startling one. The Centre is skipping its responsibility by blaming it on the states. You are going on perverse taxation, where taxes are imposed on each item. Where is this money going?" Bhardwaj questioned. 
She maintained that more transparency is needed in dealing with complaints of corruption, and putting technological fixes is not a feasible solution. 
"We are not getting network in metros, and you expect an uneducated person to operate a smartphone. The Prime Minister said that four crore bogus ration cards were removed with the help of Aadhaar. When we asked for ration cardholders' details, he changed his statement in Parliament. However, the root cause of why revisions are not happening in important schemes is that government could not conduct the Census. Clause 9 of the Food Security Act clearly states that the revision in the number of ration cards will be determined as per the Census. So, it is quite clear whose interest this government is serving."
Get the latest reports & analysis with people's perspective on Protests, movements & deep analytical videos, discussions of the current affairs in your Telegram app. Subscribe to NewsClick's Telegram channel & get Real-Time updates on stories, as they get published on our website.
Subscribe Newsclick On Telegram