Grassroots Democracy Eludes Darjeeling, Parties Demand Panchayat Polls
Political outfits have demanded first and second-tier polls even if early Zilla Parishad elections cannot be held.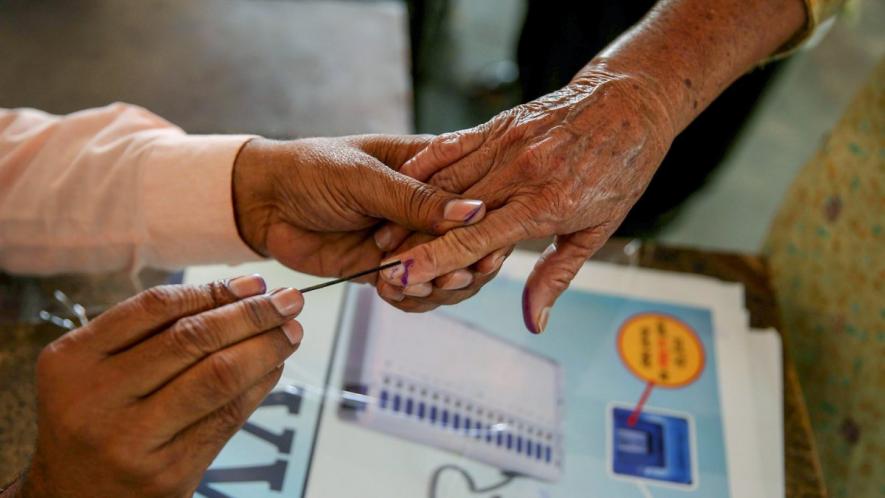 Representational Image. Image Courtesy: PTI
Kolkata: Grassroots democracy, which pivots on Panchayati Raj, has been non-existent for more than a decade-and-a-half in Darjeeling, West Bengal, a state known for its high level of political consciousness and bitterly fought electoral battles.
What was obtained between 2001 and 2005 was just the first of the constitutionally mandated three-tier system, the Gram Panchayat (GP). This happened under compelling circumstances marked by prolonged agitations for a separate political and administrative identity for the region since the early 1980s. Even the GPs would not have existed had not the Left Front government pushed for the first-tier elections ignoring the manoeuvres of the then-entrenched Gorkha National Liberation Front and its chief Subhas Ghising. 
Writers' Building also had to reckon with the limitations stemming from the Darjeeling Gorkha Hill Council Act (DGHC), 1988. This was carried a stage further by the Constitution (Seventy-third Amendment) Act, 1992, Article 243M(3), which ruled out a Zilla Parishad for the district and thus forced a two-tier format—GPs and Panchayat Samitis (PS). A related development was the setting of a Mahakuma Parishad for the plains, the Siliguri sub-division of the district, by the state government in 1989. This was intended to put in place an arrangement for participative democracy at the grassroots level in that area. Darjeeling district then had four subdivisions: Darjeeling, Kalimpong, Kurseong (hills) and Siliguri.
For the last five-six months, political outfits in the hills are demanding panchayat elections at the earliest and restoration of grassroots democracy. The prolonged absence of Panchayati Raj has given rise to autocratic tendencies in the state administration, according to senior Communist Party of India (Marxist) leader and a former Rajya Sabha member Saman Pathak. "Although constitutionally permissible, Ghising had engineered a way out to prevent the holding of even second-tier, PS, elections," Pathak told Newsclick.
The restlessness about early panchayat elections can be gauged from the fact that some of the political outfits argue that if Zilla Parishad elections cannot be held simultaneously because of doubts arising from the DGHC Act and the subsequent Constitution amendment, the process should be set in motion by holding elections for GPs and PS without further delay, according to Bimal Gurung-led Gorkha Janmukti Morcha (GJM) general secretary Roshan Giri.
"Our party had put forth the demand in early July before state's rural development and panchayat minister Subrata Mukherjee. But no action has been taken," Giri told Newsclick from Darjeeling. 
Amar Lama, general secretary, Bharatiya Gorkha Prajatantrik Morcha (BGPM), feels that the people have been "deprived of an opportunity to run their affairs and pursue much-needed development schemes for a long time". "Early elections are an absolute must to ensure that people feel involved in chalking out and executing development programmes," he added. BGPM was launched on September 10 by Anit Thapa, a senior politician and erstwhile key aide of Binay Tamang, who had parted ways with Gurung and to lead his faction of the GJM.  
Lama too supports the idea of holding first and second-tier polls at the earliest if early Zilla Parishad elections are not feasible due to the "prevailing doubts and confusion". A rethink on the advisability of continuing the separate arrangement for the Siliguri subdivision— part of the Darjeeling Zilla Parishad, formed in 1978—is also needed, he said. "The Kalimpong subdivision having been made a full-fledged district with effect from February 14, 2017, three-tier elections are due there too."
The "misunderstanding and confusion" over Article 243M(3) is borne out by the representation made by Bharatiya Janata Party's (BJP) Darjeeling Lok Sabha member Raju Bista to then- Union rural development and Panchayati Raj minister Narendra Singh Tomar in New Delhi on November 20, 2019.
Pleading for the restoration of a normal Panchayati system in the Darjeeling district, Bista urged Tomar "to bring in a Constitutional amendment to repeal Article 243M(3)".
The Centre had reportedly suggested that let the state government first send a draft amendment. Not much is known about what happened thereafter.
Veteran hill politician and long-time spokesman of the united GJM Harka Bahadur Chhetri, who founded the Jana Andolan Party, told Newsclick, "There is no scope whatsoever for any confusion on the issue." Explaining how things have come to such a pass, Chhetri said that Article 243M(3) was a follow-up of the DGHC Act, excluding the Zilla Parishad from its purview "as the functions of the Council and the Parishad would overlap. There was merit in that contention. But there was no bar on holding elections to GPs and PS. Elections to GPs and PS could have been held under Central Acts and that would have enabled these bodies to exercise the prescribed powers and discharge the assigned roles".
According to Chhetri, Ghising was "suspicious that existence of these bodies would weaken his hold over the district. That's why he tried his best to ensure that elections to the first two tiers were not held. He, perhaps, thought a stalemate would help advance his ambitions".
With the passage of the Gorkhaland Territorial Administration (GTA) Act, 2011, during the first term of the Trinamool Congress regime, the DGHC Act automatically lost legal relevance. "Therefore, where is the confusion or scope for misinterpretation? Three-tier elections are possible, feasible and legally tenable," Chhetri added. 
Siliguri-based lawyer Milon Sarkar agreed with Chhetri. "It is the lack of honest intentions on the part of the ruling dispensation; let there be no mistake. The demand for a constitutional amendment despite the automatic lapse of the DGHC Act following the enactment of GTA Act is baffling," he told Newsclick.
That chief minister Mamata Banerjee, who began her third term in early May, is in no hurry to organise panchayat elections in Darjeeling district was evident in what state Panchayat and rural development minister Subrata Mukherjee told Newsclick: "I will take up the matter in the Cabinet when I am asked by the chief minister. So far, I have not been asked to do so." Banerjee wants the Trinamool Congress to gain a strong foothold in the hills, where the BJP has created a strong base by winning not only the Darjeeling Lok Sabha seat but also a few Assembly seats. 
Get the latest reports & analysis with people's perspective on Protests, movements & deep analytical videos, discussions of the current affairs in your Telegram app. Subscribe to NewsClick's Telegram channel & get Real-Time updates on stories, as they get published on our website.
Subscribe Newsclick On Telegram