Gravitational Wave Observatory Back in Action, Upgraded With More Features
After a break of three years, the LIGO facility is now back with improved sensitivity, and scientists believe this would make the detection of gravitational waves more precise.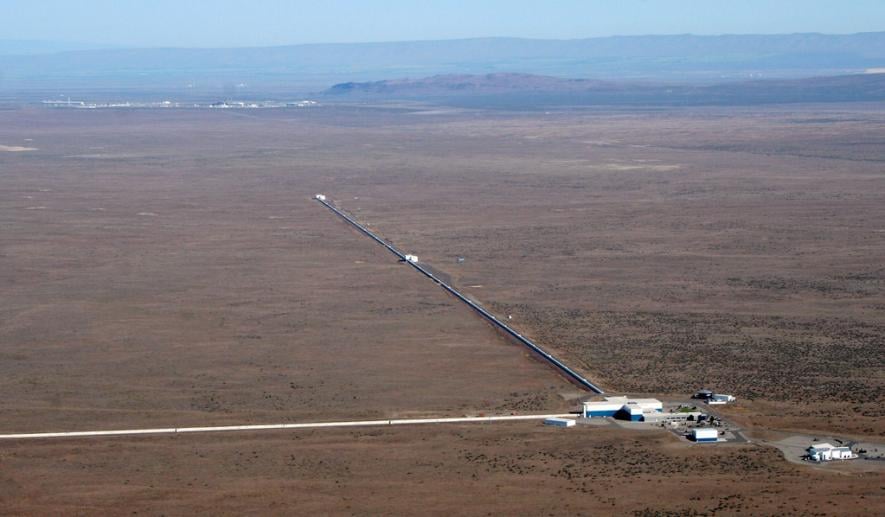 New Delhi: It was in 2015 when humankind detected the universe's gravitational waves for the first time. The waves emanated from a collision between two black holes, and they took 1.3 billion years when scientists at the Laser Interferometer Gravitational-Wave Observatory (LIGO) lab in the United States of America (USA) detected them. This made Rainer Weiss, Kip S. Thorne, and Barry C. Barish win the Nobel Prize in Physics in 2017. It took 40 years of effort that scientists finally made detecting gravitational waves possible.
The LIGO, situated in the USA, has two massive detectors. The first is in Hanford, Washington and the second is in Livingston, Louisiana. After a break of three years, the LIGO facility is now back with improved sensitivity, and scientists believe this would make the detection of gravitational waves more precise. Worth noting here is that the signals received at LIGO in 2015 became too weak when they reached Earth. With the new upgrade, the LIGO is expected to detect signals coming from colliding black holes far away from Earth every two to three days, compared to what was possible during 2019-20, wrote David Castelvecchi in an article about it in Nature. 
Along with LIGO, two other observatories have upgraded themselves, the Virgo in Italy and KAGRA in Japan. Virgo is located near Pisa in Italy and expects to restart this year by the end of summer or early autumn. KAGRA at Mount Ikenoyama, Japan, restarted on May 24. KAGRA was inaugurated in 2020 with advanced technology and has now been fine-tuned. According to Takaaki Kajita, the principal investigator of KAGRA and a Nobel Laureate, KAGRA will join LIGO for a month and then again shut down. 
Albert Einstein theoretically predicted gravitational waves a century ago, but their detection was impossible during his time. Even Einstein was not sure whether the gravitational waves would ever be detected. Such was a brilliant idea that Einstein formulated, and it took 100 years for scientists to detect it. The concept of gravitational waves comes from Einsteinian theory, where the universe is considered a fabric of time and space. Accelerating masses like black holes produce gravitational waves, which travel by periodically stretching and compressing the weft and warp of spacetime. Initiating with LIGO's detection in 2015, most of the gravitational wave events that have been recorded so far resulted from the motion of a pair of black holes merging together. The other events of gravitational waves are from the merging of two neutron stars or a neutron star and a black hole. 
The gravitational wave detector—LIGO, Virgo and KAGRA are based on the same technology known as the interferometer concept. In interferometers, a laser beam is split into two, and the two beams are bounced on two mirrors kept at two ends of a long vacuum pipe. In the LIGO facility, the two long vacuum pipes are four kilometres long. In contrast, Virgo and KAGRA are three kilometres long. The two split laser beams come back and overlap at a sensor in the middle. When there are no disturbances to spacetime, the two beams cancel out each other. But when a gravitational wave passes by, then the two beams can not overlap perfectly, and the sensor senses a signal. It then detects the gravitational wave passing by.
But, a gravitational wave can bring very minute changes in the paths of the beams and detecting such a minute event is painstaking, involving cancelling noise from the environment and the laser as well. The upgraded gravitational wave detection observatories versions are expected to detect minute changes more precisely.
With the improvements in the detectors' sensitivity, they are expected to get more detailed information about spiralling objects producing gravitational waves like black holes or neutron stars. With his particular theory of relativity, Einstein predicted the existence of black holes and gravitational waves. With improvements in the detectors, experts expect that the particular theory of relativity would be better tested. 
Get the latest reports & analysis with people's perspective on Protests, movements & deep analytical videos, discussions of the current affairs in your Telegram app. Subscribe to NewsClick's Telegram channel & get Real-Time updates on stories, as they get published on our website.
Subscribe Newsclick On Telegram