Greater Noida: Here's What Happened as a News-18 Scribe Tried to Stop Late Night DJ at a Jagran
In a tony apartment complex, journalist Saurabh Sharma alleged he requested the organisers to stop the DJ, but they tried to 'teach him a lesson', called him 'Pakistani' and threatened his family.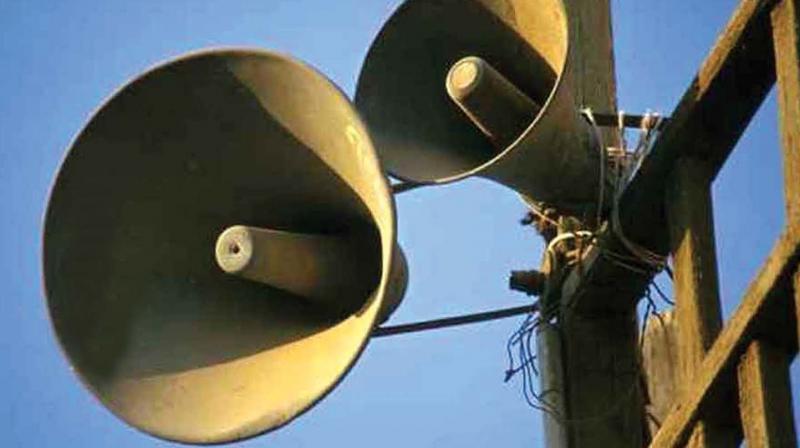 Image Courtesy: Deccan Chronicle
The country is passing through 'Amrit Kaal', where DJs and loudspeakers are trending. Either loudspeakers are being removed from mosques, or are being played in front of mosques.
Be it Ram Navami or Republic Day, loudspeakers have been a hot topic of discussion, rallies are taken out in areas dominated by a particular religious community, then riots erupt, there's fire, and targeted houses and shops get burnt.
All this gets support from the police (which is most often a mute bystander or not present there) and MLAs and MPs of a particular party. News channel owners and anchors also help amplify such incidents.
A new scene was added in all these stories of Amrit Kaal on Sunday night, which was played out in a housing society in Greater Noida, called Oxford Square Super Tech Ecovillage -3. But, this time the victims are not Muslims, but from the majority community.
On Sunday night, a jagran was going on in the society at around 11:30 p.m. During the jagran songs praising Hindu gods and goddesses were being played by the DJ.
According to a Supreme Court order, it is forbidden to play loudspeakers or DJs after 10 p.m, because it disturbs those sleeping, especially children, old people and the sick. Even those studying for exams face problems.
News-18 journalist Saurabh Sharma lives in this society with his wife. Ankita Sharma, and a child. Troubled by the loud DJ being played at night, Sharma called 112 and informed the police.
Soon, the police reached the spot and Sharma also landed up there. He asked the organisers to stop the DJ, but they got so offended that they decided to "teach a lesson" to Sharma on the spot. It is alleged that the organisers called him 'Pakistani' and even threatened to kill him along with his family.
Narrating his ordeal to Newsclick, Sharma said at 11:30 p.m he asked the organisers to lower the sound of the DJ. The organisers said they had been given permission by the police to play the DJ throughout the night. "When I asked them to show the permission letter of the police, they started calling me Pakistani", he said.
"I was shoved around. About 40-50 people chased me and started saying I am Pakistani, 'kill his entire family.' They were also saying that along with the family, they will parade me naked in the housing society. It was because the society president and other people intervened that my life was saved. Amid all this, my child got lost in the crowd and was found after about 45 minutes," he added.
When asked if the "attackers" belonged to the housing society or were outsiders, Sharma said: "There are two apartment sections in the society – one high-rise and the other low-rise. I live in low-rise and the jagrata was happening in the high-rise. I recognise some of those people, but don't know all them because they don't live on my side  of the society."
Sharma told Newsclick that he had not received any information about the registration of FIR till now. Nor has any action been taken.
According to Sharma and his wife Ankita Sharma, when he was being attacked by the jagrata organisers, the police were present but did not intervene. It was around midnight, said Ankita, who also shared a video on Twitter that shows songs being played loudly in the presence of police
She wrote on Twitter that "it is 1:31 in the night and still the jagrata is playing loud music. Have registered a complaint, the police also came, but nothing happened."
In the next Tweet, she writes – It is 2:33 p.m and songs are still playing at loud volume, the police have come and gone again and again, but to no effect. People are drinking (alcohol), dancing and even attacked my husband. What kind of world are we living in? When asked to stop the jagran, they say he is a Muslim, kill him."
She alleged that when her husband was chased by some society people, the police were present.
"This went on till morning. The loud volume of DJ was heard till 4 in the morning. What kind of devotion is this? Everyone seemed drunk and were shouting. I asked the police, what is happening, why are they drinking during a jagrata? Then a lady came forward and was aggressive and was ready to get violent. She was stopped 'KD Sir', president of Oxford Square. During all thi,s the police failed completely," she alleged.
In one of her mails to a media portal named 'Bhadas4Media", Ankita Sharma writes: "We are both journalists. What kind of treatment is being meted out to journalists? If we requested that the volume should be reduced, they asked us to get lost, termed us atheist....?
She further alleged that one of the jagran organisers Jaykumar Som even threatened to come to their home and harm the family. "Seeing the CCTV was bone chilling, as I was at home that time....We are not feeling safe," she added.
Newsclick spoke to Bisrakh police station in-charge on the allegations made by Ankita Sharma and her husband Saurabh Sharma. He said: "There is misinformation in the media that he (Sharma) was beaten up. We have CCTV footage, there no beating incident anywhere in it. Only an argument between the organisers and the journalist can be seen. We have registered an FIR on the complaint of the victim (Saurabh Sharma), and are investigating. If they want the FIR copy, they can take it."
In its statement, the police also said that an  "application has also been given by the organisers of the jagran, that the said caller (Saurabh Sharma, who complained to the police) came to the jagran under the influence of alcohol and abused the organisers."
It may be noted here that religious extremism is not only affecting the lives of ordinary citizens, but also the police, who do not have the courage to do justice to these matters.
For instance, in Shahjahanpur, on April 11, the DJ being played on the occasion of Ram Navami was stopped, but soon Vishwa Hindu Parishad workers surrounded the police station at Sadar Bazar and raised slogans of 'Jai Shri Ram' in the police station.
The video of the incident has been shared by journalist Samir Abbas.
The "helplessness" of the police in Greater Noida and Shahjahanpur shows that there is no fear of law among the people of a certain section and ideology in BJP-ruled Uttar Pradesh. The communal flare-up on Ram Navami in many parts of the country points toward a worrying situation.
(Translated and edited from Hindi by Aditi Nigam)
Get the latest reports & analysis with people's perspective on Protests, movements & deep analytical videos, discussions of the current affairs in your Telegram app. Subscribe to NewsClick's Telegram channel & get Real-Time updates on stories, as they get published on our website.
Subscribe Newsclick On Telegram