Ground Report: Amid Failed Welfare Schemes, Bonded Labourers a Grim Reality in UP's Bundelkhand
Burdened by debt and loss of livelihood in parched Banda, several families are being forced to work as bonded labour in exploitative brick kilns.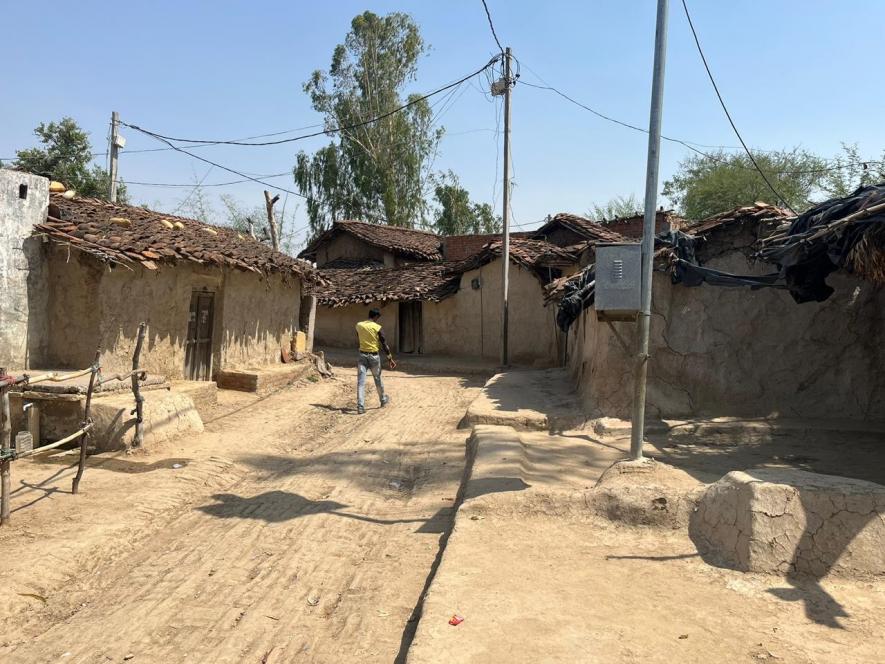 Several villagers in Banda have migrated to work in brick kilns in Haryana, even working as bonded labourer.
Banda: The sight of cracked heels of men and women climbing up on tempos amid dust and grime, to undertake a journey that will ensure food in their stomachs is common in central Uttar Pradesh's Bundelkhand.
One such man is Ramesh, a daily wager who works in a brick kiln, and has returned from Haryana after working at least nine months — but without pay. He says he has exhausted the Rs 20,000 he carried from his hometown, Banda, to a village in Haryana, bordering Delhi, along with his family of four, including children.
After undertaking a painstaking four-day journey, Ramesh, 38, was bundled in the back of a truck in October 2022, and finally landed back in his village. He shared his tale of what he endured as a "bonded labourer" with NewsClick.
Banda has become the modern-day hub for providing "bonded labourers".
Poverty-Stricken Families
Banda is one of the backward districts of India in the Bundelkhand region and has been so since for decades. The district has witnessed scores of political scuffles over starvation deaths, water crises and farmer deaths.
Banda, one of the seven districts in Bundelkhand and a part of the Chitrakoot division, was one of the worst-affected when drought hit the area in 2016.
That year, starvation deaths were rampant in the district. There was also an acute water scarcity, with the then UP Chief Minister, Akhilesh Yadav, turning down the Central government's offer to send a water train to mitigate the crisis.
In this area, the stricter laws to abolish bonded labour remain only on paper, as generations reel under the burden of repaying a one-time debt — a condition that reminds one of days of slavery. This is the key reason that entire families continue to be exploited.
Lalit (39), a bonded labourer of Ballan village in Bisanda block worked for a decade in several brick kilns in Haryana, Punjab and Rajasthan, but due to respiratory problems, he had to shift back to his village.
"From firing to lifting, each migrant worker has to prepare more than 1,000 bricks every day. We get a meagre Rs 400 for 1,000 bricks. Our family members also help us in the process of preparing bricks. If we split Rs 400 among three-four people, it amounts to a measly Rs 100 per person. Besides, it takes more than 16 hours to prepare 1,000 bricks," he told NewsClick, adding
"We are landless and have no work in our village. Where should we go if not the brick kilns?"
Several workers who migrate to Haryana, Punjab, Rajasthan, Gujarat and Maharashtra for 8-9 months, have to work 15-16 hours a day in the open, either making bricks, putting bricks in line to dry, sharpening and cleaning the edges, lifting those, breaking coal and arrange them for firing.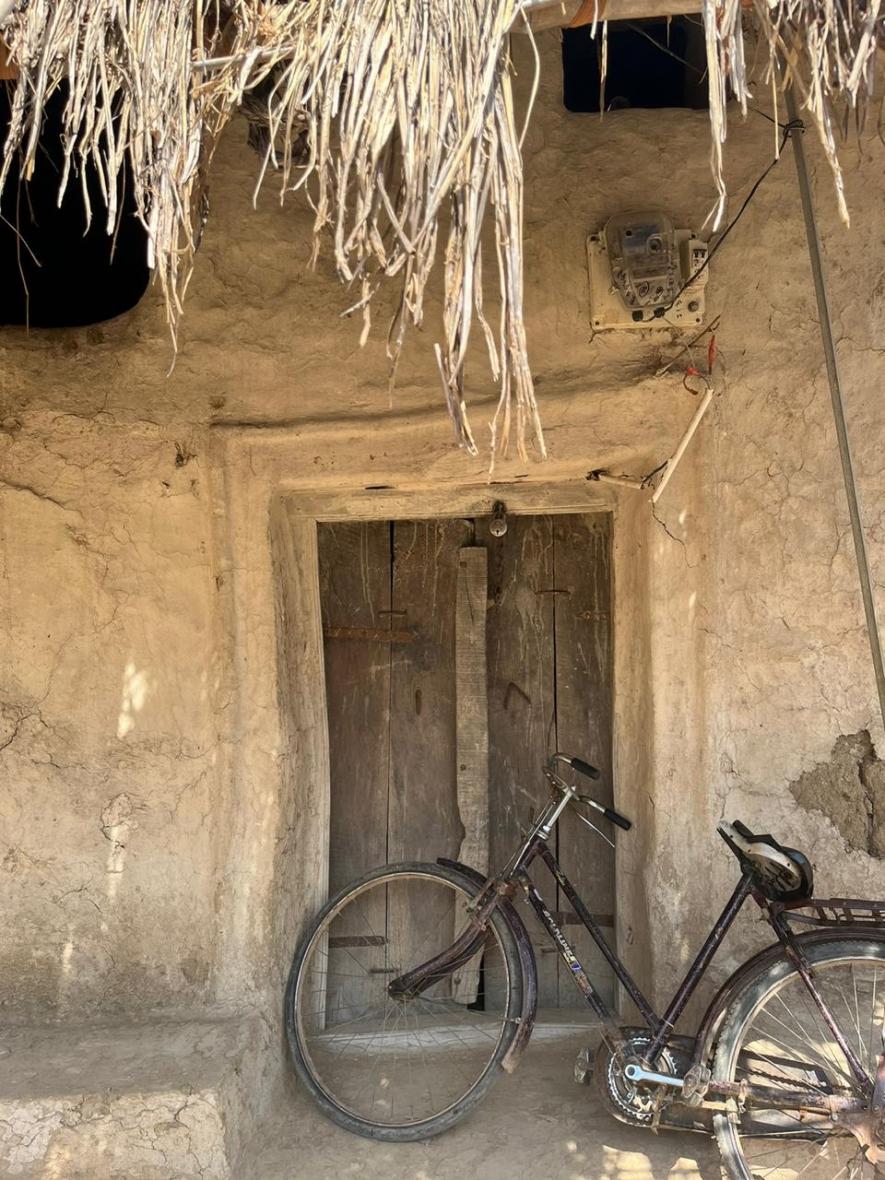 A locked house in Banda. Burdened by debt and lack of livelihood, entire families, including children, work in brick kilns in other states.
Khushbu (name changed) has a different story to tell. Her father had borrowed Rs 7,000 from a brick kiln owner at least 20 years ago for her grandfather's treatment, who unfortunately did not survive. To pay back the loan, her whole family started working in the brick kilns in Kanpur as bonded labourers.
"My father also died a few years ago, but the debt is still there and I have to repay it. I do not know the exact amount that is left, but the owner says I will have to work for a couple of years more," she told NewsClick.
While her siblings and mother went back to the brick kiln to work without any remuneration, she refused to return. "They don't just exploit economically, but also sexually. Therefore, I decided not to go," she told NewsClick hesitantly.
Forced Labour
With 18.35 million victims of forced labour, which is around 1.4% of the country's population, India tops the Global Slavery Index. Modern-day slavery ranges from forced labour, begging and prostitution.
It's not only brick kilns that have bonded labourers. Bangle, glassware, carpet industries, too, have been reported to have such labour, besides children who work as domestic helps or at roadside eating joints.
Anti-slavery activists, however, believe this number is just the tip of the iceberg.
According to the Human Rights Commission, which has the latest figure, more than 14 million children are living under slavery conditions in India.
Activists claim that the number would be closer to 30 million if an honest survey is done. They claim Uttar Pradesh has around 2.1 million working children in the age range of 5-14 years.
Even this estimation, they say, is not precise as it does not include children working in rural areas or in the sectors where rights activists have not so far reached.
The Bonded Labour System (Abolition) Act, 1976, makes all debt bondage, including that of children, unlawful. However, buying or disposing of people as slaves, wrongful confinement, kidnapping, assault, causing grievous hurt, extortion and rape are criminal offences in the Indian Penal Code (IPC) with imprisonment of up to 10 years.
In addition, cruelty to minors and withholding their earnings are also criminal offences under the Juvenile Justice Act, 1986.
"Laws are there, but these are not implemented effectively," allege activists. And, if slavery still exists, it's a failure of the welfare state.
"It is happening because the government has failed to provide people with basic necessities. Since the victims are poor and don't have employment opportunities back home, they move to big cities and end up as bonded labourers in factories and brick kilns," say activists.
In brick kilns, such labourers get Rs 200 for making 1,000 bricks, which are then sold in the market for Rs 7,000. "The workers are recruited by agents, who ask them to take their families along. They are promised accommodation and often paid an advance — which is in fact a debt — to win their trust. Keeping family with them at work places is an attractive prospect. Once they accept the advance, they fall into the trap," some activists told NewsClick.
Complaints with regard to sexual exploitation of women at brick kilns are also not rare, allege activists.
For instance, Khushbu's neighbour was lured on the pretext of a job by another woman, who sold her as a bonded labourer in a brick kiln in Jaunpur. She alleged she was raped by the brick kiln owner daily and whenever she protested, she was beaten up.
Young children are the worst sufferers. They do not go to schools and instead help their parents arrange bricks for drying, and collect the broken and improperly moulded bricks. Once they get older, they are drawn into this trade having been trained from a young age.
The majority of such workers belong to the Scheduled Tribe (ST) and Schedule Casted (SC). They are usually illiterate. They generally don't understand the arithmetic of an advance, debt or loan. The creditor holds the documentary evidence and its contents are never made known to them, allege activists.
Are Brick Kilns Breeding Sexual Exploitation?
There have been several reports of women labourers being subjected to sexual harassment in brick kilns. In one such incident, a Kachhia Purwa woman of Naraini block was allegedly gang- raped by the thekedar (contractor) and his men in a brick kiln in Banda district recently.
In another report, a woman who went to work in a brick kiln along with her family members, was allegedly abducted by the owner and his people and kept captive for 15 days.
Raja Bhaiya, head of Vidya Dham Samiti, which has been fighting for the rights of bonded labourers and against their exploitation, highlighted various such cases of bonded labourers.
"Cases like this keep coming to us. We have documented multiple cases of sexual exploitation in Banda and Chitrakoot districts and also highlighted their plight, but their voice was silenced," Raja Bhaiya told NewsClick. He claimed that several women going to work in brick kilns were sexually exploited, alleging that police never report such cases.
The source of livelihood of people in Bundelkhand is either agriculture or labour, but due to climate change, agriculture has been badly affected. Hence, people are not getting enough wages for survival in Bundelkhand. Therefore, they are being forced to migrate on a large scale. Most of them end up working in brick kilns in different cities, he said.
According to the revamped Centrally-sponsored scheme for rehabilitation of bonded labourers, each of them (male/female) is supposed to get an immediate financial aid of Rs 20,000. Apart from this, men are entitled to an aid of Rs 1 lakh, while women and children to Rs 2 lakh after the accused is convicted in court for forced labour. In special cases, the rescued bonded labourer is given Rs 3 lakh compensation.
Though the government claims that for the rehabilitation of these bonded labourers, land for house/farming or benefits of other income schemes are also provided, activists have a different story to tell.
"We free around 100 labourers every year. It is the responsibility of the District Magistrate to provide houses and land. But I am not aware of anyone ever getting land or a house, or even monetary compensation," said activists.
Get the latest reports & analysis with people's perspective on Protests, movements & deep analytical videos, discussions of the current affairs in your Telegram app. Subscribe to NewsClick's Telegram channel & get Real-Time updates on stories, as they get published on our website.
Subscribe Newsclick On Telegram