Ground Report: Tribals Forced to Drink Dirty Water as Crisis Plagues Lord Rama's Chitrakoot
Villagers said non-functional wells and poor groundwater were the major reasons for the crisis, adding that this was one of the key reasons for youth migration from Bundelkhand.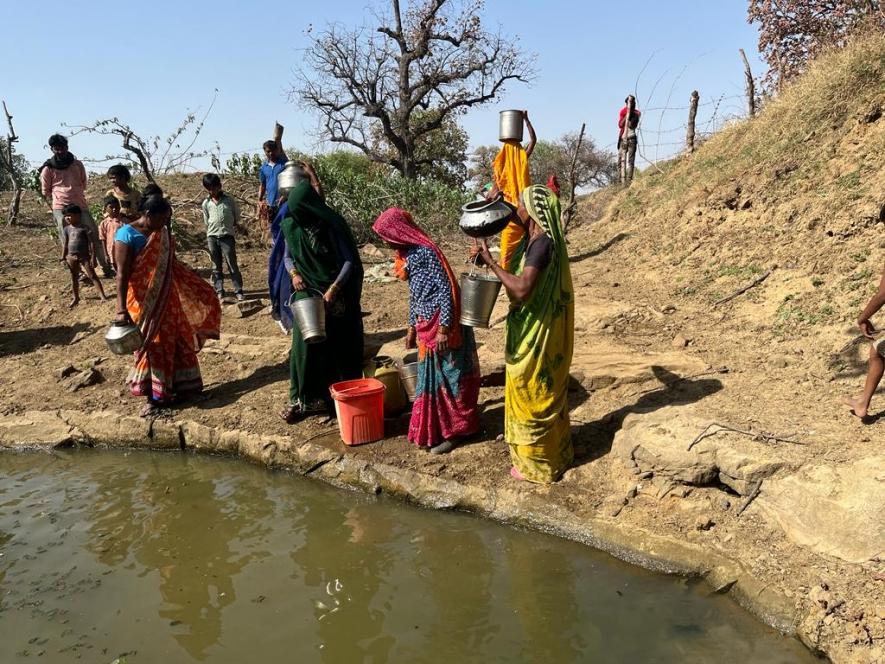 Chitrakoot: Laximi (50), a tribal woman of Tikuri — a parched village, walks a kilometre to fetch dirty water from sand pits. Laxmi uses a thin nylon rope, barely meant to carry more load than a full pitcher, to pull out water from an unhygienic pit (choti talaiiyya in local parlance). Animals also use the same pit to quench their thirst.
She fills two pitchers once it clears a little, and then she places one on her daughter's head and one on her own, and then the duo begins the steep climb back to their hut. The minute she reaches her hut, her husband, who is relaxing, begins drinking the contaminated water.
"Getting water for our daily needs is a luxury. Nothing has changed in the past three decade," says Laxmi, who is one of many villagers who must walk a kilometre for water.
A visibly harassed 80-year-old Nathiya said, "Pure drinking water has always remained a dream for us. More than half my age has passed in waiting; we do not know when the dream of clean drinking water will become a reality."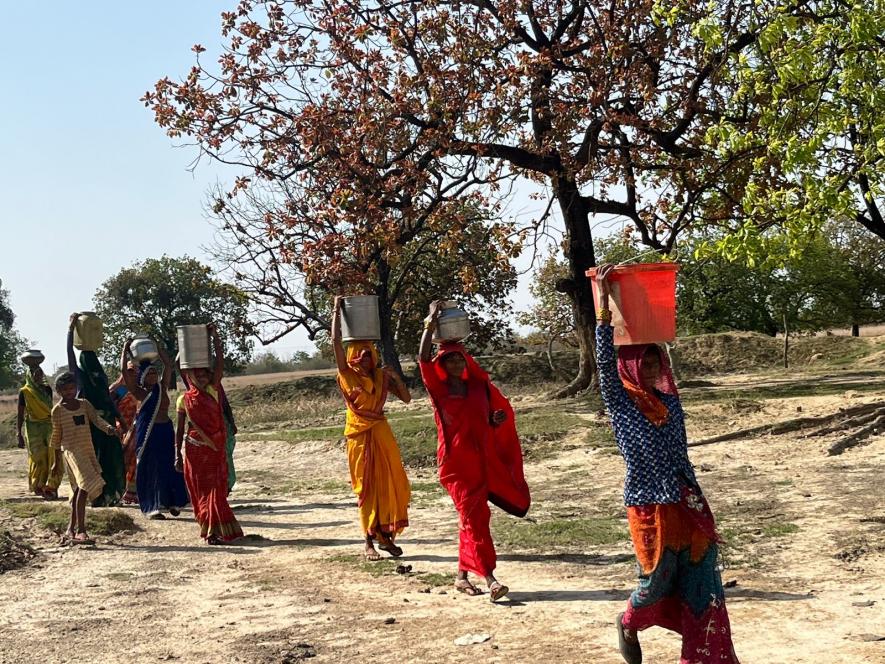 Every morning, the Kol tribe (Scheduled Tribe) women in the Manikpur block of Bundelkhand region of Central India are seen marching a long distance to fetch water from rivulets deep inside the jungles. It is mostly women and children who bear the burden of carrying water. Tribal villagers said that almost half of the block comprising 200 villages of over 40 gram panchayats was reeling under the water crisis.
Villagers said that non-functional wells and poor groundwater were the major reasons for the crisis. The tube wells were repaired briefly, which has aggravated the water crisis, they alleged.
In the absence of protected water supply schemes, consuming contaminated water has become inevitable for the unfortunate inhabitants of the area.
According to Hindu mythology, Chitrakoot is where Hindu deities Ram and Sita spent 11 years of their 14-year exile from Ayodhya; it also has a place, Bharat Milap, where the brothers, Lord Ram and Bharat, reunited. It is situated 285 km south of Lucknow and has become a famous pilgrimage centre.
Due to the apathy of the political leaders and the district administration, thousands of tribals living in the agency areas of the district are being forced to drink contaminated water. This has resulted in dozens of them dying due to water-borne diseases.
More than a hundred villages, including Murkta, Khichri, Rampur Kalyangandh, Chamrauhan, Sakraunha, Ranipur Gidurha, Unchadih, Kihunia Panchpeda in Manikpur and Bargarh area of the district are facing acute drinking water crisis.
Uttar Pradesh Chief Minister Yogi Adityanath, in 2022, had ensured that tap water connections would be available in households of the dry areas of Vindhyachal and Bundelkhand regions by December 2024 under the 'Har Ghar Nal Yojana' launched by Prime Minister Narendra Modi.
DRINKING WATER A FAR—CRY
Uttar Pradesh has provided the third most tap connections under the 'Har Ghar Jal Yojana' in the country.
According to the available statistics in April, UP has provided 97,11,717 tap connections across the state, benefitting more than 5,82,70,302 residents of rural Uttar Pradesh. However, it is a far cry in parched Bundelkhand.
The Union and state governments claim thousands of crores of rupees allocations under the Jal Jeevan Mission, but safe drinking water has not reached our hamlet, the tribals added.
Munna, a 65-year-old, told NewsClick that they had been drinking dirty water for the past three decades.
"There is a slight improvement, but still, we are forced to drink dirty water. We do not have any option other than collecting water from unhygienic parched wells and ponds. As a result, we suffer from various diseases. Therefore, our children are migrating to big cities in search of jobs so they can at least drink clean water and eat good food."
Accusing the upper caste of the village of preventing them from getting water from their fields, he said they had erected six-seven feet high fences to cordon off tribals from entering their field.
"The upper caste people abuse us if we enter their field for water. We have to think twice to quench our thirst. Besides, the Modi government snatched our livelihood by not allowing us to sell 'mahua' (Madhuca), 'tendu' patta (leaves) and honey. We used to sell Rs 40/kg of mahua till last year, but we cannot sell it now due to government restrictions."
According to a study carried out in 2022 by Bundelkhand Jal Manch, up to 65% of people once living in rural areas of the Bundelkhand region have migrated at least temporarily to other places due to a lack of water.
NO WATER, NO DAUGHTER
NewsClick learnt that youngsters of the Manikpur region do not get married due to lack of water. Many have reportedly crossed the age of 40.
The villagers said people come to these villages with marriage proposals, but they refuse to give their daughters once they know about the severe water crisis.
The critical concern of the bride's father is drinkable water and a toilet.
Siya Dulari, a native of Murkata, 7 km from Tikuri, told NewsClick, "We usually solemnise marriage during the rainy season (July) so that we can collect rainwater and serve water to the guest."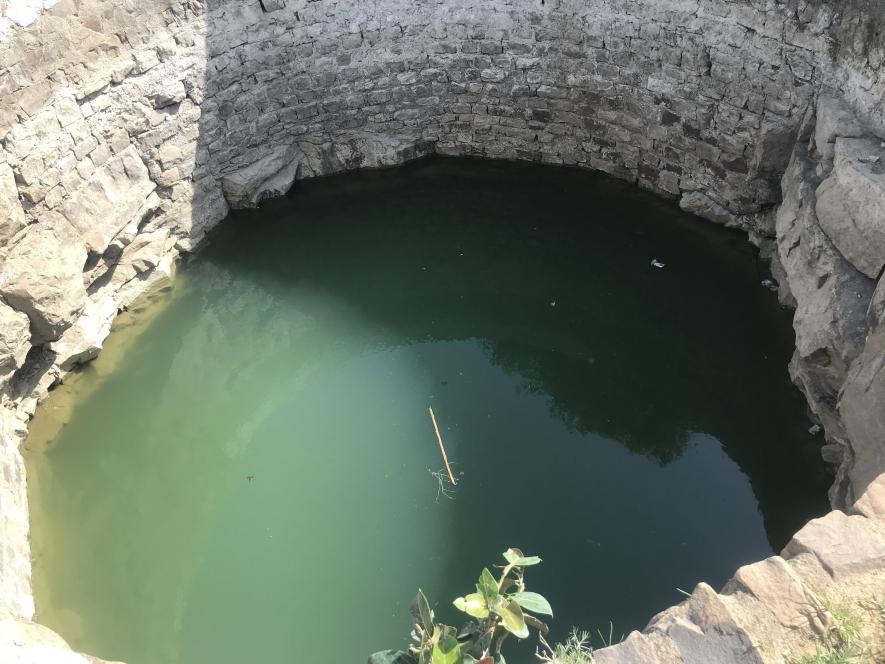 Many women outside Kekra Mar village could be seen making a beeline for their turn to collect water. A group of women could be heard using cuss words for not getting water even after waiting three hours.
"The men do not stand in the line for water because they will not tolerate the things we face twice a day, and they will start fighting each other. For us, it's double the duty because not only do we have to stand for long hours to fetch water but also ensure that all the household chores are done," Kausalya, a villager, told NewsClick.
Kausalya, Radha and other women feel relieved to get at least ten pitchers of water each as there was a wedding season going on in their village.
"There is only one borewell in our village, which opens twice daily. All water pumps installed by the government are either dried up or not working. Sometimes it is war like situation for water. Nobody wants to wait," said Radha.
When asked about water use, they said they used it for drinking, cooking, and if it is saved, it is used for washing children's clothes.
Meanwhile, if there is no electricity in the village, one has to trek two kilometres away to get water from the pond.
'PATHA JAL KAL' SCHEME FAILED
In 1973 the Congress government laid the foundation stone of the 'Patha Jal Kal' scheme.
Then Prime Minister Indira Gandhi, on January 9, 1974, with much fanfare, launched the Rs 100-crore World Bank-aided Patha (rocky) Water Scheme to get rid of the drinking water crisis in hundreds of villages of the Patha region of Chitrakoot district.
Despite being Asia's largest drinking water scheme, it has failed to quench the thirst of more than 150 villages in the district even after five decades of its inception.
Even after 75 years of independence, the promises made by successive governments have proved to be hollow.
Mata Dayal, a veteran forest rights activist in Chitrakoot, said, "Even after the country's independence, the pipeline under Patha Pe Jal Yojana could not reach the village to date despite spending crores. Only a few water tanks could be spotted but no use. Furthermore, the feudal oppression of settling in forest areas has not ended till date; the means of livelihood were from the forest, which has been abolished." 
When asked about the 'Har Ghar Jal' scheme, the activist said, "Stand-post taps are being installed in villages, and officials are taking pictures while there is no pipeline. They are only doing it for photo-op. From where drinking water is being arranged here, it can never reach as there are many loopholes, including the wrong direction down the surface. Bringing water for drinking from the Yamuna River to Patha's land is an uphill task as there is a height of 500 ft and 40 km from the village. Any water scheme will only succeed if it comes from the elevated ground in Madhya Pradesh."
During the 2019 Lok Sabha elections, sundry political parties had assured of solving the water crisis in the seaside areas, but they failed to keep their promises after the polls. As a result, the sorry plight of the locals is yet to abate, he alleged.
Meanwhile, the villagers alleged that they did not get work under Mahatma Gandhi National Rural Employment Guarantee Act 2005 (MGNREGA). Even if work is available, there is no equality in pay between men and women.
Get the latest reports & analysis with people's perspective on Protests, movements & deep analytical videos, discussions of the current affairs in your Telegram app. Subscribe to NewsClick's Telegram channel & get Real-Time updates on stories, as they get published on our website.
Subscribe Newsclick On Telegram