Gujarat: This Eid, Women of Shakkarpur Just Want Their Husbands to Return Home Safe
Following communal tension, Muslim men of Shakkarpur were either arrested or fled for fear of police leaving only women and children in the village.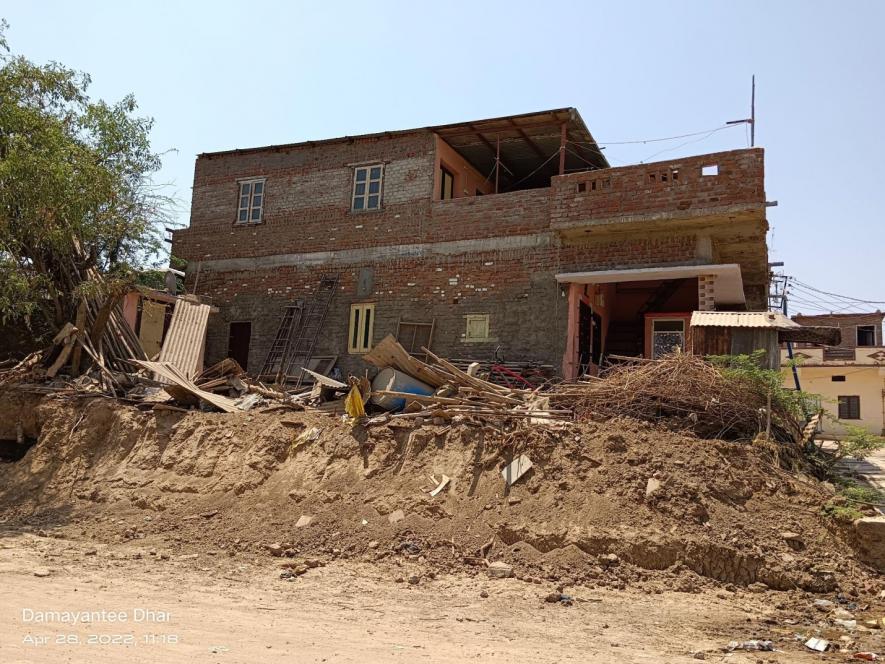 Shops belonging to Muslims that were demolished
Zeba Banu, a resident of Shakkarpur village in Khambat taluka in Anand, Gujarat, has been living alone since her husband had to flee following a communal tension on April 10 on the occasion of Ramnavami in the area. Zeba has been struggling to feed her two children since her husband, the household's sole earner, had to flee from the village on April 11 for fear of local police. She has neither cooked a meal nor spent a night at her home for fear of her children's safety.
"My husband had to leave the village on April 11 for fear of police. Local police had been visiting Shakkarpur frequently since the communal tension and harassing Muslim men irrespective of having their names in FIR. They (police) have been arresting whoever they get a hand on. He was the sole earning member of our family. Since he left, my two children and I have been dependent on whatever Muslims from Khambhat city have been donating here," Zeba Banu tells NewsClick.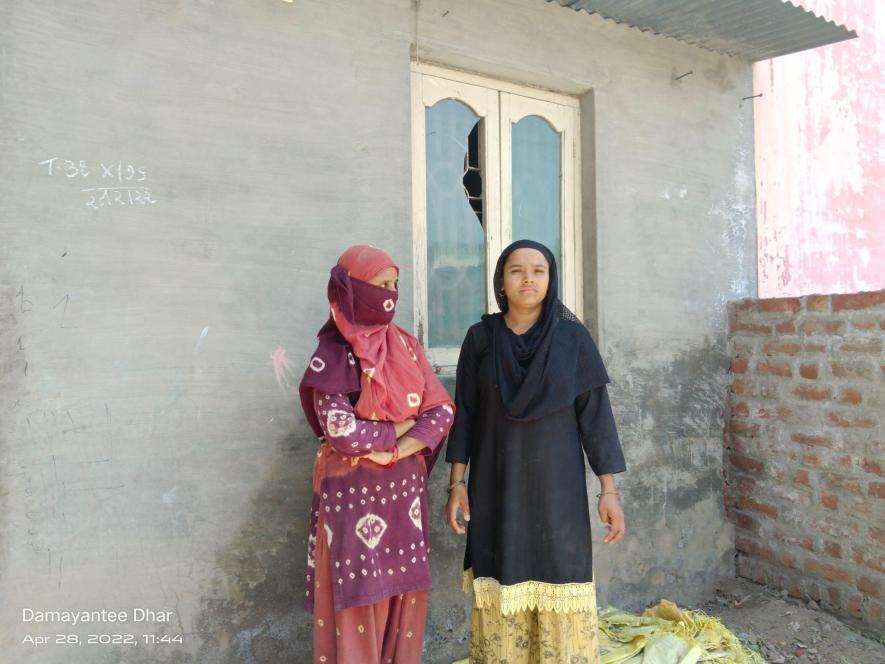 Zeba (left) and Zohra in front of Zeba's house damaged in riots
"Following the communal tension, the village diary refused to sell milk to Muslim families even during the month of Ramzan. Most of the men in the village were gone by then, and women were left with no food at home. We used to get packets of snacks to break Roza, feed our children till Muslims from Khambhat city began to send us food and necessities," she added.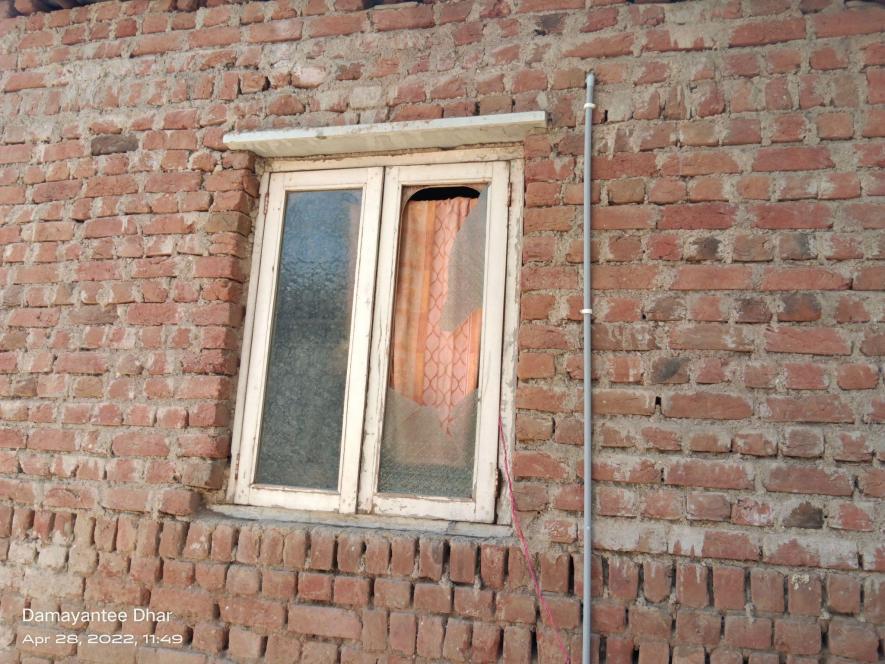 Damaged window at Zeba's home
Shakkarpur, a village about 2 kilometres from Khambhat city, witnessed communal tension on April 10 when a rally on the occasion of Ramnavami passed through the Muslim dominated part of the village, stopped and played loud, provocative music in front of the local dargah. Out of about 1,000 households in the village dominated by patels, 200 – 250 Muslim families live at one end of the village.
"Khambhat has been witnessed small scale riots post 2002. The town has seen multiple riots a year since 2016. But those usually have happened in the Akbarpur area around Khambhat bus stand where Hindu and Muslim families of fishermen community reside. This would be the first time when communal tension broke out in Shakkarpur," Janisar Sheikh, Khambhat based activist, tells NewsClick.
Noticeably, in all riots since 2016, local police have found a local extreme right-wing outfit – Ram Sena, to play a role. The organisation has been active since the year 2016 and is led by Jayvir Joshi, a local resident and businessman of Khambhat. Joshi and his father, Jayraj Joshi, were arrested in 2019 in connection with riots and were in jail for five months. In 2020, the father-son duo was named in FIR following a riot in February that year after they were found setting fire to shops and homes belonging to Muslims.
However, following the riots in Shakkarpur last month, police swung into action and arrested Muslim youths from the village and claimed the violence was a 'pre-planned conspiracy' and said that the local sleeper cell modules were "financed from abroad" and were turned active by clerics.
"During the Ram Navami rath yatra in Khambhat, one incident of stone-pelting and arson occurred in which one person died while several others were injured. A Special Investigation Team (SIT) has been formed that includes cyber experts to probe the case. The main accused, Razzak Hussain Patel Maulvi, is from the nearby dargah. He came to know about the police permission given for the yatra and started the whole conspiracy. It was pre-planned, and as per their planning, just a day before the riots, the accused had sent their families to different places to execute their plans of creating communal disturbances. Their motive was to ensure that no such yatra takes place in the future. We have recovered chats, audio recordings and messages," Anand district Superintendent of Police Ajit Rajian said in a press conference held on April 13.
"Police has arrested three people from one family of Shakkarpur village. Harunbhai Mallick, who has been a member of the Panchayat, his son Shafaqat Mallick who just became an advocate, Warishbhai, nephew of Harun Mallick, who were all out of Khambhat town on the day of the incident, were arrested by the police. One Razakbhai Patel, who has been arrested and claimed to be a Maulvi is actually a man venerated within the community who was standing to welcome to the Ramnavami rally," says Janisar Sheikh.
On April 15, two days after the arrests, several shops belonging to Muslims of Shakkarpur were demolished in an anti-encroachment drive, and many got eviction notices served.
"They gave us ten minutes' notice to evacuate our shop that has been here for more than 40 years," says 65 years old Mohammedbhai of Shakkarpur, whose one son is arrested and another fled the village, leaving him and his wife to fend for themselves.
"I used to sell beetle leaves, biscuits, snacks etc. My wife and I have been managing on whatever I could salvage from my shop before it was demolished," adds Mohammedbhai, who is one of few remaining old men left in the village.
"My husband is sick, so my son used to run the shop, but Shahbaz (son) was arrested by the police on April 16. I have met him once in jail since then," says Noorjahan, wife of Mohammedbhai.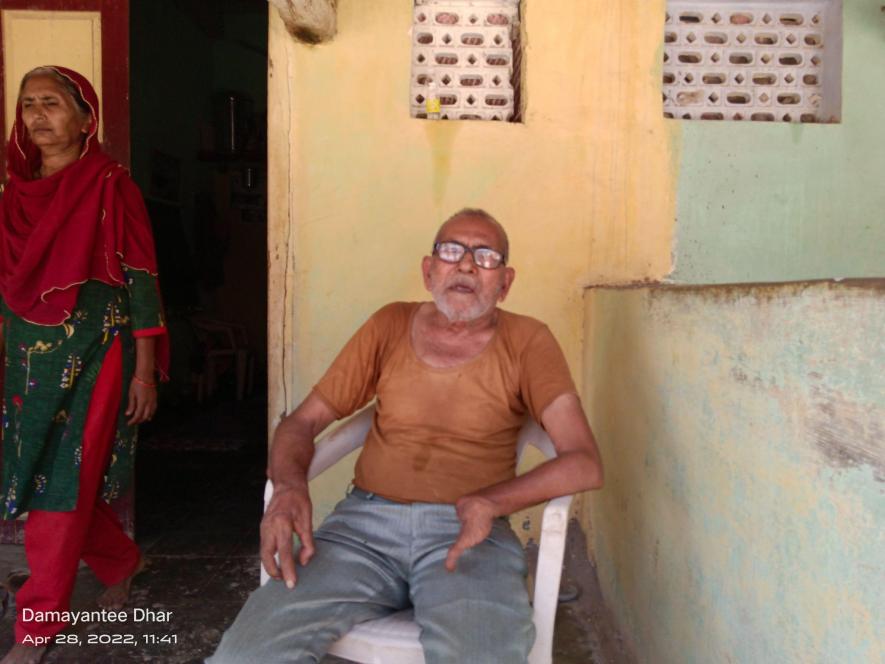 65-year-old Mohammedbhai whose shop was demolished, son arrested after the riot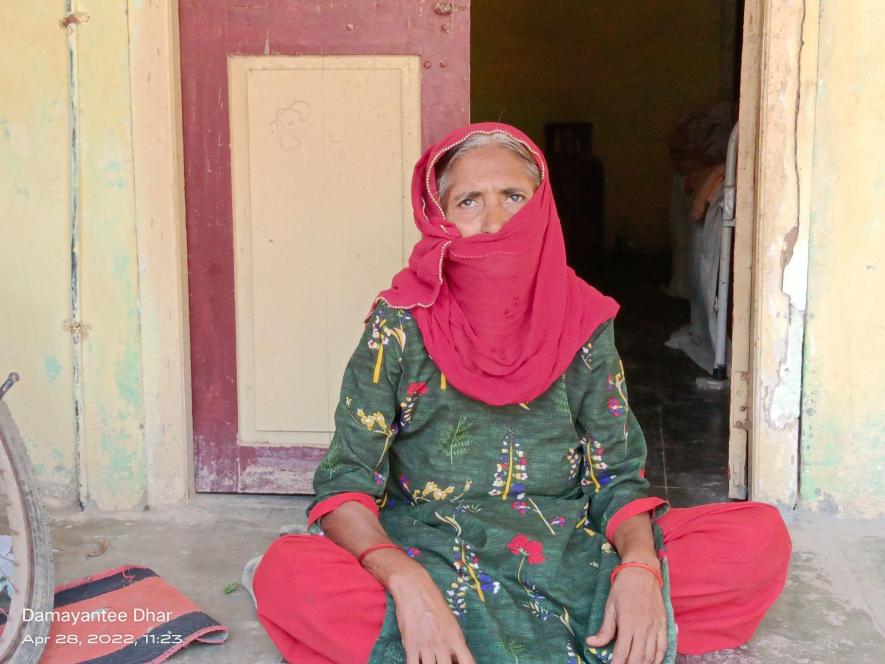 Noorjahan, wife of Mohammedbhai
"They did not give us any notice before demolishing our shops. They did not show us any orders. Officials only told us that they were ordered to carry out the demolition. My son used to run the beetle leaf shop that had been with the family for about 45 years, but he fled after the incident of communal tension. Our Ramzan is ruined this year. We are dependent on our donation from the city," Sadiqbhai Abdullahbhai, 62 years old man living in Shakkarpur for more than 50 years.
"There have been petty fights within communities in Shakkarpur, but never did it escalate into a riot before. The rally stopped at the gate of the local dargah and danced to loud music. We understood that they are in the mood for trouble," he added.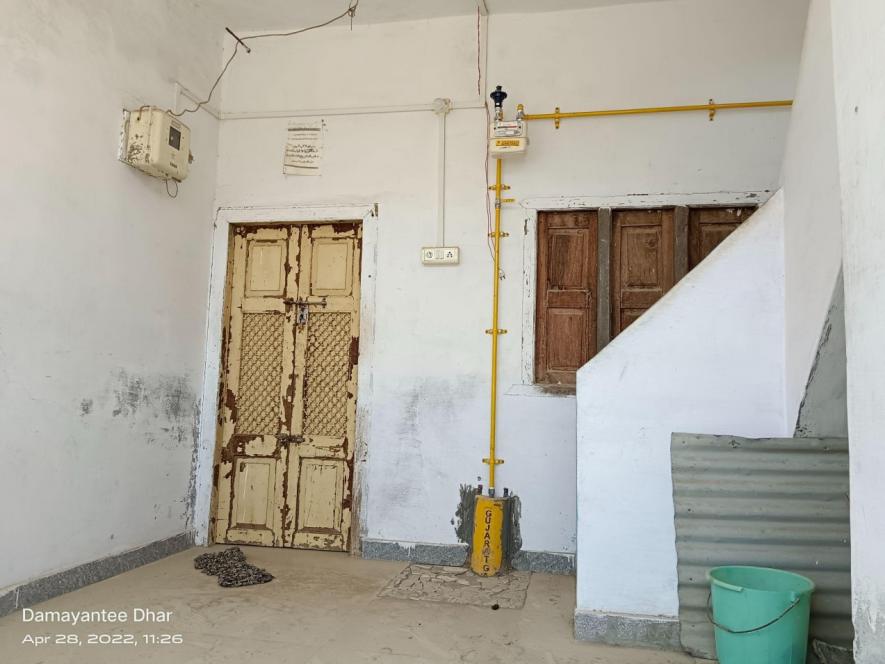 One of many homes of Muslims in Shakkarpur who have fled with family
Following the riots, police were deployed on every street in and around Shakkarpur village. However, on the night of April 14, bricks kept for the construction of a Muslim household were set on fire affecting two homes.
"On April 10, the rally passed in front of our homes when they threw stones and broke my window and banged the door but couldn't damage it. Days later, the bricks kept outside the under-construction home were set on fire. Police called the fire brigade, but one was arrested," tells Zeba Banu, who owns the first home of the Muslim dominated residential area of Shakkarpur.
"Just across the roads are homes belonging to patels; they were not touched," she adds.
"My husband has been fleeing since April 11. There are no men left in the Shakkarpur village. Whoever comes back gets arrested by the police. I was sleeping with my children when police knocked on the door and told us to vacate as there was a fire in front of my house. I came out to see bricks and a tree set ablaze, and flames are reaching higher than the first floor melting the electrical wires above," Zohra, a neighbour of Zeba told the NewsClick.
"There is no food in the house. We have depended on the food donated by Muslims from the city. I am worried about my husband. Out of fear that he would be arrested, I spoke to my husband once since he left," adds Zohra
"I am scared to come back to my own home since the fire. I hope my husbands can return safely on Eid; our children have been waiting for their father," says Zeba Banu.
Get the latest reports & analysis with people's perspective on Protests, movements & deep analytical videos, discussions of the current affairs in your Telegram app. Subscribe to NewsClick's Telegram channel & get Real-Time updates on stories, as they get published on our website.
Subscribe Newsclick On Telegram