Gujarat: Bhavnagar's Farmers Fight Land Grab in Polls and in Court
Multiple companies have attempted to acquire land in a region rich in limestone near the Arabian sea.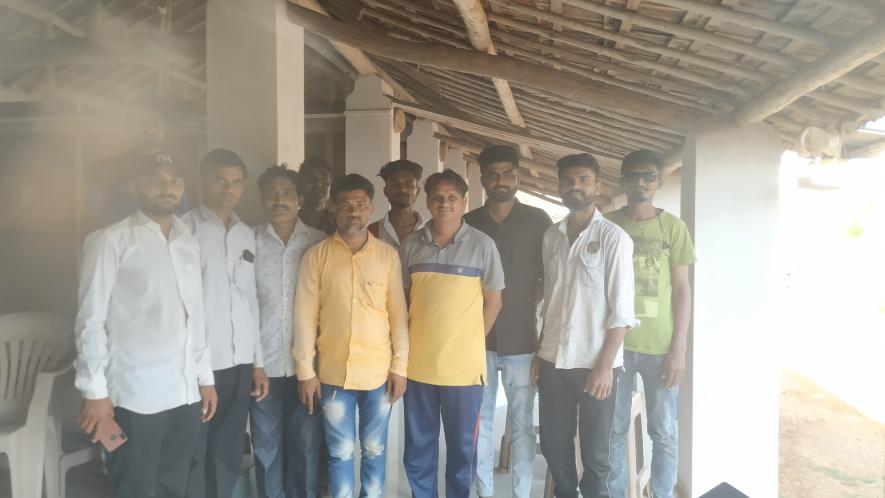 Farmers of Mahuva and Talaja taluka, Bhavnagar whose land has been leased out to Ultra Tech Cement
It was time for celebration for farmers from the talukas of Mahuva and Talaja in Bhavnagar district after results of the local body elections were declared in Gujarat earlier in March this year. Local farmers had defeated Bharatiya Janata Party (BJP) candidates in the Zilla Panchayat and Taluka Panchayat polls.
Janakbhai Shiyal, who contested from Kalsar seat, got 9,340 votes out of a total of 18,000 votes against the BJP's sitting candidate Hadabhai Sankhat and Jamnaben Bhil. The wife of local farmer Ajitbhai Bhil defeated the BJP's Lapuben after securing 3,300 votes out of a total 4,700 votes in Nicha Kotda taluka panchayat.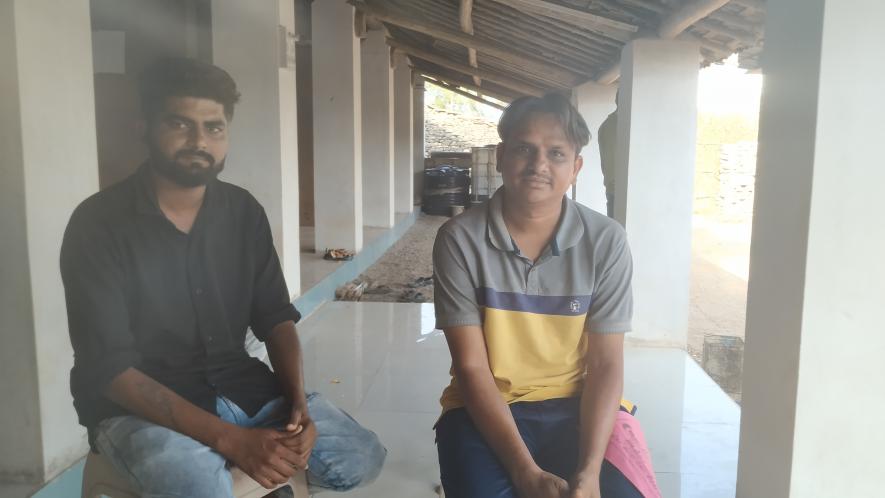 Janak bhai Shiyal who defeated sitting BJP candidate on Kalsar zila panchayat seat, Right - Bharat Bhil who has been leading the protests against Ultra Tech Cement
The electoral win had come in the face of all odds for the farmers from the talukas who had been protesting and fighting a legal battle to save their land that was leased to UltraTech Cement Limited for mining, by the ruling BJP, allegedly without their consent.
Two days after the last day for filing nominations for the local polls a local court in Talaja had convicted six farmers from the area and former BJP MLA Kanubhai Kalsariya in a two-year-old case of "trespassing". The court sentenced the seven to six months of jail. Among those convicted was Bharat Bhil, a farmer from the village Nicha Kotda in Mahuva taluka, who has been leading the movement against UltraTech.
Bhil had filed his nomination to contest Zilla panchayat polls from the Kalsar seat. While he got bail along with six others the same day, his nomination was rejected. However, Bhil, along with local farmers, threw their weight behind Janakbhai Shiyal and Jamnaben Bhil.
"This win is important for us. We had decided that farmers need to be in a position where we can take some decisions as this government failed us. This is a significant beginning," Bhil told Newsclick.
Kalsar zilla panchayat constitutes nine villages out which land from six villages – Kalsar, Ucha Kotda, Nicha Kotda, Dayal, Tankli and Bhatakda – has been leased out for mining to UltraTech.
For the past three years the two talukas, about 80 kilometres from Bhavnagar city, have been in conflict after the Gujarat government leased out land from 13 villages in the talukas for limestone mining to UltraTech Cement, a company owned by the Aditya Birla Group.
Notably, multiple companies have attempted to acquire land in the region. It is rich in limestone and located by the Arabian sea coast. The first company to lay its eyes on the area was Ambuja Cements, in 1985. In the early 2000s the area witnessed massive protests against the Nirma Group which wanted to acquire 4,500 hectares of land to set up a cement factory and mine limestone. While both Ambuja Cements and the Nirma Group retreated owing to resistance by farmers, the Aditya Birla conglomerate has been persistent.
"The Aditya Birla Group has attempted to acquire land in this area more than once. Between 20 to 22 years ago Grasim Industries wanted to acquire land in these talukas but farmers refused vehemently. About five years later Indian Rayon came to acquire land but failed. Thereafter, in 2014, UltraTech Cement came to buy the same land. In the three public hearings that were held subsequently in 2016, more than 30,000 farmers from 25 villages – including 13 that were directly affected – participated and all of them refused to part with their land. However, this time the Gujarat government came to the conglomerate's rescue and leased out our land to UltraTech Cement for 50 years," alleged Bhil.
The Gujarat government has leased out 8,200 bighas of land from 13 villages in Mahuva and Talaja for limestone mining to UltraTech Cement. Out of the total land acquired by the company more than 90% is agrarian and sustains more than 20,000 farmers.
Though the farmers have been protesting against the takeover since 2016, the movement against UltraTech reached its peak in 2018 when the company got a nod from the Union Environment Ministry for mining and began mining in Bhambhor, one of the 13 villages.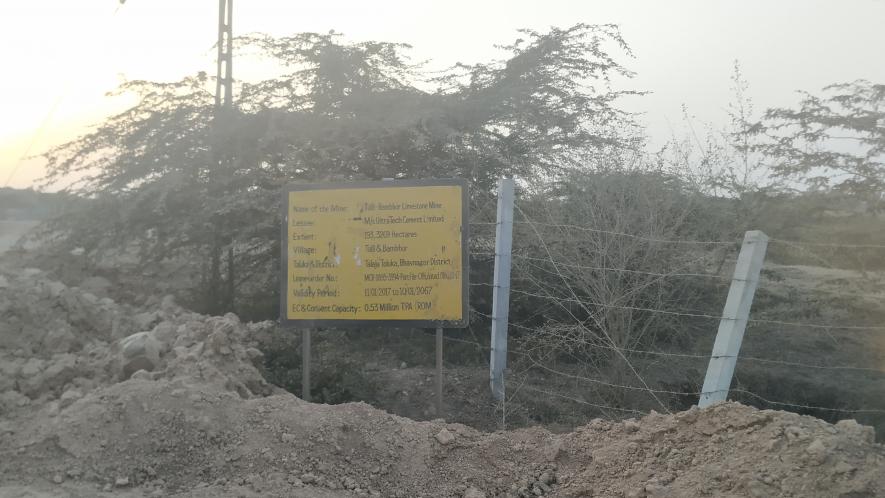 Mining site at Bhambhor village 
Thousands of farmers protested the move and declared they would do 'neta bandi' (barring the entry of political leaders in the villages). In one of the protests in January 2019 the Bhavnagar police brutally lathi-charged farmers, lobbed tear gas shells, arrested more than fifty and slapped more than a hundred farmers with grievous charges.
Following the incident, Bharat Bhil, on behalf of the farmers, filed a petition in the Gujarat High Court seeking an independent investigation into the police atrocity. Subsequently, the court ordered the CID Crime Unit of the Ahmedabad police to investigate the matter. The court also directed the formation of an independent committee to asses the impact of mining on local farming.
The farmers, represented by Advocate Anand Yagnik, filed another petition in the National Green Tribunal (NGT) challenging the environmental clearance granted to the company. However, the principal bench of the NGT dismissed it on account of delay. Thereafter farmers challenged the NGT's refusal to hear the challenge to the environmental clearance in the Supreme Court. In February this year, the Supreme Court sought a response from the Centre while issuing notices to Ministry of Environment and Forests, Gujarat Pollution Control Board, Ultra Tech Cement, Uncha Kotda Gram Panchayat and others.
Following the legal tussle and protests by the villagers, the company was forced to suspend its mining activities in other villages. Between July and December 2018, UltraTech Cement attempted to begin operations on eight occasions but had to suspend mining activities owing to massive protests by farmers from the 13 villages. Since then mining activity by UltraTech has been limited to Bhambhor village of Talaja taluka on land that some farmers had sold to the company earlier.
"These lands from Bhambhor, Talli and Nicha Kotda were sold by farmers years ago when agriculture was not an option in this arid region owing to a lack of irrigation facilities. Villagers would mostly migrate for work. But after Nikol and Malan Dam were agriculture became a viable option for the farmers. Later farmers built the Methla dam in Talaja taluka. Now the land in this region yields three cycle of crops a year. So, when UltraTech came to acquire more land, farmers unanimously refused to sell during the public hearing in 2016," said Bhil.
On January 2017, the Gujarat State Department of Mining and Geology signed a mining lease of 50 years with UltraTech Cement against a stamp duty of Rs 2,41,16,000. The mining lease under Mines and Mineral (Development and Regulation) Act, 1957, awarded UltraTech Cement the rights to the minerals (limestone, in this case) under the leased area without having to buy the land. Following the lease the farmers were not paid anything in lieu of their land.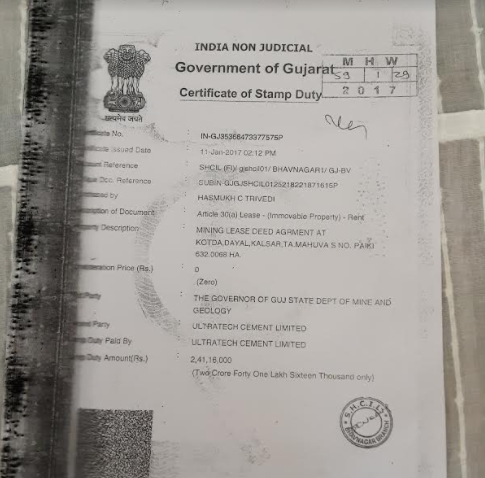 Certificate of Stamp Duty of the Mining Lease 
"Gujarat government leased our land without consulting or even informing us. In 2018, at the peak of our movement, I visited the panchayat office asking for any documents related to the project. It was then that I stumbled upon a document dating back to 2017 that stated that our land was leased to UltraTech Cement for 50 years for mining limestone. Farmers had a hard time grasping the fact that somebody could lease their land without their consent until they could not get loan for seeds against their land as satbar had been transferred in the name of UltraTech," added Bhil.
"500 bighas from my village Ucha Kotda has been leased to UltraTech for mining out of which is seven bighas of land is owned by my family. This is a fight for our land, our only source of sustenance," said Janakbhai Shiyal, the farmer who won the poll from Kalsar.
"In the past three years we have fought the company (UltraTech Cement) in every possible way we could. We protested on the ground, we are fighting them in court and we secured an electoral win that is very significant for us farmers," said 26-year-old Neelesh Gunabhai Bhil from Nicha Kotda village.
"My family stands to lose 24 bighas of land; our only source of an income," said Neelesh, who, along with other youth of the village, runs three social media groups – Jaan Denge Zameen Nahi, Khedut Jan Andolan and Mining Hatao, Bandharan (dam) bachao – to spread awareness about their struggle.
Get the latest reports & analysis with people's perspective on Protests, movements & deep analytical videos, discussions of the current affairs in your Telegram app. Subscribe to NewsClick's Telegram channel & get Real-Time updates on stories, as they get published on our website.
Subscribe Newsclick On Telegram