Gujarat Civic Bodies Ban Non-Veg Food Carts, Hawkers Move HC
There are at least 6,000 vendors in Ahmedabad alone, mostly migrants from Uttar Pradesh, Bihar and Odisha whose families depend on income from selling street food.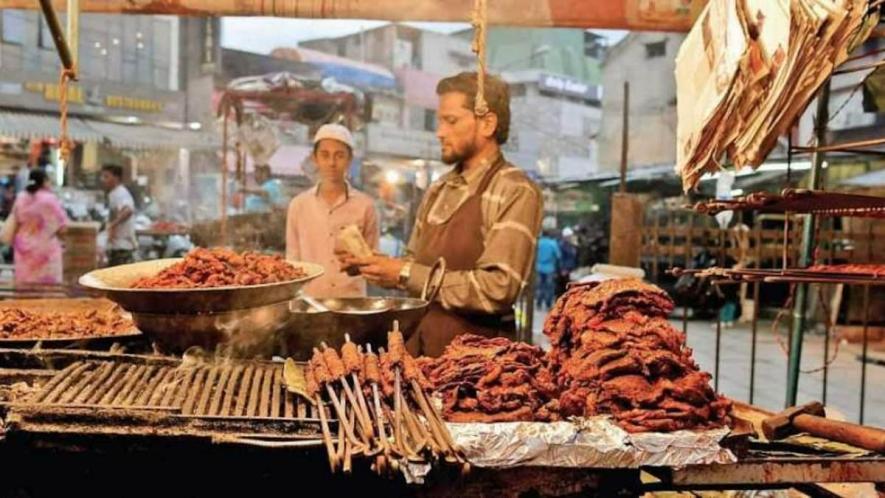 Representational Image. Image Courtesy: PTI
On November 9 this year, Pradip Dav, Mayor of Rajkot, one of the six municipal corporations of the state, launched a drive to remove non-vegetarian food stalls from all the major parts of the city.
Two days later, Hitendra Patel, standing committee Chairman of Vadodara Municipal Corporation (VMC), issued an oral directive to the civic body to remove all non-vegetarian stalls within the next 15 days. Facing a threat to their livelihood, the vendors have now moved the High Court.
"The public display of meat, fish, eggs hurt religious sentiments. It should not be visible," stated Patel. At a meeting with civic body officials on November 11, Patel said that all street vendors selling non-vegetarian food, including fish, meat, chicken, and eggs, as well as any restaurants that have non-vegetarian food, should be made to cover the items from public display. He added that the practice might have continued for decades but now it was time to put a stop to it.
The move by the two BJP ruled civic bodies was supported by Revenue Minister Rajendra Trivedi who said that "The smoke and smell emanating from these non-vegetarian stalls is a health hazard."
A week later, Ahmedabad and Bhavnagar followed suit banning non-vegetarian food stalls near schools, colleges, gardens, religious places and main roads of the city.
Notably, the civic bodies have stated that non-vegetarian food carts are being removed to stop encroachment along the roads and citing hygiene factors after receiving several complaints.
"It has been more than 10 days that the non-vegetarian food carts have been shut down by the civic bodies. While some sellers have managed a new cart and resumed selling in Ahmedabad, Vadodara, Bhavnagar, sellers have not been able to resume in Rajkot. There are many street food sellers who can't afford or manage a new cart and have resorted to working as daily wage labourers. However, their income has gone down from Rs 400-1,000 an average per day to about Rs 200 per day," Rakesh Maheria, President of Lari Galla Association, a Gujarat based rights body for street food sellers, told the NewsClick.
"There are at least 6,000 food cart sellers in Ahmedabad alone who mostly sell eggs. Most of these sellers are migrants from Uttar Pradesh, Bihar and Odisha whose families depend on their income from street food selling. If the civic body sticks to its decision, all these people will lose their only mode of livelihood. In light of which we have filed a petition in the High Court," added Maheria.
"The petitioners are a class of person who fall within the lowest rung of the economic ladder. They struggle to make ends meet by preparing and selling food items. The petitioners are constrained to approach the court in light of some recent disturbing events that set the pendulum in motion which began when the Mayor of Rajkot Pradeep Dav on 9.11.2021 said that carts selling non-vegetarian food items would be taken down as they hurt religious sentiments of the persons living or passing by the vicinity. In quick succession, the municipal corporations of Surat, Vadodara, Bhavnagar, Junagadh and Ahmedabad also followed suit. Thousands of carts have been impounded or seized without any rhyme or reason throughout the State. The period between 2020-2021 broke the back of the petitioners and others alike as they were out of business and it is only in the last 2 or 3 months that there is hope that things are getting back to normalcy. However, the Respondents seem to have made it a point to make life hell for the Petitioners by impounding their carts and other apparatus that would embargo on them from earning a livelihood as guaranteed by Article 21," stated the petition.
"The Street Vendors Act 2014, is a comprehensive and exhaustive Act that is enacted for the welfare of the petitioners and persons alike. The Act provides protection to all persons selling or vending food items and there is no differentiation in the nature and category of the food item so vended," the petition further stated.
Notably, CR Patil, Gujarat BJP chief said he has asked the Mayors of the cities not to take coercive action against those selling non-vegetarian food on roadside carts in the name of hurting religious feelings.
"Everyone in this country has the freedom to decide what to eat. It is not right to remove a non-vegetarian food seller if people are buying from him. There is no such provision in the law either. Vendors are free to sell anything that is not prohibited," Patil said while visiting Rajkot.
However, the push for vegetarianism is not new in Gujarat. In multiple cities in Gujarat, non-vegetarian food stalls and meat vendors remain closed during Navratri and on Jain festivals.
In 2016, the Gujarat government ordered a ban on slaughter of animals and birds and selling of meat, fish or eggs during five days of Parshuyan, a Jain festival. Following the move, the Gujarat High Court had sought an explanation from the state government.
"The government has given such an order in light of Supreme Court (2008) order that approved the closure of abattoirs during Jain festivals," Nitin Patel, then Deputy Chief Minister had stated.
Notably, Gujarat is not a vegetarian majority state, as per the Central government's Sample Registration System Baseline Survey 2014. The survey reveals that about 40% of the state's population eats meat. Gujarat has a higher proportion of non-vegetarians than Haryana where 31.5% of men and 30% of women are non-vegetarian, Punjab where 34.5% and 32% of men and women, respectively, are non-vegetarians and Rajasthan where 26.8% men and 23.4% women are non-vegetarians.
The Reserve Bank of India 2020 report states that meat production in Gujarat has more than doubled from 13,000 tonne during 2004-05 to 33,0000 tonne in 2018-19.
Get the latest reports & analysis with people's perspective on Protests, movements & deep analytical videos, discussions of the current affairs in your Telegram app. Subscribe to NewsClick's Telegram channel & get Real-Time updates on stories, as they get published on our website.
Subscribe Newsclick On Telegram