Gujarat Court: 2002 Post-Godhra Riots 'Spontaneous', 'Pseudo-secular' Media, Politicians, Organisations 'Pressured' Cops to 'Implicate Prominent Hindus'
"Due to uproar of pseudo-secular media and organisation, the accused persons have unnecessarily [faced] a prolonged trial," the judge found, adding that "we have seen that then pseudo-secular media and politicians rubbed salt into the wound of anguished people".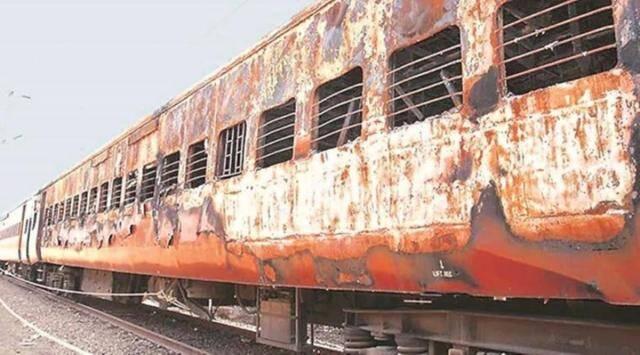 Image for representational purpose. Credit: The Indian Express
New Delhi: Acquitting 35 people in the 2002 Gujarat riots case, a sessions court at Halol in Gujarat's Panchmahal district ruled that the communal violence in the state in 2002 that followed post-Godhra train burning was "spontaneous" and "not planned one" as described by "pseudo-secular persons". It further said the police "implicated" prominent members of the Hindu community under the "pressure" of the "pseudo-secular" media, organisations, and politicians.
The incident occurred at 4:43 a.m. on February 27, 2002, when the Ahmedabad-bound Sabarmati Express train rolled out of Godhra railway station and barely ran a kilometre. Someone pulled the emergency chain, bringing the train to a halt at Signal Falia — one of the most sensitive areas lying next to Godhra railway station.
The train was carrying around 1,700 pilgrims and Kar Sevaks (volunteers) to its final destination. The volunteers were returning after participating in a ceremony called Purna Ahuti Mahayagna organised by the Vishwa Hindu Parishad (VHP) — a private Hindu militia — as part of its agenda to build a Ram temple, demolishing the historical Babri mosque.
The train, according to the court, was attacked by a strong mob of over a thousand people who were "armed with petrol bombs, acid bombs, swords etc.".  "They targeted three coaches and poured petrol into five-six compartment(s) and then set it afire killing 59 passengers. (Forty) 40 people also sustained injuries," said the judgment.
Discharging the 35 people of all charges, Additional Sessions Judge Harsh Balkrishna Trivedi noted in his 36-page judgment, "Peace-loving Gujarati people were shocked and became anguished by this incident. We have seen that then pseudo-secular media and politicians rubbed salt into the wound of anguished people. Report says that sixteen of Gujarat's 24 districts were engulfed in communal rioting — post Godhra riots. Nowhere mobs were less than 2-3000, more. Often, they were more than 5-10,000 strong. There were spontaneous set of riots in Gujarat. They were not planned ones, as described by pseudo-secular persons."
However, what exactly caused the fire still remains disputed. While the Nanavati-Mehta Commission of Inquiry, which submitted its report in 2008, declared that the fire was a premeditated act by Muslim conspirators, the UC Banerjee Commission, instated in 2004, called the incident an accident.
Independent probes have also concluded that the incident was an accident.
In 2006, the Gujarat High Court, however, declared the latter commission "unconstitutional and illegal" and quashed all its findings.
Both commissions of inquiry are regularly derided as "politically motivated" by respective opposing political constituencies. But uncertainties surrounding the incident remains.
Shortly after the Godhra inferno, Gujarat witnessed widespread targeted anti-Muslim violence that ended with around 1,044 deaths and 2,500 injuries. As many as 223 people went missing, and they were never traced.
The judge went on to emphasise that the "police implicated prominent Hindu persons of the area – doctor, professor, teacher, businessmen, panchayat official, etc.".
"Due to uproar of pseudo-secular media and organisation, the accused persons have unnecessarily [faced] a prolonged trial," the judge found, adding that "we have seen that then pseudo-secular media and politicians rubbed salt into the wound of anguished people".
The case (FIR No. 33/2002, Kalol police station) involves the communal violence in the Halol area of Godhra district, wherein thousands of "fanatic" Hindu mobs allegedly attacked and damaged residences, shops, and properties belonging to Muslims at three hotspots in the region.
Observing that communal violence in India is "not a new phenomenon", the judge said in his order, "Communal riots in India have persisted for long times and are usually caused by the trifle dispute and intolerance, manipulation of religious artefacts, intrusion by others on festivals, conflicting prayer time, disputes over places of worship, intermarriage, desecration of holy places, sexual offences rumours, on the issue of encroachments, or the presence of anti-India agents."
He concluded that the prosecution was under "pressure"; and therefore, unnecessarily prolonged the case by calling many witnesses. The court found that almost all these witnesses turned out to be wholly unreliable.
"A calm mind views things better than one stirred by emotions. A day after Godhra train carnage, the Railway Police was put under immense pressure by pseudo-secular politician and media," he noted, stating that "the prosecutor who [was] afraid [of] specific community lead NGO rarely have recourse (sic)," he remarked.
"Several persons of the Muslim community who were said to be victims of communal violence in Delol, Derol, Kalol etc. had made oral and written representations of their grievance before different higher authority... I have gone through their written allegations and their statements in police diary. Upon perusing those allegations, keeping them next to next, I found that every time they introduced a new story," said the judge.
In the case at hand, the judge noted, the prosecution witnesses, particularly Muslims who are alleged sufferers of riots, have given "widely divergent" versions of the riots.
"In case of communal riots, a large number of persons are generally involved and the evidence is often entirely of a partisan character. There is, moreover, great danger of innocent persons being implicated along with the guilty, owing to the tendency of the parties in such cases to try to implicate falsely as many of their enemies as they can. Therefore, the possibility of innocent persons being falsely implicated should always be borne in mind by the judge," said the court.
It finally added the prosecution failed to prove the factum of movement of mob as mentioned in FIR and in the charge-sheet. "Though the FIR was registered promptly, but it was against mobs of both the communities, without naming anybody," it concluded.
Get the latest reports & analysis with people's perspective on Protests, movements & deep analytical videos, discussions of the current affairs in your Telegram app. Subscribe to NewsClick's Telegram channel & get Real-Time updates on stories, as they get published on our website.
Subscribe Newsclick On Telegram