Gujarat Elections: Lack of Permanent Teachers, Unfilled Vacancies in Kutch Village Schools
Amid the post-pandemic spike in dropout rates, schools are being shut while government is saving money by deploying contractual teachers in far-flung areas, some of whom find communication with students a problem.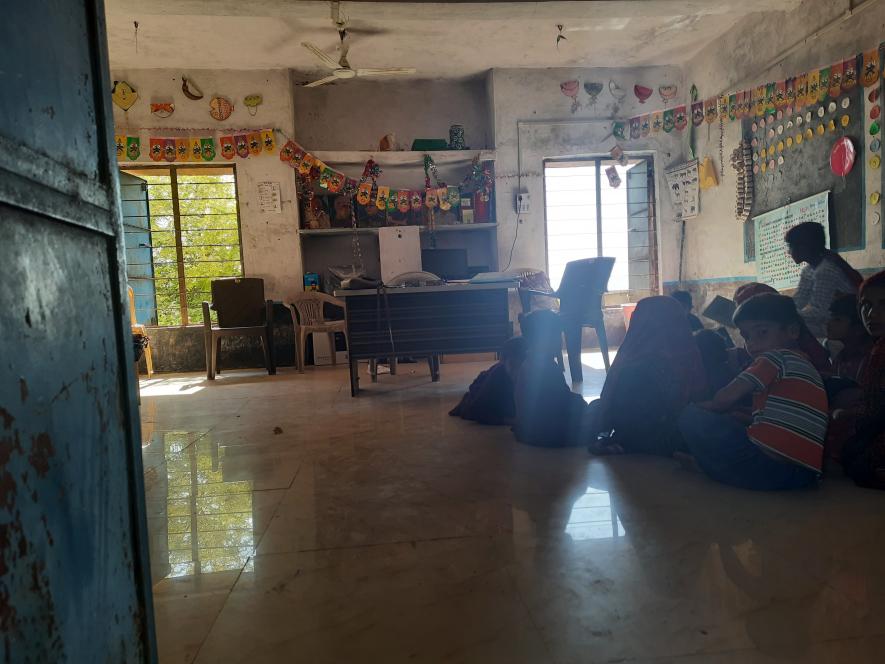 The school has eight students and three teachers. Since the teachers don't speak the local language, students find it difficult to communicate with them.
Kutch: In 2019, seeing the condition of schools and how the number of students was either too low or decreasing, the Central government decided to shut all primary schools that had less than 20 students. Hundreds of schools across the country, and approximately 100 alone in Kutch region, were shut, as per the teachers who have borne the brunt of the closures.
Sameer (name changed), a 50-year-old teacher, has been travelling around 20 km daily to teach in a school. However, he does not hold a permanent position here.
As per reports, over 700  primary schools in Gujarat are running with only one teacher. The school where Sameer teaches is less than 15 km away from Bhuj city.
In the villages of Kutch, where literacy rates are already quite low, the pandemic has changed the landscape of government-run schools. While after 2019, many of these schools were shut, the fate of the school where Sameer teaches could have also been the same. But, he chose to fight for the students' right to education. Sameer told NewsClick he wrote six applications to the District Primary Education Officer, but this school was not restarted since it had only 15 children. The children had no other  alternative for studying, as the next school was around 6 km away.
The village in question houses hardly 200 people. Therefore, the number of children in the village is bound to be low. Since all the families are small-scale farmers, they cannot afford to send their children to study far as they cannot afford the transportation cost.
When multiple applications did not work, Sameer decided to knock the doors of political parties, and ultimately, the school restarted this year.
For all the students in the school, which is till the 8th grade, Sameer is not just a teacher but the principal as well. In any case, after completing primary education, there is no school withing the 20 km radius for these children as well as those in the neighbouring villages. The only transportation service available is a bus. However, only one bus comes to that area at 12:30 p.m, and the return journey is scheduled at 2:30 p.m, which prevents village children from reach other far-away schools.
This is not the story of one village. NewsClick came across similar conditions across villages in Kutch.
In most schools, a new concept of 'forced freelancing' was visible. Teachers are hired to teach on a per-lecture basis and paid accordingly, they are not paid during vacation periods or leaves. There is an acute sense of job insecurity among such teachers. The amount a 'pravasi shikshak' (resident teacher) gets in some of these primary schools for a single lecture is only Rs 95.
"I have been teaching since 2001. On one hand, where my salary would be around Rs 50,000, the pravasi shikshak would hardly make Rs 10,000 a month. This saves the government a lot of money. Therefore, they adopt this way rather than appoint a permanent teacher," said Sameer.
As per the claims made by some qualified candidates, the number of pending vacancies in the primary teachers' Vidyasahayak position alone is around 19,000. This does not end here. As many as 2,500 teachers have retired this year. However, these vacant positions have not been filled yet. Instead, the government is hiring pravasi shikshaks on contractual basis, saving on their expenses and leaving the qualified Vidyasahayaks in the lurch.
A teacher from Gujarat explains the crisis of 'pravasi shikshaks' and how the vacancies are not being filled.
Giriraj, a pravasi shikshak in a secondary school, said he completed his B.Ed a year ago and had since been looking for a job. When he could not find one, he had no option but to begin teaching on contractual basis three months ago. He said he was struggling to make ends meet. Even after over five years of rigorous education, he has to take help from his family to support himself. "Right now, I am lucky that my family is supporting me, but not everybody is in this situation. My peers are struggling to make ends meet every month," he told NewsClick.
The concept of contractual teachers has saved the government a lot of funds, and has left the youth with growing job uncertainties.
Another reason for dropping out is language and dialects that creates a communication gap for students. For instance, a school in a village in Banni had five teachers but no students. The teachers indicated that the language barrier between Jat Muslims and thosewho come from Surat, Ahmedabad, and other areas around Gujarat, had led to a lot of students choosing madarsas.
Five students of a village in Banni. The eldest of them in standing in the middle and has dropped out of school post his 8th grade. Others also plan on following his suit.
NewsClick found a group of seven-eight students of different age groups sitting in the same classroom in a school, which had three teachers in total. Pravin, one of the teachers, said: "I have been posted here for over four years now as a Vidyasahayak. Very soon, I will be made permanent. But I do not think I am the most appropriate person to teach here. We often face problems communicating with the children, understanding them." However, teachers like Pravin, who are posted in far-flung areas, although unhappy, have no option but to continue to teach. But, is that in any way helping students in rural areas of the state get proper education?
The writer is a freelance journalist based in Delhi and is travelling to Gujarat to report on the Assembly elections.
Get the latest reports & analysis with people's perspective on Protests, movements & deep analytical videos, discussions of the current affairs in your Telegram app. Subscribe to NewsClick's Telegram channel & get Real-Time updates on stories, as they get published on our website.
Subscribe Newsclick On Telegram