Gujarat Elections: A Saga of Water Scarcity and Unkept Promises in Kheralu
Farmers of Kheralu in northern Gujarat still await Modi's 2002 promise to fill up Chimnabai lake, as they struggle for survival of livestock and farms owing to the absence of groundwater.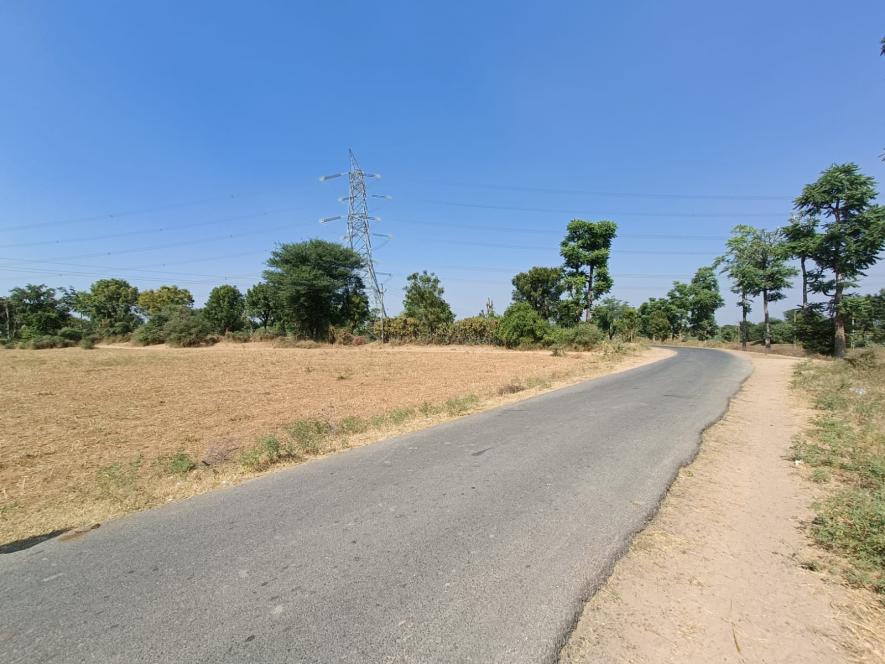 This is supposed to be Chimnabai sarovar, but there lies a road within due to Dharohi dam's water being supplied to other districts despite the dam being in Mehsana.
Kheralu, Mehsana: "Back in 2002, Narendra Modi came to Kheralu and gave a speech. I still remember his words. He said, "Tum Ramila Ben ki jholi votes se bhar do main tumhare Chimnabai Sarovar ko paani se bhar dunga" (If you give votes to Ramlila, I will fill Chimnabai Sarovar with water)," said 50-year-old Pathu. Not just Pathu, every villager who heard Modi live back in 2002 are reminded of the promise every election year.
After 2002, the ruling Bhartiya Janata Party (BJP) won the Kheralu seat with a good margin. Every election, the filling of the Chimnabai Sarovar becomes ta poll plank, but the villagers still await the withered lake to be filled.
Kheralu has an excessive problem with groundwater. In several areas, villagers have dug up to 800ft below the ground but found no water. The sources of income for almost all the villagers here are either animal husbandry or farming. The region is full of barren land, lying arid without any crops, all because of no water in the lake.
The capacity of the lake is 632MCft. It is directly connected to the Dharohi dam, and water is supposed to be lifted from there. However, most of the Dharohi dam's water benefits people from Patan and Sabarkantha, leaving Kheralu helpless.
Only a small part of the Chimnabai lake currently has water. The level is less than 20ft, and trees can be seen inside the lake. Pathu points out that if this water reached 26ft approx, the problem would be solved.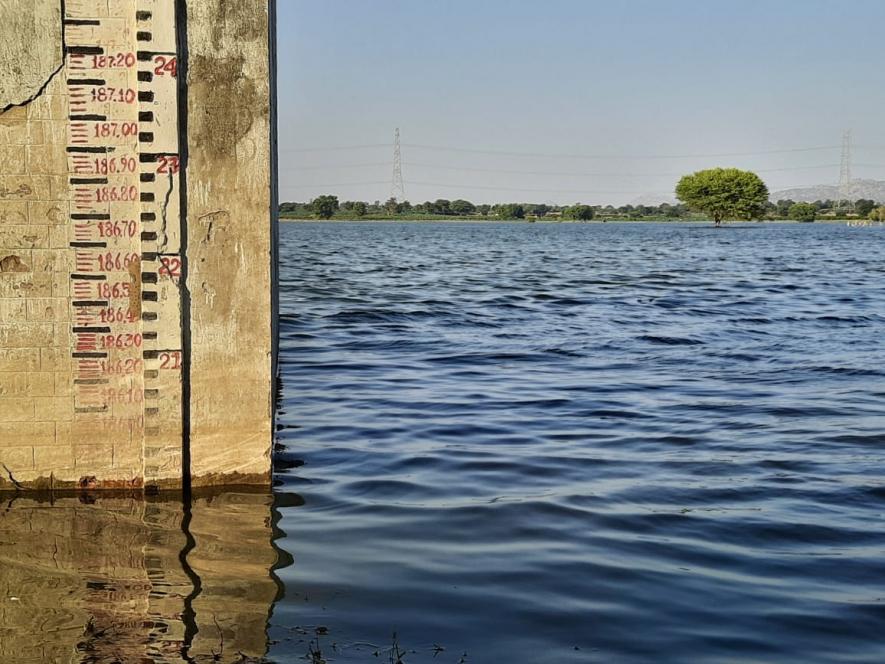 The water level of Chimnabai lake is currently less than 20ft
Although the Dharohi dam lies in the Mehsana district, it fails to benefit the neighbouring villages.
Lal, a 50-year-old farmer, has 10 bighas where he used to sow groundnut, rice and other vegetables. However, in the past three years, he lost all the crops due to no groundwater and now relies solely on his livestock.
That, too, provides little.
"I sold eight cows last year as I did not have the money to feed them. I could either arrange water for them or the family. From 15 cows and buffaloes in total, I am now left with only six buffaloes. I plan to sell off one soon," Lal said. This year, he tried obtaining groundwater through boring twice, failing each time, costing Rs 6 lakh. Lal's farms still lay dry.
Only one tap has water that is used for household needs, drinking water and feeding the buffaloes. As many as 200 borewells were installed this year in Davol, but none showed results. For each borewell, a farmer has to bear a cost of Rs 3 lakh. This year, all the investment that Lal made in groundnut, around Rs 50,000, also went to waste owing to less rainfall in the area.
"If Chimnabai had water, we would not have been this desperate. Our situation would have been better."
IS KHERALU'S WATER CRISIS UNSOLVABLE?
Since the water of Dharohi dam is not reaching Chimnabai lake, it lies empty, leaving the villagers with no other groundwater source. As NewsClick travelled on the roads, Pathu stopped the vehicle at a point and said, "This road you are standing on, this is the Chimnabai lake area. It was supposed to have water; if this were filled, all our problems would disappear."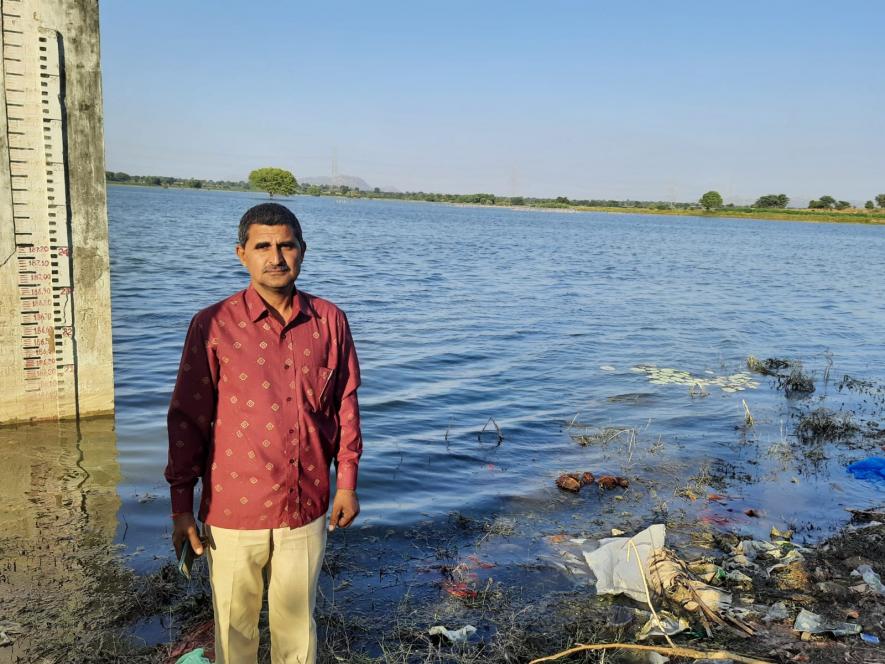 Pathu, a 50-year-old farmer from Kheralu who has been fighting for water rights of his taluka
The biggest dilemma those in Mehsana district is that despite the Dharohi dam being in the same district, the people of Kheralu do not receive water for irrigation. Regarding geography, Kheralu lies between two dams, Mukhteshwar and Dharohi, yet remains without water.
Water from Dharohi goes to different districts, namely Patan and Sabarkantha. It is also sent to parts of Mehsana. However, the closest rural belt of Kheralu remains excluded from the list. In technical terms, the water level required to fill the Chimnabai is 620ft. Once filled, the water crisis of Kheralu and neighbouring areas can be tackled, said villagers.
NewsClick reached out to a former engineer from Vishnagar in Mehsana to enquire about this 25-year-long unsolved crisis.
Vishnu Dev Mevada, 61, from Vishnagar, served around 20 years as an engineer in the Gujarat government.
"I see no reason why water cannot reach Kheralu. There is nothing but a complete political motive behind this," he alleged.
Kheralu mostly constitutes the Scheduled Castes (SC), other backward classes (OBC), and a few kshtariya communities.
The areas where the canal's water does reach, namely Sabarkantha and Patan, have a heavy voter base of the patidars.
Mevada believes that this move to leave Kheralu in crisis and provide for the other districts is to lure upper caste voters.
"In Saurashtra, 120m of water from the Narmada dam is lifted to give water to the entire region. Some areas are surplus in water. In Kheralu, they need to lift only 15m of water, but that seems impossible to the Irrigation Ministry."
The case of Patan and Sabarkantha districts are no different. These areas are also deprived of groundwater. They have to rely on the water they receive from dams and canals. However, the water flowing into these districts via the Dharohi dam is in surplus.
"These two districts already have a source of water from the Narmada dam. The conditions of boring water are also better in many areas. Therefore, even if the Dharohi supply is stopped and diverted to Kheralu, it will not cause any damage to the other two districts."
In 2001, Keshubhai Patel's government started the initiative to draw canals and bring surplus water from the Narmada dam to 17 talukas. Kheralu was excluded here as well. In 2017, As Gujarat Chief Minister, Narendra Modi brought in an initiative to pass on the water from Narmada to Kutch but ignored his home taluka.
Victims of the same water crisis include a few of Modi's relatives, including his maasi (mother's younger sister) and her family. Niranjana Modi and her granddaughter live in a farmhouse at Kheralu. She says the last time she met Narendra Modi was when he became Chief Minister for the last time, and she met her sister this year at Rakshabandhan.
"There is a big water crisis here, and it should be solved immediately."
Her granddaughter, a computer engineer, added: "Even we have to face water scarcity. Since we are well to do, we manage, but we cannot imagine what the farmers of our village have to face."
The sentiments with Narendra Modi, not just with this family but the villages, remain intact even though the struggle for the basic necessity for survival, water, continues.
EXPENSIVE MAINTENANCE OF LIVESTOCK
Had there been water in Kheralu, maintenance of livestock and growing crops would be easy. But since that is not the case, most farmers have to buy cattle fodder daily, which impacts their earnings. With little farming to feed the family and heavy loans on their heads, it leaves them in dire straits to keep the livestock. Many have stopped farming or are selling off their cows and buffaloes.
Pathu and his wife have 30 cows and buffaloes. This is their source of income. Since they have no groundwater, they must rely on livestock and organic farming. But the expense incurred in feeding the buffaloes is much more.
"Each buffalo or cow needs to be fed at least 20-25 Kg of fodder daily, and the cost/Kg is Rs 10. So if we feed 30 of them, the cost would be around Rs 6,000. How will we afford it?" Savita asked.
The writer is a freelance journalist based in Delhi and is travelling to Gujarat to report on the Assembly elections.
Get the latest reports & analysis with people's perspective on Protests, movements & deep analytical videos, discussions of the current affairs in your Telegram app. Subscribe to NewsClick's Telegram channel & get Real-Time updates on stories, as they get published on our website.
Subscribe Newsclick On Telegram