The Casualties of the 'Gujarat Model of Education'
While bhakts and believers continue extolling Gujarat as the most sought-after model, Modi has damaged the state's education system to such a degree that his followers wouldn't dream of sending their children to public educational institutions here.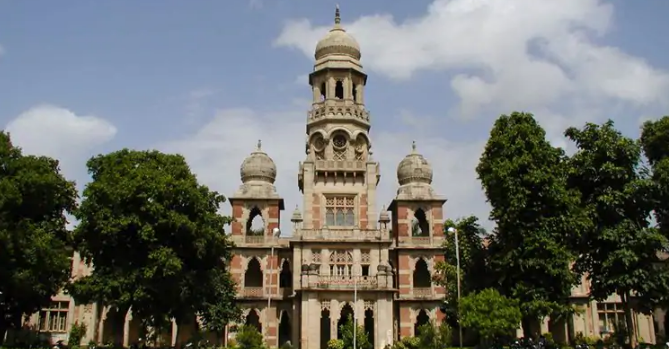 Image Courtesy: The Indian Express
So Prime Minister Narendra Modi is set to dedicate the first hundred days of his newly elected government to education. Among other plans, this includes promoting Institutions of Eminence, replacing the University Grants Commission with a Higher Education Commission, etc. A new accreditation system and national research fund Act are also in the pipeline.
However, what awaits the country's education sector can be gauged simply by taking a look at the education system of Gujarat — where over two decades of the BJP regime has reduced learning to a pathetic state with 63 schools scoring zero pass percentage in the 2019 board exams.
Here are some some major fault lines that have helped demolish the foundational structure of formal education in the state.
Saffronisation
Since Modi's swearing-in as Gujarat's Chief Minister in 2001, the prime target of his rule was the education system which, according to the Sangh Parivar, was not providing the appropriate knowledge to the young generation on Indian culture and heritage circling Hindu nationalism. Subsequently, Dinanath Batra, a prominent RSS ideologue was invited to author books under state patronage. In fact, CM Modi also wrote a foreword for Batra's books of nine volumes approved by the Gujarat State Board of School Textbooks for supplementary reading. The adulteration of facts with innuendos drew sharp criticism from the historians like Romila Thapar and Irfan Habib. Following the upheaval, late journalist BG Verghese wrote, "Students are asked to draw the true Indian flag, that is of Akhand Bharat, which incorporates all of SAARC plus Burma and Tibet. This offends Article 1 and Schedule I of the Constitution that define India and impair friendly relations with foreign states as enjoined by Article 19(2)." Not surprisingly, the textbooks are still in circulation.
The saffronisation is not only restricted to school books, of course. Schoolgoers are asked by their RSS-appointed teachers to attend the RSS shakhas from a young age, thus enabling the Sangh Parivar to indoctrinate young impressionable minds with its toxic religious ideology and to train them as the footsoldiers of Hindutva.
Also read: Things That Existed in Vedic Period: Motorcars and Stem Cells
Today all the syndicate bodies of educational institutions are dominated by RSS ideologues. Dr Pandya, a teaching faculty at MSU Baroda, was denied promotion as he was labelled anti-BJP by the BJP-RSS dominated syndicate body. Ahead of the university's annual convocation in 2018 where President Ram Nath Kovind was chief guest, Pandya wrote an open letter to the Gujarat education minister seeking permission for self-immolation. After seven years of struggle, Pandya was finally promoted to the rank of full professorship in 2019.
Now in 2019, some Muslim students of the same Baroda University have been branded as love jihadis by local media and police. The Prevention of Anti-Social Activities (PASA) Act, charges under which are non-bailable, has been slapped against one of the detainees, allegedly on the orders of state home minister Pradipsinh Jadeja.
Schools controlled by Bochasanwasi Akshar Purushottam Swaminarayan Sanstha (BAPS) are engaged in promoting the culture of vegetarianism and soft Hindutva, in addition to hardline Hindutva mobilisation by Vidya Bharti's Saraswati Vidya Mandir schools.
Qualitative Downfall
The massive privatisation of education is the key factor that has contributed to the disruption of quality education in the state.
With the advent of private institutions of school education and higher education, the quality of education in public institutions has significantly declined. Mukesh Ambani's Pandit Deendayal Petroleum University hired renowned academics at handsome salaries as it gained ground in 2007. Other private colleges followed the same trend. This trend limited quality education to only the rich, who could afford the exorbitant fees, even as the education hub kept growing at a tremendous rate like an industrial zone under the BJP's umbrella.
Public universities are suffering from the brain drain of academics and researchers. The remaining substandard segment of educators is mushrooming in state-controlled public universities. The minimum qualification of the State Eligibility Test (SET) has now become the maximum bar; the National Eligibility Test (NET) is not a requirement for permanent teaching positions. The Physics department of MSU Baroda, which once produced Nobel laureate Venkatraman Ramakrishnan, have permanent faculty members without a PhD.
Also read: 4 Years of Systematic Destruction of Education Under Modi Regime
Researches in science across public universities in Gujarat are now just capped to reproduce data points. No significant research has been recorded in the recent past.
When a fire broke at a Surat coaching centre recently killing more than a dozen students, we didn't pay heed to the root cause of it. As public education has become faulty, students have been relying on private coaching classes. Private coaching classes for engineering and medical entrances, SSC/UPSC/GPSC, Bank PO exams, etc. have mushroomed across Gujarat without any official authorisation. The beneficiaries of these private institutions are largely corporators and legislators and politically connected tutors.
No Space for Second Opinion
Shivaji Panikkar, a renowned art historian and ex-faculty of MSU Baroda, was denied dues of 20 years for defending an artwork on 'Religion and Sexuality' in 2007. Departmental inquiry was solely based on the contours of social morality and goes against the 2008 Delhi High Court judgement of MF Husain v Raj Kumar Pandey.
Social scientist Ghanshyam Shah is not welcomed across Gujarat varsities because of his criticism of Narendra Modi and the BJP. When Ghanshyam Shah's public lecture was to be held at Department of Political Sciences, MSU Baroda, the Intelligence Bureau allegedly asked the management to cancel it as it could fuel a ruckus. Right-wing outfits had warned the management of consequences. Similarly, Kunal Kamra's comedy show to be held on the university was cancelled last year.
Also see: Faster Growth with Gujarat Model Is a Myth: Prabhat Patnaik
Modi after coming into national politics could not tolerate criticism. The effect of this was seen in the form of budget reduction and extension of the Central Civil Services (CCS) Conduct Rules of 1964 to UGC staff and academics.
Systematic Discrimination
Discrimination based on caste and religion is very much pronounced in Gujarat's education system.
The 2015-16 data from the Ministry of Human Resource Development reveal that 46 out of 142 complaints of caste-based atrocities faced by teachers or students from the SC/ST communities, amounting to 32.39 per cent, were from Gujarat alone.
The systematic discrimination is so deeply rooted that students dropping out of schools and colleges blame their caste for their fate. It is a grim reality that dalits continue being subjected to practices like being made to sit behind upper-caste lads in primary schools. Stalin K's documentary Lesser Humans even after two decades of its filming comes back to Gujarat as a historic recurrence.
The representation of dalits and Muslims in college politics is almost zero. The posts of students' union have been held mostly by upper-caste Hindus.
If this is the 'model of education' that Mr Modi wants to execute under his 100-day plan, then it is more than clear that the education sector — already suffering from a severe lack of government funding and attacks on administrative autonomy — will only undergo more irreparable losses.
As the late American comedian George Carlin once said, "Never underestimate the power of stupid people in large groups."
The writer is an independent journalist and serves as an editor at Academia.edu. He writes on social inequality and rights in India. 
Get the latest reports & analysis with people's perspective on Protests, movements & deep analytical videos, discussions of the current affairs in your Telegram app. Subscribe to NewsClick's Telegram channel & get Real-Time updates on stories, as they get published on our website.
Subscribe Newsclick On Telegram