Gujarat Polls: Juhapura, The Largest Muslim Ghetto In Gujarat, Is A Picture Of Deliberate Neglect
15 years since the deadly riots in 2002, Hindu-Muslim divide is still being exploited by BJP to win elections.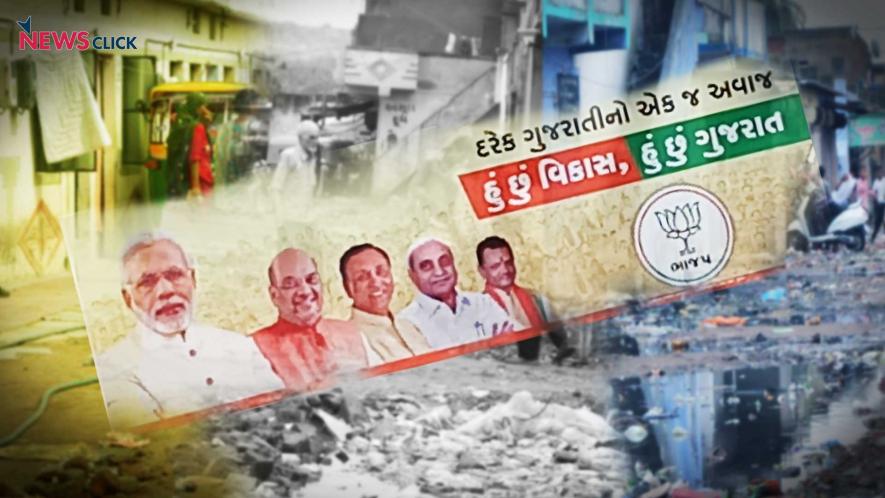 Situated seven kilometres from the city centre of Ahmedabad, the prosperous economic and political capital of Gujarat, Juhapura locality is a symbol of alienation of the minority community. It is deprived of basic infrastructure and public services. Heaps of debris and garbage lying around are common sight here. Residents talk of lack of education, transportation, water supply and sewerage.
'Development', the mantra of BJP, seems to stop where Juhapura begins. Even the BRTS's proposed last stop is a kilometre away, from where it takes a detour away. But for the good main road, part of the Ahmedabad-Vadodara expressway, Juhapura's internal roads are in neglect. The locality became part of the Ahmedabad Municipal Corporation only 2007, but that hasn't helped.
It does not take much to figure out the reason for the pathetic situation of the area - it is because Juhapura is the densest concentration (over 4 lakh people) of Muslims in one place in Gujarat. Testimonies from local residents confirm this. Its estimated 1.07 lakh registered voters account for around 35% of the total electorates of the Vejalpur Assembly constituency of which Juhapura is part. Ahmedabad is a polarised city and its development can be fully understood only after visiting Juhapura.
Juhapura came into existence in 1973 when over 2,200 inhabitants of the Sabarmati's banks were rehabilitated here after a severe flood. Earlier, it was basically a slum located at Ahmedabad's western suburb that housed both Hindus and Muslims. But after the communal violence following the Babri Masjid demolition in 1992, Hindus left the neighbourhood, turning it into an all-Muslim area. Then, one year after the 2002 riots, nearly 180 families from Naroda Patiya, Asarwa and other riot-hit localities were shifted here.
Over the years, more and more Muslims have come to settle in Juhapura, often due to the feeling of insecurity in Hindu-dominated areas. Justice Akbar Divecha of the Gujarat High Court, who had moved out from Juhapura, became the target of mob violence in 2002.
The locality has now changed its face from just another slum to urban Muslim ghetto and second biggest Muslim locality in India after old city of Hyderabad. Christophe Jaffrelot in his recent book 'Muslims in Indian City' described Juhapura as a "city within a city".
Asked why Juhapura has not benefited from PM Modi's much-touted development, BJP Minority Morcha National Vice President Irfan Ahmed blames it on the residents. "The people here do not want change. When offered biryani, if some people still want only daal, what can one do?" he asks.
Al Ashad Park residential complex in Juhapura borders Vejalpur – a posh Hindu locality in the same constituency. On November 9, Union minister Smriti Irani toured only Hindu areas in Vejalpur, which is highly polarised.
The trend allegedly set by its past leader Amit Shah still haunts it. Shah had cleverly used Hindu-Muslim divide to win Sarkej constituency. He even called Juhapura "mini-Pakistan," a name that local Hindus often use to describe this Muslim ghetto.
The Bollywood film 'D-Day,' which was produced in 2013 based on Dawood Ibrahim, and its scenes of Karachi was shot in Juhapura and neighboring Sarkhez Roza,a prominent dargah.
"No leader from any political party ever pays a visit to the area. We have been neglected for decades," said 36-year-old Shakeel Ahmad, a resident of the area.
Residents of Siddiqabad, where riot affected people have been rehabilitated by religious bodies such as Jamaat-e-Islami-e-Hind (JIH), say they are in pathetic condition. Govt. officials are not at all bothered. "Elections come and go. But no change has come in our lives. We have to run from pillar to post for our livelihoods, forget about education of our children," said a female resident of the colony.
Her sentiments were echoed by others. "Our husbands work as daily wage labourers and we work as domestic helps. Then only we manage to run our families. Elections do not mean anything to us," they said.
Dr Damini Shah, assistant professor at social work department at Gujarat Vidyapith, says it is easy to neglect Muslims as they have been to pushed to live in ghettos in several pockets of the state.
"There is a sharp segregation between Hindus and Muslims here. Their connect with mainstream society is negligible. What they get in Muslim majority areas is security and nothing else. There is no scope of their development as the government has measurably failed to improve the life of the riot victims in the state," she Dr Shah, who has written a book on Muslim ghettoisation in the state.
She also holds the civil society responsible for the ghettoisation. "Post migration in 2002, at least 66 Muslim-only colonies came into existence. But all these colonies were built by religious organisations. As a result, you will see higher number of mosques but not educational institutions. It is a blot on the civil society. Had it come forward, it would have attempted to bring the victims into the mainstream by making arrangements of education and livelihood," she said.
Asked about the history of ghettoisation in the state, she said it is nothing new here. But there are two types of ghettoisation – one is involuntary because of fear and insecurity and other is voluntary based on the economic conditions of the residents and their caste and class.
"Like Patidars, Jains and Brahmins prefer to live in posh localities of Naranpura, CG Road and Old Pole areas of Ahmedabad only because they cannot afford to live with people who are below their status. These are voluntary ghettoisation. But the migration took place post 2002 was involuntary and because of fear and insecurity," she explained.
She alleged that following the delimitation of 2008, Muslim majority constituencies were divided into different parts and each small part was added to Hindu dominated constituencies in an effort to make the Muslim community "politically insignificant".
The result can be seen in Vejalpur constituency. Muslims voters are 1.07 lakh out of the total 3.2 lakh voters and all these minority votes are concentrated in Juhapura. BJP's Kishorbhai Chauhan defeated Congress candidate Akbarkhan Pathan in 2012 elections.
Earlier, Juhapura was part of Sarkhej constituency, which was represented by BJP President Amit Shah. Before the delimitation, Sarkhej's 8-9 lakh voters included 1.50 lakh Muslims, including those of Juhapura. After delimitation split the constituency into many, it was the BJP that gained as it won most of the new seats.
It has been 15 years since the deadly riots but still the Hindu-Muslim divide is being exploited to win the elections. But many in Gujarat have claimed that polarization is fading. In 1984 there was a time in Gujarat when 15 Muslim MLAs were elected from the votes of Hindu community, in the coming elections Vejalpur constituency can very well be a secular test for Gujarat politics.
Get the latest reports & analysis with people's perspective on Protests, movements & deep analytical videos, discussions of the current affairs in your Telegram app. Subscribe to NewsClick's Telegram channel & get Real-Time updates on stories, as they get published on our website.
Subscribe Newsclick On Telegram