Gurgaon Model of Preventing Namaz Spreads to Yogi-Land
It seems that the Gurugram-model of preventing Muslims from performing prayers is spreading fast to other parts of the country.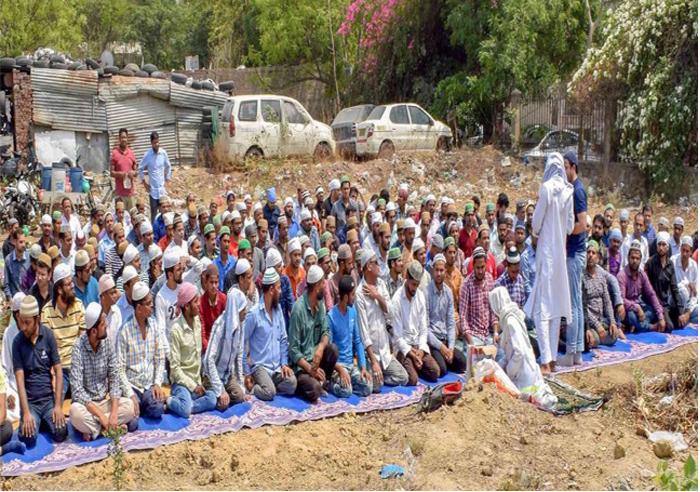 It seems that the Gurugram-model of preventing Muslims from performing prayers is spreading fast to other parts of the country. Hindutva groups and local residents in Shashtri Nagar area of Meerut attacked a group of Muslims who were performing prayer inside a tomb on Wednesday night.
The Hindu groups not only attacked and chased the Muslims, but also announced that they will do Bhagwati Jagaran at the tomb, after which the sensitive town of Meerut in western UP has become tense.
As the news broke and spread in the nearby areas, the tomb was surrounded by a large mob who raised anti-muslim slogans, announcing that they would not allow prayers.
According to Asif Ahmad, one of the victims who was chased out by the Hindutva groups, it all started on Wednesday night when the local Muslims went to perform Tarawih - the night time prayer which is performed during month of Ramzan.
"There was no sign of any protest for the longest time. We have never seen any protest against Namaz. After all, Hindus and Muslims have been living together here in relative harmony. Shashtri Nagar is dominated by Hindus, but there is a small population of Muslims who also live here," said Ahmad, who lives in the back side of Shashtri Nagar area.
He claimed that last year also, the Muslims who live in the close vicinity performed Tarawih, but it did not invite any trouble or protest from the local residents. "We did not expect such strong reaction in form of an attack on us. Last year also we performed night time prayer but it was all fine. I don't know what changed this year. A mob came and started raising slogans and attacked us, demanding that we leave. Most of us were scared and thought something big might happen, so we ran from there," he said.
When the police rushed to the spot they were welcomed by members of Hindutva groups and local residents who had chased the local Muslims.
Meerut Superintendent of Police (city) Shriprakash Dwivedi immediately rushed to the spot with police forces from several stations. By that time the local Muslims who were performing prayer were already chased out, some of them leaving behind their motorcycles in panic.
When the police reached the spot and started questioning the local residents about the sequence of events, the Hindutva activists, who had welcomed the police on arrival, then surrounded the forces and started raising slogans against them.
"It is a Hindu area and never in the past Muslims prayed in this tomb. So why this new tradition. We would not let this happen. In fact we will do Aarti and Jagra around the tomb if these guys even try to perform namaz inside," said Balraj Dungar, the local Bajrang Dal leader.
Sanjeev Pundir, a local BJP leader who had joined the protest against Namaz, said, "It was all peaceful till the time there people started trying to turn the tomb into a mosque. It was done without any dialogue with the local residents. None of the local Hindus want a new tradition to be started by these people."
Soon the matter became a Hindu-Muslim issue, when local Muslims, who were getting ready to welcome the first day of fasting on Thursday, in turn protested against what they perceived to be an attack on their right to practice their own religion. For now police has deployed heavy security at the tomb.
Ahmad told NewsClick that no action has been taken against the attackers. When NewsClick enquired with Ram Arj, the Station House Officer of the Nauchandi police station which has a jurisdiction over this area, he told that the police takes action only after someone files a complaint. "This issue was sorted out peacefully. It is all under control now. For safety we have deployed police forces outside the tomb," he said, adding that the police was trying to bring the local Muslims and Hindus to compromise amicably.
The tomb is located in sector 3 of Shastri Nagar which is a middle class pocket, with Muslims mostly confined to its rear end. Mohammad Ismael, a faculty at the local college told NewsClick that such attacks on Muslims performing prayer was "a recent phenomenon".
Explaining how the Muslims in this area came to be confined to a pocket in the rear-end of the area, Ismael said, "Shahstri Nagar used to be a mixed population, but after the Meerut riots of Hashimpura and Maliana, Muslims were driven to its backside. So, Shashtri Nagar has become a largely upper-caste, middle-class Hindu pocket, with an extreme sense of Islamophobia dominating the discourse."
The episode, Ismael believes, may also be an attempt to keep the communal potboiler running, given that the by-polls in Kairana were due at the end of May.
Though a very sensitive region, Meerut has not seen incidents of communal violence in a long time. Even at the time of the 2013 Muzaffarnagar riots, it remained peaceful. Nonetheless, the area has an extremely heightened sense of communalization, with every issue taking a communal turn at the drop of hat.
Earlier, fights and communal clashes used to happen over construction of new religious structures, but never in the past were a group of people performing namaz attacked in this manner. It is first incident of this kind, and seems to be triggered by what happened in Gurugram where Hindutva groups objected to Muslims performing namaz on public land.
Get the latest reports & analysis with people's perspective on Protests, movements & deep analytical videos, discussions of the current affairs in your Telegram app. Subscribe to NewsClick's Telegram channel & get Real-Time updates on stories, as they get published on our website.
Subscribe Newsclick On Telegram