Gurgaon Namaz Issue: Communal Outlook, But Also Private Builder Led Land Use
With Just 6% Land for 'Public Use' and 67% for homes, shops, offices and industry, Gurgaon urban planning is a disaster.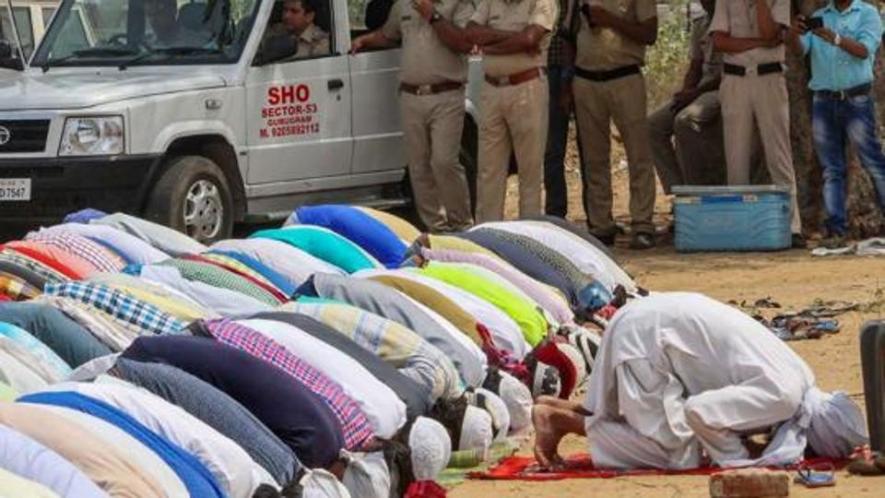 Image Courtesy: Hindustan Times
Protests and obstruction of namaz (prayers by Muslims) being offered in public spaces in Gurgaon, on the suburbs of Delhi have yet again revealed the divisive politics played by the BJP and its associated organisations. BJP Chief Minister M.L.Khattar's statement that Muslims should offer namaz in mosques and idgahs has effectively sanctioned such criminal obstruction.
But a question that has remained unasked and unanswered is this: why has it become necessary for people to use vacant public places for prayers? The answer lies in way urban development has been done in Gurgaon. It is a model that has become prevalent since the liberalisation era with private builders and developers being handed over large tracts of land by the govt. to 'develop' and sell at high prices to the elite and the upper middle class. In such a dispensation, public utilities and public use of land is marginalised, since returns on such land is minimal. Not surprisingly, the govts. – in this case the Haryana govt. – have turned a blind eye to this squeezing out of the poor.
One of the casualties of this is that places for building mosques, or areas where namaz can be offered, are never designated in development plans. This is a convenient outcome because builders don't want land to be 'wasted' in such things while the communally minded bureaucrats and indeed many residents don't object.
Private Land Development
While it is impossible to give a history of Gurgaon's urbanisation here, take a look at some key features. Since the 1990s, land in and around Gurgaon has been primarily developed by the Haryana Urban Development Authority (HUDA), in association with various other govt. agencies. But HUDA, and the Haryana state govt. became pioneers of sorts in roping in private builders and developers right from the word go. This led to an explosive growth of residential, commercial and industrial land use around Gurgaon.
The defining feature of this development was that no serious attention was paid to the ramifications of encouraging setting up of industries in such a large swathe. The industrial units needed workers in lakhs. This demand was filled by migrant workers from at least 10 states. The residential land was not available to them as the private colonisers were not in the business of charity – they were there to cash in on the govt.'s largesse of giving them land at cheap rates. So the influx of workers mostly settled down in overcrowded hovels in the villages and small towns surrounding the industrial areas.
This process, which started in the 1990s should have woken up the govt. and the town planners in Haryana govt. But far from that, the 2000s saw an explosive push for more of the same – enshrined in successive master plans. In 2006, a draft Master Plan 2021 was released. By the time the final version was released in 2007 land use for 11 sectors had been changed from public and semi-public/ public utility/ open space/ industrial to residential and commercial without any explanation.
Note that "public and semi-public" land use is defined in the development code 600 and includes sub-code 620 for "educational, cultural, religious institutions". Places of worship, including places for offering namaz would fall in this category.
A Flurry of Master Plans
By 2010, a new draft Master Plan 2025 was released to be notified in 2011. In this, a further 500 acres of agricultural land was converted to residential use. Then, in 2012, a new draft Master Plan 2031 was released and notified which included converting 4570 hectares of SEZ land into residential/commercial land since "virtually there are no more takers for SEZs now" as the notification pithily put it. Some more land meant for public/semi-public use was also converted to commercial use.
Interestingly, after the BJP govt. came to power in Haryana, a Gurugram Metropolitan Development Authority (GMDA) was set up by an ordinance notified on 12 August 2017. Such is the keenness of the state govt. to control the whole process of Gurgaon's land use that they didn't want to go through with a law (passed by the Assembly) to set up the GMDA. In January 2018, rules under the ordinance were issued. In sum, the whole issue of land use and its changes is now vested with this govt. appointed body with the chief minister himself heading it!
Thus with the new Master Plan 2031, some 32,988 hectares of land is now in play, of which 22,957 ha have been added afresh, for 'development. Of this, about 67% is for residential, commercial and industrial use and only 6% for public and semi-public use. In other words, there is virtually no provision for workers residences (they can't afford the prevailing rates of about Rs.5000 per sq.ft or Rs.40 crore per acre!), forget about public spaces for them like playgrounds or – places for mosques and idgahs.
Migrants Marginalised
In this context, it should be noted that the large scale migration to Gurgaon that took place consisted mainly of agricultural labourers and small farmers and a notable proportion of this was Muslims. The urban population of Gurgaon sub-district/tehsil jumped from 2.5 lakh in 2001 to over 9 lakh in 2011 as per Census data. In 2011, the district had about 5% Muslim population while the Gurgaon urban area had about 8%.
Since there are only 22 mosques in the Old Gurgaon area and none in New Gurgaon, and since Muslim workers work in the whole area in diverse formal and informal units far away from these mosques, the practice of holding Friday namaz in unused public places like vacant plots or grounds has been adopted. It is reported that about 106 such impromptu namaz offering sites are there. Attendance in these ranges from 100 to 300.
Had the urban planners developed a more rational plan with workers housing and industrial units interspersed with designated places for worship or prayers, Muslims could have had easier access to space for namaz. But how was that possible when private colonisers and building tycoons were greedily selling land for commercial and residential use at astronomical prices?
Get the latest reports & analysis with people's perspective on Protests, movements & deep analytical videos, discussions of the current affairs in your Telegram app. Subscribe to NewsClick's Telegram channel & get Real-Time updates on stories, as they get published on our website.
Subscribe Newsclick On Telegram