Gurukul to Guru-Cool — Delhi-based Techies Attempting to Make Education Accessible, Empathetic
Three youths founded the educational networking platform to ensure that students from humble family backgrounds are not excluded because of their financial circumstances.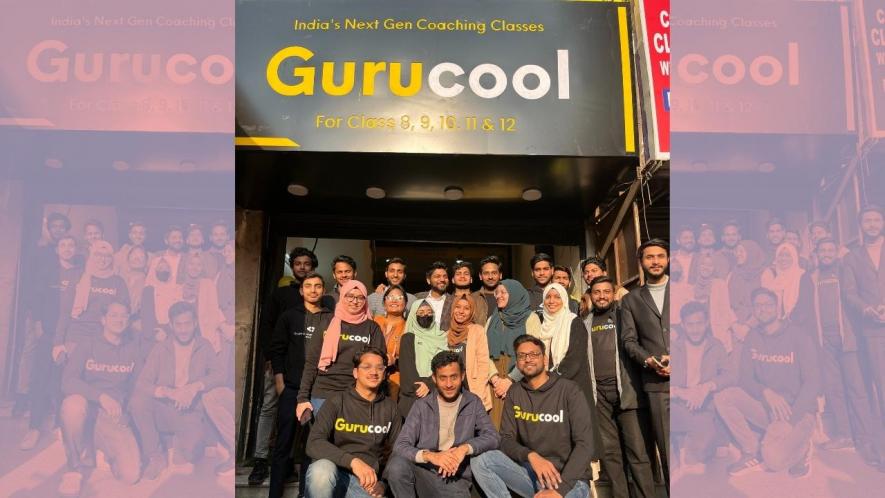 New Delhi: Financial constraints pose significant challenges but are overcome with conviction, willpower and determination. These attributes stand true to the three Jamia Millia Islamia alumni, who set up an institute of learning — which is helping underprivileged sections of society besides the aspirational middle class. 
Over the years, the institute, GuruCool, a Delhi-based EdTech start-up, has emerged as a beacon of hope for the economically deprived sections of students, particularly those lacking access to the internet and digital infrastructure.
Inspired by Azim Premji's initiative for underprivileged students, three youths — Adil Meraj, Aadil Farooque Siddiqui and Khansa Fahad (all in their mid-twenties) — founded the educational networking platform with a commitment to ensure that students from humble family background are not excluded because of their financial circumstances. 
While GuruCool has a proper fee structure for haves, it does not turn away students from humble family backgrounds. The founders have set up a model for supporting sponsorships to those in need to cover their expenses incurred in providing high-quality education.
Meraj, one of the founders, unfolded to NewsClick his expansion plan, underscoring that he wants to reach out across the length and breadth of the country. 
"For a physical experience of a course, classroom, doubt, workshop and community, we guide the underprivileged students to a partnered centre near them. We already have six centres in Delhi with around 1,000 paid learners in K-12, coding, data analytics, spoken English, etc. With offers for 30 more centres, we will expand across India by the next academic session," said Meraj, an engineering graduate from Jamia Millia Islamia.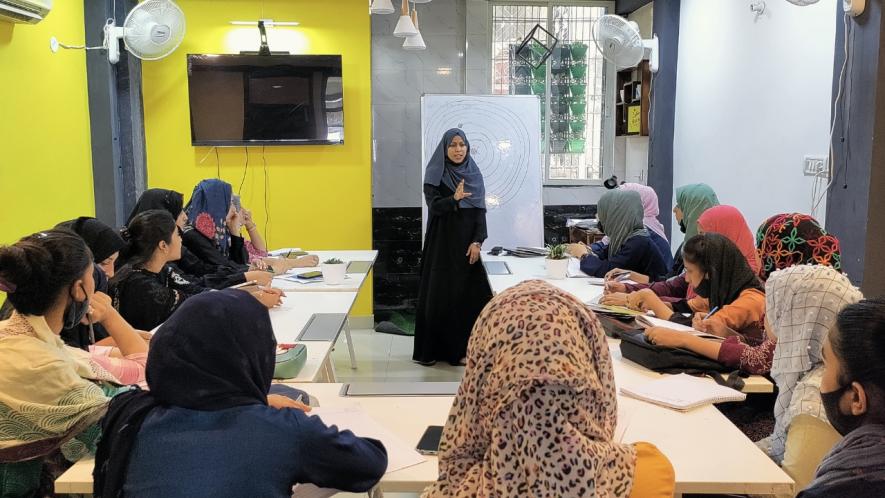 All the six centres of the institute are located in areas such as Jamia Nagar, Sangam Vihar, Indirapuram, Kalkaji and Ashram, which are predominately inhabited by the working class, he said, adding that "it's enough to understand our commitment."
The institute claims to "personalise the country's education and make it universally accessible and empathetic."
"Don't take refuge in your economic deprivation. If you want to prosper educationally, even if you don't have resources, come to us. We will give you a skill-based education and groom you in the field you find most lucrative. What we expect from you is just the flame to overcome the obstacles," he added. 
The institute, claimed Meraj, currently has around 150 students from extremely humble family backgrounds who don't need to pay a single penny. 
"Since our inception in July 2019, we have taught over 300 underprivileged students. Of our online users, around 80% belong to marginalised sections," he claimed.  
GuruCool, according to its concept note, is an 'eduverse' where one, including gurus (teachers), can browse through thousands of open courses, ask quirky questions and create flashcards. The start-up has 2.5 lakh online users. Its aim, as per its founders, is to "redefine and ensure access to skill-based education" to all — irrespective of their financial background.
Being Muslims, launching a start-up from a Muslim-majority area of Jamia Nagar posed hurdles for them, but the discrimination and attacks by hardliners could not deter them.
"We have a large number of members wearing Hijab. They are not only Muslims but look like Muslims. And we are unapologetic about it. If you start a start-up in Punjab, it is common sense to see the team members looking like Sikhs. What satisfies us is that we are imparting education to students belonging to highly marginalised family backgrounds. We are giving employment opportunities to people here to become future leaders," he added. 
It would be a loss of the country, he said, if its underprivileged and marginalised communities are not empowered. 
"It is said that if you wish to empower a country, empower its underprivileged people. So, you can't ignore or stigmatise have-nots, including Muslims," he said. 
He asked if it is wrong for a dalit to talk about empowerment of their community.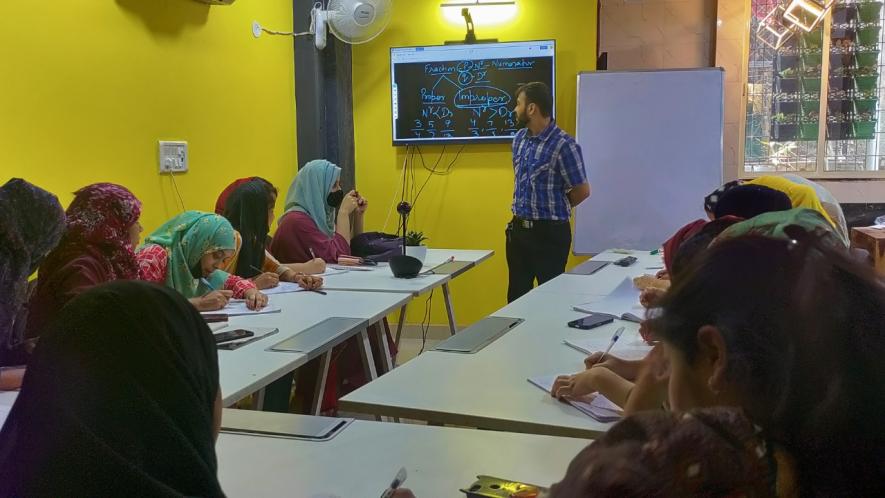 "If it's not, then is it an issue when a Muslim speaks for a Muslim? We are offering educational opportunities for the educationally deprived sections without bias, where everyone can learn from each other. But at the same time, we also believe that there is marginalisation, discrimination and injustice happening, and we stand with the oppressed and not the oppressors," he added.
GuruCool is not a platform exclusively for Muslims, but if GuruCool starts from this community, it will first solve the problems here.
With over 25 tools and a good content pool, the institute aims to empower educational institutions such as schools and colleges to go online and build their digital infrastructure, which enables learners to find, connect and learn from them. 
"We have partnered with the Telangana government to implement our app in 204 residential schools. The average user uses seven social media platforms that cater to their different persona. People on Instagram are opulent. On Linkedin, they are professional. And on Twitter (now X), they are opinionated. Similarly, at GuruCool, they can be curious, conscious and educational. We have grown into a community of more than half a million members on different platforms — including the GuruCool app," Meraj, who is the CEO and also manages tech development, told NewsClick.
Leveraging artificial intelligence for personalised learning, instant doubt-solving, continuous assessment and educational research, he claimed that his team has curated 5,000 courses and created thousands of study materials — including notes, quizzes, questionnaires and flashcards. 
"We have also created a data set of more than 20,000 campuses and 7,000 scholarships worldwide," he added.
The classes here are live-streamed online, and recordings are stored on Google Drive. So, the students who are absent for any reason can look up recordings and learn whatever they have missed. 
"We organise workshops like robotics, UI/UX, etc., to make them capable. These workshops are taken by anyone who has competency in that field. For instance, the Robotics workshop was given by a tech start-up," he said. 
A PHILANTHROPY OR PROFIT-BASED VENTURE?
From their experience and research, said Farooque, who manages online marketing and logistics, no profit-free venture has ever survived for long unless it is supported by big corporates and communities at large. Second, any services offered for free are "taken for granted".
"Therefore, we have a fee structure for those who can afford it. But it does not mean that GuruCool shut its doors to students from humble family backgrounds. All those who come to us will be admitted and imparted quality education, irrespective of their family background, caste, creed and religion. We have a team of sponsors who bear the expenses of poor and marginalised students," he explained.
Farooque, who hails from Bihar's Gopalganj district and graduated in economics from the Delhi University, claimed they believe in "democratisation" of education — which should be "emphatic" as well. 
HOW GURUCOOL TOOK SHAPE
Khansa, an engineering graduate from Jamia Millia Islamia who is the COO of the organisation, explains it in detail.
From the very outset of her journey during the first year of B.Tech., she said, one thing was clear: she wasn't destined for the conventional corporate path. 
"I envisioned a different route, where I could align my work with my deeply ingrained values and aspirations. And so, the concept of GuruCool began to take shape," she said.
She said she could not disregard the struggles she faced as a student. 
"These experiences have fuelled my determination to address my challenges and bring positive change to those around me. And therefore, together with my friends, I started GuruCool to tackle the obstacles that crossed our paths," she said. 
Inspired by the Maori culture, which emphasises providing autistic children with the time and space to learn, develop and flourish, GuruCool, claimed Khansa, aims to redefine the concept of "space and time" in education. 
"Through understanding and compassion, we seek to counter the ignorance that has paved the way for an unjust and unkind society. Our belief in education's potential to drive us toward a fairer and more empathetic society is unwavering," she added.
After completing her bachelor's, Khansa, who hails from Muzaffarnagar in western Uttar Pradesh, stood at a crossroads with enticing offers from reputable companies — offering stability, higher remuneration and security. 
"Despite this, I made the conscious decision to forego those opportunities and dedicate all my time and effort to GuruCool. Choosing not to take traditional job offers was not just about resisting the norm; it was about pursuing a bigger vision that I had since my university days. Working for GuruCool means working for something far more profound than personal gain — it means working to create a platform that aligns with my core values," she elaborates, concluding that the challenges are tough, but their commitment is strong.
GuruCool was ranked among the top five start-ups in the Bihar Start-up Summit and among the top 40 start-ups globally run by student entrepreneurs by TiE. It won the MBillionth Award for mobile innovations in South Asia.
Get the latest reports & analysis with people's perspective on Protests, movements & deep analytical videos, discussions of the current affairs in your Telegram app. Subscribe to NewsClick's Telegram channel & get Real-Time updates on stories, as they get published on our website.
Subscribe Newsclick On Telegram