'Har Ghar Se Hamara Nata Hai, Sarkar Badalna Aata Hai'
Up in arms against the MP government, ASHA and USHA workers have been protesting since April this year, demanding permanent employment and pay hike.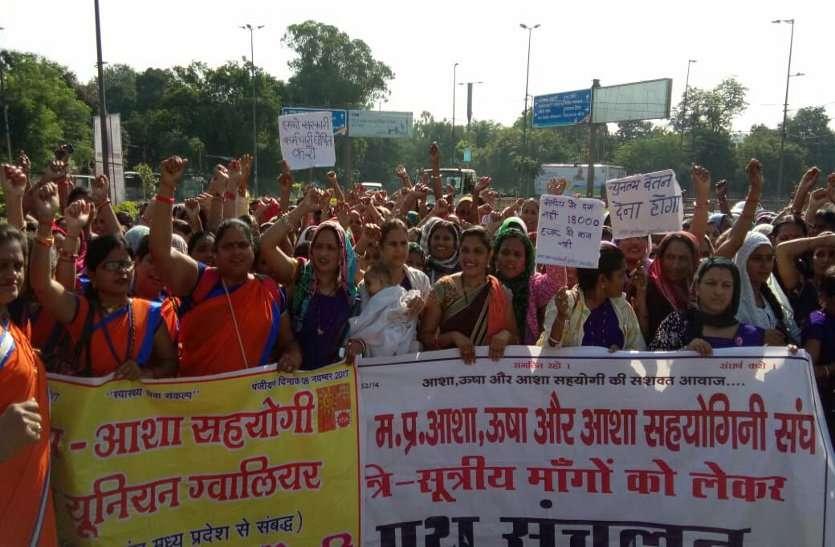 They are present in every village, visit every home, know every mother and every child. They are the first in line to be contacted in case of any illness or distress in the family. Yet, they are paid a pittance despite working 24X7 and being on the move at all times.
These are ASHA (Accredited Social Health Activists) and USHA (Urban Social Health Activist) workers who have been protesting in Madhya Pradesh since April this year. On October 2 and 3, these workers gathered at Bhopal's Polytechnic Chowk, demanding permanent employment and a hiked and fixed salary.
Coming from 16 districts across the state, the health activists had to face lathis and preventive arrests on October 11 at a distance of 200 metres from Chief Minister Shivraj Singh Chouhan's residence. One of the ASHA workers – Mamta Rajawat – suffered serious injuries after the police tried to force her down from a mobile phone tower which she had climbed during the protest. She was rushed to hospital and stayed there the whole night, until she regained consciousness.
"We are accredited social health activists and are respected and loved in the society, but the government disrespects us. Despite having the huge responsibility of tackling maximum pregnancy cases, we don't get any salary. We work on incentives – which is Rs. 6,200 for 25 days of work. We want regularisation of our employment and permanent salary and other allowances," protesting Pooja Kannaujiya told Newsclick.
She said, "We have played an important role in the decreasing rate of infant mortality and maternal mortality, and even in the declining fertility rate. Yet, we get nothing. We are asked to work 24X7 and be on the move at all times. In addition, the bureaucracy unloads on us several other works such as carrying out surveys to cooking  meals and holding festivals."
Meera Kashiya, an ASHA worker from Dindori district, said they (the ASHA workers) don't have a minute to spare in the day. All the time – she said – they are visiting women, checking on their children and ensuring that everybody is okay. "After all this, we fill out all the registers and complete the paperwork. We often take women in labour to the hospitals in the middle of night. But what do we get from the government in return? Nothing. The incentive we get is insufficient to bear family expenses, forget about celebrating festivals," she added, with anger  visible on her face.
ASHAs Threaten to Change Government
During the protest, the women got so agitated that they ended up chanting slogans such as 'Abhi Karo, Jald Karo, Humko Permanent Karo' (Do it now, do it fast, regularise our job). They have also threatened the BJP government of ousting it in the upcoming Assembly polls if their demands are not met. 'Har Ghar Se Hamara Naata Hai, Sarkar Badalna Aata Hai' (We know families in every home, we know how to bring the government down) and 'Mama Nahin Qasai Hai, Kansa Ka Chota Bhai Hai' (CM Shivraj Singh Chouhan is not an uncle but a butcher, he is the younger brother of Kansa – a tyrant ruler in Hindu mythology). CM Chouhan is popularly called mama (maternal uncle) in Madhya Pradesh.
Laxmi Kaurav and Amrita Anand told Newsclick that the police have now filed a case against Laxmi and five other ASHA workers. They have only been given the complaint number but have not been informed about the nature of allegations against them.
Several ASHA and USHA workers said they had even met the Chief Minister, who promised them that the government would do something to address their demands. "The public health system will collapse without us as we work in rural as well as urban areas. Prime Minister Narendra Modi boasts of our work. Yet, we are treated poorly. We want respect and a dignified life, which are guaranteed in the Constitution," they added.
In Madhya Pradesh, an ASHA worker earns between Rs. 800 and 1,000 per month, as the remuneration is linked entirely to their activities: for instance, they are paid Rs 250 for nine months' antenatal care resulting in an institutional delivery. Most other states provide a fixed honorarium above such "incentives", or match these, ensuring a minimum salary for these health workers.
A Sorry State of Affairs
ASHA and USHA workers are not even getting minimum wages. They are demanding Rs 10,000 per month for ASHA-USHA workers and Rs. 25,000 per month for ASHA sahayoginis (who monitor and coordinate the health services provided by ASHA workers in an area).
The Union Ministry of Health and Family Welfare's (MHFW) also acknowledges that ASHA workers are the 'first port' of contact for medical care for people in many villages. And, therefore, they too need allowances like other government staff for travelling as their work involves extensive travel in the field and rising petrol prices affect them as well.
Poor communications, high costs of travel and lack of physical accessibility to the villages and health centres pose a challenge for both the ASHA workers and mobilisers. This fact has been admitted even in the MHFW report published in July 2017.
The health activists – the report says – face difficulties in opening bank accounts and even withdrawal of money due to poor accessibility to banking services. "Aadhaar cards were provided only at the district headquarters, and ASHAs who were not able to travel the distance were not able to get the card. The recent rule of making payment to bank accounts linked with Aadhaar, has further made it difficult for ASHAs to receive timely payments," it reads.
Madhya Pradesh is going to Assembly polls on November 28, and the agitated ASHA/USHA workers, with their wide reach across the state, may become a serious headache for the Chouhan government.
Get the latest reports & analysis with people's perspective on Protests, movements & deep analytical videos, discussions of the current affairs in your Telegram app. Subscribe to NewsClick's Telegram channel & get Real-Time updates on stories, as they get published on our website.
Subscribe Newsclick On Telegram