Haryana's BJP Gov't Passes 'Anti Conversion' Law
The Opposition Congress staged a walkout, even as the state passed the law that includes penalties like imprisonment, fine over Rs 1 lakh.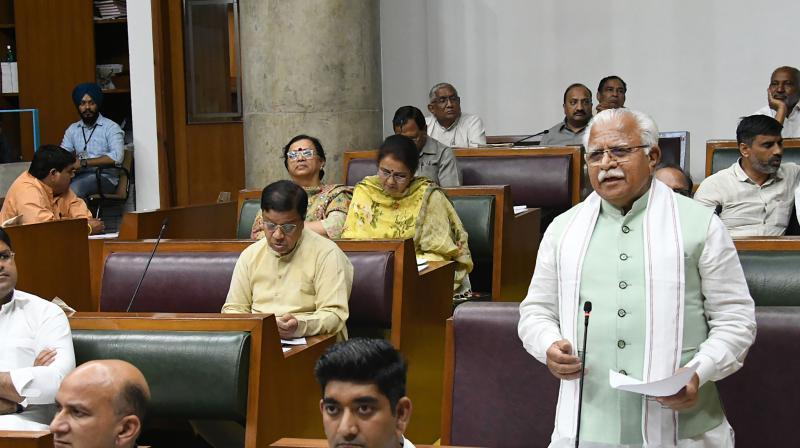 The Bharatiya Janata Party led Haryana Assembly has passed the Haryana Prevention of Unlawful Conversion of Religious Bill, 2022. Even as the Opposition Congress staged a walkout, the state government maintained that the law is to prevent religious conversions "through force, undue influence or allurement". The gov't claims that according to the Bill, "onus of proof lies with the accused", however according to a report in the Indian Express the state's former Chief Minister Bhupinder Singh Hooda said this law will "lead to an increase in the domestic disputes in the cases of inter-religion marriages."
According to media reports, the Bill states that "if conversion is done by allurement, use of force, fraudulent means of coercion, then there is a provision of imprisonment of one to five years and a fine of not less than Rs 1 lakh." Haryana now joins the long list of BJP-governed states which already have such a law in place. These include Uttar Pradesh, Uttarakhand, Madhya Pradesh, Himachal Pradesh, Gujarat and Karnataka, many of these states have recently re-elected a BJP government, while some others in the list are due to have elections later this year and next year. Haryana Assembly polls are due in 2024.
These laws have also been challenged in the past. Citizens for Justice and Peace (CJP) had first challenged the constitutional validity of the Uttarakhand Freedom of Religion Act, 2018 and the passing of the Uttar Pradesh Prohibition of Unlawful Conversion of Religion Ordinance, 2020. Later we also amended our petition to add similar laws passed in Himachal Pradesh and Madhya Pradesh.
The BJP-JJP led Haryana government had been mulling over an anti-conversion law since 2020.  It was on  Friday March 4, that the government of Haryana introduced the Haryana Prevention of Unlawful Conversion of Religious Bill, 2022 in the Vidhan Sabha. This Bill was introduced in Haryana Vidhan Sabha's ongoing Budget session and was protested by the Opposition Congress's Dr. Raghuvir Singh Kadian. Kadian, a six-time MLA, tore a copy of the Bill on the floor of the House  as home minister Anil Vij introduced the Bill. According to IE, Kadian asserted that the Bill reeks of a "hidden agenda" of the state government to create a divide in the society on the basis of religion. As reported by SabrangIndia earler, there has, however, been a near silence from civil society of the region, especialy Muslim, Christian and women's rights groups, who are the ones most affected by such a law as seen in other states. There has been no public protest in Haryana even when the proposal of such a Bill was made public a year ago, Haryana Chief Minister Manohar Lal Khattar, had then spoken about it in context of the so called 'Love Jihad', a term used by most right wing groups to reffer to interfaith relationships.
Anti Muslim attacks in Haryana were at a peak in 2021 
Between October and December 2021, every Friday, right-wing groups were active in Gurugram, disrupting Namaz or Friday prayers which had previously been going on peacefully. Community elders say Muslims of Gurugram are being denied their constitutional right to practice their religion. 
The Hindutva groups have been protesting Friday namaz in open public spaces in Gurugram since 2018. It was in the same year that the city administration had designated 37 sites for Muslims to perform the Friday prayers. However, in November 2021, the number of sites was cut down to 20 after members of the right-wing outfits continued to protest and disrupt prayers. The Muslims, however, have maintained that they were forced to use public spaces since there were not enough mosques in the city. "There is no provision made in the town planning for mosques," said Md Adeeb adding that Gurugram has expanded and even then, Muslims have not been provided the space to build a mosque. A Contempt petition has been filed in the Supreme Court by a former MP, Mohammad Adeeb, against Haryana Government for its failure to stop 'fringe' elements from disrupting Friday namaz.
Police brutality was also reported on May 16, in Haryana's Nuh district. 27-year-old Asif Khan, who was a gym instructor, was allegedly abducted, and then beaten to death. It is alleged that he was shot as well and his cousins who accompanied him were also severely injured. His family claims that the men made Asif say 'Jai Shree Ram', and abused him with communal slurs. The police claimed that Asif was "attacked by some people from his own village and that they had a long-running tiff."
Get the latest reports & analysis with people's perspective on Protests, movements & deep analytical videos, discussions of the current affairs in your Telegram app. Subscribe to NewsClick's Telegram channel & get Real-Time updates on stories, as they get published on our website.
Subscribe Newsclick On Telegram