Haryana Farmers, Workers Ready for Delhi April 5 Mega Rally
The demands include relief for the ravaged wheat crop, MSP, rollback of the four labour codes and PF and pension for industrial workers.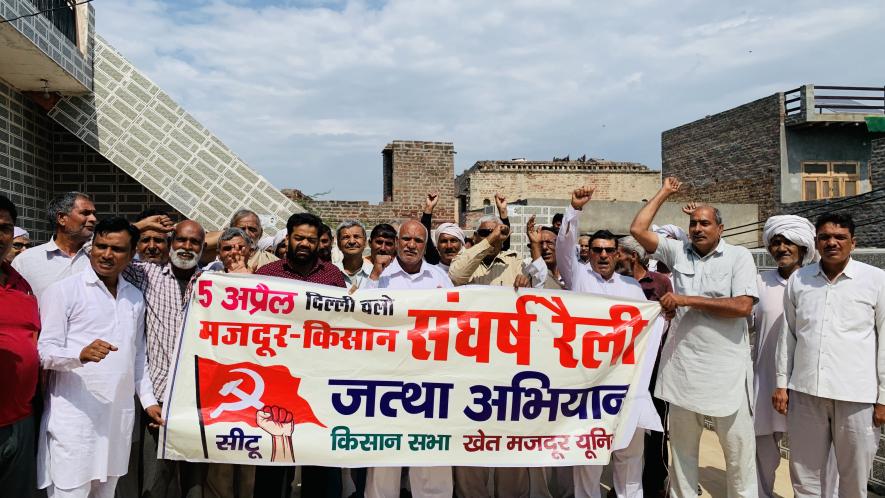 It's the highway of contradictions as one approaches National Highway 1 towards Rohtak. Good roads, plush hotels and restaurants are on one side and decimated wheat plants on the other. This is the fourth consecutive wheat crop damaged by unseasonal rain and hailstorm.
Immediate relief for the ravaged crop is one of the several demands—including MSP as per the Swaminathan Commission, rollback of the four labour codes, minimum salary of Rs 26,000, provident fund and pension and an end to privatisation of PSUs—of farmers and agriculture and industrial workers gearing up for one of largest rallies in New Delhi in a decade on April 5.
The rally organisers, AIKS, AIAWU and CITU, have a detailed campaign to cover more than 500 villages and major industrial towns in Haryana alone.
On day one of the rally, a joint team of AIKS, CITU and AIAWU meets the residents, including students and pensioners, of Rohtak's Phogat at 80-year-old panchayat building.
Preet Singh, who heads the local AIKS committee, tells the gathering that the government should immediately order a special audit of the ravaged crops through patwaris and offer relief.
"It was heart-wrenching to see crops in that state. The district administration is yet to release the Rs 24 crore compensation promised to us for crops damaged two years ago. We need the money right now; there's no alternative," an angry Singh adds.
"Fertiliser sellers made money and pesticide and herbicide companies are already profiting. Where is our money? Be ready for struggle or else we shall be losers forever," he thunders.
Sanjay Phogat, one of the attendees, is jobless despite having two master's degrees, a BEd degree and cracking the teacher's eligibility test. "Rain has destroyed crops for the fourth consecutive time. The situation is so grim that villagers are migrating to cities to work as daily wagers and selling farms and mortgaging houses to run households," he tells Newsclick.
Phogat would get Rs 32,240 if sold at MSP for 16 quintals of wheat grown on one acre and spend Rs 27,980 on seeds, sowing, tilling, pesticides, herbicides, labour, and tractor rent and diesel.
"I don't have to pay rent because I own farmland. Tenant farmers need to pay an additional Rs 50,000 for one acre. The rates of everything, including DAP, pesticides, herbicides or diesel, have increased. Where is our profit?" a frustrated Phogat asks.
"We used to use Roundup (an international brand of a systemic, broad-spectrum glyphosate-based herbicide) because it controlled weeds. After it was banned, it is being sold in black market at double rates."
Sitting beside Phogat, Krishan Phogat says that children's school fees are a major part of expenses. "Private education is expensive as we cannot send our children to government schools because teachers are absent. What to do?"
The jatha heads to neighbouring Kiloi village and is welcomed with slogans of "Beware, [Manohar Lal] Khattar government. Give compensation for damaged crops".
Somveer is fed up with the government's promise of compensation for damaged crops. "The bank started deducting money from my bank account. I gave up my Kisan Credit Card," he tells Newsclick at the gathering.
When asked if he will join the rally, he says, "Yes. Good governments listen to people. It is for the government to decide."
Away from Rohtak, AIKS vice-president (V-P) Inderjit Singh leads another jatha in Bhiwani where women outnumber men.
These women are MGNREGA workers who have not been allotted work in the last eight months. Savita, from Mitathal village, says she has only become poorer with the passing years.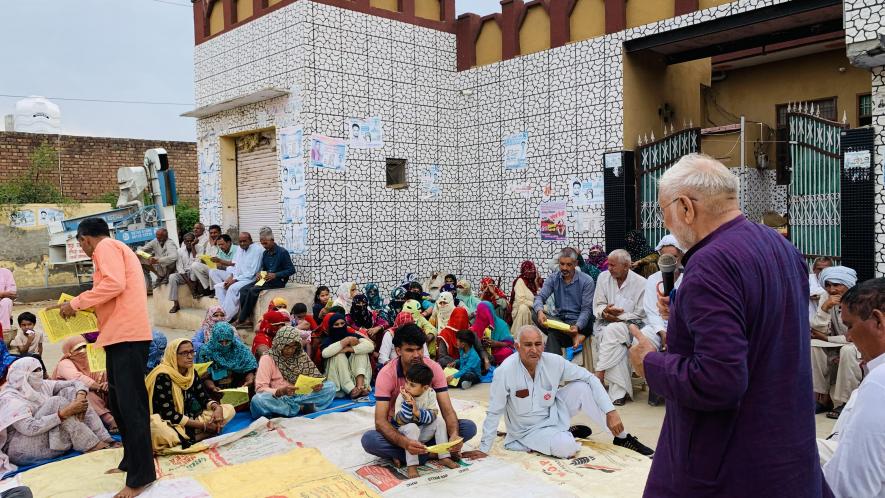 "I haven't been allotted work for the last eight months. My husband, who was a sweeper but sacked by his contractor, is a daily wager. Inflation has spiked. How should I raise my five children?" she asks.
Despite their miserable condition, the villagers allege that their ration cards were suspended after Khattar government introduced the Parivar Pehchan Patra, which is issued to a family to avail social security schemes if its annual income is less than Rs 1.80 lakh. However, the cards were suspended arbitrarily with lame excuses such as no ITR filings, ownership of bikes, etc.
"The Modi government is promoting its scheme of providing free LPG cylinders to the poor. We pay Rs 1,100 for an LPG cylinder. I do not know whether to refill the cylinder or fill my children's hungry bellies," rues Rekha.
Upasna Singh, secretary of MGNREGA Kamgar Union, Bhiwani, more women participated in the jatha out of compulsion and awareness.
"They are aware that MGNREGA is a demand-driven scheme under which one has to ask for work. We want 600 days of work as against the current 33 and Rs 600 as daily wages," she says.
"In Ghuskani block, our members go to government offices to demand work. Women whose husbands are employed but squander their earnings on liquor and other intoxicants too have joined the jatha," Singh adds.
Women, according to her, are convinced that the struggle will yield some results. "When I asked women to attend the meeting to discuss the rally agenda, an elderly woman asked if Khattar would come. It demonstrates the frustration of women, particularly working ones. They believe that if we gather in large numbers in Delhi, we will be heard. We can't be mute spectators even if we aren't heard soon."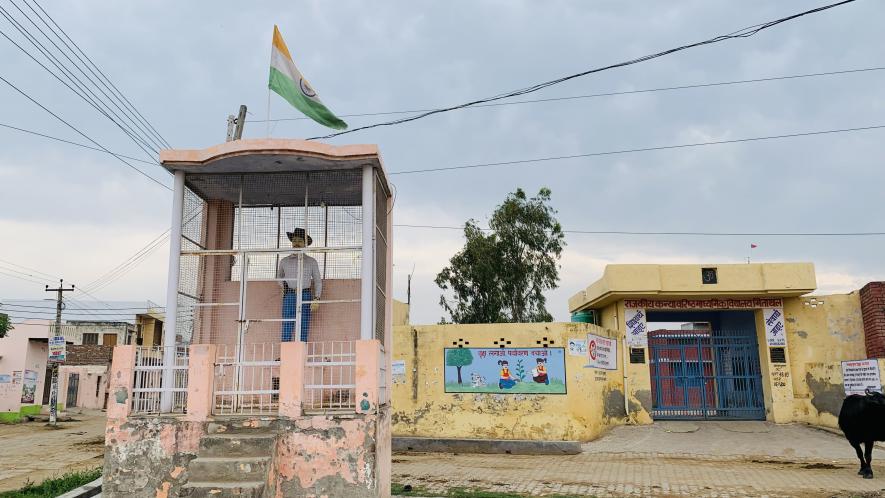 AIKS V-P Singh tells Newsclick that the participants were already aware of the "adverse impact" of the Centre and state government's policies. "But this journey through the villages has revealed their pain and grief. Sometimes, they interrupt us during our address to mention how unemployment, inflation and crop damage have broken their backs."
According to him, Haryana is "another laboratory for the BJP" after Gujarat. "Families with annual income of more than Rs 1.80 lakh are denied ration cards, pensions, etc. We have received numerous reports of ration cards not being renewed for arbitrary reasons. Similarly, scholarships and pensions have been stopped."
With the destruction of wheat crop and no compensation for the crops damaged two years ago, farmers are preparing for the rally, he says adding, "I can assure you that people in big numbers from Haryana will arrive in Delhi to express their anguish." The coming together of these three organisations will "usher in a new politics where people's issues will be at core".
When asked about the monetary challenges in organising such a big rally, Singh says, "Our experience suggests that when people are convinced of any action, economic reasons are hardly a hurdle. In Jind, we organised a langar during the farmers' movement for a year. People donated crores and our members kept account of the money received and spent. I do not think it will be a big problem."
Citing an example, Singh says, "The cars we are using in the jathas are rented. We appeal for financial contributions at every meeting to keep the campaign running. We never faced a financial crunch. People's response is very enthusiastic with women too contributing financially."
The government has not reacted to the preparations for the rally. "If the government is adamant despite such pressure, people will choose another government. Their demands are just and must be fulfilled. It is a three-pronged battle to save livelihood, unity and constitutional rights," Singh says.
Get the latest reports & analysis with people's perspective on Protests, movements & deep analytical videos, discussions of the current affairs in your Telegram app. Subscribe to NewsClick's Telegram channel & get Real-Time updates on stories, as they get published on our website.
Subscribe Newsclick On Telegram