Haryana: Ploy to Destroy Public Universities, say Teachers and Students on Latest Govt Loans to Universities
Haryana government, instead of providing grants to eight state universities, sanctioned loans worth Rs 147 crores.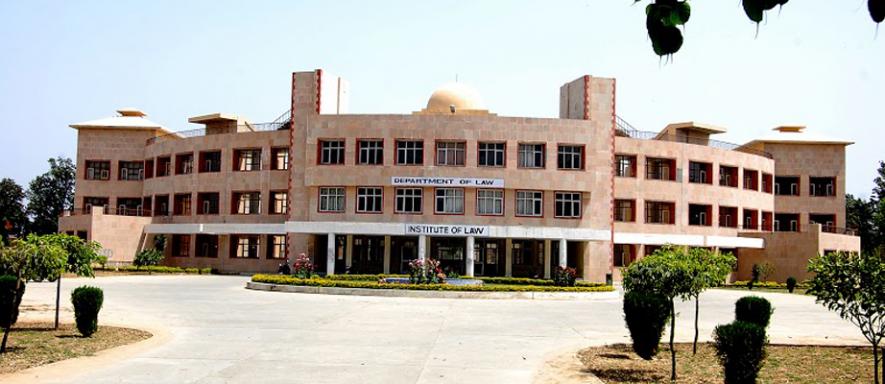 Kurukshetra University, Haryana. | Image Courtesy: Kurukshetra University website
In a major development, the Haryana government has refused to provide grants to eight state universities to run operations for the current financial year. A finance department letter to the additional chief secretary, Higher Education Department, suggests that the government has sanctioned loans worth Rs 147.75 crore to state universities. The institutions will have to bear the expenses on their own.
The letter reads,"Finance Department agrees with administrative department to approve the loan of Rs 147.75 crore as 1st Instalment for the state universities under the scheme."
As per the document, the Kurukshetra University (Kurukshetra), Maharshi Dayanand University (MDU) (Rohtak), Chaudhary Devi Lal University (Sirsa), Bhagat Phool Singh Women University (Sonipat), Indira Gandhi University (Rewari), Dr Bhim Rao Ambedkar National Law University (Sonipat), Chaudhary Bansi Lal University (Bhiwani), Chaudhary Ranbir Singh University (Jind), Mahrishi Balmiki Sanskrit University will get Rs 59 crore, Rs 23.75 crore, Rs 10 crore, Rs 12.50 crore, Rs 4.50 crore, Rs 7.25 crore, Rs 10 crore, Rs 5.50 crore and Rs 8.75 crore, respectively.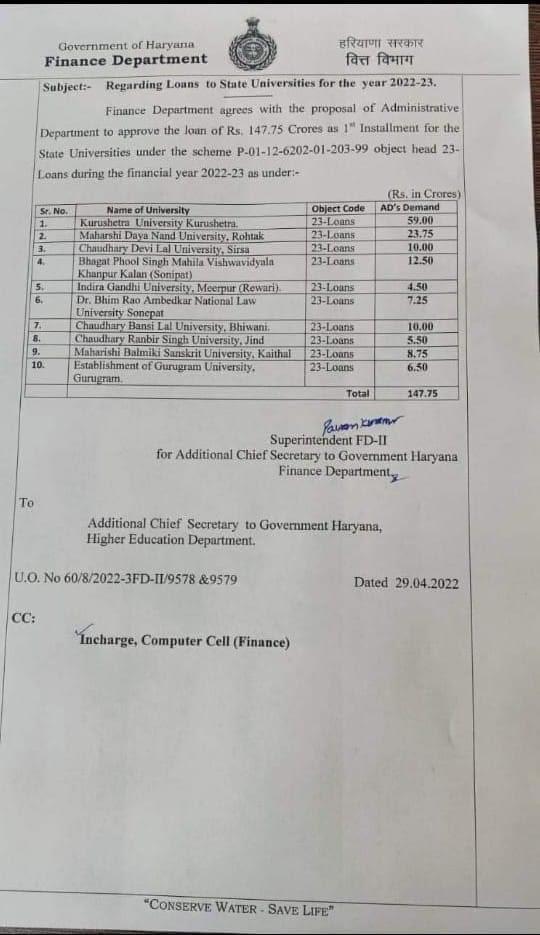 The move has enraged the students' organisations, teachers and political parties, who are accusing the Khattar-led BJP government of pushing privatisation in higher education.
Vinod Gill, president, Students Federation of India Haryana unit, told NewsClick that the move should be seen in line with ongoing experiments across the state where the government is withdrawing its hand from its responsibility to provide affordable education.
" We think that the move clearly shows what government wants to do with higher education. The students are already agitating in Maharshi Dayanand University in Rohtak, where administrators have increased the fee two times for migration from Rs 300 to Rs 600 and inter-college migration from Rs 5,000 to Rs 10,000. In my university, Kurukshetra University, the fee for different courses have been rampantly increased. For example, the fee for the LLB course has been increased from Rs 35,000 to Rs 90,000/annum. The hostel fee was increased from Rs 13,000 to Rs 26,000. After our struggle and strike for three days, the hostel fee was reversed. The government wants students and their parents to bear the expenses, and we would not tolerate this. We are meeting with other students' organisations to chalk out a plan for bigger agitation soon."
The opposition also comes from the Indian National Students Organisation (INSO), the students' wing of the Jannayak Janta Party, the alliance partner of BJP in Haryana.
Pradeep Deswal, national president, INSO, reportedly said that the state government is depriving students of economically deprived sections of getting higher education through this move.
The decision also enraged the teachers who say the universities will have to increase the fee to repay the loan.
Vikas Siwach, president, Haryana Federation of University and College Teachers Organisations (HFUCTO), told NewsClick that the move remains arbitrary and is designed to show them in poor light in future.
"The government has already withdrawn its hands from healthcare in the state and now inching towards education. The government collects education cess worth thousands of crores from people, but where does it intend to spend it if universities have to become self-financed? Second, universities came into existence through acts passed by the Haryana Assembly. They decided without getting its assent because they knew it would be vehemently opposed. This is completely arbitrary, and university teachers will oppose it tooth and nail until it is reversed."
Surendra Kumar, a retired professor from MDU, told NewsClick that the decision is against the letter and spirit of the New Education Policy (NEP), which recommends the government provide stable funding to educational institutions.
"NEP asks public-funded universities to make institutional development plans, including academic and infrastructure development plans. The government will make long-term financial commitments, not ad-hoc grants. Contrary to this, here is a government violating the directives of NEP. The government has been claiming that it will implement the policy by 2025. It is a misleading political statement where the government did not do thorough work and prepare a roadmap about the policy's requirements.
Kumar further said that once the universities are burdened with debt, they will become unviable, which will open the doors for the government to hand over these institutions to the private sector.
Mahavir Jaglan, a retired professor of geography from Kurukshetra University, told NewsClick that the decision contradicts the position of the government when it asks institutions to make money and provide subsidised education to social groups like backward castes.
"The state universities cannot generate revenue for themselves because they cater to every section of the society. Over the years, universities will have huge loans. So, It is a ploy to show that public universities are inefficient and must be handed over to the private sector as they did with public sector undertakings. It is equally shocking to see that bureaucrats who studied from these universities, got subsidised quality education and hold high offices are framing such policies."
Political parties have also expressed their concerns over the unprecedented decision. Commenting on the issue, Congress spokesperson Randeep Singh Surjewala said that the Khattar government has chosen to sink education in debt.
"The state universities should have got Rs 300 crore from the budget, but it has instead chosen to lend Rs 147 crore. The Khattar government is cheating youth on every front."
Inderjit Singh, former Secretary, Communist Party of India (Marxist), told NewsClick that the move is meant for a self-financing model. Parents will be compelled to pay the exorbitant fee.
"Kurukshetra University and Maharshi Dayanand University have increased their fee, and students have opposed it for the previous two weeks. The schools have been asked not to enrol students in class I in primary education. Either they will be taught through Anganwadi centres or private schools, and it will be done phase wise for other classes too. Ultimately, they want to wind up their responsibility to provide education."
When asked about the impact on students coming from rural areas of the state, he said, "The rural households are sunk in deep debt, and expenses on education and health remain two primary factors for this indebtedness besides no income from agriculture. The cost of inputs has increased sharply in agriculture, but there is hardly any income. The families are taking loans to educate their kids and provide healthcare to ailing family members. In this situation, this step of state government is unjustifiable."
Get the latest reports & analysis with people's perspective on Protests, movements & deep analytical videos, discussions of the current affairs in your Telegram app. Subscribe to NewsClick's Telegram channel & get Real-Time updates on stories, as they get published on our website.
Subscribe Newsclick On Telegram