Haryana Polls: Low Voter Interest in Hisar, Outcome Hinges on Caste Calculations
Despite huge anti-incumbency, a fragmented Opposition is giving an edge to ruling BJP.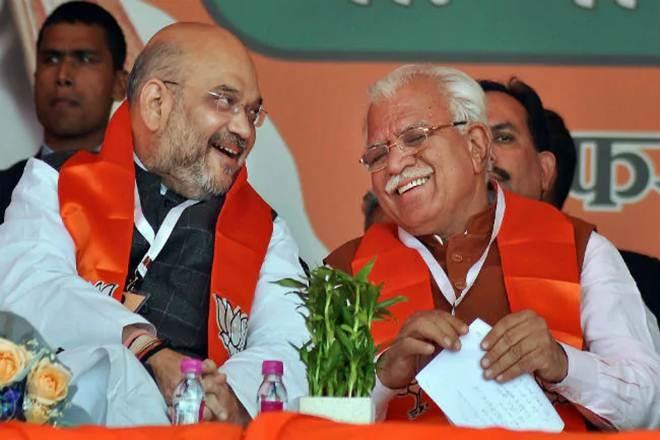 Hisar (Haryana): Voters in the seven Assembly constituencies of Haryana's Hisar district appear to be undecided about whom to vote for in the upcoming election. The jat community concentrated region does not seem to be too upbeat about bringing back Chief Minister Manohar Lal Khattar-led Bharatiya Janata Party (BJP) government to back to power, but they don't find any formidable opponent. 
The sentiment among voters seems to indicate that the Congress "cannot be trusted" because it is "fractured between two power centres – one controlled by seasoned politician and two-consecutive term Chief Minister Bhupendra Singh Hooda and the other by Rajya Sabha MP and party's state president Kumari Selja".
Going by the list of Congress candidates, some voters and local activists alleged that Hooda appears to have managed to "dominate" the party's ticket distribution and weak candidates have been "intentionally" been fielded to "help the BJP". "It seems as if Hooda has selected Congress candidates after consulting the BJP," some of them alleged.        
Earlier, led by late Chaudhry Devi Lal, ex-deputy Prime Minister, who was considered to be a stalwart in the state's politics, the Indian National Lok Dal (INLD), which he founded in 1999, could have been emerged as the third option. But INLD, too, is fragmented. Dissatisfied with his role in the party, Devi Lal's great grandson, Dushyant Chautala, former Lok Sabha MP from Hisar, parted ways from INLD. His uncle, Abhay Chautala, is now leading the family-controlled political outfit. Dushyant has formed his own party -- Jannayak Janta Party (JJP) -- which is contesting all 90 seats in the state.    
"Had there been a united INLD, it would have uprooted the Khattar government because of huge anti-incumbency. But Dushyant's JJP has strengthened BJP's prospects. There will be a sharp division of jat votes – who constitute 33% of the total 15.76 lakh voters in the district – and BJP will be its direct beneficiary," say some activists in Hisar.
According to a January 2019 data, the Hisar Lok Sabha constituency has more than 5,00,000 jats (33%), over 180,000 brahmins (15%), 65,000 Punjabis (4%), over 36,000 bishnois (2.2%) and the rest 400,000 (23%) belong to assorted Scheduled Castes and Backward Classes.
The people Newsclick spoke did not appear much interested in these elections. The low enthusiasm is evident from the thin presence in local offices of candidates from leading political parties, unaggressive political campaigns and absence of hoardings, posters and party flags in rural as well as urban villages. When this correspondent tried to assess the political pulse, a majority of people talked about the rich political history of the district and work done by former Chief Minister, late Bhajan Lal, who was associated with Congress as well as BJP.
"There is still time for polling (October 21). We have adopted the policy of wait and watch. We will go with whoever emerges as a strong candidate to defeat BJP. If this does not happen, we will be left with no option but to vote for BJP," some voters we spoke to said.
To get a deeper insight, Newsclick travelled to several villages – including Pabra village at Uklana Assembly constituency in Barwala Tehsil of Hisar district. The village has a population of over 13,000 people, with more than 7,200 registered voters. It has been declared as Mahargram. Because of this status, the state's government land and revenue record considers this village and its surrounding four villages as one unit.
This jat-dominated remote village accommodates people from different faiths and castes. It has five government schools (one primary school for girls, one girls' higher secondary school, one co-ed primary school and two co-ed higher secondary schools). The village, with wide roads constructed with cement blocks, also has a primary health centre (PHC) and two nationalised bank branches. These facilities reflect the village's development.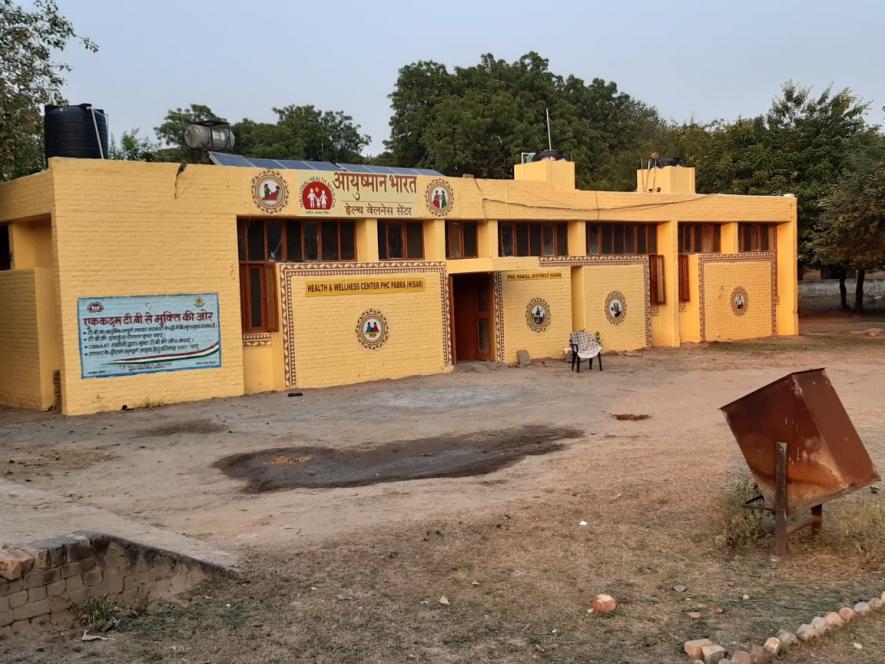 Pabra has been declared open defecation free, but one could not find toilets built under Prime Minister Narendra Modi's much hyped Swachch Bharat Abhiyan. All households in the village have toilets anyway.
"Sarpanchs (village heads) are largely performing in the state. But the ruling party will take credit for their works. At the same time, there is no doubt that this government is ensuring that its welfare schemes are implemented on ground. Corruption has gone down with online application and payments for different schemes," said Rajesh Dhillon, husband of Pabra's Sarpanch, Anshu Pabra.
The village has a history of electing a leader who sits in the Opposition benches in the Assembly. "We love to be in the Opposition. We enjoy breaking the self-confidence and arrogance of political leaders. When Devi Lal insulted one Chatrapal – a professor from our village – on stage during a public gathering, the insult of a fellow villager was our insult. We asked Chatrapal to contest elections and ensured Devi Lal's defeat in 1991, though we still consider Devi Lal as a great leader of our community. When Chatrapal developed an ego, he too had to taste defeat. The same will be repeated in this election as well," he said.
Pabra claimed that development was not an issue in the upcoming election and therefore, political parties, too, were not banking on development by making tall promises. "They are trying to win this election by invoking sentiments and caste calculations," he added.
Another village resident, Rampal, who runs a school, shares almost similar views. "It's true that development is not an issue in this election. There are cracks in political parties and infighting among political dynasties, which are dominating the political narrative. The BJP's performance in the past five years was extremely poor, but absence of a strong Opposition is giving the party an edge," he said, adding that important issues, such as low MSP (minimum support price) of cotton crop and other crops, high prices of fertilisers, skyrocketing of fuel price, poor quality of seeds, GST, demonetisation and implementation of the amended Motors Vehicle Act are not at all being discussed, even by the Opposition. 
Pabra said to divert people's attention from these vital issues, which are affecting day-to-day lives of families, the ruling party (BJP) was successfully raising the issues of abrogation of Article 370 in Jammu & Kashmir, religion and caste."
The BJP has fielded Asha Rani Khedad from Uklana – a reserved constituency in Hisar district – to take on Bala Devi of the Congress and Anup Dhanuk of the JJP. The 36-year-old dalit candidate is married to a jat businessman from Khedar village. She holds a Master's degrees in Sanskrit and English and is pursuing Ph.D on the work of Pultizer winner and Booker finalist author, Jhumpa Lahiri.  
Rampal says though Khedad is a strong candidate because she is a bahu (daughter-in-law), but the contest will not be easy for her. Dhanuk, who was earlier with the INLD, is giving her a tough fight. This is happening because jats have been "ignored" by the Khattar government, he adds.
The numerically strong jat community not only influences election results in Uklana, but in the entire state.
In a bid to woo the community, which is largely depended on agriculture, former chief minister Hooda has promised that if Congress comes back to power in the state, it will ensure 24-hour water supply so that irrigation issues can be resolved. He has also promised to reduce electricity tariff by 50% and make consumption of electricity up to 300 units free of charge.
Amit (30) says a majority of Pabra's residents and those in its surrounding villages, are farmers. "We will vote for the political party that promises to resolve our issues. Manohar Lal Khattar's government has disappointed us. In fact, its policies are against farmers. It did nothing to address the issue of water crisis. We depend on Bhakra (dam) for irrigation, but the river caters to a huge area. As a result, we do not get the amount of water we need for irrigation."
He said the MSP of cotton, the main cash crop of the region, had been reduced from Rs 7,500/100 kg to Rs 4,750/100 kg, which was insufficient to compensate production cost, forget about profit. 
"Farmers generally sell it to private buyers who offer Rs 5,500/per 100 kg. The government does not want to buy cotton, as it does not have facilities to store it. We get Rs 1,920/100 kg as the MSP for wheat, which is not profitable. Private buyers don't buy it. The major crop of this region is mustard whose MSP is Rs 4,200/100 kg. However, this is better than the price offered by private buyers who buy it at Rs 3,500/100 kg. But the problem is weight capping. The government does not buy more than 2,500 kg of mustard from an individual farmer. This creates a lot of problem for us. What will we do with the rest of production? The capping should be for landlords, not for landless farmers who take others' land on lease to grow crops and earn money," he added.
Amit said farmers get electricity for six hours a day only for irrigation. The benefits of agricultural insurance are not reaching actual beneficiaries. These problems, he said, were forcing farmers to quit agriculture and migrate to bigger cities or government sectors to earn a living.
Another resident from neighbouring Faridpur village, who refused to be named, said the BJP government should come back to power. He, too, said that Opposition fragmentation would end up helping the saffron party despite huge anti-incumbency.
In the 2014 Assembly elections, the BJP had gone solo and had bagged 47 of the 90 seats.
Haryana was carved out of Punjab and became a separate state in 1966. Since then, no political party has been able to come to power for a second consecutive term, except the Congress. Led by Hooda, the grand old party formed the government in 2004 and once again in 2009. In 2014, the party faced a drubbing and managed to get only 15 seats, along with its alliance partner, to stand at third position. With 19 seats, the INLD stood second.
Political observers opine that Congress had to face a humiliating defeat because of the discontent among non-jat voters. They admit that the Opposition is weak and scattered this time, and no effort was made in the past five years to forge some kind of unity.
The Congress recently appointed Selja as state party president and Hooda has been given charge of leading the election campaign committee. Ashok Tanwar, another party leader, recently quit, which may impact the party's prospects to some extent. Notably, the Congress leadership does not appear to have drawn any lessons from its defeat in the Jind bypoll wherein its star leader, Randeep Surjewala, faced a crushing defeat to stand at third position.
In the 2019 general elections, the BJP bagged all 10 Lok Sabha seats. Its vote share then stood at 85%.
Get the latest reports & analysis with people's perspective on Protests, movements & deep analytical videos, discussions of the current affairs in your Telegram app. Subscribe to NewsClick's Telegram channel & get Real-Time updates on stories, as they get published on our website.
Subscribe Newsclick On Telegram