Has Jammu and Kashmir's Police turned Covert like Israel's?
Two boys were nabbed by a policeman disguised as a stone-pelter in Srinagar and carrying a gun. But the move can boomerang any time, widening the gap between civilians and security forces.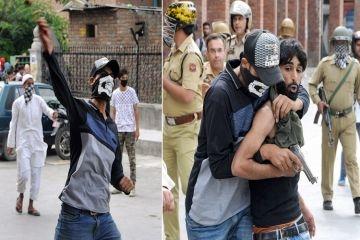 The local ritual of pelting stones at the security forces after Friday prayers at Srinagar's Jama Masjid was disrupted this week, when policemen disguised as  stone-pelters nabbed two men spearheading a mob of almost a hundred people in downtown Srinagar. The mob was taken by surprise when they saw two stone-pelters who were leading the mob, being grabbed by a policeman with a gun while covertly placed in the crowd. (The police claims it was a toy gun). A few minutes later, policemen whisked away the duo and took them to the police station. Baffled with what had happened, the crowd dispersed, and the protest ended earlier than usual.
The strategy devised by the security forces to nab the stone-pelters is an old one in Kashmir, where a policeman embeds himself in the crowd in civilian dress, acts as a part of it and then nabs those leading the agitation. The Jammu and Kashmir police had used a similar method in 2010 at the same place. But this time, the youngsters were caught unawares as they saw the policemen brandishing guns. "This is an old strategy by policemen but this time what shocked the stone-pelters the most was the gun brandished by the policemen," said Fahad Shah, editor of Kashmirwalla.
However, the Superintendent of Police, Sajad Shah refuted the claims and has said that it was a toy gun and was in the possession of the stone pelter. "There were policemen dressed in civil uniform in the crowd, but nobody had any weapon. They don't need weapons, they already have a backup. This was a toy gun in the possession of the stone-pelter. By the time, photographers came to click the pictures, the gun was snatched by the policemen," SP Sajad Shah told Newsclick.
Newsclick also contacted SSP Imtiyaz Parray over phone who didn't give any concrete response, and disconnected the call.
Strategy or entrapment?
However, some close observers of Kashmir's politics believe that such a strategy can further widen the gap between civilians and security forces and can boomerang at any time.
"It is not that for the first time this has happened. They have been doing this since last two years but for the very first time they had a gun in their hand. So, the question is tomorrow, how would one find out whether the one pelting stone is an actual stone-pelter or a policeman? This will drag Kashmir to a new crisis," a senior journalist Majid Hyderi told Newsclick.
The development has also elicited multiple reactions from the people in Kashmir, most of whom decried the "strategy of deception". "They have been trying this for last two years and were not successful, but now there is a new element of a gun being brought in it. This will be very detrimental for Kashmir's situation. The public sentiment is already tense and now you are sending security personnel who are disguised as stone-pelters. So, there can be a counter reaction to that, like what happened in South Kashmir when security forces picked up family members of militants," said Hyderi.
A research scholar had a different take and drew a parallel with the strategy followed by Israel. He believed this to be a result of the alliance between India and Israel who are exchanging military ideas. "The security forces are copying what is already done elsewhere like in Israel. This is infiltration by deception. This is a standard police technique used across the world. It is done by isolating protesters and arresting them. This looks like the result of military exchange between India and Israel," Burhan Qureshi, a research scholar told Newsclick.
A similar tactic is said to be employed by Israeli forces to track protesters. Two years ago, a video had gone viral where snipers had infiltrated among stone-throwers and were then joined by Israeli soldiers during clashes in Ramallah, in the occupied West Bank, according to reports.
However, the J&K police is confident of the strategy's success. "For a long time, we didn't use this strategy. This time the strategy was refined. The idea is to reduce stone-pelting and we are sure that it will be reduced substantially. We don't think there will be any retaliation by the stone-throwing guys and even if, there is law enforcement agencies which are very capable of tackling these things," SP Sajad Shah said.
Get the latest reports & analysis with people's perspective on Protests, movements & deep analytical videos, discussions of the current affairs in your Telegram app. Subscribe to NewsClick's Telegram channel & get Real-Time updates on stories, as they get published on our website.
Subscribe Newsclick On Telegram