'Have to Wait and Watch': Experts Doubtful About Tamil Nadu's Climate Change Mission
"In this new wave of green rhetoric, how will the state balance the development agenda?" asks Dr T Jayaraman.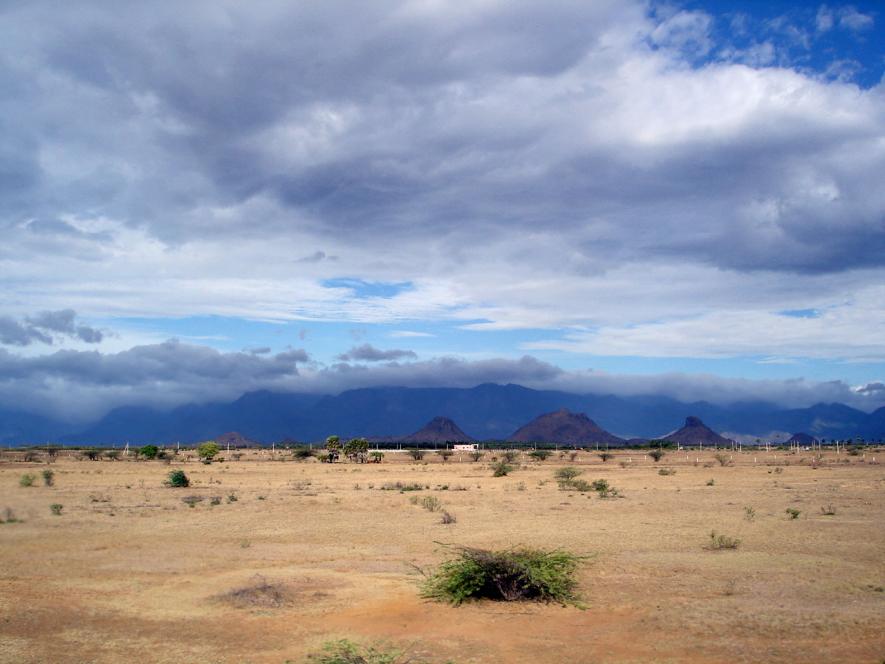 Image Courtesy: Wikimedia Commons
"In this new wave of green rhetoric, how will the state balance the development agenda?" asks Dr T Jayaraman.
Setting aspirational climate change goals is a good initiative, but the strategy and implementation plans will decide the course of the mission, say experts on Tamil Nadu's recently launched climate change mission.
Last month, in December 2022, the state government launched Tamil Nadu State Action Plan on Climate Change 2.0 (TNSAPCC 2.0).
The action plan was first implemented in the state in 2015 based on the National Action Plan for Climate Change. Upon advice from the Union government to revise the plan, the state created new short and long-term objectives.
However, Tamil Nadu went a step further and launched an independent climate change mission; it is the first state to do so.
Tamil Nadu has also set aside Rs 1,000 crore Green Fund to finance projects to mitigate climate change impact.
"There is a commitment from the top, which is a good thing. There are many concerned bureaucrats in the state who have come together at the right time," said ecologist Dr Jayashree Vencatesan.
The mission aims to formulate plans to reduce overall greenhouse gas emissions in the state, increase the use of public transport, develop strategies to cut emissions by using green and renewable energy, increase forest cover, and manage waste effectively.
The objective of the mission is to make Tamil Nadu a "climate smart state". However, experts have doubts about its feasibility.
NET ZERO BEFORE INDIA?
Launching the mission and speaking at the event on December 9 last year, Chief Minister M K Stalin said Tamil Nadu is set to achieve carbon neutrality much ahead of the national target of 2070.
"It is good to have aspirational goals" and "people are certainly very committed", said Dr T Jayaraman, senior fellow in the Climate Change programme at the M S Swaminathan Research Foundation.
"Tamil Nadu wants to reach net zero before India; this is because it is considered a 'developed' state. But, there is not enough scientific assessment behind such statements. States are not relatively autonomous economic units like a nation. Tamil Nadu is very much interdependent on other states. So, the state level net zero appears somewhat incoherent," he said.
The mission document highlights that Tamil Nadu's power sector accounts for 67% of the carbon dioxide equivalent emissions.
In 2019, India emitted 3363.59 million tonnes of CO 2 equivalent.
"In this new wave of green rhetoric, how will the state balance the development agenda? If Tamil Nadu focuses on green industry immediately in the next 20-25 years, there is a possibility it may push away industries. A state like Tamil Nadu should encourage manufacturing and boost industries. If we overdo the green economy push, there is a possibility that we may end up like Sri Lanka," he said.
Speaking at Tamil Nadu Climate Summit 2022 held in Chennai, Stalin said the fund will be invested in circular economy, renewable energy, and other projects to mitigate climate change impact.
"We are not yet at that stage to plan for a circular economy. It firstly requires an advanced economy, and we have not even achieved decent living standards. It would be wise not to implement it all in one go," added Dr Jayaraman. He also noted, "In the overall outreach, adaptation is not given primacy."
'AMBITIOUS PLANS'
The TNSAPCC 2.0 has several key goals, including the ten-year goal to enhance the green cover in the state from 23.7% to 33%.
Dr Vencatesan said "it is an ambitious plan".
"Any greening initiative takes ten years, that is a given. But planting is insignificant; maintaining is what matters. Most of the planting does not survive," she said.
Observing that there is a dearth of space, she said, "It is difficult to find blocks of lands. Greening would be done as linear strips, probably along roads and medians." The TNSAPCC 2.0 document recognises the vulnerability of women to the climate crisis and seeks to ensure gender mainstreaming in climate action for women and children.
"On gender-mainstreaming in other aspects, such as childcare, there is awareness in Tamil Nadu. But with climate change, to even say that understanding is rudimentary is being generous" said Dr Vencatesan
"The state cannot merely co-opt a few women in the committees and consider their job done. A lot more attention, care and in-depth understanding is needed," she added.
"The government has access to international consultants and expertise, so they are able to use correct terminologies like gender-mainstreaming. But we have to wait and see how it will be implemented, there is nothing concrete yet," said Dr Jayaraman.
FUNDING DRIVEN
The TNSAPCC 2.0 document provides a comprehensive study of climate risks and their impacts based on the Sustainable Development Goals (SDGs) of Tamil Nadu. The SDGs were formulated in 2015 by the United Nations General Assembly
(UNGA) as part of the global development framework to succeed in the Millennium Development Goals.
"The United Nations agreement is being implemented by the Indian government. A part of the funds towards it is received by the states and the Tamil Nadu climate change action plan is an outcome of that," said S Mohan, an activist with the Environment and Awareness Protection Association (EAPA).
"Moreover, an audit by the Union government has shown that the funds allocated towards the environment were not utilised in the past. So, there is a push in that front," he added.
He cited environmental hazards in the context of Chennai, such as unplanned construction without following minimum norms, which causes construction dust and deteriorates the AQI. S Mohan stated, "Tamil Nadu government is not serious about the climate change mission."
Get the latest reports & analysis with people's perspective on Protests, movements & deep analytical videos, discussions of the current affairs in your Telegram app. Subscribe to NewsClick's Telegram channel & get Real-Time updates on stories, as they get published on our website.
Subscribe Newsclick On Telegram