Heat Wave One Year, Excessive Rainfall in Next: Farmers Stare at Bleak Future
Farmers in the northern states of the country were hit by extreme heat wave in March last year, followed by excessive rainfall this year.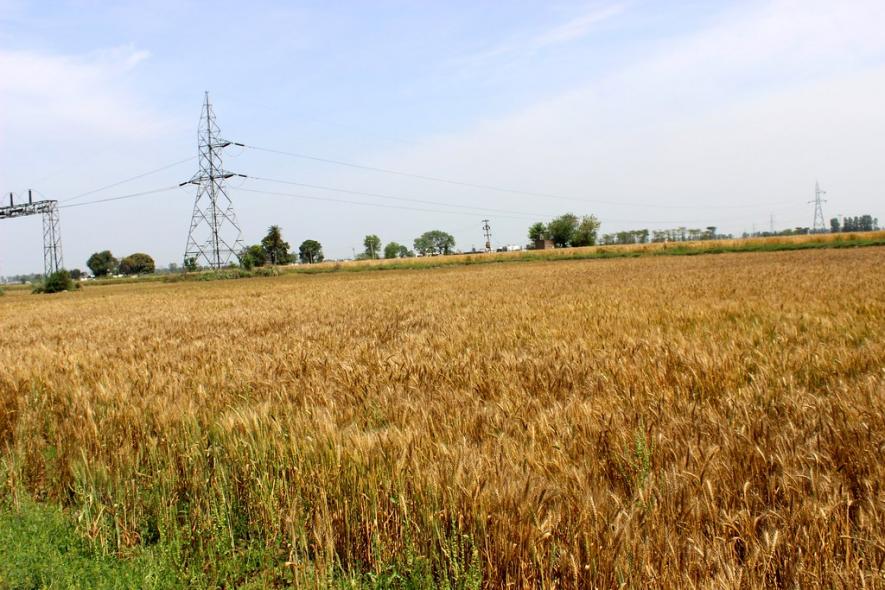 New Delhi: Farmers in the northern states of the country were hit by an extreme heat wave in March last year, followed by excessive rainfall this year.
Virendra Singh, a small-scale farmer from Punjab, had sown wheat on his one-acre land and was hoping to harvest at least 40 quintals of wheat for the season. His family was planning to use some of it for their own consumption and sell the rest to earn a living. However, their hopes were shattered by the unprecedented rainfall and hailstorms.
Three-fourths of his crops were destroyed by the rainfall, and as a result, he has to bear the loss until the next season. This season, the farmer had installed a new tubewell on his farm with the help of loans, which was supposed to solve the water problems in his farm. Even though groundwater is available as low as 40ft in his area, the costs of installing a tubewell go up to Rs 60,000-70,000.
"If you looked at the grains, you would understand the loss I have to suffer. The grains have not ripened yet, so until they do, they are of no use. The rain has come at least 20 days in advance and has left a drastic impact," he grieves. Not just him, but scores of farmers in Punjab and other northern states faced similar problems.
The extreme March temperatures last year had a significant impact on wheat production. The production was 4.5 million tonnes (mt) lower than the projected amount. India had aimed to produce 111.32 mt of wheat in 2022, but only managed to produce 106.84 mt. This year, India aims to produce 112 mt of wheat, which is a 5% increase over the previous year. The wheat was sown on 34 million hectares across the country, which was slightly more than the previous year. However, just as the crop was about to be harvested, it was severely affected by heavy rains in several major wheat-producing states.
According to Gurvinder Singh, Director of the Punjab Department of Agriculture, the unseasonal rainfall flattened over 40% of the state's 3.5 million hectares of wheat crop, and farmers will have to put in additional human labour to recover the crop. Crop loss in the state's wheat growing area is projected to be between 70% and 100%, he told NewsClick.
According to him, Punjab will produce 17 mt of wheat by 2021. "However, due to the heatwave, it fell to 13.9 million tonnes in 2022. […] We may not even break last year's record this year," he added.
Singh is also concerned about the quality of the harvest. Because of the substantial rain, which caused water stagnation in fields, the moisture content in the final product is likely to be higher than the permissible maximum of 14%.
In Haryana, India's other primary wheat-producing state, Rohtas Kumar, Additional Director, Department of Agriculture, Haryana, stated that nearly one lakh farmers have registered at the e-Fasal Kshatipurti portal, where farmers apply for government benefits and seek compensation for damaged crops. However, compensation is provided for an area bigger than 5,00,000 hectares.
Kumar stated that the wheat crop in Haryana was sown over 2.3 million hectares, implying that a little more than 20% of the state's crop acreage is under stress owing to recent rainfall. "The state may not achieve the targeted production of 11 million tonnes," he said.
According to data supplied by the state government, 35,480 hectares of crop damage had occurred in Uttar Pradesh, which received 251% higher rainfall between March 1 and April 3, according to the India Meteorological Department. The state has the largest wheat area in the country this year, with a total of close to 9.5 million hectares.
With at least 40% of the crop impacted, the Punjab farmers are in dire straits. The biggest challenge that the farmers are bound to face now is harvesting. Harvinder Singh, a farmer from Punjab says, "Flattened crops cannot be harvested using a combine harvester machine and due to shortage of labour, getting the work done manually is also not an option."
Continuing to express his distress, he added that they would be facing budgetary problems due to the situation. "Generally, a combine machine takes around 20 minutes to cut and thresh a crop sown on one-acre land, but it takes at least an hour for the damaged crop. This will disturb our budget," he said. "In previous harvest seasons, we used to pay Rs 2,500 to harvest wheat over an acre of land. This time, it will be around Rs 3,000 to 3,500 per acre and an extra cost of Rs 2,500 per acre for manual cutting," he said.
It is not that these climatic actions and warning signals have not been there before. The government earlier has even promised to look into these problems and has invested in buying supercomputers and installing AWS (Automatic Weather Station) which is meant especially for weather forecasts in terms of agriculture.
In the winter session of Parliament back in 2022, questioning the technology that the government had been using, an MP from Punjab asked about the accuracy of the forecasts that the supercomputers had been generating. The government's reply showed that the results were accurate only 55% of the time.
 NewsClick also reached out to Devinder Sharma, an agricultural expert, former journalist and columnist, for his comment. He spoke about how he had highlighted the problems with exporting wheat last year as well, but the government "did not pay heed". This time, the government has decided not to export.
Sharma further talked about the conditions of the farmers in Punjab and Haryana. "It is a wrong intuition that exporting more would benefit the farmers. It never has and nor will it, except for a handful of rich farmers. The industries keep pushing this narrative, but this is not the reality that affects the farmers." As far as the government's investment in forecasts is concerned, he said that only time would tell how much accuracy there is in their forecasts. "Studies across the world are narrating a different story, and IMD has been refusing that entirely. We will know in a few days how accurate they are in terms of the forecasts," he said.
The expert further pointed to the lack of acknowledgement of the crisis. "Compensation comes later; first comes acceptance. We do not have control over nature. The government should be ready to accept [the reality] instead of saying that nothing would happen," said Sharma.
As of now, farmers in major wheat-producing states are facing a bleak future. While farmers in certain states have been promised compensation, it is nowhere near enough to cover the losses they have suffered and the uncertainty they face for the next season.
Get the latest reports & analysis with people's perspective on Protests, movements & deep analytical videos, discussions of the current affairs in your Telegram app. Subscribe to NewsClick's Telegram channel & get Real-Time updates on stories, as they get published on our website.
Subscribe Newsclick On Telegram