In Hima Das' Triumph, a Caution for Indian Sports Administrators
Hima Das' surge to gold at the IAAF World U20 Championships must be celebrated by the common man, but it should serve as a wake up call for Indian sports administrators to correct the system that almost failed her.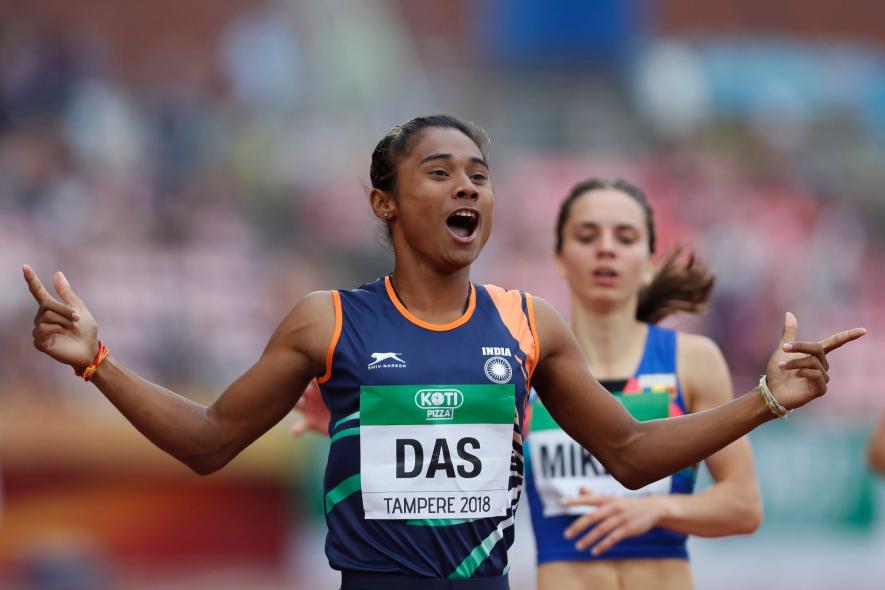 Hima Das created history by winning gol​d​ in the women's 400 metre ​race at the IAAF World U​​20 Championships ​in Tampere, Finland, on​ July 12 (Pic: IANS).​
While the whole country celebrates Hima Das' historic victory in Finland, one can't help but take part in the public display of pride with a pinch of salt, a little bit of cynicism if you will.
There is no dispute that the 18-year-old athlete from Assam has achieved something phenomenal. The maturity with which Das sprinted past her rivals in the latter half of the women's 400m final at the IAAF World U-20 Championships on July 12 to become India's first-ever track world champion, would and should act as an example for some of her celebrated seniors as well.
Young Das' level-headedness as a sprinter, her ability to handle pressure on the grand stage, and her capabilities as an athlete were all proven in Finland.
Also Read | No Contracts, Absurd Sackings: Former Coach Reveals Unprofessional Side of Indian Women's Cricket Team
However, her short and fast journey -- from a rice-farming family in Dhing village of Nagaon district, Assam, to global limelight at the Ratina Stadium in Tampere -- should also make us realise that as a country, India almost failed to give her a platform where she could fulfill her potential.
Das got into competitive racing just 18 months back, at a state-level competition back in Assam. Her story -- from the days spent playing football for fun with the boys in her village before a local coach spotted her talent and trained her on mud trails, to the chance discovery by coach Nipon Das, who was enamoured by her explosive speed at a district event -- sheds light on the deplorable, non-existent scouting system and grassroots programme we have for athletics.
There is no system in place to identify athletes like Das in the country -- apart from certain traditional strongholds that sprout them on a regular basis. Many diamonds like her never make it to the doorsteps of the Sports Authority of India-governed system that could take them up to the higher echelons of the sport. And then, there are many other Himas who fail to survive the other wranglings and pitfalls within the system itself.
Also Read | Sports Authority of India Loses 'Authority', Gains Nothing
One came across a few social media posts and reactions from sports administrators congratulating the Athletics Federation of India (AFI) as well as its officials for Das' gold. Well, the AFI gave her the ticket to travel to Finland, but neither the organisation, nor its broken network of coaches, identified Das at the right age nor nurtured her -- the right age bracket is not late teens (16 years in Das' case) but much earlier, the journey of world beating American or Jamaican athletes being a point of reference here. Imagine what we would have here, had that happened!
Luckily for Das, and for the country as it has turned out now, her talent could not remain within the confines of the mud pits of village fields, nor stifled by the training facilities at the Sarusajai Sports Complex in Guwahati -- the first sports hostel she became part of, which specialised in boxing and football, not athletics.
Assam is not known for producing sprinters you see, and so the sports body in the state have put their eggs in traditional baskets. Athletics was never one of them.
It was Nipon who insisted she stick to sprinting 100 and 200-metre races. Das was a natural at running like the wind, and her star rose in months. The strides she took would normally take athletes coming through the academy system years to find.
Also Read | No Indian Football Team at Asian Games; Blame Babus in IOA, AIFF
Beyond the talent, the other reason for Das' quick sprint up the athletics hierarchy could be the knowledge that she started late and had a lot of catching up to do. In a sport where fortunes are measured in microseconds, Das showed she had the right respect for time. Catch up she did, and ran past them all too, her sprint on the final stretch of the world championship final, reminiscent of that determination and resolve.
Das was a finalist in the Junior Nationals (100m) the first time she competed in 2016. Within a year, she qualified for the 2017 Asian Youth Championships in Bangkok (200m), followed by the World Youth Championships in Nairobi. Das was making the right noises -- heralding something special -- and the national coaches and governing bodies took notice. Around the end of 2017, she made a shift to 400m, winning the first major national event she took part in, the Federation Cup, beating former Asian gold medallist MR Poovamma among other seniors in the field.
She then made it to the 400m final at the Gold Coast Commonwealth Games in April, finishing a creditable sixth. And, three months later, she fulfilled her date with history, and destiny, in Finland.
Also Read | How the Cricketing World Failed Afghanistan
Writing her brief resume over here made one feel breathless, such is the pace of her mercurial rise. But that rise is a testament to her natural gifts and personal grit than to the efficiency of the rickety sports administration in India. In fact, it should act as a slap on the face of the system, which should wake up and mend its ways, ridding itself of a lot of shortcomings.
When Croatia entered the FIFA World Cup final, a few social media memes started doing the rounds, highlighting how a country with a population lesser than that of a Mumbai suburb is on the cusp of glory, and how India, with so vast a population and talent pool, are unable to even qualify for the global event.
The reason to why we can't make it lies in the story of Hima Das. So, while celebrating her triumph, the country's sports honchos should do a self-evaluation of the programmes in place, and set up something special which would ensure that no Himas or Neeraj Chopras (Chopra was the 2016 world U20 javelin champion and the 2018 Commonwealth Games gold medallist) remain hidden from or lost within the mire that is the Indian sporting system.
Get the latest reports & analysis with people's perspective on Protests, movements & deep analytical videos, discussions of the current affairs in your Telegram app. Subscribe to NewsClick's Telegram channel & get Real-Time updates on stories, as they get published on our website.
Subscribe Newsclick On Telegram