HLEC Strikes Again in JNU
"Our studies are informed by politics and our politics are informed by our studies – we have never shied away from debate, but this government acts as a vengeful bully who would do anything to make life tough for us", says Anirban.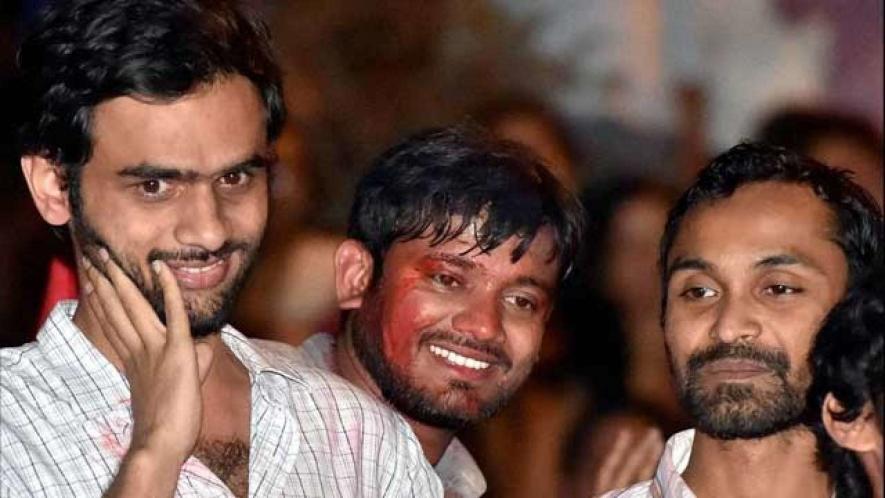 In a recent verdict, High Level Enquiry Committee (HLEC) has upheld its previous decision to expel and/or fine many Jawaharlal Nehru University (JNU) students. This decision has been made in connection with incidents that allegedly occurred on JNU campus on February 9, 2016. The committee has now decided to uphold it's previous decision to expel JNU student activist Umar Khalid and fine former JNUSU president Kanhaiya Kumar an amount of Rs 10,000.
Several students have been targeted and asked to comply with the verdict within two months, failing which they will be barred from the University. 
Komal, a Ph.D. student of the Centre for Political Science has been fined an amount of Rs 20,000 and has been barred from her hostel for two semesters. "The verdict is a complete sham as it's based on fabricated testimonies that we didn't get a fair chance to defend", she told Newsclick.
Also Read: Warning Letters to Parents: Another Low by JNU VC, Says Students Union
These charges had been levied in April 2016 when many students had been accused of organizing an event to express their disagreement with the hanging of Afzal Guru and chanting 'anti-national' slogans on February 9, 2016. Three students had been jailed on charges of sedition, namely Umar Khalid, Anirban Bhattacharya and Kanhaiya Kumar, after a police crackdown on campus a few days after. These charges were challenged by the accused in the Delhi High Court thereafter. The court had stayed the panel's decision and directed the university to place the matter before an appellate authority. In October 2017, the court rejected the appellate order, which had sought disciplinary action against the students, and demanded a fresh inquiry into the matter. The HLEC had been then set up to look into the events of February 9. It has now charged the students with the same alleged activities punishing them with punitive action.
Also Watch: ABVP Shows its True Colours Again: Former JNUSU President Attacked
Khalid, one of many students named by the administration has been fined Rs 20,000 and rusticated from the University. This has been done just days before he was to submit his Ph.D. dissertation.
"The rustication does not apply to me as I won't be here next semester. But, my submission has been made contingent on the fine, and if I pay then it'll be considered as an admission of guilt. They are trying to exploit my vulnerability. This is the worst kind of witch-hunt that an administration can conduct against it's own students", he told Newsclick. "This particular case seems to have become primary to the agenda of the central government for the narrative it wants to set in the upcoming elections. The order said that I wasn't cross-examined during the inquiry because I wasn't present. This is absurd as, during the time of inquiry I was in jail!" he added.
Anirban Bhattacharya, who had been put in jail on charges of sedition along with Umar in 2016, has been rusticated, and the University has been declared out-of-bounds for him for 5 years. This punishment has a different effect on him as he has submitted his Ph.D. dissertation and has had his viva. "This verdict is infuriating and at the same time, comical. The government has always avoided debate and discussion, and is now acting like a vindictive child by not letting me enter a University that I have spent a large part of my life in", he tells Newsclick. He adds, "Our studies are informed by politics and our politics are informed by our studies – we have never shied away from debate, but this government acts as a vengeful bully who would do anything to make life tough for us. We have been told at several occasions to "not waste the tax payers' money" and focus on our studies. Now that Kanhaiya, Umar, Ashwaty, Anant and several others are in their fifth year, just days away from submitting their Ph.Ds., they're being attacked with what clearly seem like false accusations."
Also Watch: "Govt. is Trying to Destroy JNU": Umar Khalid
The JNU Student's Union has strongly condemned the punishment and released a statement against the HLEC verdict. It states that since the BJP has come to power in the Centre, it has been running its "shameless saffronization propaganda" and not only student leaders, but higher education itself has faced assault.  
"JNU being one of the torchbearers in struggles against BJP govt's attacks on higher education has been subjected to various false charges based on BJP's fake nationalism propaganda … Recent HLEC report in JNU imposing heavy fine on student activists is just another effort by JNU administration acting as puppet of BJP Govt. to defame JNU as part of 2019 election propaganda. The recent hostel eviction of Dileep Yadav or the rustication of Umar Khalid is nothing but another gross misuse of administrative power …"
The affected students have decided to seek legal advice and challenge the "unfair verdict" in court.
Get the latest reports & analysis with people's perspective on Protests, movements & deep analytical videos, discussions of the current affairs in your Telegram app. Subscribe to NewsClick's Telegram channel & get Real-Time updates on stories, as they get published on our website.
Subscribe Newsclick On Telegram