Hotel Raahgir: A Forceful Voice Against Injustice
A new film by Bhopal-based Ektara Collective sends the message to not stop caring for the world even if the times are harsh.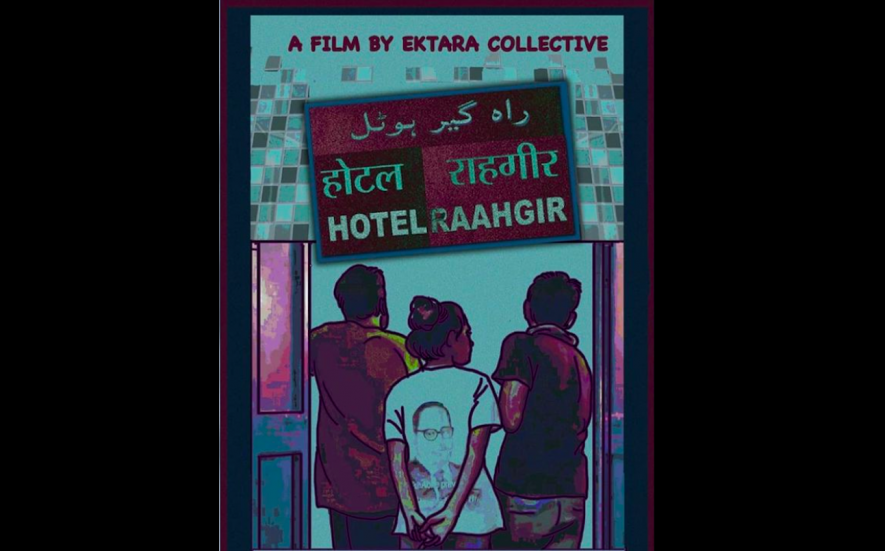 At first glance, Hotel Raahgir feels like the film equivalent of Twitter. The conversations around which its script is structured are what preoccupy us in our daily lives and spill over with urgency and immediacy in our interactions, often with rank strangers, on the social media platforms as well. These assertions, arguments and counter-arguments about significant issues of the times take place amongst the occupants of the various tables in Hotel Raahgir, a canteen near the Bhopal Junction. Political and cultural activists who had participated in a recent cultural event in the town are biding time over tea and coffee before catching their respective trains for the onward journeys. We move from one table to the next, one set of people to another, and several threads of the ceaseless chatter get interwoven into a forceful voice against the inequities and injustices of the Establishment and the system—be it political, social, economic or even cultural. 
The 40-minute fictional short is Bhopal-based Ektara Collective's latest creative venture and premiered virtually on 18 December evening on the collective's Youtube and Vimeo channels. By its own admission, Ektara Collective is an independent, autonomous, non-funded group of people who seek to channel creativity and imagination for social awareness. They collaborate with both trained and untrained people to make films that are rooted in our realities and lived experiences. Having made three films—two short fiction films—Chanda Ke Joote (2011) and Jaadui Machchi (2013) and a much-celebrated full-length feature film called Turup (2017)—earlier, Hotel Raahgir is their fourth and, perhaps, most polemical and strident attempt so far. 
News about mob lynching and "Pulwama ke shaheed" (the martyrs of Pulwama) plays in the background, government propaganda about scoring decisive points against Pakistan in Nowshera is occupying prime time on television. As opposed to that, the activists debate on pratirodh (resistance) and how revolution is possible only once you take to the streets and how cynicism can never be the answer. Meanwhile, ordinary people wage their own battles—a young girl in conflict with her family as she embraces her queer identity, a Gondi woman arguing with a film-maker on the misrepresentation of adivasis, a Muslim woman ruing the fact that she has to constantly prove her progressiveness... Hotel Raahgir brings together many such voices from the margins. 
The narrative is simple and straightforward, language everyday and conversations vociferous. The film also underlines every issue of consequence—be it gender, sexuality or identity politics, class, caste or issues affecting the tribal population, the Mahishasura debate or sectarian politics and corrupt politicians. The canteen becomes the microcosm, a stage for all the communities to come together and also for underlying conflicts to emerge. It was not a conscious choice, but it came out organically, the group tells me: "Many people of the collective are living this reality. They have said what they wanted to say. It's the times we are in that are producing these stories."
Hotel Raahgir is direct in its critique, confrontational in its approach and never shy in indicting people, society or the system. It is inspired by the informality of street theatre and grounded in the agit-prop tradition. The doubts about being too polemical in communicating with the audience may have crept up for a bit, but the group decided to stand by its original vision. It eventually decided to not change its stance or tenor, stick with not just what they all wanted to put across but also how they wanted to showcase it on screen. It gives the film a roughness but also an organic, bare-faced honesty that essentially propels it and makes it forceful.
Like their previous films, Hotel Raahgir too, has been developed in an uncommon collaborative way by the Ektara Collective; the credit roll names no individual director. It's all about saajhedaari ka cinema (a cinema of partnership). Ideas about script, dialogues, shooting and even music were shared, discussed and debated. Workshops in every department—be it production design, sound, lighting or acting—were held with professionals as part of the pre-production. The actual shoot, however, was entirely in their own hands. The film speaks in a potpourri of languages—Hindustani, Malayalam, Gondi, English—and the script emerged from the amalgamation of various stories, incidents and characters written and developed during a writing workshop. 
Turup boasted of some wonderful Sufi music, the guidance and support in musical arrangement coming from the Kabir-panthi musicians of Dewas—Dev Narayan Saroliya, Kaluram Bamniya and Narayanji Delmia. Hotel Raahgir also has an eclectic soundtrack—comprising an assortment of poems and songs. From AR Rahman's Patakha Guddi playing in the canteen to an impromptu performance of Jogira sa ra ra ra; from Fahmida Riaz's Tum bilkul hum jaise nikle to Faiz Ahmad Faiz's Lauh-o-Kalam that it closes with, very fittingly at that. 
Faiz's words from this poem could not have sounded truer and more haunting, especially when viewing the film in the current political context. "Haan talḳhi-e-ayyam abhi aur badhegi"—Faiz warns that the times are going to get harsher. That the tyrants will continue with their acts of tyranny. The only way out is to accept the harshness of the times, fight it and to still never stop caring for the world. Most importantly, to keep on writing.
"Hum parvarish-e-lauh-o-qalam karte rahenge, jo dil pe guzarti hai raqam karte rahenge."
The poets, authors, writers and journalists should continue to nurture the pen and ink and write about matters that touch their hearts.
The author is an independent writer and film critic. She wrote Reel India: Cinema off the Beaten Track, published by Hachette in 2019. The views are personal.
Get the latest reports & analysis with people's perspective on Protests, movements & deep analytical videos, discussions of the current affairs in your Telegram app. Subscribe to NewsClick's Telegram channel & get Real-Time updates on stories, as they get published on our website.
Subscribe Newsclick On Telegram