House of Debt: Adani is Drowning in Debt, and Nobody is Helping
Adani Power had a debt burden of Rs.532 billion and suffered net loss of Rs.3.24 billion in the third quarter of 2017.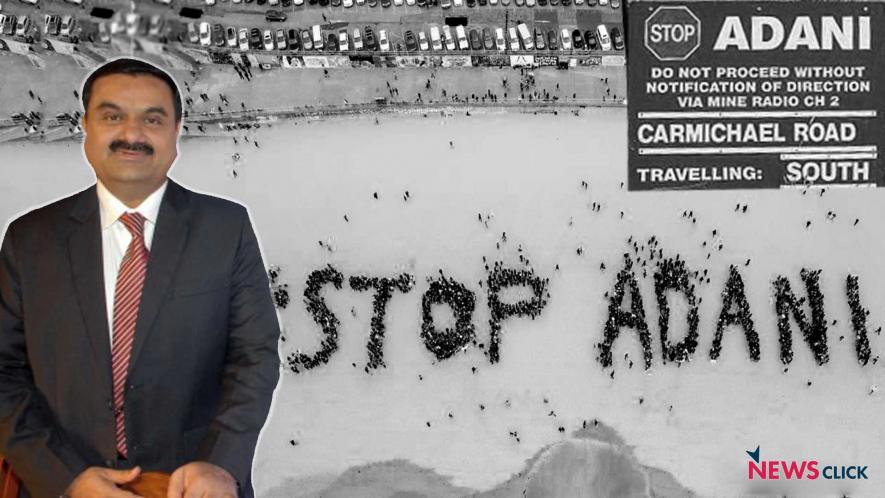 Newsclick Image by Sumit Kumar
On Tuesday (12 December 2017), Annastacia Palaszczuk, newly elected premier of Queensland, Australia, exercised veto against any loan being given to Adani's Carmichael coal mine project in Queensland by the federal Northern Australia Infrastructure Facility (NAIF), plunging the besieged Adani Group into a crisis. Ms. Palaszczuk wrote to Australian Prime Minister Malcolm Turnbull today informing him that financial assistance should not be provided for the company's north Galilee Basin rail project, which is a key link to ferry coal from the giant Carmichael mine to the coal port 388 kms away.
This is a result of stiff popular resistance in Australia to the Carmichael mine which Adani had acquired from the Queensland govt. for $ 3.3 billion in 2010. But the dramatic decision could well be a body blow to the powerful Adani group which is steeped in mounting debt and floundering to repay it. It had been hoping to secure a $2 billion loan from NAIF to rejuvenate its sinking fortunes.
A recent Credit Suisse India Corporate Health Tracker report, listed four Adani companies in a bunch of 19 highly indebted and over-leveraged Indian companies that it called 'House of Debt' companies. The four are: Adani Power, Adani Ports & SEZ, Adani Enterprises and Adani Transmission.
Among these companies, Adani Power's net profit recorded a jaw dropping decline of about 418% percent between third quarters of 2016 and 2017. In the same period, the company's Interest Cover (IC) has fallen from 1.1 to 0.7 (IC determines a company's ability to meet the interest expenses on outstanding debt and IC < 1.5 means the company's ability to meet interest expenses is questionable). Another Indicator, Debt/EBITDA (Earnings Before Interest, Tax, Depreciation and Amortization) ratio, a measure of the company's operating performance has also increased from 6.5 to 8.1 in the same period, indicating that its debt is mounting relative to its earnings. Between third quarters of 2016 and 2017, the interest cover ratio for Adani Enterprises has remained at 1 and that for Adani Transmission has recorded a slight increase from 1.4 to 1.6.
At the end of the financial year 2016, gross borrowings of Adani Power Limited were Rs. 532 billion, a breath-taking sum. It was sustaining a net loss of Rs.3.24 billion in the third quarter of 2017 up by 19% over the previous year. With the recent refusal of Industrial and Commercial Bank of China and China Construction Bank to finance Adani, so far, twenty-six banks across the world have rejected to fund the mining project.
Meanwhile, an October report by the Institute for Energy Economics and Financial Analysis (IEEFA) warned investors that Adani's Abbot Point Coal Terminal is running the risk of becoming "a stranded asset" if the controversial Carmichael proposal does not proceed. The report titled 'A House of Cards in Australia: Adani's Abbot Point Coal Terminal faces Financial risk' concluded that the financial viability of the terminal is increasingly at risk with a major refinancing imminent.
"Securing this refinancing is going to be a real challenge, not the least because the port value has been tied to the success of the Carmichael coal mine proposal which is itself yet to secure funding and which the big four Australian banks have refused to touch," said Tim Buckley, director of Energy Finance Studies, quoted by IEEFA.
The controversial Adani Carmichael mine project in Queensland, which was supposed to be one of the largest coal mining projects in the world, is yet to be constructed. While Adani Group was hoping that the project would help to clear its debts, reports suggest that the very same debts have become a crucial hurdle for the project.
While the construction of mines was scheduled to begin in September this year, the massive coal project has remained entangled in various roadblocks such as the sweeping 'Stop Adani' protests led by environmentalists, and citizens across Australia, challenges to securing environmental clearance and a delay in getting a loan of nearly $2 billion by March 2018 to initiate its first phase of work. Now this loan too is denied.
The Adani group with revenue of over $11 billion (official claim) is headquartered in Ahmedabad, Gujarat. Many commentators have often argued that Gautam Adani's growth has always been in sync with that of Prime Minister Narendra Modi's political career. It has been reported that the group's revenue increased 20 times from Rs.3741 crore in 2002-03 to Rs.75659 crore in 2014-15 (a span of 12 years) while Modi was the Chief Minister of Gujarat.
In 2014, Gujarat High Court had reportedly found that 12 units of Adani Group's Mundra SEZ were being operated without environmental clearance and had ordered them to stop its works. The group was able to get a stay on that order from the Supreme Court. The case is still in progress. An estimated loss of Rs. 6546 crore to the Gujarat government has been reported for providing land to the Adani Group for setting up the Special Economic Zone near the Mundra port. In 2013, Indian Government appointed Sunita Narain Committee had reportedly found severe environmental violations by the Adani Group of companies in Gujarat.
Get the latest reports & analysis with people's perspective on Protests, movements & deep analytical videos, discussions of the current affairs in your Telegram app. Subscribe to NewsClick's Telegram channel & get Real-Time updates on stories, as they get published on our website.
Subscribe Newsclick On Telegram