How and Why those who Trolled Shami Should be Booked
The law provides for it, so why does not the Indian state charge those who accuse Muslims of being anti-national?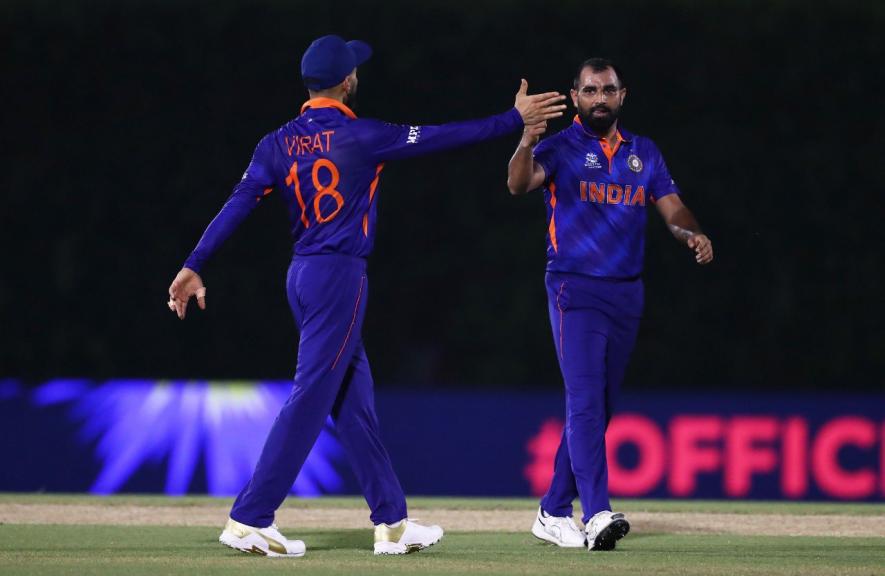 Legal luminaries have been critical of Uttar Pradesh Chief Minister Adityanath for booking seven people for their Facebook and WhatsApp posts that celebrated Pakistan's drubbing of India in the T20 World Cup. A howl of protests greeted Adityanath when his official Twitter handle posted, "Those celebrating Pakistan's victory will face sedition."
For instance, former Supreme Court judge Deepak Gupta said that Adityanath's tweet was "against the law of the land." He also rubbished Adityanath's decision to invoke Section 153A of the Indian Penal Code, which deals with those accused of "promoting enmity between different groups" on the grounds of religion, race, etc., and Section 505 (1) (b), which punishes those who intend to cause alarm among the public or induce them to commit an offence against the state.
It has become commonplace, even trite, to ridicule state functionaries when they book people, mostly Kashmiri Muslims, for celebrating Pakistan's triumph over India. What critics need to ask is: Why does the Indian state not book those who accuse Muslims of being anti-national or having extra-territorial loyalty?
These questions arise because of the relentless trolling of Indian fast bowler Mohd Shami after India's match with Pakistan. He was accused of deliberately bowling poorly in the T20 match because, as a Muslim, he had wanted Pakistan to win, was a Pakistani agent in the Indian team or had taken money to leak runs. 
In fact, those who trolled Shami based on his Muslim identity can get charged under Section 153B(1)(c). To begin with, the title of Section 153B reads: "Imputations, assertions prejudicial to national integration." The abuses hurled at Shami do fall in the category of imputations.
Section 153B(1)(c) says anyone who makes or publishes any assertion, etc., concerning the obligation or duty of any class of persons based on religion, race, language or regional group or caste or community is liable to be punished for three years, or fined, or both. This is subject to such assertions getting judged as likely to cause disharmony, enmity, hatred or ill-will between those targeted by the imputations and another class of persons.
The intent behind Section 153B(1)(c) can be comprehended through examples. Thus, for instance, this section can be invoked in case anyone says only Dalits should engage in sanitary work because of the caste system. Or it can also be invoked against anyone who argues that only Brahmins are entitled to read Hindu sacred texts. Both assertions will likely spread social disharmony, even hatred and ill-will, between different castes.
For the same reason, this section also becomes applicable to all those who trolled Shami. It is the duty of every Indian player to give his best on the cricket field. Shami, the trolls alleged, did not deliberately perform because he is a Muslim who cannot but have an affinity for Pakistan. The subtext of this innuendo, as is palpable from the trolls after the India-Pakistan match, is that Shami considers it his religious obligation to ensure Pakistan's victory in cricket matches.
Captious critics would say the trolls made imputations only against Shami, not vis-à-vis a class of people. This is a specious argument, evident from the contrasting manner in which batsman Rohit Sharma, skipper Virat Kohli and Shami got trolled. Did anyone claim that Sharma's Hindu identity was the reason why he got dismissed for a duck? Or that Kohli's Punjabi identity had him give Pakistan a facile victory because, well, Babar Azam, a Punjabi, was its captain?
Let us face it: Shami got viciously trolled because he is Muslim. It is an article of faith among the votaries of Hindutva that every Indian Muslim, in a competition or conflict between India and Pakistan, hopes and prays the latter triumphs. Shami is an icon. His religion constituted the grounds for haranguing him. It was, certainly, an imputation not just on him but the community. 
Such imputations do create disharmony and ill-will between two classes of people, or Hindus and Muslims, even though many Hindus rallied behind Shami in the social media tumult sparked by India's loss.
Days after citizens and cricketers, most prominently Sachin Tendulkar, pushed back against Hindutva trolls, a string of stories (one of which is here) appeared claiming that the posts against Shami were manufactured in Pakistan. It was claimed that Pakistan's deep state sought to craft a narrative that Muslims have a perilous position in Hindu India.
But did all hate posts against Shami originate in Pakistan, or were they made at its behest? No.
Take Prag News, an important TV news channel in Assam with a significant presence in the digital space. Soon after the match, a social media post of Prag News dripped with hate and demonised Muslims. This post was outed by Aman Wadud, the Guwahati-based lawyer who is away in the United States on a Fulbright fellowship: "@PragNews wants to know how much money #Shami took from Pakistan. Calls him a Pakistani agent in the Indian team. Putting Radio Rwanda to shame. What consistency!" 
What precisely was the story that Prag News had put out? The headline of the channel's post, in Assamese, said it all. Translating it into English, Wadud tweeted, "The headline reads, "Pakistani agent in [the] Indian team. How much did he charge to play?" Look at the audacity of @PragNews, they are yet to take down this tweet." Another Twitterati HKJ Ahmed informed that yet another headline, resorting to history and playing upon the name Babar, spoke of "Babur's second Indian invasion." He asked Prag News editor-in-chief Prasanta Rajguru to provide an insight into his channel's bewildering headlines.
The ding-dong social media battle continued until Rajguru, on 27 October, tweeted, "The headlines of a story related [to] Cricketer M Shami, carried by Prag news digital section was shocking, chilling and uncalled for. We immediately hv [have] withdrawn the story and action initiated. We humbly tender unconditional apology." For good measure, Rajguru added, "(Note: I am down with Covid since 22 October)."
One follower of Rajguru lamented, "That's good move, but damage has already been done." Another wryly wondered whether it would be okay if he called Rajguru's Prag News as godi, or lapdog, media and then tendered an apology. (On 30 October, Rajguru tweeted that his Covid test had come out negative!)
You have to be an incorrigible optimist to think Assam Chief Minister Himanta Biswa Sarma, the new Hindutva poster boy, would invoke Section 153B(1)(c) against Prag News. You have to be cuckoo to expect Adityanath would accept the apologies of the families of three Kashmiri students and rescind the FIRs filed against them.
The Indian state's contrasting treatment of those who cheered Pakistan or trolled Shami testifies to the everyday subversion of Article 14, which guarantees all Indians equality before the law. The Indian state hunts and incarcerates those who applaud Pakistan on social media or in real life—and seems willing to buy the story that Pakistan sparked the trolling of Shami. Has the state investigated the identity of those who demonised Shami and Muslims on, say, Instagram, where its users bristled with rage and hate? Indeed, in deference to Art 14, the Indian state should book all those who trolled Shami under Section 153 (1) (c) and put them on trial.
The author is an independent journalist. The views are personal
Get the latest reports & analysis with people's perspective on Protests, movements & deep analytical videos, discussions of the current affairs in your Telegram app. Subscribe to NewsClick's Telegram channel & get Real-Time updates on stories, as they get published on our website.
Subscribe Newsclick On Telegram