How Can Minds Heal Where Bodies Are Denied Justice?
The Hathras victim's family must not be left to fight for justice alone.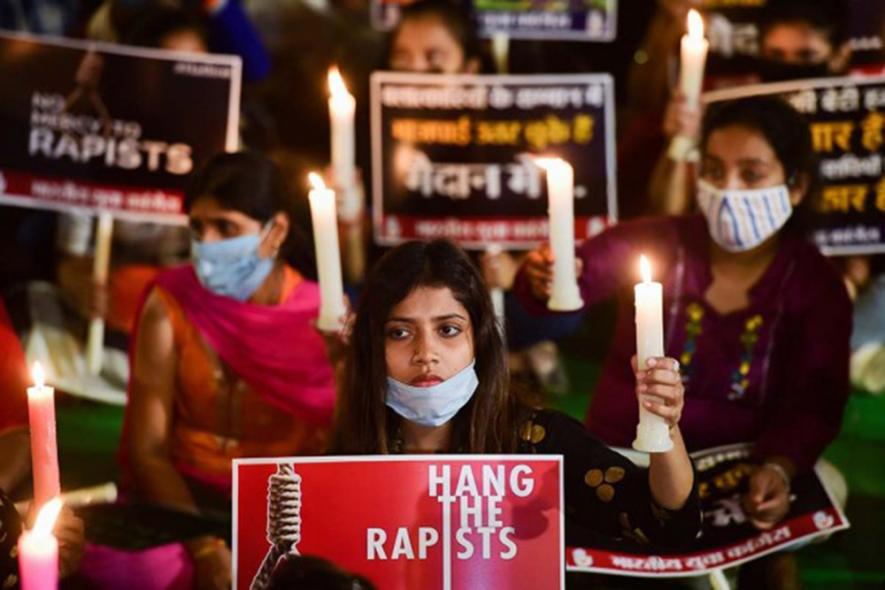 Women hold a candlelight vigil demanding justice for Hathras victim, in New Delhi. Image Courtesy: PTI
'In Hathras, cops barricade a raped woman's home,
hijack her corpse, set it afire on a murderous night,
deaf to her mother's howling pain. In a land where
Dalits cannot rule, they cannot rage, or even mourn.
This has happened before, this will happen again...'
Meena Kandasamy wrote these lines with a bleeding pen. Will we forget Hathras like we forgot the Khairlanji massacre? Perhaps, to forget such agony and ache is a privilege of those who are untouched by the pyre of caste victims, which keeps consuming more lives to provide light to some while infusing generational trauma, systematic slavery and gross injustice to others.
The verdict of a special court in Hathras after almost 2.5 years, which felt like a lifetime, convicted only the main accused—Sandeep—under section 304, which defines the punishment for culpable homicide not amounting to murder in the Indian Penal Code (IPC), and sections of the Scheduled Castes and Scheduled Tribes (Prevention of Atrocities) Act. It acquitted the other three accused, disregarding the fact that faulty and delayed investigation and examination of the case on the police's part lead to the loss of crucial evidence, which weakened the prosecution's case. Adding to the anguish, none of the four accused has been charged with rape or gang rape.
After the judgment, the victim's family fumed that this was justice for the Thakurs and not for them. They pledged to take the case to a higher court and said they are willing to resist and wait lifetimes for justice. The eventual justice, which is only a possibility, will punish the culprits, and maybe compensate the family monetarily. But will it heal the wounds and trauma of the family, of their coming generations, of the Dalit community or the trauma inflicted on every woman whom this horrifying incident made feel unsafe, objectified and less of a citizen of our country?
Her lifeless faintly breathing body was lying in a pool of her blood without clothing, her spine, arms, and legs were broken, and her tongue was cut when her mother found her. She was carried to the police station and hospitals by her family as she lay bleeding in their hands, while the police delayed filing the FIR, and the nearby clinic failed to treat her. She was cremated at night in haste in the absence of her family. She was a child, really. Sit with this for a moment and breathe deeply, reflect, feel, and empathise. Now try to engulf this with your whole heart—Dalit women are among the most oppressed in the world. More than 67% of them have experienced sexual violence, and, on average, four are raped every day. What these women and their loved ones are being denied on a daily basis is not only justice but also healing.
Thenmozhi Soundararajan argues in her seminal work, The Trauma of Caste, "Even when we have political wins, trauma remains…engaging oppressed survivors to pursue justice without providing them pathways to pursue healing is unethical. The pursuit of justice can be healing, but the singular pursuit of justice in and of itself is not the same as the pursuit of healing."
The wretched state of being is that the terror of trauma has been pathetically normalised and shamefully silenced. The sheer denial of justice enveloped in the torment, screams, cries and trauma, which scratch and scar not only bodies but souls are allowed to go unnoticed, unaddressed and unacknowledged. Every generation receives the burden of the assaults their ancestors experienced. How will we as a society break this vicious cycle of trauma flowing in the blood of our children when we are impotent even to recognise it?
"Our sister's soul will never rest now," lamented the brother of the Hathras victim after the special court's verdict. How will we heal the scars on the souls of those who succumbed to violence, those who survived it, and their families and loved ones? How will we heal the embedded mistrust, pain and darkness, if not by empathy, love and solidarity? Till when will we instead choose to close our eyes, numb ourselves or simply turn our faces to the aura of sheer pain and terror overtaking our collective consciousness?
The path towards healing begins with questioning the systems of oppression, interrogating and standing against them, to recognise the harm they have been causing. Healing definitely begins with justice but does not end there. Justice and healing are not synonymous but complementary. The way toward healing is through radical empathy, for which we need to accept the truth that caste exists, then acknowledge and condemn the violence it has been perpetuating. And this must be followed by an empathetic resolution to end it. More than anyone else, it is imperative for the privileged to not only recognise the monstrous face of caste and consciously shed casteist weapons of assault but to take a step further and wage a common battle against it, with those on the receiving end.
The annihilation of caste is not the sole burden of Dalits alone, but a collective scream for a healthier and more peaceful society founded on love, friendship and solidarity. To annihilate caste, we must create safe spaces and an atmosphere of love, trust and regret for past and ongoing evils based on it. We need spaces to grieve the pain and emptiness of lost ones, spaces of solidarity where we hold each other's hands to release the pain and set ourselves free. To step towards healing is to move closer to a liberated society, no longer chained by animosity, hatred and violence.
The author is a PhD scholar in political science at the University of Delhi. The views are personal.
Get the latest reports & analysis with people's perspective on Protests, movements & deep analytical videos, discussions of the current affairs in your Telegram app. Subscribe to NewsClick's Telegram channel & get Real-Time updates on stories, as they get published on our website.
Subscribe Newsclick On Telegram